This Arugula Mango Avocado Macadamia Nut Salad recipe has been a fan-fave since 2011! It is a personal fave as well.
Tropical flavors of sweet mango and salty, crunchy macadamia nuts mingle with spicy, fresh leaves of arugula lettuce and generous cubes of buttery avocado.
Serving Suggestions
I love this Arugula Mango Avocado Macadamia Nut Salad on a busy day as lunch, or as a full meal / dinner salad topped with tempeh bacon or skillet chickpeas. Or just serve it in a big bowl as is for the most refreshing and delicious salad ever.
A Salad That Doesn't Need Salad Dressing
This Arugula Mango Avocado Macadamia Nut Salad is so flavorful with it's prime ingredients that it barely even needs dressing.
The juicy mango and oily avocado – when tossed – almost create their own sort of dressing! You can easily add a few pinches of salt and pepper and just serve dressing-free. But if you want to add some, I think a drizzle of good extra virgin olive oil and lemon juice is just perfect. (Dressing suggestion in the recipe.)
Arugula Mango Avocado Macadamia Nut Salad Tips:
Use a mango that is nice and ripe. You want the sweet juices to really absorb into the arugula – and help soften it a bit.

Nuts – Use macadamia nuts that are roasted AND salted. That salt really goes a long way in this salad. You can add them whole, or chop them up into macadamia nut bits.

Nut Alternatives – If you just cannot find macadamia nuts – they can be hard to find sometimes – use salted and roasted cashews instead. Those are the best sub, I have found. Chopped Brazil nuts or even roasted pumpkin seeds work well too. And even walnuts or pecans are possible. But when possible, go for a salted nut with some nice crunch!

Avocado – Be generous with the avocado! Use a large, ripe avocado. If you only have small avocados, you might want to use two.

If your arugula leaves are large or you just like a smaller piece of leaf for your salads – break out your culinary shears and cut the arugula up. You could also chop it with a knife. Baby arugula tends to be small in leaf size, while bunched arugula can have large leaves that need chopping.

…Culinary shears and more cooking goodies are in the kitchen section of my HHL store.

Other Fruit Options – If it isn't mango season, you can absolutely make this salad with whatever fruit is in season! So in fall and winter, go for some crunchy apples. Try honeycrisp or fuji. In spring and summer, go with fresh berries or stone fruit – peaches and strawberries are perfect!
Add-On Topping Ideas
tofu croutons over top for added plant protein
fresh strawberries
hemp seeds
chopped tomatoes
chopped bell pepper
beans! Any variety, they are so good for you!
When Can I Find Mangoes in Stores?
"Peak season runs from May through September, though you can find imported mangoes at your market all-year round." – Food Network
And again, see my above tips for other fruit options!
Fork Dive in!
I hope you love this recipe as much as I do and make it again and again!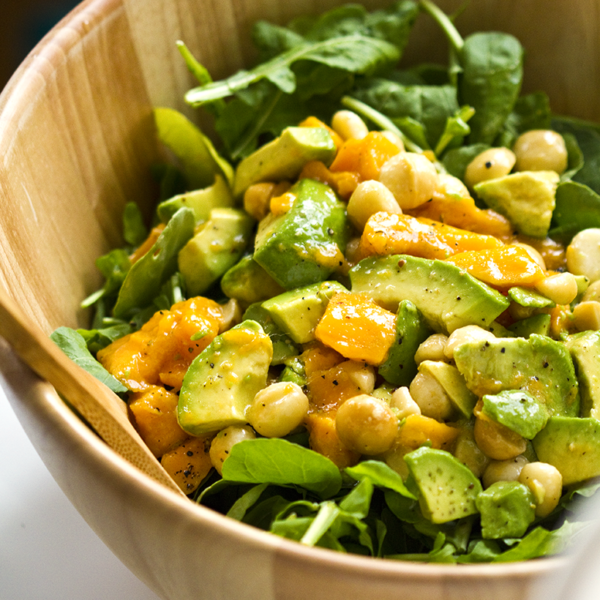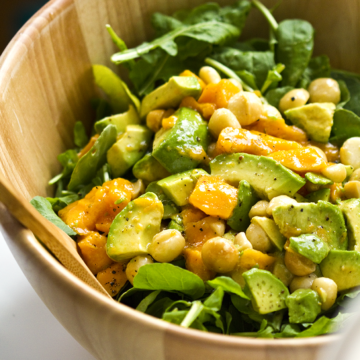 Arugula Avocado Mango Macadamia Salad
This simple and flavorful salad combines salty, crunchy macadamia nuts with sweet mango, avocado and arugula. Vegan.
Print
Pin
Ingredients
Salad
1

large

mango

,

chopped

1

large

avocado

,

chopped

¾

cup

macadamia nuts

,

salted and roasted (chopped or whole)

6

cups

arugula

salt and pepper to taste

,

optional
Simple Dressing Suggestion:
1

small

lemon

,

juiced

1

tablespoon

extra virgin olive oil

2

teaspoon

Dijon mustard

1

tablespoon

maple syrup

,

or agave
Instructions
Whisk together the optional dressing, set aside.

In a large mixing bowl, toss the salad ingredients together. Add dressing as desired. Toss again.

Serve right away.
nutrition estimate | per serving
Calories:
293
kcal
|
Carbohydrates:
21
g
|
Protein:
4
g
|
Fat:
24
g
|
Saturated Fat:
4
g
|
Sodium:
42
mg
|
Potassium:
552
mg
|
Fiber:
7
g
|
Sugar:
12
g
|
Vitamin A:
1345
IU
|
Vitamin C:
43
mg
|
Calcium:
86
mg
|
Iron:
2
mg
Pin it for later..


More on this Arugula Salad
One thing I brought back with me from the Dole Salad Summit, was the inspiration to make this Arugula Salad. It combines crisp, zesty arugula leaves with roasted macadamia nuts, freshly diced mango and tender cubes of avocado. A simple combo worth trying. It just may rescue dinnertime (as it did mine!)..
In part three of my wrap-up posts (part 1 – part 2) you'll get Dole's take on "Salad 101" – and for us bloggers, that meant tasting a few salads. This vegan arugula salad that I tasted at the Dole Fresh Vegetables headquarters really won me over. So I re-made it last night – salad-licious.
Here's to the salad that saved dinnertime.
Last night was one of those evenings where 5pm rolls around. Then suddenly, 5pm flashes to 6pm. Then it's 7pm and before you know it I'm still hunched over my computer at 8pm. And now suddenly I'm missing Dancing with the Stars. Gasp. Actually, maybe that's a good thing.
Type, type, type. No end in site. "Stop working!" my brain shouts. But I trek on into the night, forgetting about dinner, forgetting about the ticking clock and feeling oh so nice about being productive.
"It's 9 o'clock?" .. long pause as I stare fuzzily at my screen. Click. Off. Goodbye screen, hello dinnertime.
Yes indeed, I fell back on my salad. I knew I had this giant, gorgeous salad waiting in the fridge – so really, who cares what else goes with it, right? A few smoky tempeh cubes or strips on top for added protein. We also added a few light sandwiches along side this salad feast. And it was about 11pm when we finally ate dinner. But it was a nice prize for a long day of work – diving into a giant salad bowl, my day can always end on a high note!
And this salad shows a lot of restraint for me. Usually I pile on the toppings – so only 4 main ingredients – was a pleasantly delicious and simple surprise.