These simple and tasty Tofu Croutons are perfect for adding a punch of protein to your salad or soup. They have a mild cheezy, peppery flavor and golden edges all around. Infuse some serious flavor into your tofu, and fall in love with it all over again!
If you love croutons on your salad, or are looking for flavorful ways to add more protein, give these a try!…
The most important ingredients in this recipe? The seasoning! The truth is, you could use any combo of spices and flavorings you'd like, but I really loved the combo of black pepper and Parmesan cheese. I also added in some cayenne and smoky paprika for a hint of heat. Adding in a small touch of sweetener is a good idea for caramelization of the tofu edges and to help tone and sharpen the savory flavors. As usual, salt these cuties to taste.
You can easily whip these up in a few minutes.
Serving suggestions:

* salad topper
* soup topper
* light snack
* add to wraps or burritos
* Add an extra layer of vegan Parm and make a Vegan Caesar Salad!
Tips for cooking:

* Make sure your pan is nice and hot when you add the tofu.
* Make sure you have properly squeezed as much water out of the tofu as possible. Dry and firm tofu cubes work best for this recipe. You do not want mushy croutons!
* High heat helps to quickly sear the edges and give a golden brown color.
* Don't add the spices too soon. Allow the tofu to mostly cook through before adding in any delicate spices – you don't want the spices to burn.
* Want a sweeter crouton? Add a heavy handed drizzle of the maple syrup for a stronger sweet flavor.
* If you want a different sort of salty flavor, you can use tamari in place of salt – this will give a more umami-ish flavor.
What vegan Parmesan should you use? For this recipe, the GoVeggie vegan Parm sprinkle works really well because it has a strong aged Parm flavor. Use that one if possible! If you don't have that one on hand, you can always make your own vegan Parm.
This fall salad would be delicious topped with these croutons.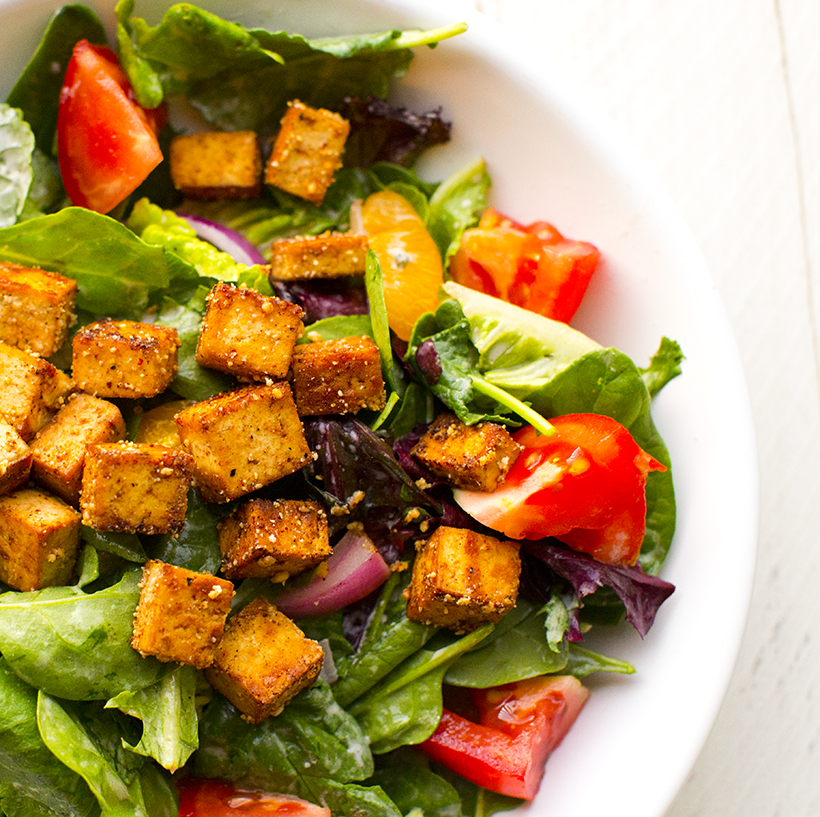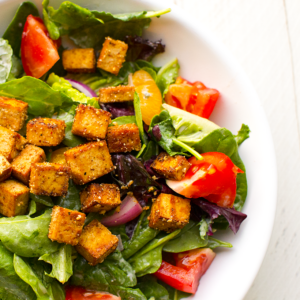 Tofu Croutons
These cheezy, peppery, crispy-edged cubes of tofu could totally pass as salad croutons. But instead of bread, they are packed with protein. Easy to whip up in minutes.
Print
Pin
Ingredients
1 ½

cups

cups firm tofu

,

cubed

1

tablespoon

vegan Parmesan cheese sprinkle

⅛

teaspoon

black pepper

⅛

teaspoon

sea salt

3

teaspoon

maple syrup

pinch of smoky paprika or cayenne

2-3

teaspoon

extra virgin olive oil for pan
Instructions
Dice your tofu into small cubes.

Wrap your cubes in a few layers of paper towels and squeeze very well so much of the excess liquid is removed. But only squeeze so hard to remove the liquid and not damage or crumble the tofu. If your tofu is crumbling too easily you may need to switch brands for something that comes a bit drier and firmer. (I used Wildwood high-protein tofu, extra firm)

Set tofu aside. Warm a skillet over high heat. Add the oil.

When oil is nice and hot, reduce heat to low and add in the tofu. Your tofu should immediately sizzle and brown on the edges from the very hot oil. Shake the pan and toss the tofu a bit. When the sizzling dies down you can turn the heat back up to high.

to low and add in the maple syrup. This will sizzle the pan nicely again. Shake the tofu in the pan to evenly distribute the maple.

Now sprinkle over top the tofu: salt, pepper, paprika or cayenne and vegan Parm. Shake the pan again. Allow to cook for one more minute, just to warm and toast up the Parm and spices. Taste one cube and add more spice + salt + Parm to taste, if needed.

Remove from heat and allow croutons to cool for a minute before adding to salads, soups or nibbling on their own.
nutrition estimate | per serving
Calories:
85
kcal
|
Carbohydrates:
10
g
|
Protein:
1
g
|
Fat:
5
g
|
Saturated Fat:
1
g
|
Polyunsaturated Fat:
1
g
|
Monounsaturated Fat:
4
g
|
Sodium:
195
mg
|
Potassium:
34
mg
|
Fiber:
1
g
|
Sugar:
8
g
|
Vitamin A:
1
IU
|
Calcium:
16
mg
|
Iron:
1
mg
Pin it for later: