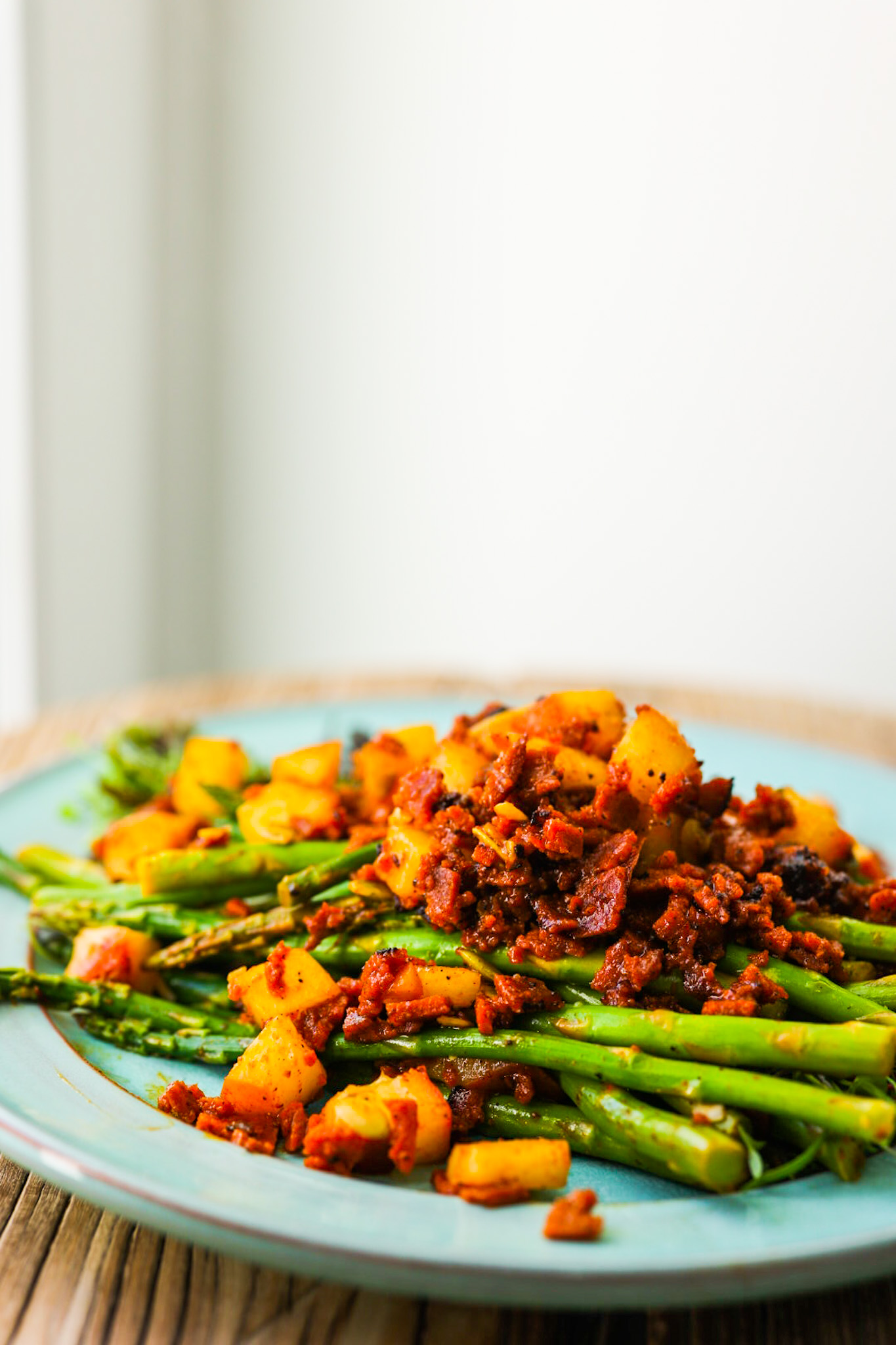 This Vegan Maple Bacon Asparagus is everything you dream of in a green veggie side dish, and it just may be hearty enough to be your main meal if you are in a rush.
These flavors will make you crave your veggies…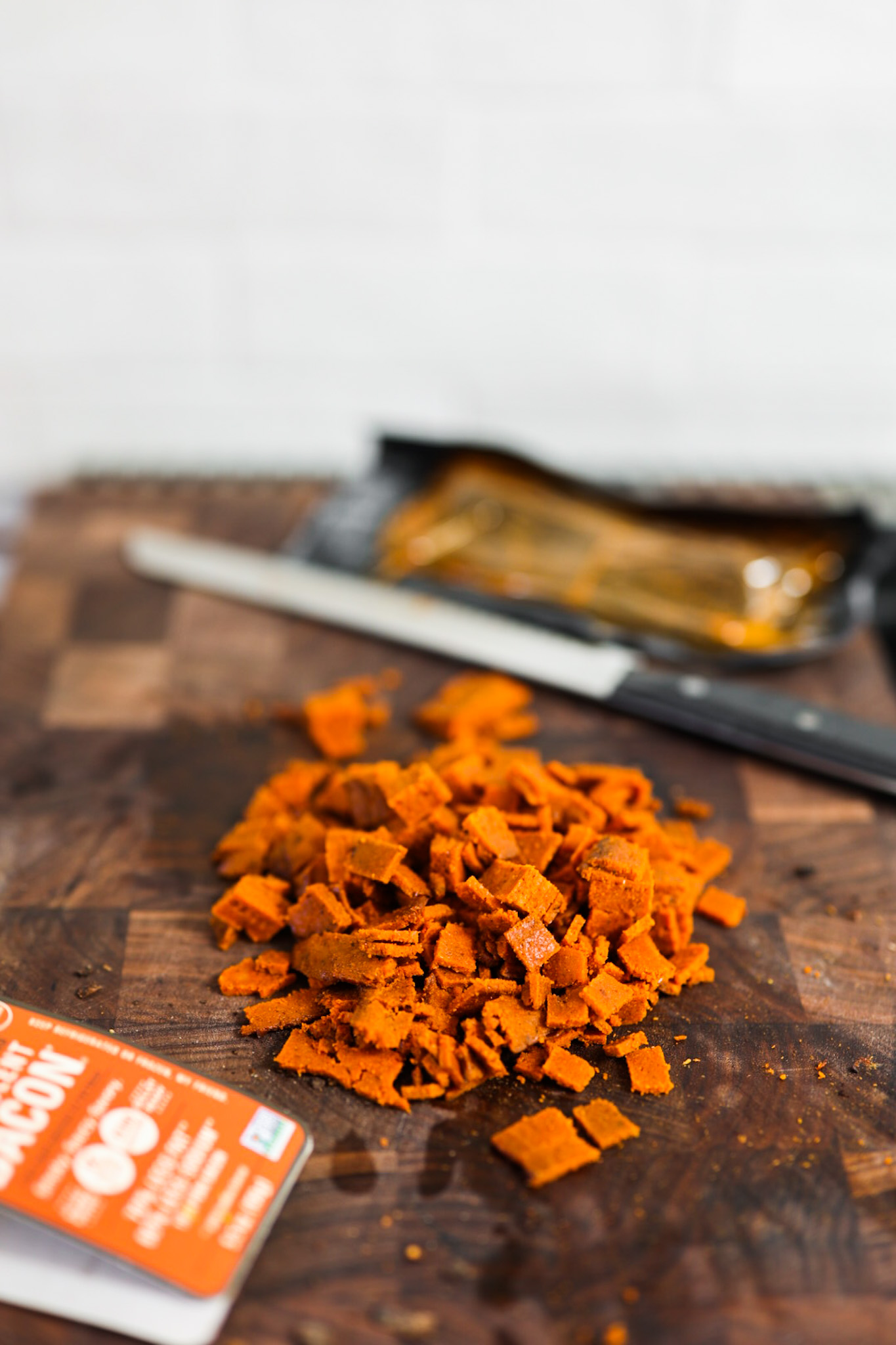 One Pot Dish
I made this entire dish using one Staub pot (affiliate link) – one of my fave kitchen items ever btw. Less mess and a speedier, fuss-free cooking process. You do not need to fire up your skillet to make amazing asparagus! This lid-on pot totally tenderizes and marinates with flavor…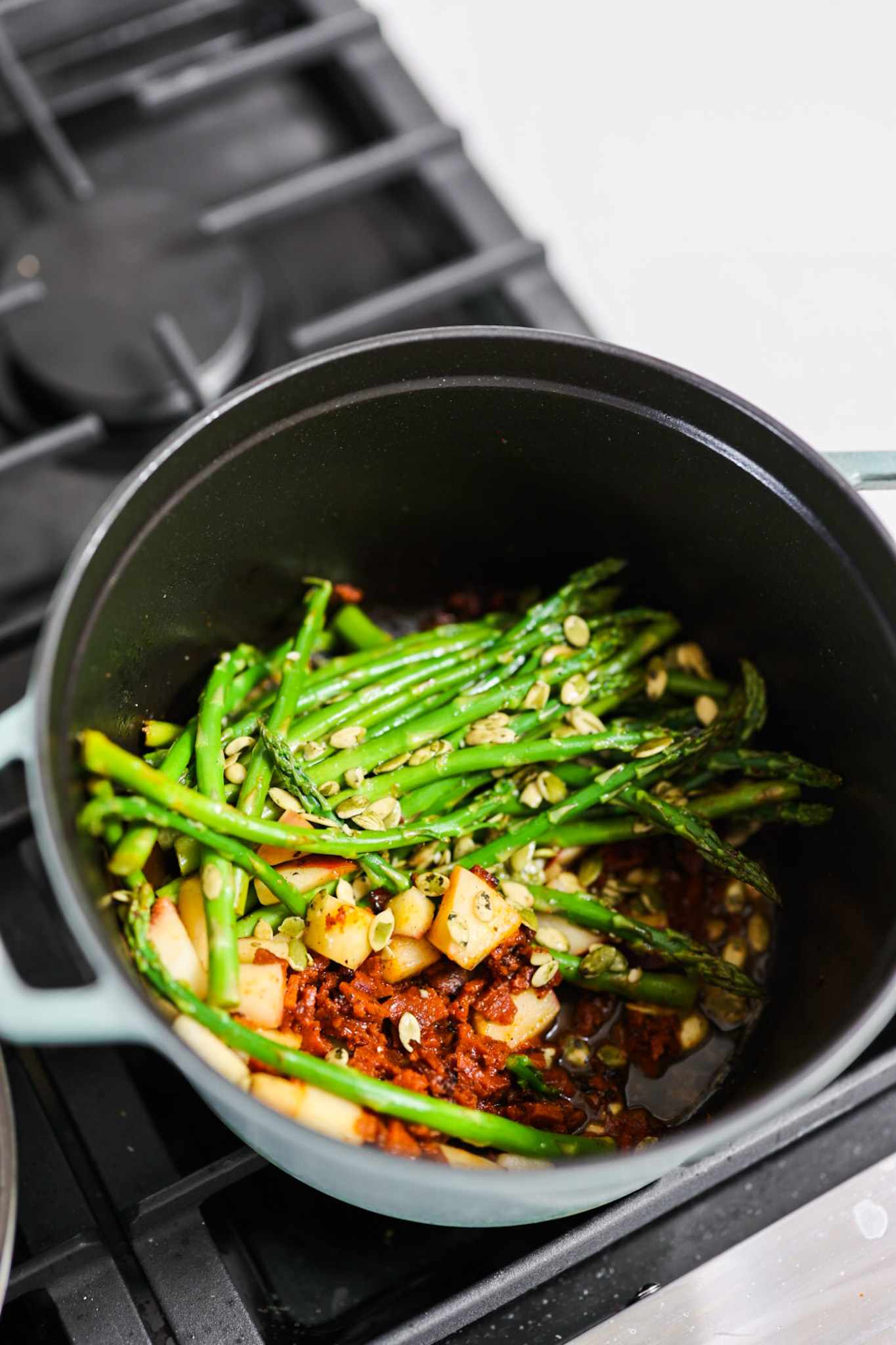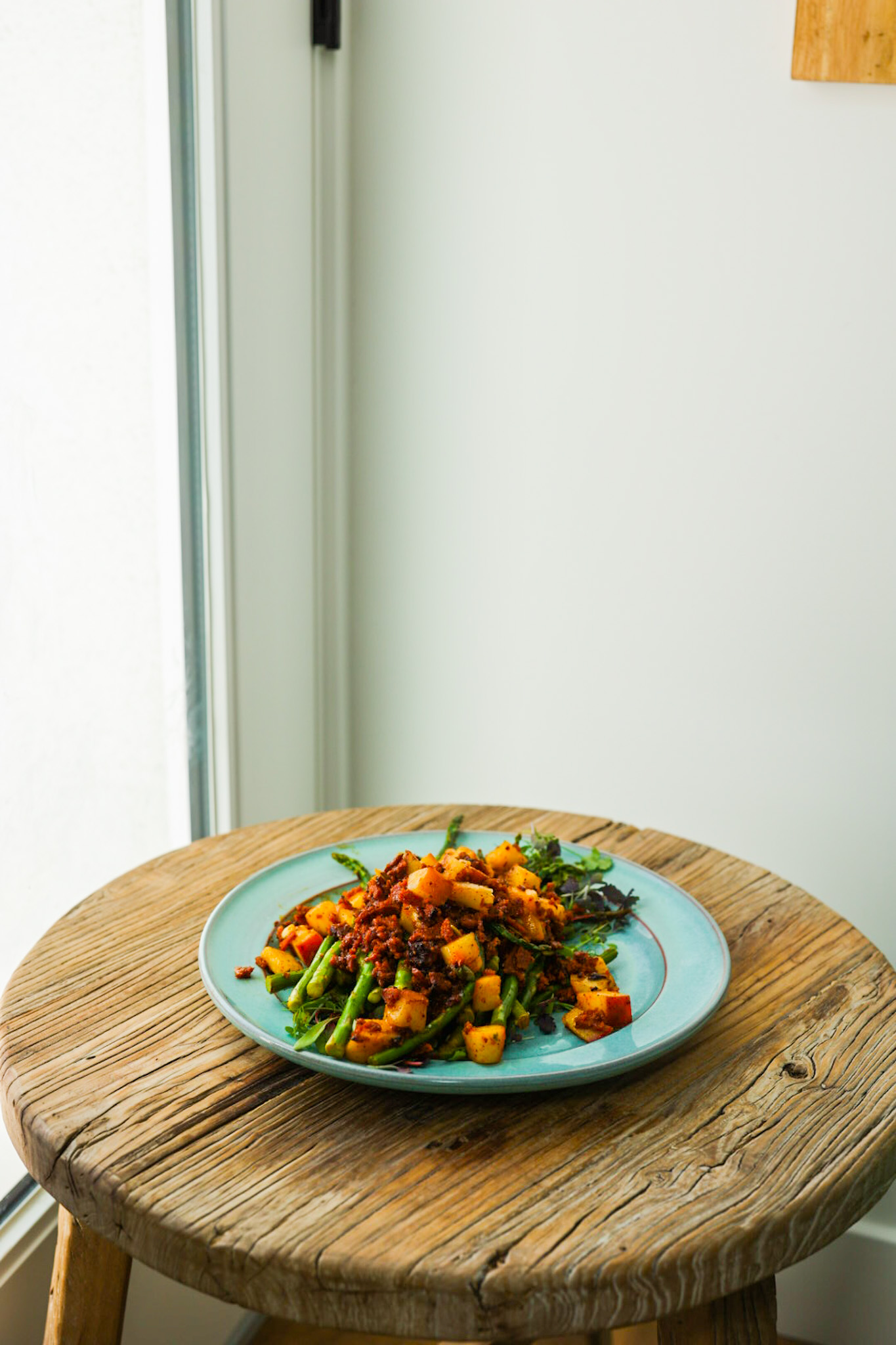 Cravable Veggie Dish
This Vegan Maple Bacon Asparagus is a veggie dish you can crave!
Caramelized, savory-sweet vegan bacon bits layer over top tender asparagus and sweet cubes of fruit. You can use either peaches or apples. I used late-season white peaches which really paired well with the vegan bacon – all those smoky flavors go great with peaches. But apples would absolutely work too. A few other seasonal options, cranberries, squash or pomegranate seeds.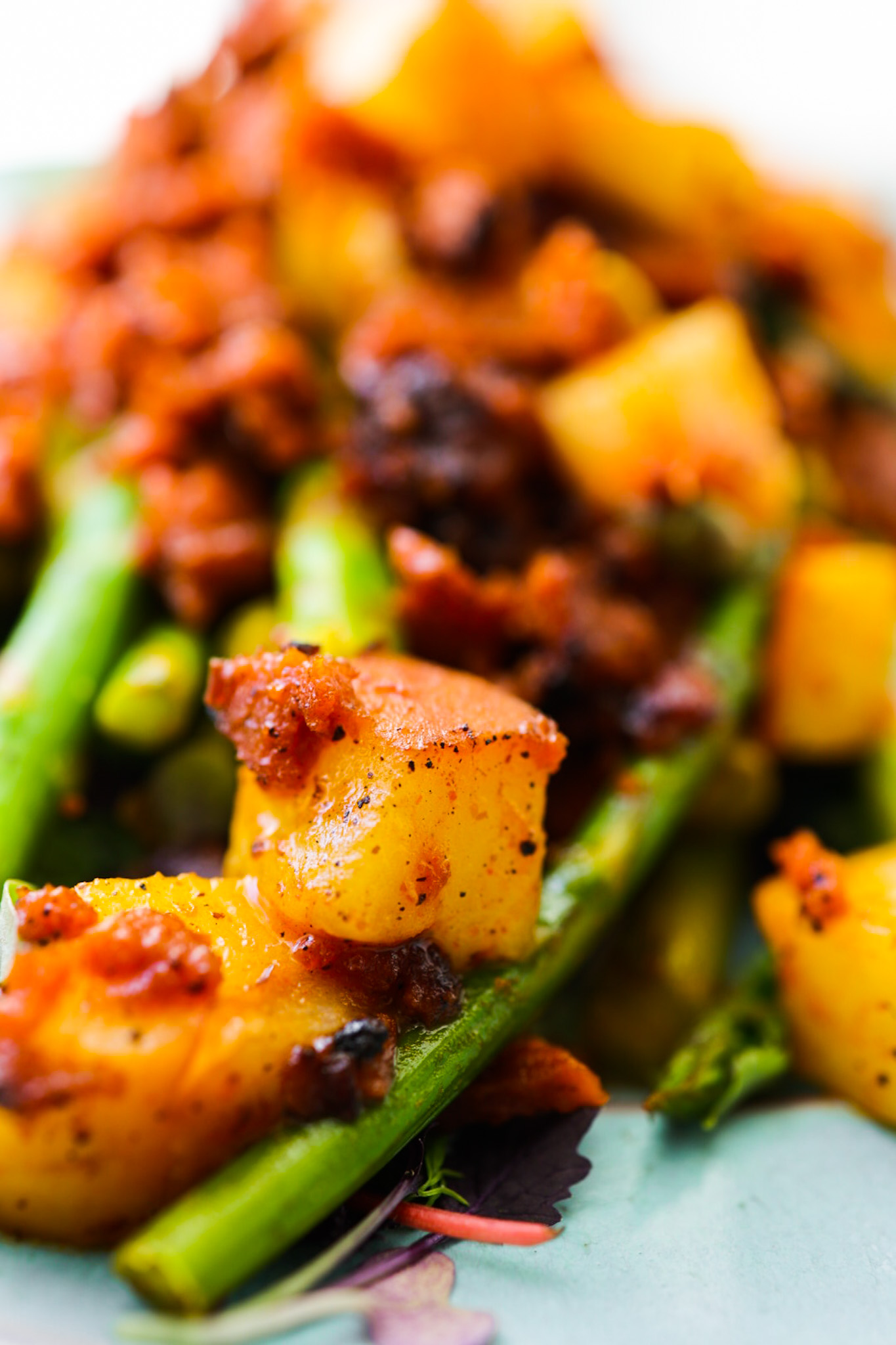 Holiday Approved Veggies
This creation would make a festive and flavorful side dish for your holiday table. Asparagus is one of those great 'spacial meal' veggies because it has such a hearty and appealing green flavor. It absorbs flavors well and doesn't get mushy if it sits out on a table a bit. It stays put, all meaty and tender. In fact, I think asparagus gets even better with a little tablesitting marination.
Tablesitting – letting a dish "rest" after it is cooked. Yeah, I just made up that word so felt I should define just in case.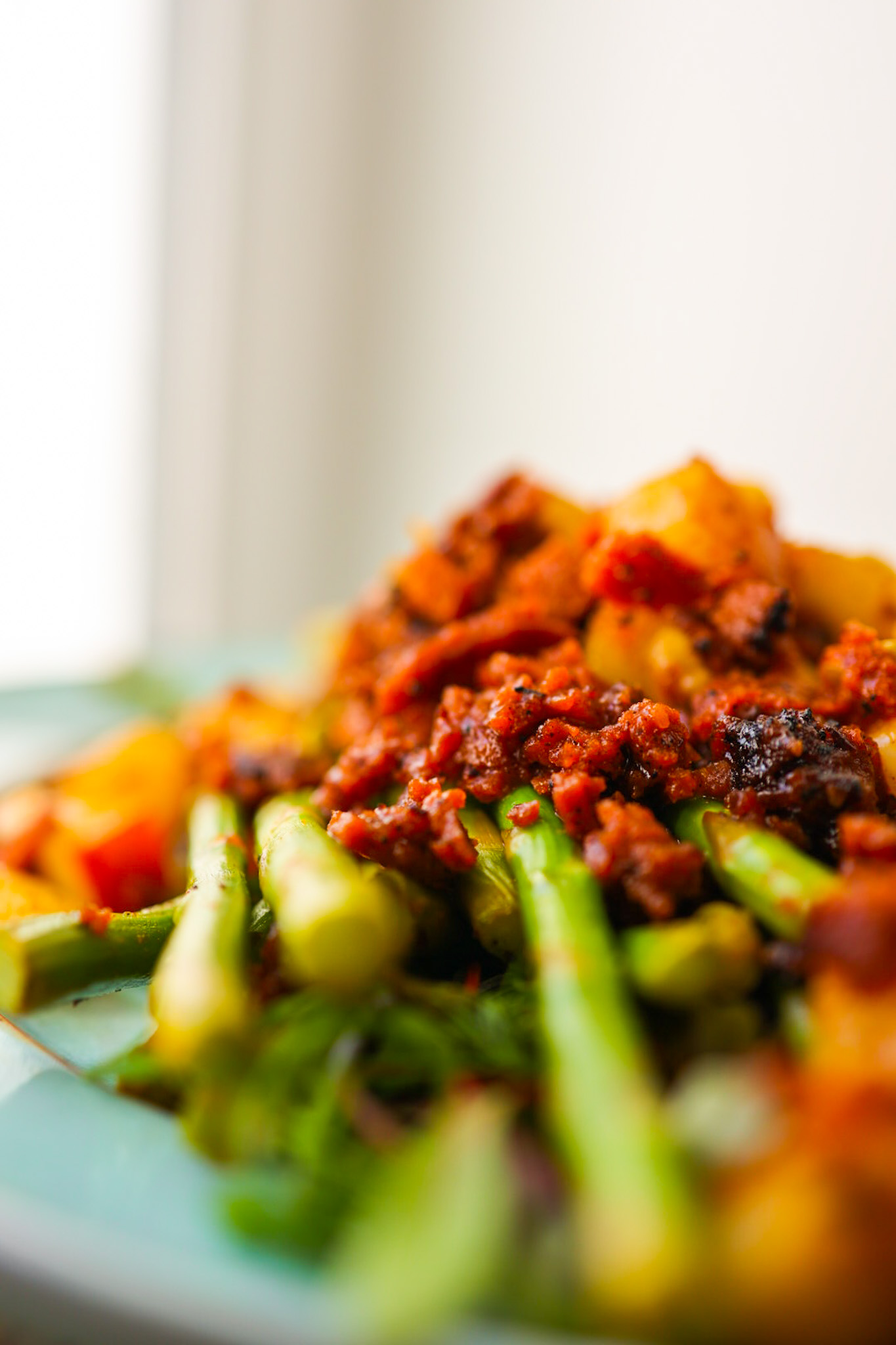 Smoky-Sweet Sassy Veggie
Bold flavors shine in this Vegan Maple Bacon Asparagus.
These flavors are bold and cravable. Smokiness from the vegan bacon. Sweetness from the peaches (or apple) and the maple syrup. Then you get some spice from the vegan bacon too. And of course, the basic asparagus accents of apple cider vinegar, salt and pepper and oil really bring everything together.
You could add some vegan Parmesan cheese too if you want another bold layer of flavor.
For some added texture, I would even add some crushed pumpkin seeds or chopped walnuts over top. Hemp seeds or chopped pecans would also work.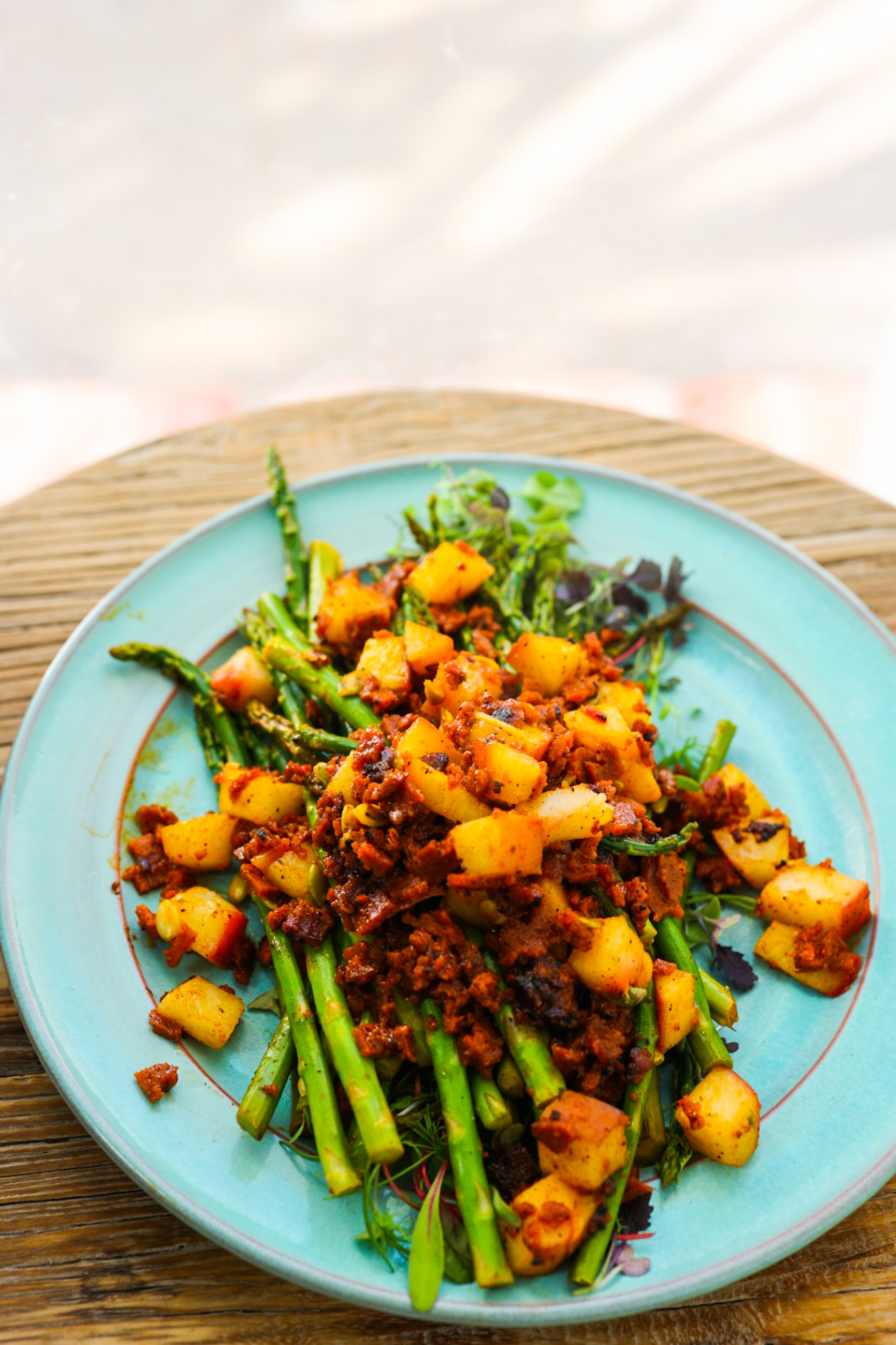 Asparagus for Health
Asparagus is a green veggie, which means it is probably something you should be eating more of, yes? I love my leafy green salads, but it is great to change things up with a hearty green veggie once in a while. My faves include broccoli, brussels sprouts and asparagus.
Asparagus is rich in a variety of nutrients and packed with fiber. One cup has about four grams of fiber.
"It's low in calories and a great source of nutrients, including fiber, folate and vitamins A, C and K." – healthline
So feel good about devouring this Vegan Maple Bacon Asparagus!
Vegan Bacon Options
For this recipe, I used Sweet Earth's Benevolent Bacon because it has such a great texture. Because it is made using gluten, it can be sliced very thin and still have a chewy, crispy body to it when cooked. So you can get those tiny bits of bacon, rather than larger cubes or chunks – as you might get with a tempeh bacon.
That being said, yes, tempeh bacon would be another awesome option! I love making my own using maple syrup, smoky paprika (or liquid smoke) and some EVOO. Salt and pepper and maybe some apple cider vinegar too. Snag my fakin bacon recipe here.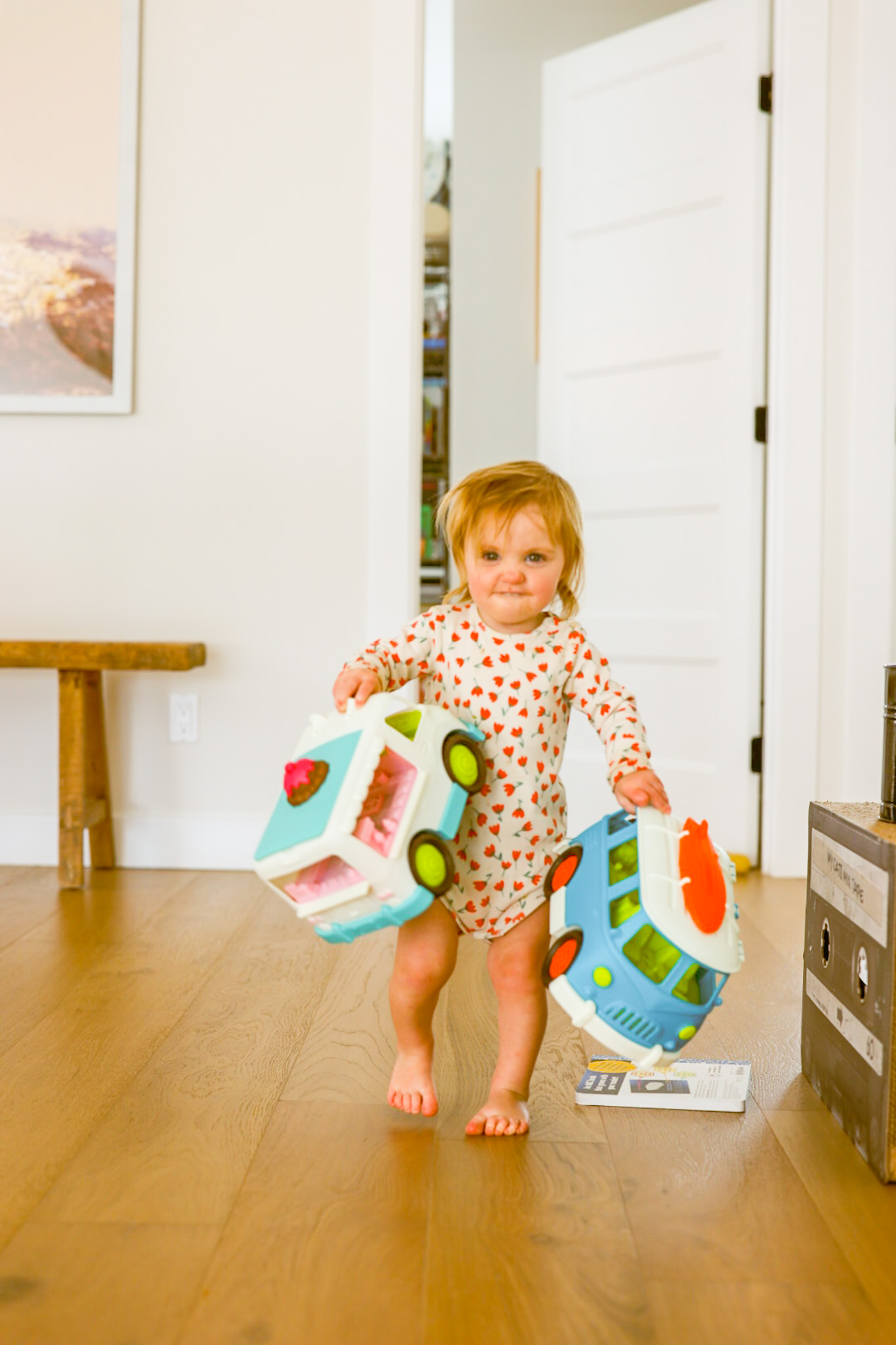 New Recipe, Hooray!
Ok, so this recipe might not be the most extravagant or uber-creative, but hey, baby steps. No pun… I have taken a very serious hiatus from work since having Rosalie. She turned one in August and the past few years of life have been some of my happiest yet. She brings so much joy to my life and I just love being her mom. I miss my work identity and all the friends I have made over the years via my blog, but it is easy to still stay casually connected via social media. As much as I hate saying that, social media is great for staying connected!
I am hoping the coming year brings more in-person events and meetups because I miss my people! You too?
But yeah, I love blogging and writing and cooking and this creative space is so important to me. I hope I always have something to say here because sharing my voice here online has brought me so much satisfaction and even a lot of amazing opportunities in my career. I am so grateful for this journey of HHL! Thank you so much for being here.
Anyways…. I am going to try and finish this up before Rosalie wakes up so hopefully I'll be back here soon with more to share! So many life updates and life lessons I want to write about here! (And maybe a few new recipes too, ha.)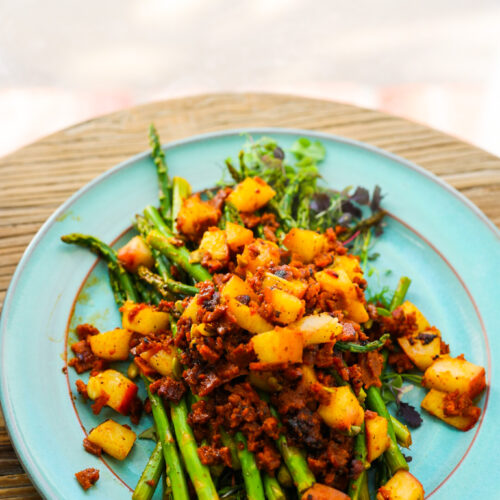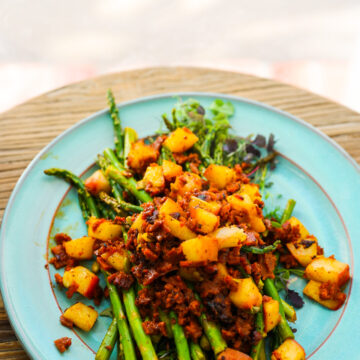 Vegan Maple Bacon Asparagus with White Peaches
This smoky-sweet, flavor-packed asparagus recipe pairs bacon bits with juicy peaches. Loads of spice, sweet and texture.
Print
Pin
Ingredients
2

Tbsp

olive oil

,

extra virgin

1

cup

vegan bacon

,

chopped

1

tablespoon

apple cider vinegar

1

tablespoon

maple syrup

1

bunch

asparagus

1

small

peach

,

cubed

salt

,

to taste

pepper

,

to taste

water

,

as needed

greens or sprouted veggies for serving

pumpkin seeds

,

optional – sprinkled on top
Instructions
Prep the asparagus by chopping off the woody ends and leaving the tips. I usually remove 1-3 inches depending on the size of asparagus.

Warm a large soup pot over high heat. Add in the olive oil. When oil is hot, add the bacon bits. Sizzle and stir a bit. Turn heat to medium. Allow to cook for 2-3 minutes.

Add in the asparagus, vinegar and maple syrup. Toss a bit and cover with lid. — A minute or so later, I like to add a splash water here to help cook the asparagus with steam.

Turn off heat after the asparagus has started to become tender enough to eat – it should be a bright dark green. And not mushy, but also not crispy.

Add salt and pepper to taste. You can also do this at the end of cooking if preferred, but I like the salt to marinate into the veggies a bit.

Add in the peaches and stir again. Cover with lid again and allow everything to sit in the hot pot. This will 'cook' the peaches and further tenderize the asparagus. Let sit for about 2-3 minutes.

Lift lid and check to make sure everything is tender enough to serve. If not, turn heat back on for a few minutes and repeat – adding another splash of water if needed to steam and hydrate everything. — If tender enough, transfer the pot contents to a serving platter.

Optional: plate everything on a bed of greens or sprouts.

Serve warm! Enjoy! You can even chill this and serve chillled. Delicious either way.
nutrition estimate | per serving
Calories:
163
kcal
|
Carbohydrates:
12
g
|
Protein:
8
g
|
Fat:
10
g
|
Saturated Fat:
1
g
|
Polyunsaturated Fat:
2
g
|
Monounsaturated Fat:
6
g
|
Sodium:
6
mg
|
Potassium:
303
mg
|
Fiber:
3
g
|
Sugar:
8
g
|
Vitamin A:
956
IU
|
Vitamin C:
8
mg
|
Calcium:
112
mg
|
Iron:
3
mg