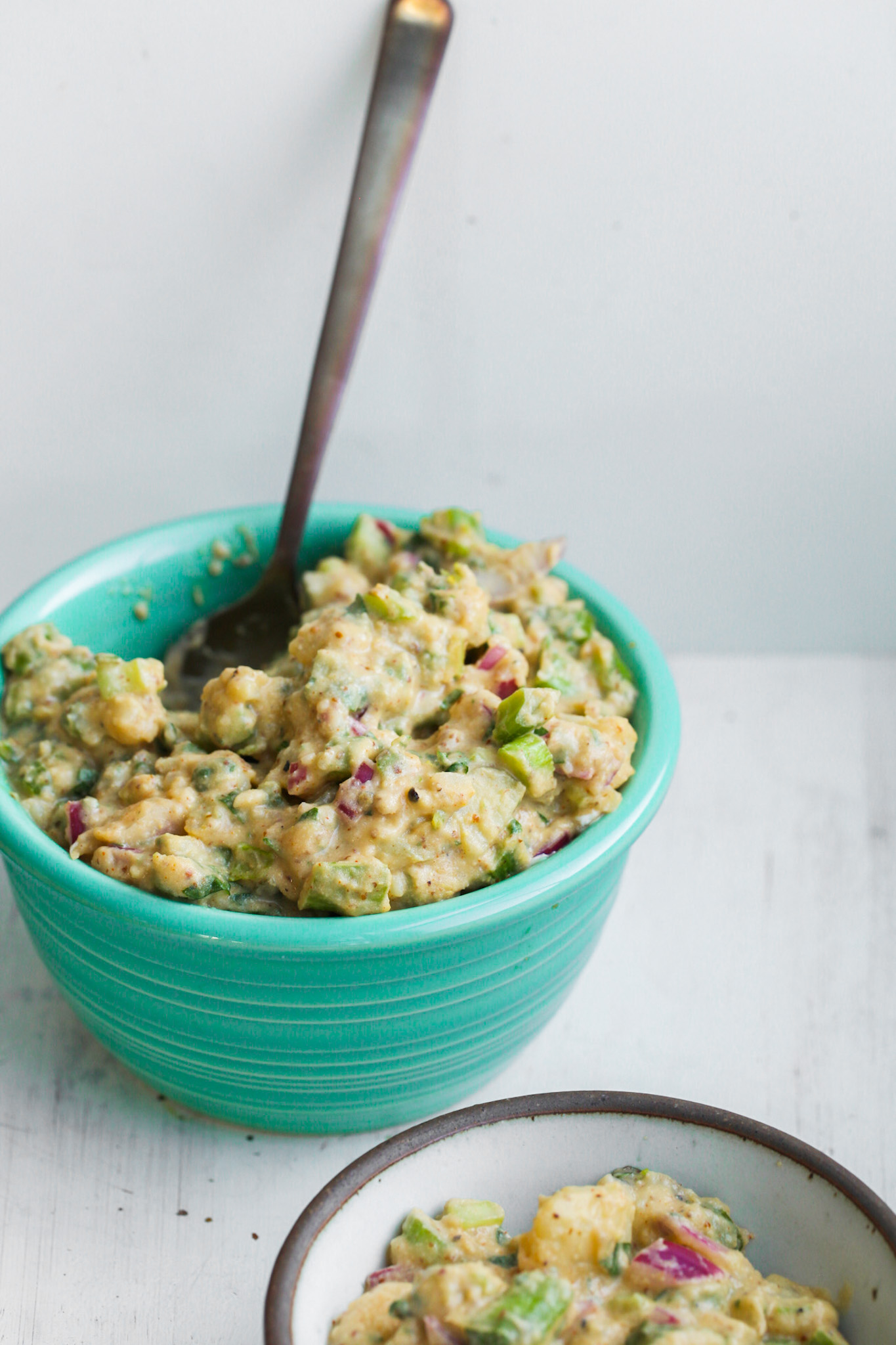 This Easy Vegan Potato Salad is everything you crave in a classic potato salad. Creamy, crunchy, with enough texture to accent the mashed and chunky boiled potatoes.
This potato salad is loaded with tangy, vibrant flavor. It's one of those side dishes that you will seriously consider just making your main course because you cannot stop eating it.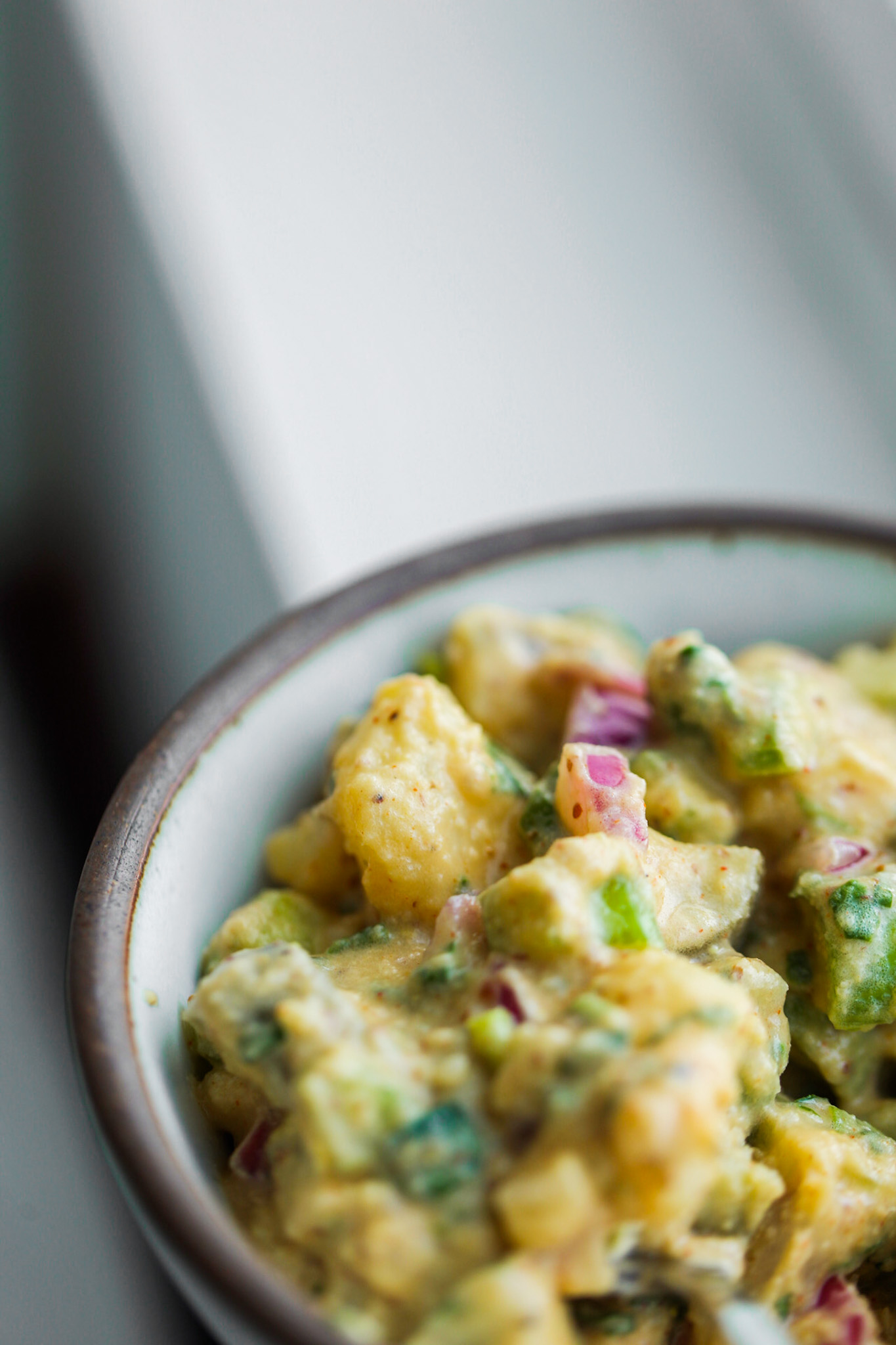 Veggie-Loaded Potato Salad
Another perk of this easy vegan potato salad is that besides potatoes, this dish is loaded with veggies! So you can feel good about the giant portion you are devouring.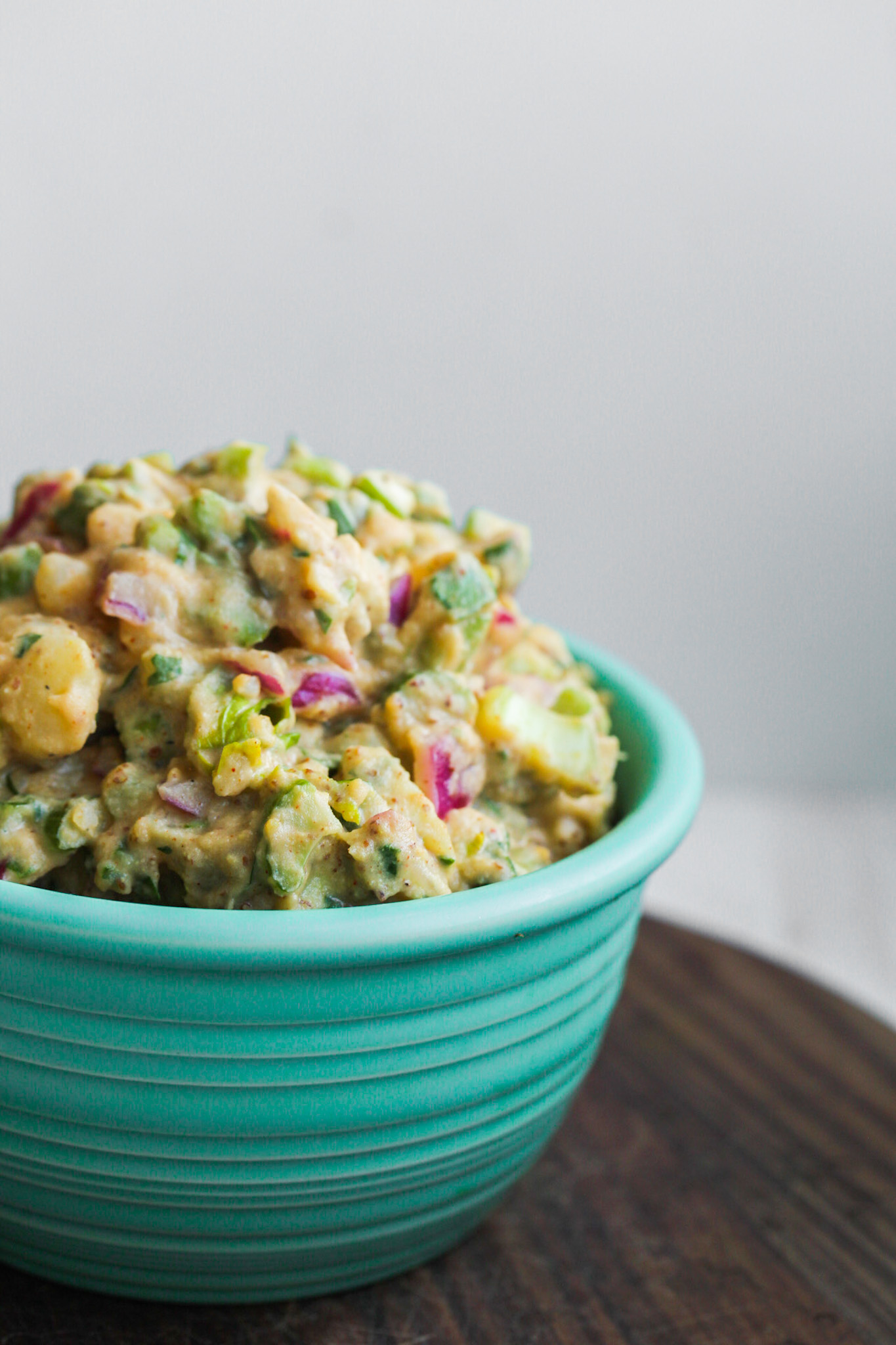 I have added:
finely chopped spinach
celery
red onion
fresh pickle
…And you could easily tweak this recipe to add your own veggies. The base sauce is that delicious!
Potato Salad Sauce
I guess you can call it sauce, yes? Dressing? Marinade? Whatever you call it, it's the wet mixture of stuff that coats and marinates all those potatoes and veggies. It usually combines mayo and mustard, spices and more. Well, this vegan version is about all that with my own spin of ingredients…
vegan mayo
dijon mustard
apple cider vinegar
maple syrup
garlic and onion dried spices
salt and pepper
smoky paprika
..I mostly chose this selection of ingredients because I feel like they are pretty standard to have on hand. The onion and garlic powders add an extra kick of flavor, but are actually optional. But basically, if you have vegan mayo and mustard, you are on your way to easy vegan potato salad bliss.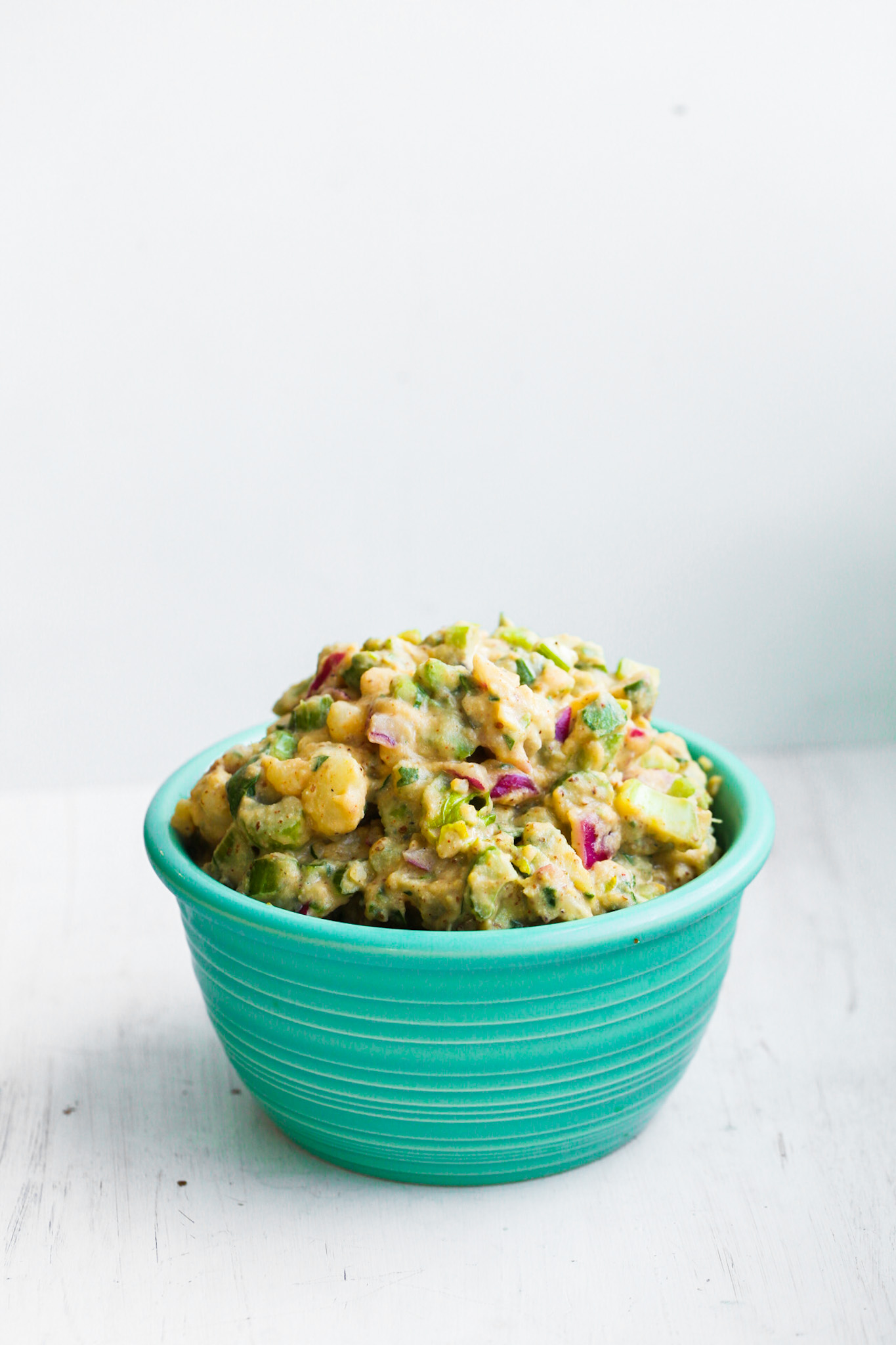 The Potatoes
I like house russet potatoes. They are large and easy to handle and have great flavor and starchy texture. They hold up well!
Important potato salad tip: Do not over-boil your potatoes. You want them tender but not falling apart mushy. You should have to use a bit of muscle power when you half-mash them.
And yes, I do a half-mash. Meaning that once the potatoes are added, I mash about half of them and leave the other nice and chunky. If you want them all chunky or all mashed, go for it.
More Potatoes?
I added the minimal amount of potatoes necessary for this Easy Vegan Potato Salad, because to be totally honest, I thought I had two large russets and in fact, I only had two smallish potatoes. I made it work and it was still crazy delicious. But the starchiness and texture from potato could definitely come in at a greater ratio.
To make my two smaller potatoes work, I slightly adjusted the recipe accordingly. I actually used a bit more celery than needed as well, so my recipe evened itself out in the end. A bit more veggies, less potato. But for next time, I am going to find two large potatoes or three small.
Basically anywhere from 3 ½ to 4 ½ cups of diced potato will work with this recipe, aka the amount of flavorful sauce built in.
Because it's really all about the ratio between the sauce and the veggies. You just want the sauce to be bold enough to marinate and coat all the veggies — what veggie and potato mixture you add can be up to you!
Vegan Mayo
I am loyal to FYH Vegenaise because I've been eating it for about fifteen years now and love it so much. I seriously use it on so many things. And the funny thing is, I never liked mayo before I went vegan. Ha.
But there are so many vegan mayo brands on the market these days too! You can definitely substitute with whatever you have in your fridge. The main constraint is that it has a rich and creamy texture. Nothing watery or 'light.' This is the only fat you are adding to this recipe, so you want the richness to be there.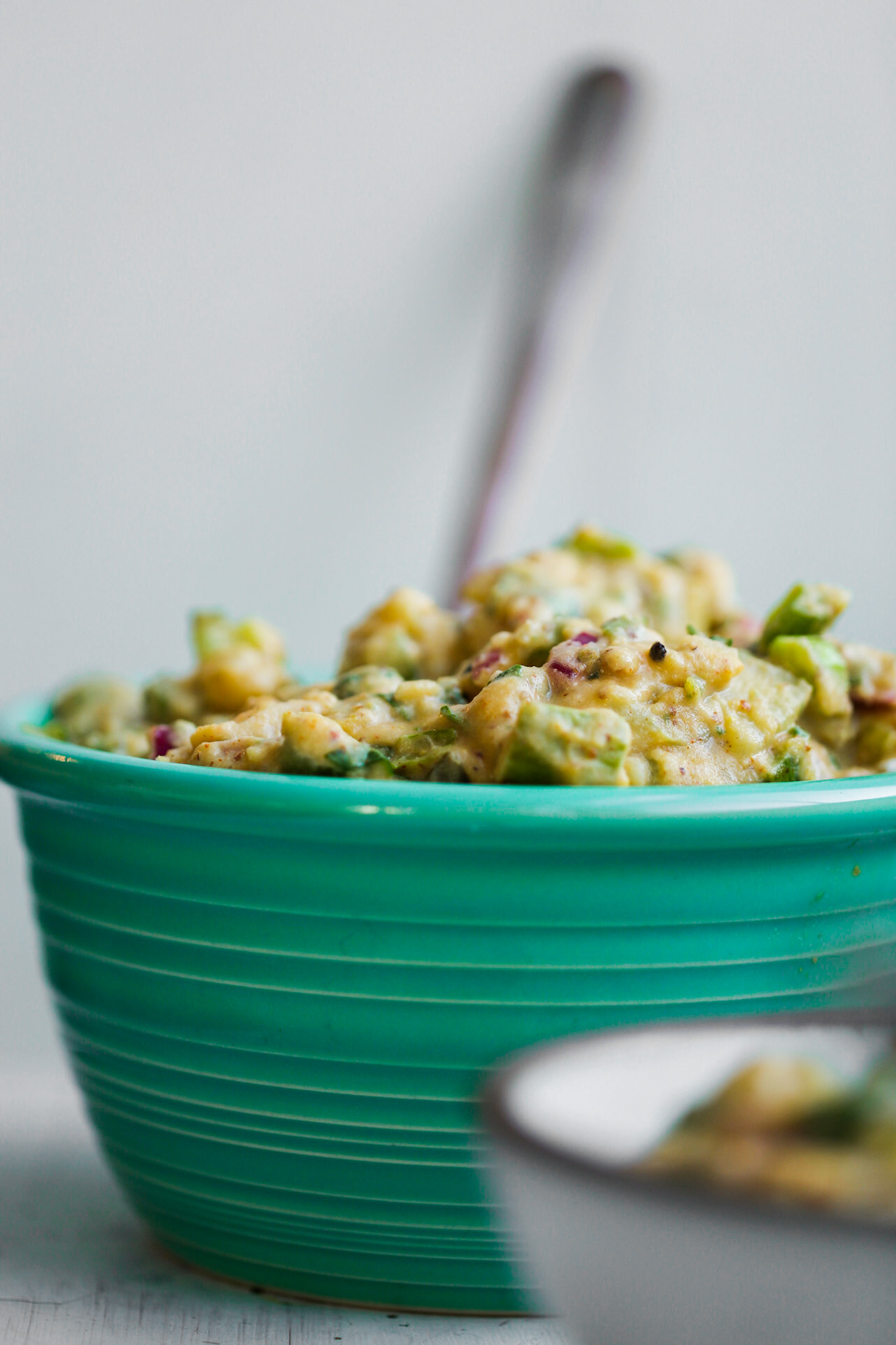 Get Creative…
Yup, you could totally swap out some celery or onion – or even potato and sub in veggies like steamed or boiled broccoli, cauliflower or even sweet potato!
How Much Chill Time for Potato Salad?
Honestly, you will love this Easy Vegan Potato Salad without any chill time. The sauce and flavors are that yummy. But ideally, you can chill it for an hour before serving. A few hours or even overnight is even better because all the flavors marinate the potatoes and veggies. But give it just under and hour and you should be good.
Summer Recipe!
This is a lovely recipe for the summer season. Here are a few other summer faves of mine…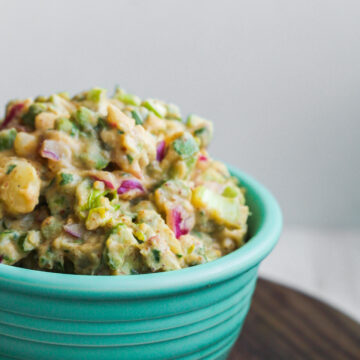 Easy Vegan Potato Salad
This creamy, crunchy, vibrantly flavorful potato salad is a classic gone vegan.
Print
Pin
Ingredients
2

large

russet potatoes

,

peeled and diced – see notes

1 ¼

cup

celery

,

finely chopped

¾

cup

red onion

,

finely chopped

1

cup

spinach

,

finely chopped

1

large

pickle

,

chopped
Potato Salad Sauce:
2 ½

tablespoon

Dijon mustard

½

cup

vegan mayo

,

add 1-2 tablespoon for extra creamy

1

tablespoon

apple cider vinegar

1

teaspoon

smoky paprika

2

tablespoon

maple syrup

½

teaspoon

onion powder

,

optional

1

teaspoon

garlic granules

,

optional

salt and black pepper to taste
Instructions
Fill a soup pot with water and a pinch of salt, over high heat, and bring to a boil. Add potatoes. Boil until tender but not mushy. Do not over-boil. 7-10 minutes should do it depending how small you diced your potato.

Drain water from potatoes and set aside. You want your potatoes to cool down a bit before mixing with the other ingredients. Sometimes I use an ice bath to help this process along! The hot potatoes melt the ice and then I just strain the water out again.

When the potatoes have cooled enough, start on your sauce and veggies.

In a large mixing bowl, add the celery, onion, spinach, pickle — paprika, optional garlic and onion spices, vinegar, mayo, mustard and maple syrup. Fold everything together to combine.

Add in the potatoes. Then half-mash the mixture using a fork or masher. Half-mashed means you will mash half the potatoes and leave the rest nice and chunky. You can mash ore or less as desired.

Fold everything together one more time and pour potato salad into a serving bowl. Cover with plastic wrap and place in the fridge.

Chill for at least one hour before serving. This recipe can be made one day ahead of time.
Notes
Potatoes: The potato amount comes out to about 3 ½ cups boiled potatoes. But you can range anywhere from 3-4 cups or even more if you want your potato salad really starchy.
You may also adjust the veggie amounts as desired.
nutrition estimate | per serving
Calories:
191
kcal
|
Carbohydrates:
24
g
|
Protein:
3
g
|
Fat:
9
g
|
Saturated Fat:
1
g
|
Sodium:
302
mg
|
Potassium:
502
mg
|
Fiber:
2
g
|
Sugar:
5
g
|
Vitamin A:
453
IU
|
Vitamin C:
8
mg
|
Calcium:
41
mg
|
Iron:
1
mg