This dairy-free, vegan Blueberry Cheesecake Ice Cream is beyond dreamy. Rich, creamy and gorgeous in a bold periwinkle blue color. All naturally flavored and colored using wild blueberries.
Blueberry Ice Cream.
Fruit-themed ice cream skeptics might think that a berry ice cream is a bit boring compared to say chocolate or cookies 'n cream or even cookie dough ice cream. Well trust me guys, give this one a try! It really tastes like cheesecake and is actually pretty darn good for you too…
Pretty in purple..
Blueberry Cheesecake Ice Cream was one of my childhood flavor favorites. As a kid, my family would go to an ice cream shop called Swensen's, they used to have a location in Palo Alto, so we would stop by on our way home, back to Santa Cruz from San Jose. I remember I would get two flavors: Blueberry Cheesecake Ice Cream and Bubble Gum. It was the type of Bubble Gum that was bright blue and had gobs of gum balls in each scoop. But I loved the Blueberry Cheesecake most of all. It had thick chewy swirls of blueberry pie filling and giant chunks of fudgey cheesecake.
Vegan Ice Cream
So today when I set out to veganize that flavor memory, I was like, oh no, I need to have big chunks of actual vegan cheesecake for this recipe, right? (But that is a whole other long step for what I wanted to be a simple dessert recipe..) So I tried making this ice cream without actual cheesecake chunks, hoping the creamy cashews would create their own sort of cheesecake flavor and texture…
And they did! This ice cream hits the mark in terms of Blueberry Cheesecake flavor, texture and color. This just might be my new fave flavor for 2018.
…And hey, isn't the Pantone color of the year purple, aka ultra violet? On trend ice cream, guys. Instagram your hearts out.
Other cool things about this recipe:
Simplicity. Minimal ingredients for a complex blueberry-cheesecake flavor
Antioxidants galore! Wild blueberries have two times the antioxidants as regular blueberries (because they are smaller and have more dark pigmented skin than regular blueberries). You could use regular blueberries, but I think wild berries will give a bolder color and flavor. I visited Maine a few summers ago and picked wild blueberries.
The graham/crust swirl. So an important layer of flavor is the crust. If you are a vegan who avoids honey, you might have a tough time finding honey-free grahams. They do exist, but they can be hard to find. So here are a few options for the crushed 'crust' crumbs..
Ingredients you can use for the graham cracker part..
Graham Crackers – crushed – vegan or the ones with honey, whatever your preference
Sugar Cones – crushed – sugar ice cream cones
Vanilla Wafers or Cookies – crushed – there are a few vegan options – I like vanilla Snackimals by Barbara's
Actual baked vegan pie crust – chopped or crumbled – DIY a vegan pie crust or use a store-bought one. Bake and crumble the crust bits into the ice cream
Vanilla Sandwich Cookies – crushed – there are a few vegan brands out there
Graham Cracker Cereal – crushed – Cascadian Farms brand is vegan! (There might be a few others too..)
Any other creative ideas for a crust ripple in here? Let me know!
Bonus points: Fold in some vegan cheesecake chunks. Yes.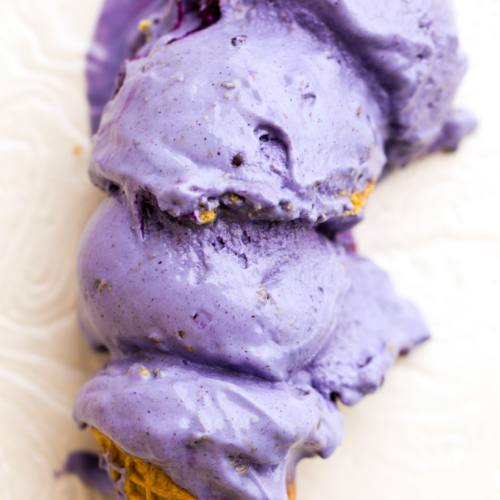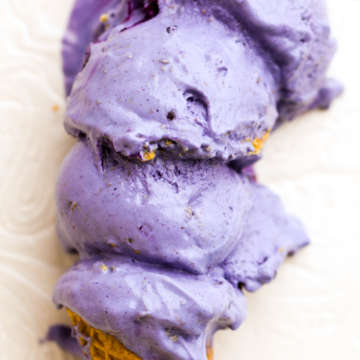 Blueberry Cheesecake Ice Cream
This ultra-creamy dairy-free Blueberry Cheesecake Ice Cream is loaded with real wild blueberry flavor in every cheesecake-y bite. Vegan and cashew-based.
Print
Pin
Ingredients
1

cup

plain non-dairy milk (use something rich and creamy – I used Ripple)

2 ¼

cups

raw cashews (turns into a little over 2 ½ cups when soaked)

½

cup

wild blueberries, frozen

¼

cup

agave syrup

¼

tsp

pink salt

½

tsp

vanilla extract
FOLD IN
¼

cup

crushed cookies or grahams

½

cup

wild blueberries, frozen
Instructions
The day before you want to make and serve the ice cream: Place the raw cashews in a large bowl and fill with water and a pinch of salt. Allow the cashews to soak overnight in your fridge. You also want to make sure your ice cream maker container is in the freezer and fully chilled for the next day.

The next day: Drain the cashews of the soaking liquid. Optional: quickly rinse in cool water.

Add the soaked cashews, agave syrup, ½ cup frozen blueberries, vanilla extract, salt and non-dairy milk to a high speed blender. Blend from low to high until silky smooth.

Assemble your ice cream maker with the chilled container. Turn it on and pour the blueberry ice cream base into the machine. Pour in the additional ½ cup of frozen wild blueberries. Set timer for about twenty minutes and allow ice cream to churn.

While the ice cream is churning you can crush the grahams or vanilla cookies. A few other options are listed in the recipe notes in this blog post.

When the ice cream is thick, creamy and fluffy – churning is done. You can either fold in the crushed cookies/grahams by hand, or swirl them into the ice cream maker for a few seconds on "on."

Transfer the ice cream to a freezer-friendly container like a loaf dish or similar. Cover and allow to chill for at least ten minutes before scooping and serving. Tip: When the ice cream is fully chilled and hardened in the freezer, give at least ten minutes at room temp to allow it to soften and thaw before scooping and serving. Enjoy!!
nutrition estimate | per serving
Calories:
126
kcal
|
Carbohydrates:
11
g
|
Protein:
4
g
|
Fat:
8
g
|
Saturated Fat:
2
g
|
Polyunsaturated Fat:
2
g
|
Monounsaturated Fat:
4
g
|
Sodium:
53
mg
|
Potassium:
134
mg
|
Fiber:
1
g
|
Sugar:
5
g
|
Vitamin A:
59
IU
|
Vitamin C:
2
mg
|
Calcium:
25
mg
|
Iron:
1
mg
Pin it for later!..


And this is what it looks like when your cone gets too heavy…