Sometimes, you need Cinnamon Rolls. Pumpkin Cinnamon Rolls. AmiRight?
Sometimes you need decadent and cozy.
Sometimes you need velvety cream cheese frosting.
Caramelized cinnamon-sugar filling.
Fluffy spirals. And vanilla bean aromas.
While still in your pink PJs, warm mug in hand.
Sometimes you need Cinnamon Rolls.
And Christmastime is kinda the b e s t time for all that.
Vegan Pumpkin Cinnamon Rolls for Christmas Time.
So today I am sharing my easy, vegan Pumpkin Cinnamon Rolls, which is based on one of my vintage recipes, Pumpkin-Pecan Cinnamon Rolls. I have always loved that recipe, but this version is updated to be simpler.
I also share 1) a video for this recipe 2) things that make me feel sentimental 3) ten happy things for the holidays.
Hope you can wake up one morning this month to the aroma of these cinnamon-magic beauties…
The best part.
Starting out with the dough. This + flour and you are good to go.
I tested this updated recipe about four times. There is something so fun and soothing about making cinnamon rolls, it is probably my favorite meditative baking project.
These are a bit lopsided because I baked them separated, on a baking sheet. You can bake your rolls in a cast iron skillet, or a casserole or brownie dish for a more consistent, side-by-side rise, where the rolls stick together.
Wintery White Cream Cheese Frosting on Top.
Make-Ahead Instructions for Pumpkin Cinnamon Rolls:
Prep the rolls ahead of time. You can bake them the next morning or make them up to about 2-3 days in advance of baking. After that, the dough tends to dry out too much and lose its bounce.
Prep the dough as described in the recipe. Knead. Cover with a towel. First rise to allow the dough to just about double in size. Roll out the dough, add cinnamon-sugar filling. Roll up. Slice into rounds. Arrange the rounds on a greased or parchment paper-lined baking sheet or large casserole dish.
Second rise, with the rolls sliced. About 30-60 minutes is good.
Fridge time. Cover the rolls with plastic wrap and place them in the fridge.
Baking day: Uncover rolls, they should be nice and plump. Let them warm for about 5-10 minutes at room temp. Bake as usual, about 30 minutes at 350 degrees (or until golden brown on edges + sugar filling caramelized).
Frosting. Prepare frosting either the day before (store covered in the fridge) – or prepare right before using it.
Hope that helps you have a stress-free cinnamon roll morning!
When to Frost? Frosting notes:
You can either 1) Frost your baked rolls when they are just about cooled to keep the frosting thick and creamy. Or 2) Frost rolls when they are still warm for that melty "glazed" look, frosting that soaks into all the crevices and doesn't hold its shape as much or at all.
Pumpkin Cinnamon Rolls: Tweaks + Subs:
Add ⅓ cup of organic raisins to the roll filling.
Add 1 teaspoon fresh orange zest to the dough.
Pumpkin substitute? Try apple sauce or mashed sweet potato.
Extra decadent? Add pinches of vegan butter on top of the rolls before baking or brush the tops of the rolls with melted vegan butter or coconut oil.
Gluten-free? You can absolutely use your fave gf flour blend for this recipe. From my experience, I can never get the same bounce in my rolls doing a gf version, but you may be more skilled at gluten-free baking than me.
Get Nutty. Add chopped pecans, walnuts inside of the roll dough before rolling up. My original version used pecans.
Recipe Testing Cinnamon Rolls.
..This was the first batch I made. I rolled out the dough REALLY thin and wanted a very tight and thin spiral. For fluffier results, you want to keep the dough a bit thicker than this. But it is fun to experiment too!..
Pumpkin cinnamon Rolls: Quick Method?
To speed things up… Do you have to do a second rise after slicing the rolled up dough? Nope! The rolls will be slightly less fluffy, but totally ok to skip the second rise. This means you can make these start to finish in about two hours.
..Start to finish in about two hours.
On yeast: Yeast can be a finicky ingredient. You want to make sure your yeast is fresh, most importantly.
Variations in the Rise..
Also, if you find a bit of variation in the initial rise, it isn't you, it's the yeast, flour, brand of flour, type of flour, room temp, bowl, everything working together. Slight variations are normal. But I have found, that in the end, after baking, the rolls turn out pretty consistently, even if that initial rise or even second rise, looks different between batches. That has been my experience anyways! Hope that makes sense. As always, ask me questions or tips in the comments, I am happy to help you out.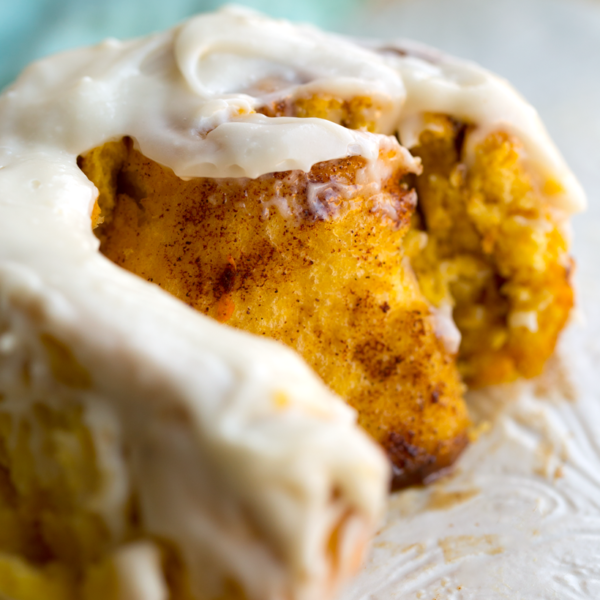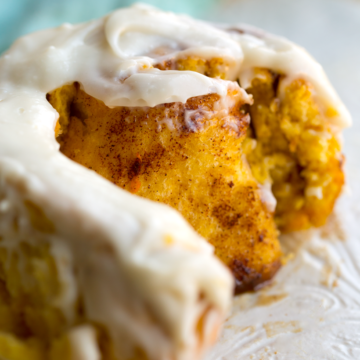 Pumpkin Cinnamon Rolls
These delicious vegan cinnamon rolls are perfect for your holiday celebrations or making any morning special.
Print
Pin
Ingredients
Dough:
1

packet of yeast

½

warm water

½

cup

warm non-dairy milk

½

cup

pumpkin puree

,

unsweetened + 1 Tbsp

1

teaspoon

sea salt

¼

cup

sugar

,

organic

2

tablespoon

vegan butter

,

melted

3 ½-4

cups

all-purpose flour
Filling:
3

tablespoon

cinnamon

,

generous sprinkles to cover dough

¼

cup

vegan butter

,

melted

½-3/4

cup

brown sugar
Frosting:
8

ounces

vegan cream cheese

1

cup

powdered sugar

,

organic

¼

teaspoon

vanilla extract

a few splashes of non-dairy milk

,

as needed
Instructions
Add the yeast and warm water to a small bowl. Stir to combine and set aside for 3-5 minutes before using.

Combine the non-dairy milk, pumpkin, salt, sugar and vegan butter in a large mixing bowl. Stir until smooth.

Stir in the yeast mixture.

Add the flour, one cup at a time, and fold to combine. You can use up to 4 cups, but 3 ½ cups may feel like enough to achieve a fluffy ball that is easy to handle. On a floured surface, or right in the bowl, knead the dough for a few minutes. Then grease your large mixing bowl to prevent sticking and place the dough back inside of it. Cover with a clean dish towel and set the dough aside to rise in a warmish place for 45 minutes to an hour.

When the dough has risen, it should have doubled in size. Punch out the dough and transfer it to a well-floured surface. Use a rolling pin to roll the dough out to a thin thickness. Variantions: If you want a tightly rolled cinnamon roll with many layers, roll your dough out as thin as you can get it. If you want a more basic roll, roll the dough to about a 15 by 9-inch rectangle size.

Brush the melted butter over the rolled out dough, sprinkle the cinnamon and brown sugar over top and begin rolling the dough up.

Slice the roll into 9 even sections. To make sure you slice then evenly, do a few test cuts by indenting marks on the dough, before actually starting to cut the rolls.

Transfer the rolls to a baking sheet and allow to rise for another 45 minutes. Then bake at 350 degrees for about 30 minutes.

Allow the rolls to just about completely cool before adding the cream cheese frosting. It is ok if the rolls are still slightly warm to allow the frosting to melt a tiny bit into the rolls.
Equipment
baking dish

mixer for frosting

Rolling Pin
nutrition estimate | per serving
Calories:
442
kcal
|
Carbohydrates:
74
g
|
Protein:
7
g
|
Fat:
14
g
|
Saturated Fat:
4
g
|
Sodium:
429
mg
|
Potassium:
126
mg
|
Fiber:
5
g
|
Sugar:
32
g
|
Vitamin A:
2536
IU
|
Vitamin C:
2
mg
|
Calcium:
82
mg
|
Iron:
3
mg
"You will get a sentimental feeling when you hear
Voices singing, let's be jolly
Deck the halls with boughs of holly"

– jingle bell rock
…I love that line from Jingle Bell Rock because it notes the 'sentimental' part of the holidays. Sentimentality over the simplest of gestures or movie scenes…
Holiday Feels – a few moments I love:
– Tree. The twinkly glow the first time you flip on the lights to your Christmas tree.
– Music in Stores. If O Holy Night comes on when you are strolling your big, red cart through Target. You nonchalantly wipe a tear as you glide down the baking aisle.
– Movie Music. When the John Williams-scored, opening credits to Home Alone start, those sparkling bells dah-dah, da-da-da, dah-dah, da-da-da, and you well up with, "I love this movie!!!!"
– Family Feels. That scene in The Holiday, in the snowflake fort, the hand grab, and the 'Three Musketeers' line. Sob! …. Or really anything that reminds you of family holiday time, love, loss, kids, togetherness. Water works.
– Laughter. Any scene in Elf. Like when Buddy excitedly says, "So good news, I saw a dog today."
– Old Movies. The final scene of White Christmas.
– Why am I crying???? Or when you randomly watch "Christmas with the Kranks" for the first time, thinking it is just a mindless holiday flick and you end up sobbing during one of the scenes.

…(I mean, that MAY have been me last night..)
What is one of your sentimental moments?? I want to know!
I am wishing you and your family a smooth sail into an awesome 2018!

Enjoy these rolls!…
Recipe References:
– Based on my Pumpkin Pecan Cinnamon Rolls
– Food Network, Paula Deen