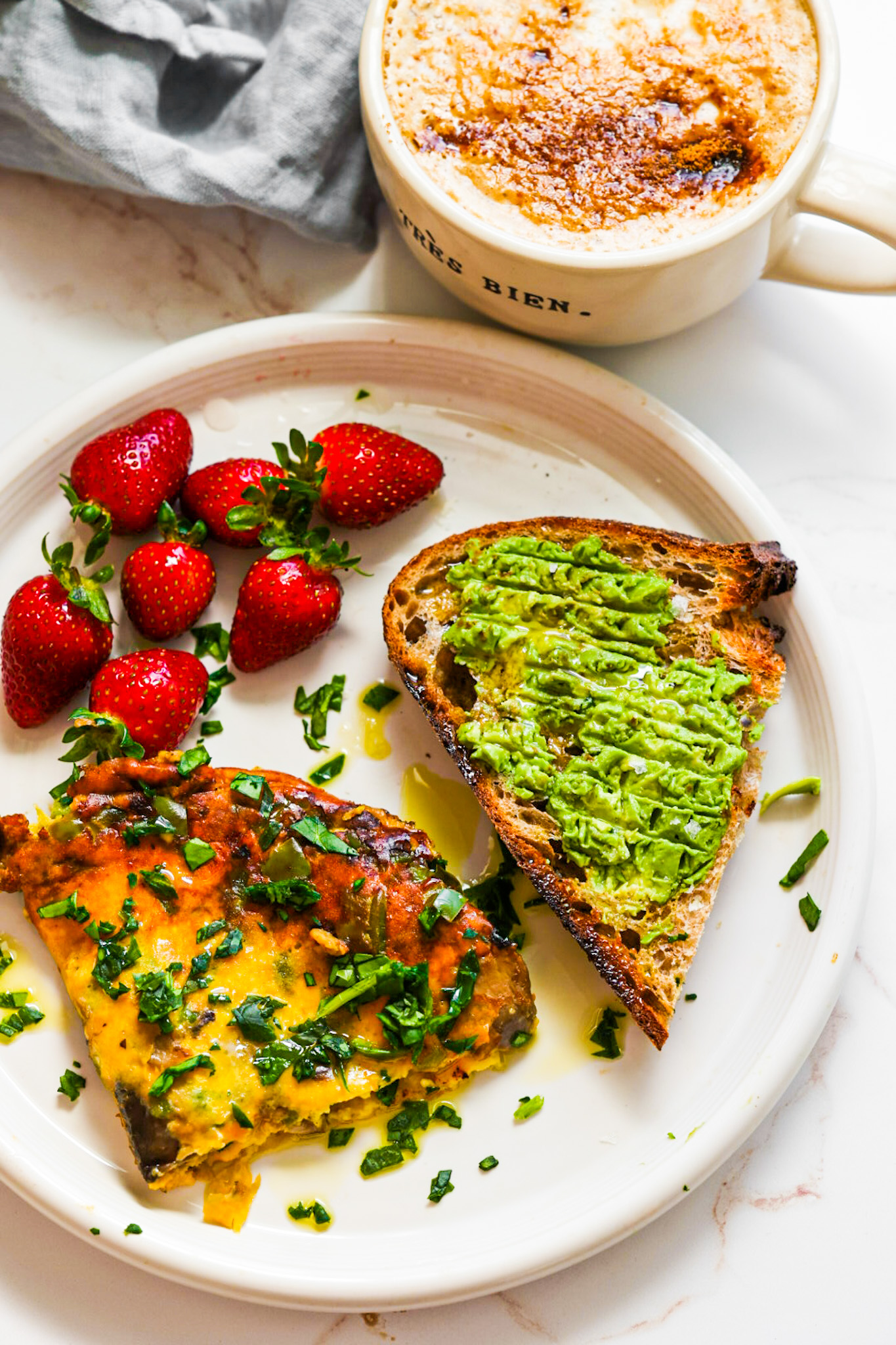 This JUST Egg Omelet has been a huge hit in our household. It is plant-based, cheesy, fluffy and filled with veggies. You can switch up the type of veggies, based on whatever you have on hand. Today I used crisp green bell pepper and mushrooms.
Kid Approved
This vegan omelet is so delicious and filling that even my toddler gobbles it up. So it seems to be kid-approved. Huge win for moms since this "egg" is loaded with plant-based protein from beans. Learn how to make this cheesy, amazing, vegan classic…
Non-Stick Skillet? (Nope!)
It took me a while to master the art of making this omelet without the use of a nonstick skillet – but I finally have a really great technique that works for me every time. Of course, you can always use a nonstick pan if that is your preference.
(Spelling side note.. is it omelet or omelette? Apparently… "Omelet is the spelling used in American English. Omelette is the spelling used in British English."
JUST Egg Omelet it is, for today.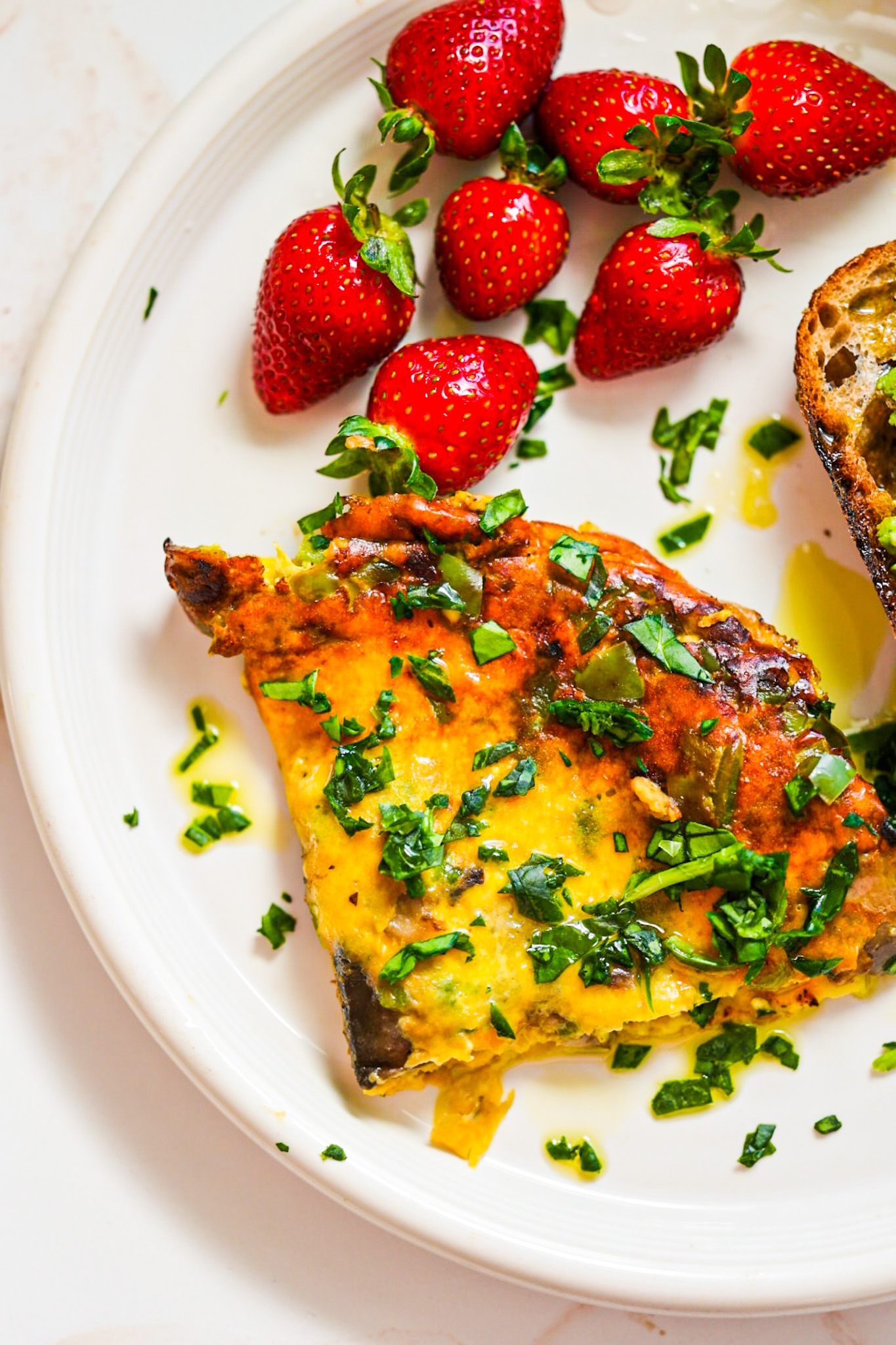 JUST Egg Trial and Error
I remember the first time I tried JUST Egg. I poured it into a skillet and tried to easily scramble it. Well it did scramble very well, but it did not come together easily. It stuck to the pan and basically made a big mess that was challenging to remove from my pan. Big fail. "Eggs" should be easy and easy to clean up.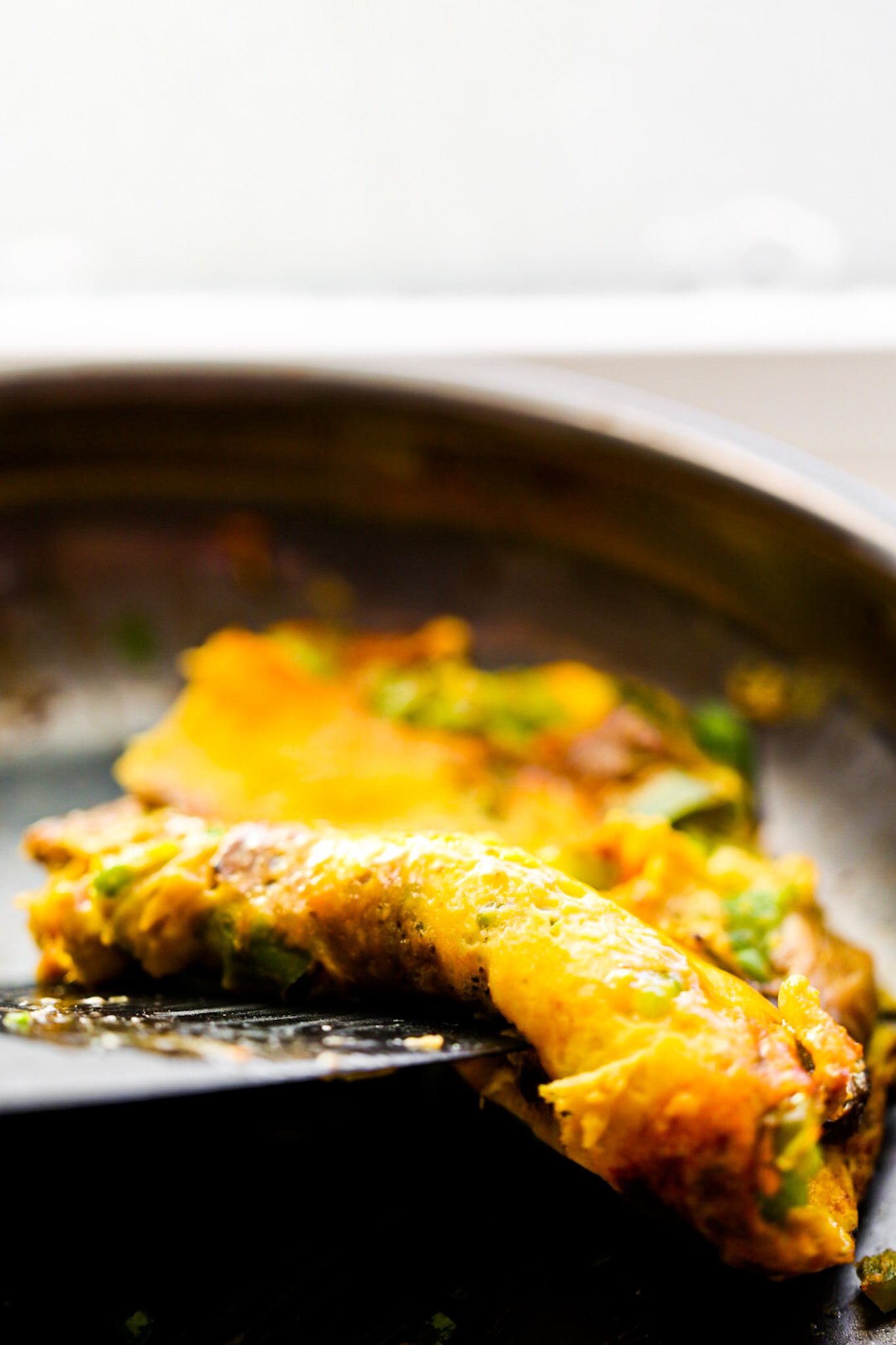 So I switched to only using JUST Egg in baking recipes. Which I adore. JUST Egg is probably my favorite vegan egg substitute for baking because it acts like chicken eggs by fluffing up and binding, while also having a savory eggy flavor that I actually love.
So yeah, I put aside my vegan omelet dreams for a while. Especially since I didn't own a nonstick pan and had read online that it was necessary for cooking this product.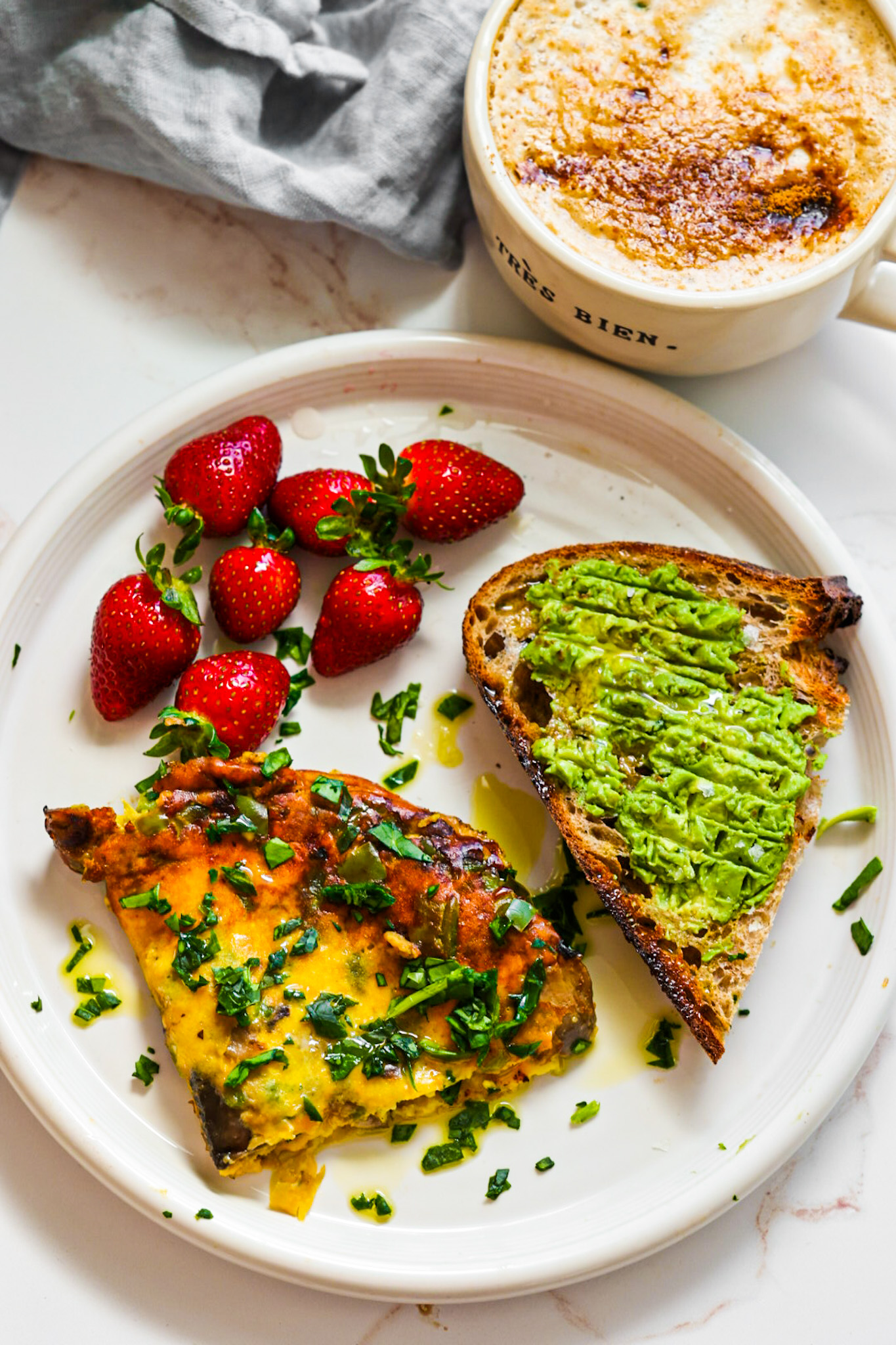 Trying it again…
Then more recently I realized how much my daughter LOVES the JUST Egg folded versions, so I started experimenting again with the liquid stuff in a hot skillet. Well, with a few many failures, I came up with a technique that works for me.
So here are my three big tips for success with a JUST Egg Omelet..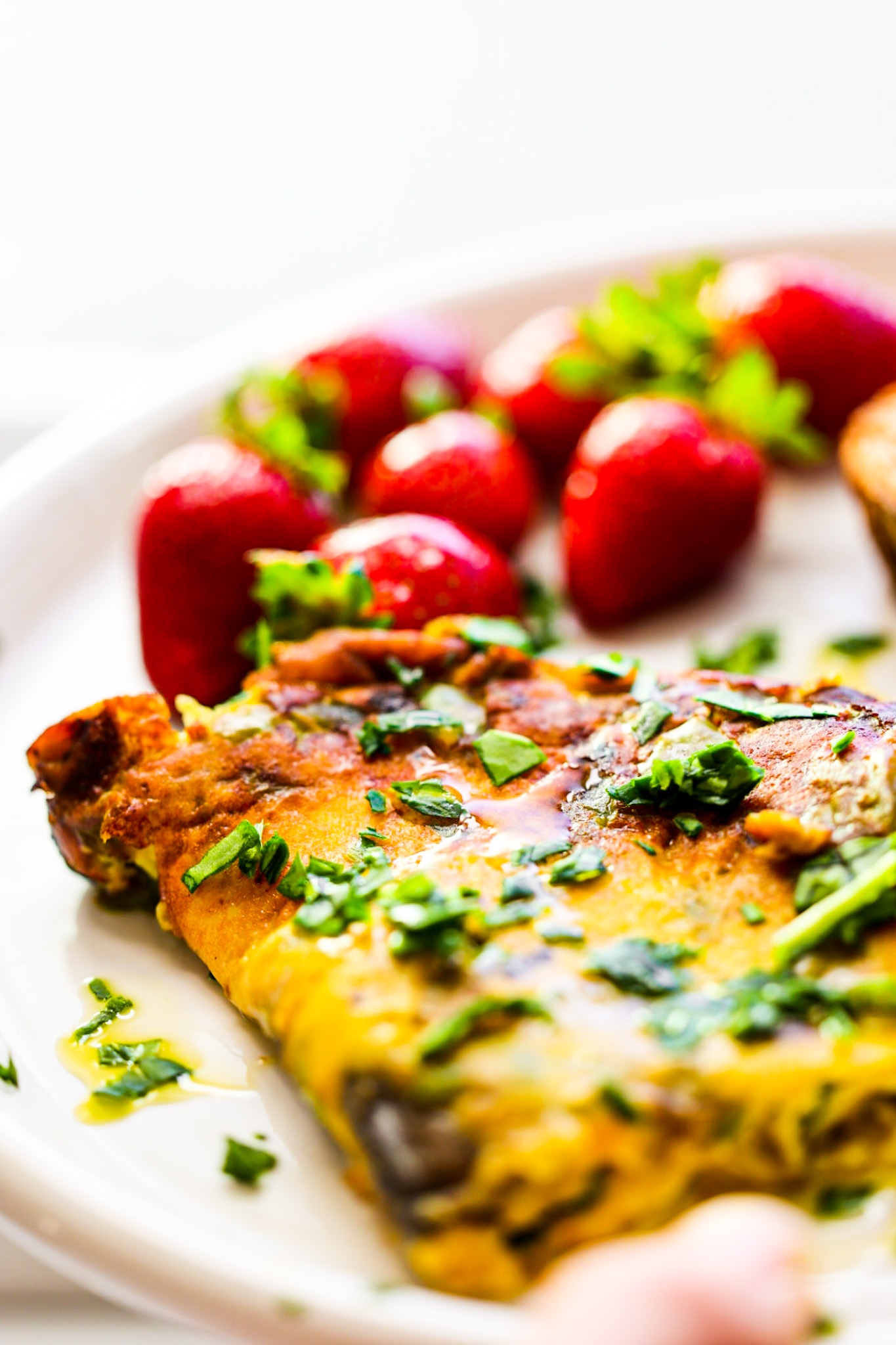 How to Cook a JUST Egg Omelet without a Nonstick Pan…
Oil. You need a base of oil. It's just a must. You don't need a lake of it, just enough to coat the pan. (However, adding more oil will make for a more decadent "egg!"
The Pan. I cannot speak to all pans. I have only tried this technique in my Hestan NanoBond. It is not a non-stick pan, but is very sturdy and "high quality" as pans come. Please give me your feedback if you try a certain pan and find success too!
A lid. You need a lid for part of the process. Foil will work too!
Sit and Rest. The biggest secret… This product firms up as it cools. So letting the omelet rest before flipping is a must for success.
So How do I do it? Check out the recipe below for the full process and technique for a successful vegan omelet!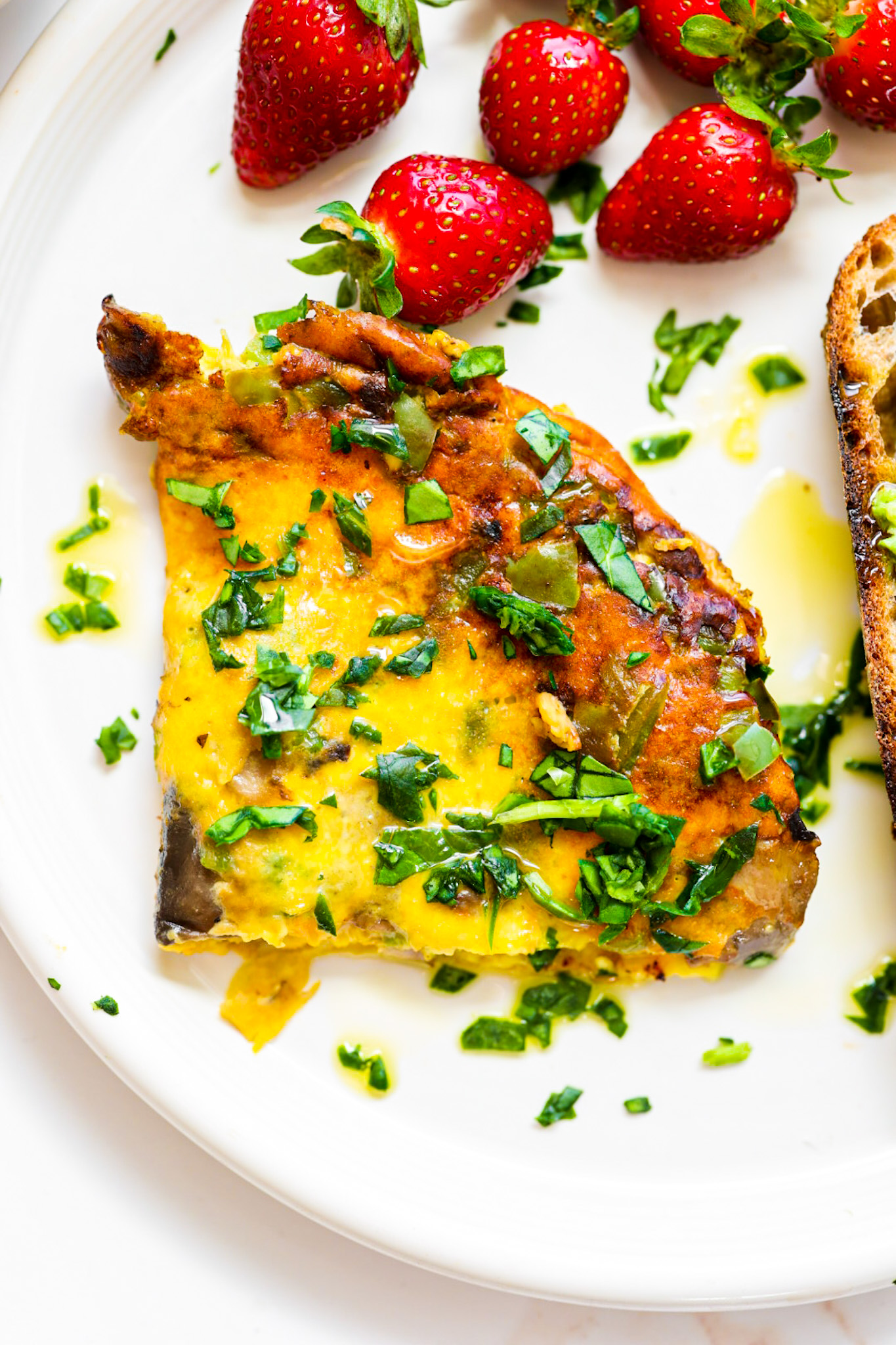 Varieties of JUST Egg
They also have a folded egg that is pre-cooked for ease. We love that one too, but DIY omelet-ing is so much better IMO.
Browse more of my plant-based recipes here!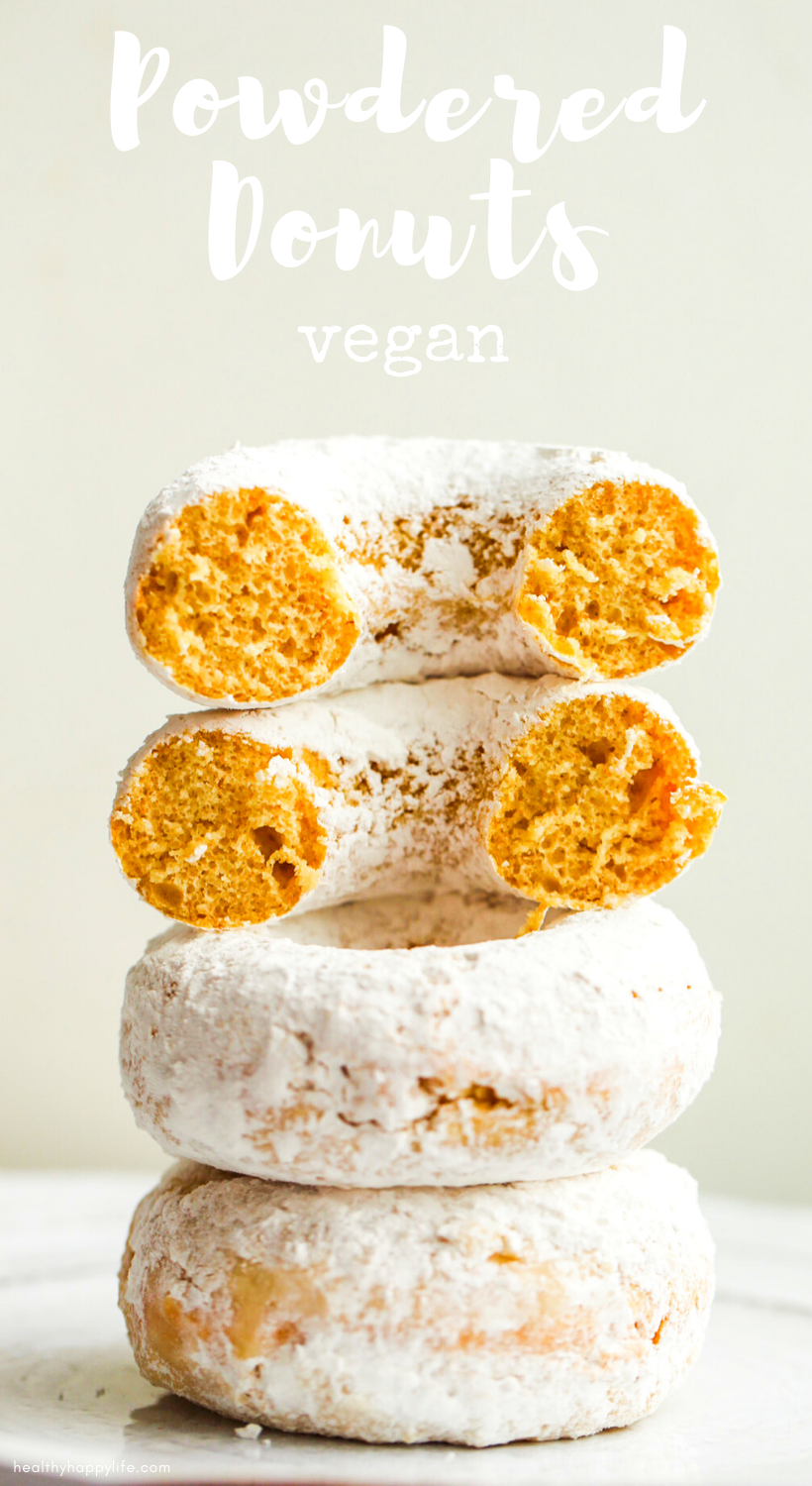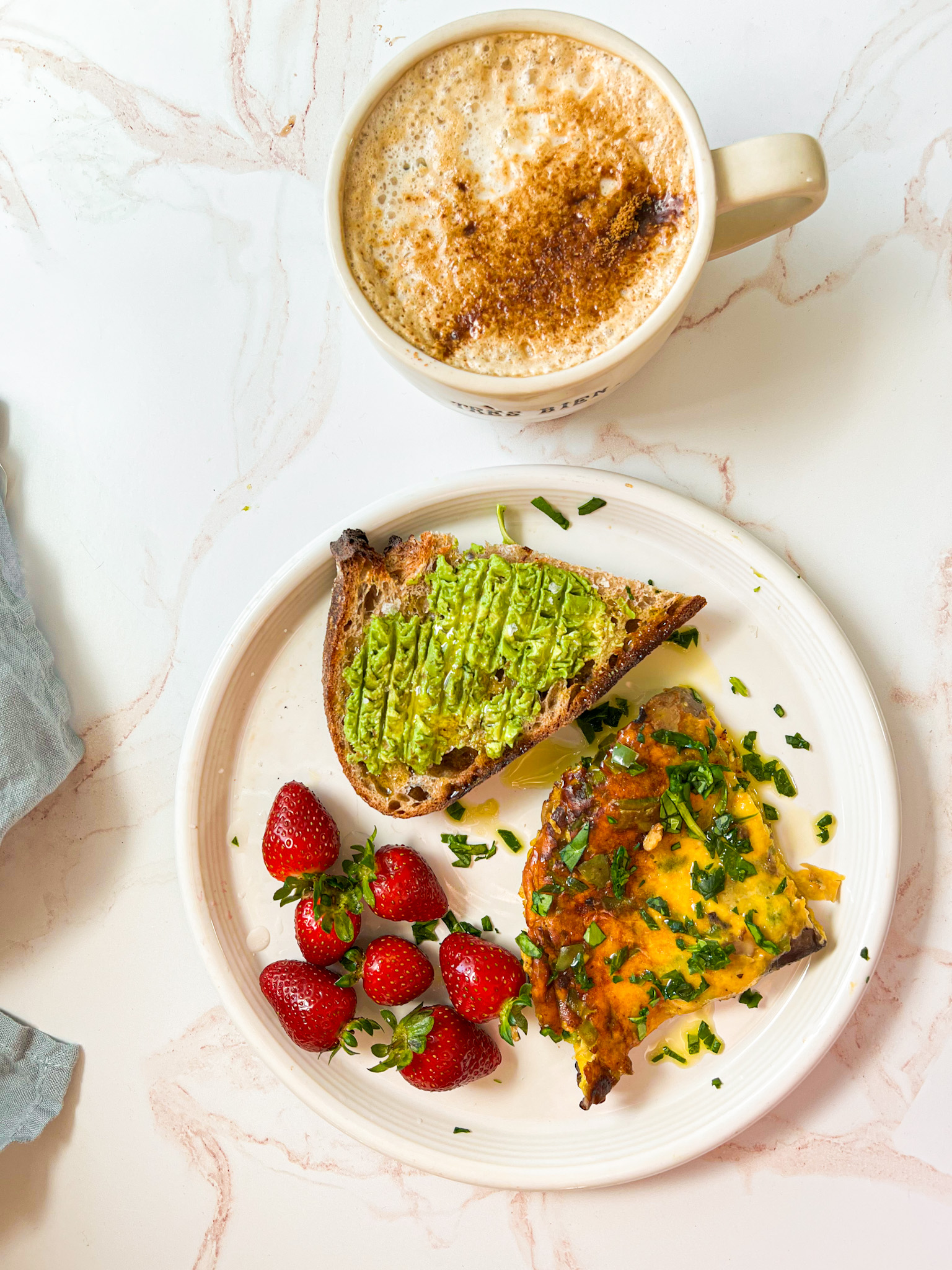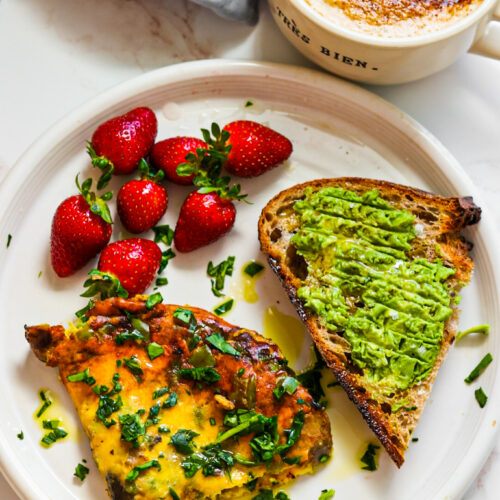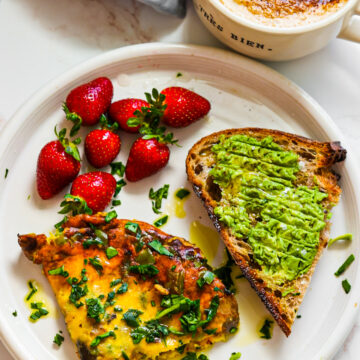 JUST Egg Omelette
This fluufy and savory omelette is oaded with flavor, cheesy goodness and even some veggies.
Print
Pin
Ingredients
1

tablespoon

olive oil

½

cup

green bell pepper

,

diced

⅓

cup

mushrooms

6-8

oz

JUST Egg liquid

¼

cup

vegan cheese

1

tablespoon

nutritional yeast

¼

teaspoon

mixed spices

,

any variety, salt-free

¼

cup

spinach or fresh herbs

,

finely chopped
Instructions
Start off by warming your skillet over medium heat.

When the oil is hot, add in the bell pepper, mushrooms and any other uncooked veggies. Turn heat to high and saute for 2-4 minutes, until tender.

Pour in the JUST Egg. Add the cheese, nooch and spices over top.

Turn heat to LOW and cover skillet with lid. Let cook for 2-4 minutes. The lid will help cook both the bottom and top of the omelet, so when you flip it, it will be cooked through. The lid also keeps things totally steamy so the bottom doesn't start to stick.

Remove the lid (steam should waft into your face!) and using your spatula, push the sides of the omelette down a bit, loosening them. The JUST Egg should appear soft and moist, but also cooked through – not glossy or wet in any spots. If wet spots remain, place the lid back on, turn heat up slightly and continue cooking for 2-3 minutes.

Otherwise just keep the lid off and turn heat OFF.

Let your omelette SIT in the pan, heat off, for at least 2-3 minutes. This allows it to cool for easier flipping. The egg firms up as it cools. Letting it cool even longer, makes it even easier to flip.

When your omelette is cooled enough. loosen the sides with the spatula, then flip. slice and serve warm. I like a sprinkle of freshly chopped herbs or spinach over top.
nutrition estimate | per serving
Calories:
136
kcal
|
Carbohydrates:
6
g
|
Protein:
7
g
|
Fat:
9
g
|
Saturated Fat:
2
g
|
Polyunsaturated Fat:
2
g
|
Monounsaturated Fat:
4
g
|
Sodium:
97
mg
|
Potassium:
127
mg
|
Fiber:
2
g
|
Sugar:
1
g
|
Vitamin A:
92
IU
|
Vitamin C:
20
mg
|
Calcium:
80
mg
|
Iron:
1
mg