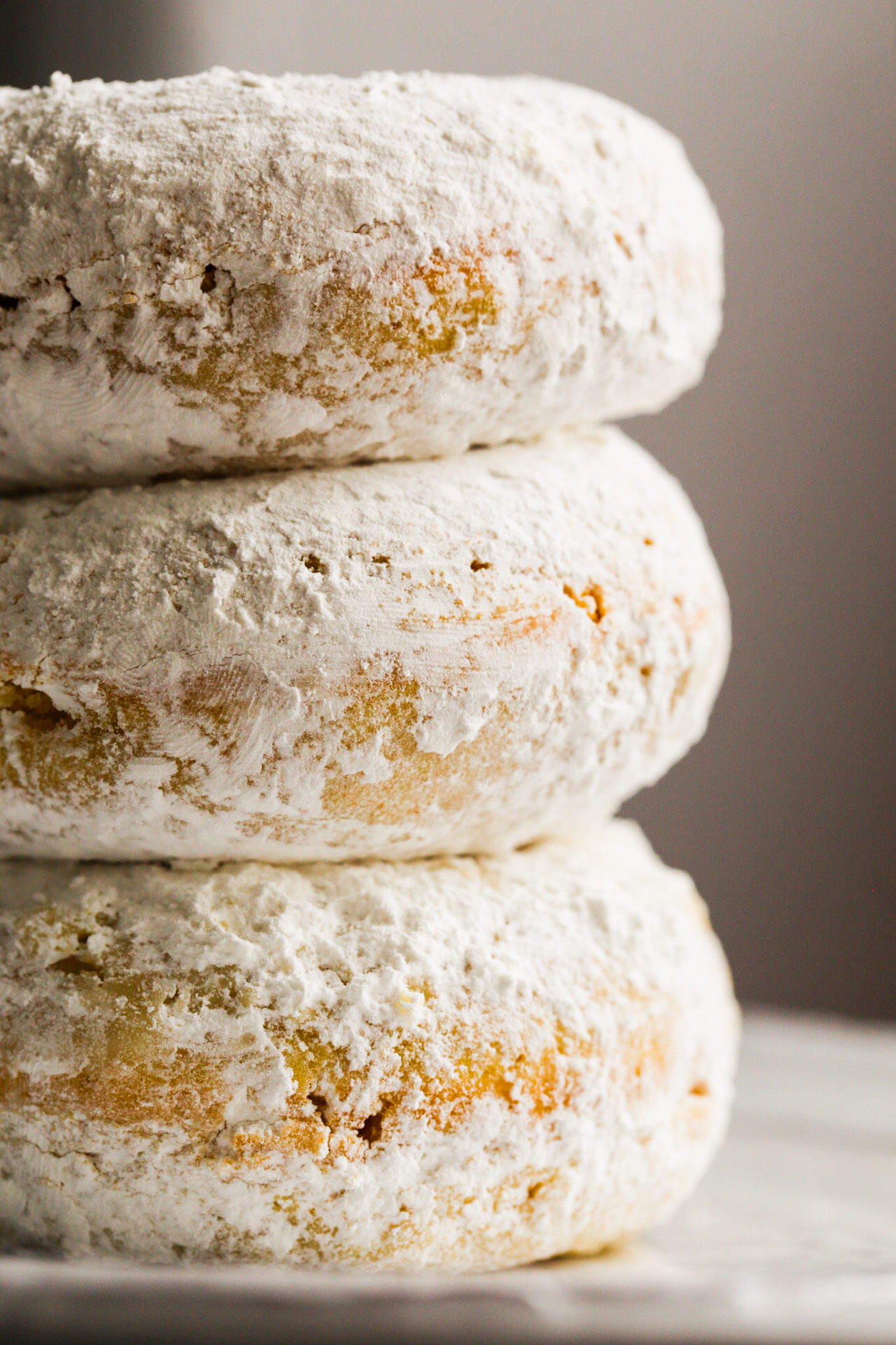 These Vegan Powdered Donuts are my version of a copycat Hostess donut. I know those classic mini powdered donuts quite well…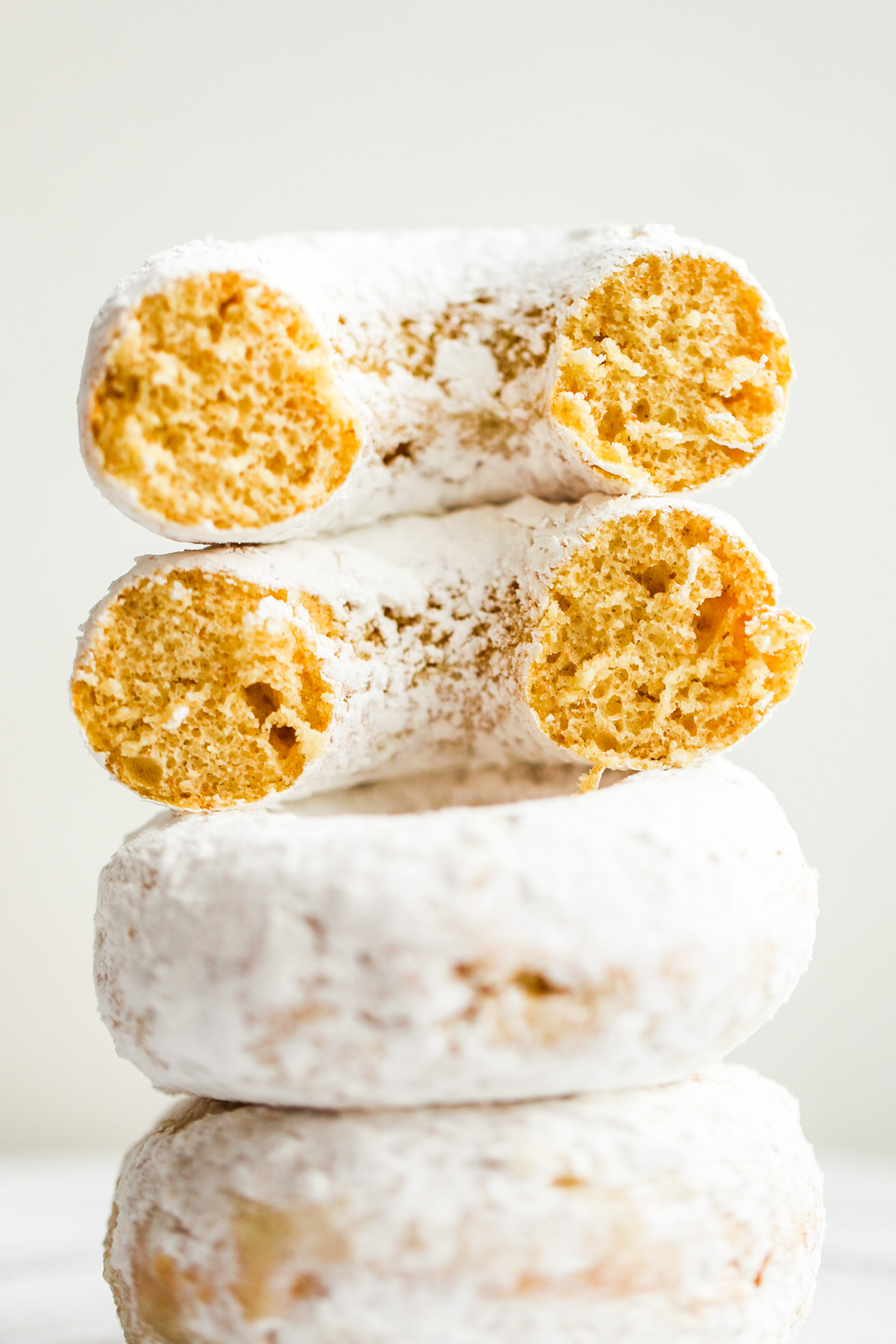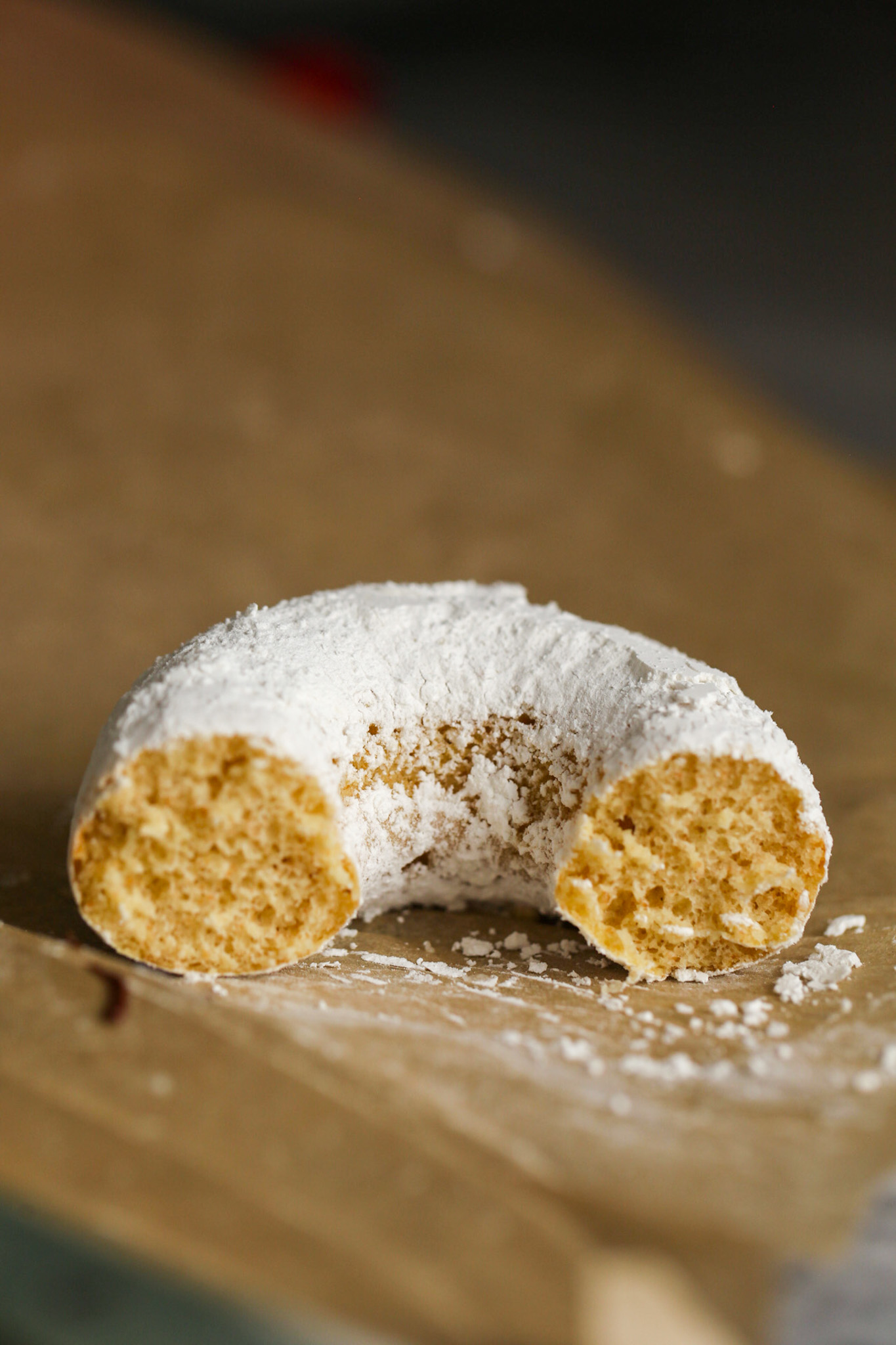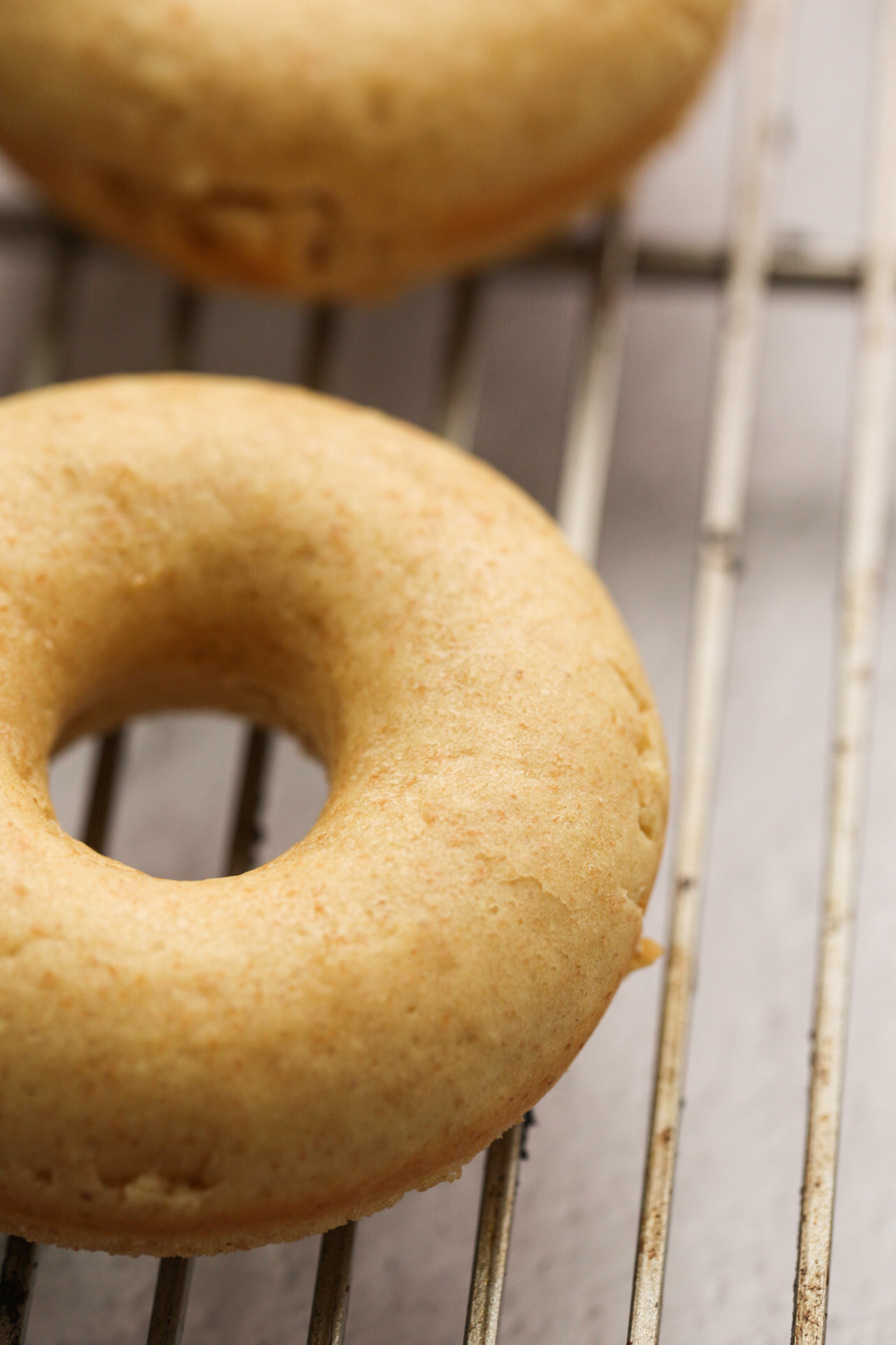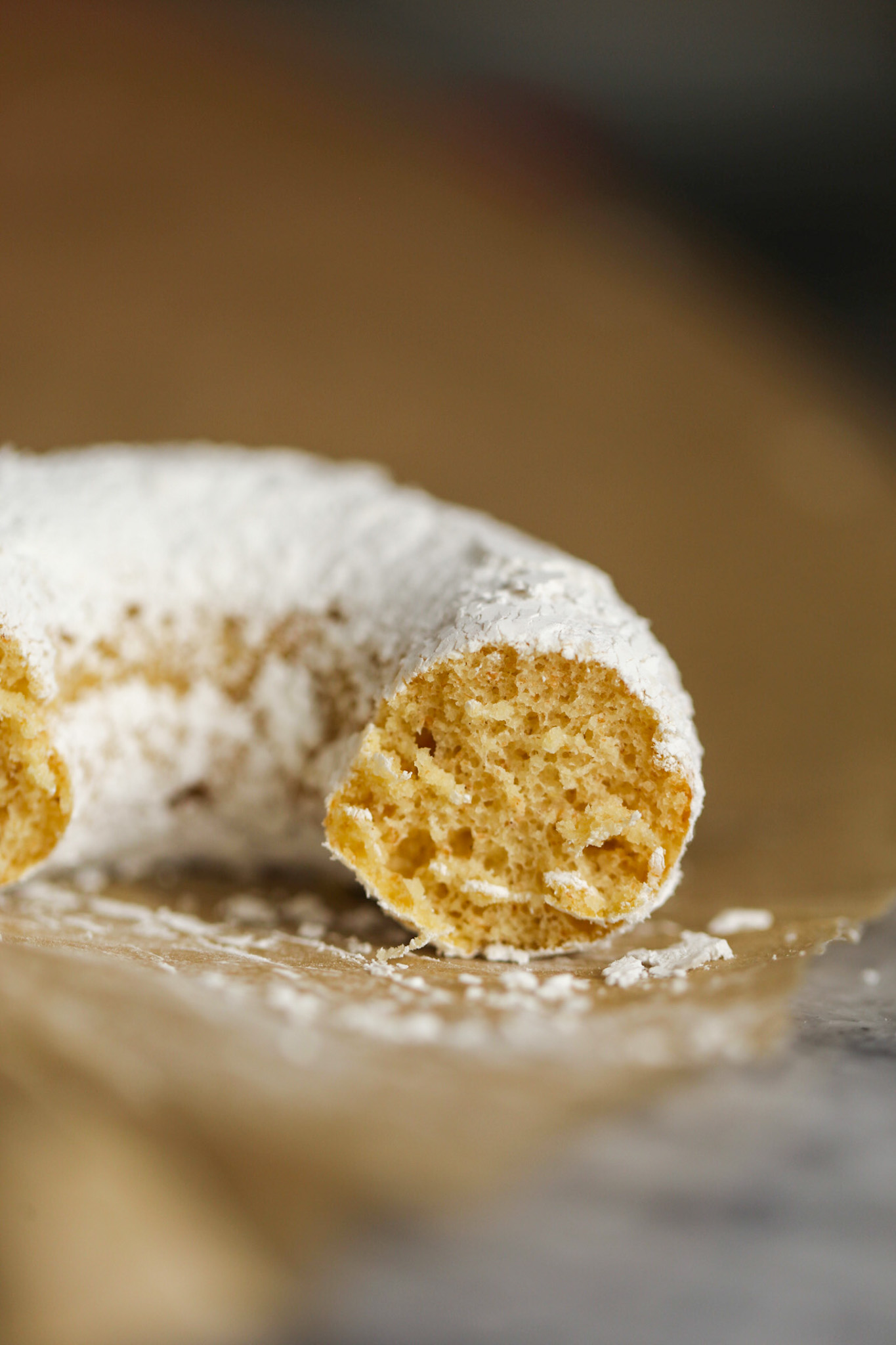 Powdered Donut Obsession
I think it was in seventh grade when I first started making powdered donuts my go-to backpack snack at school. Yes, really. Junior high was a time when you actually had lunch money for the first time and could buy things like brownies, burritos, Dominos pizza slices for lunch and yes, donuts.
That pack of mini donuts was my thing. I'd eat a few. Wipe the white powder from my lips, roll the plastic back up and stuff the uneaten donuts in the front of my navy blue Jansport backpack.
I'm pretty sure my powdered donut habit stuck around through around 9th grade or so. But alas, I do remember graduation my snack habit from powdered donuts to the more refined bagel and cream cheese that my high school sold.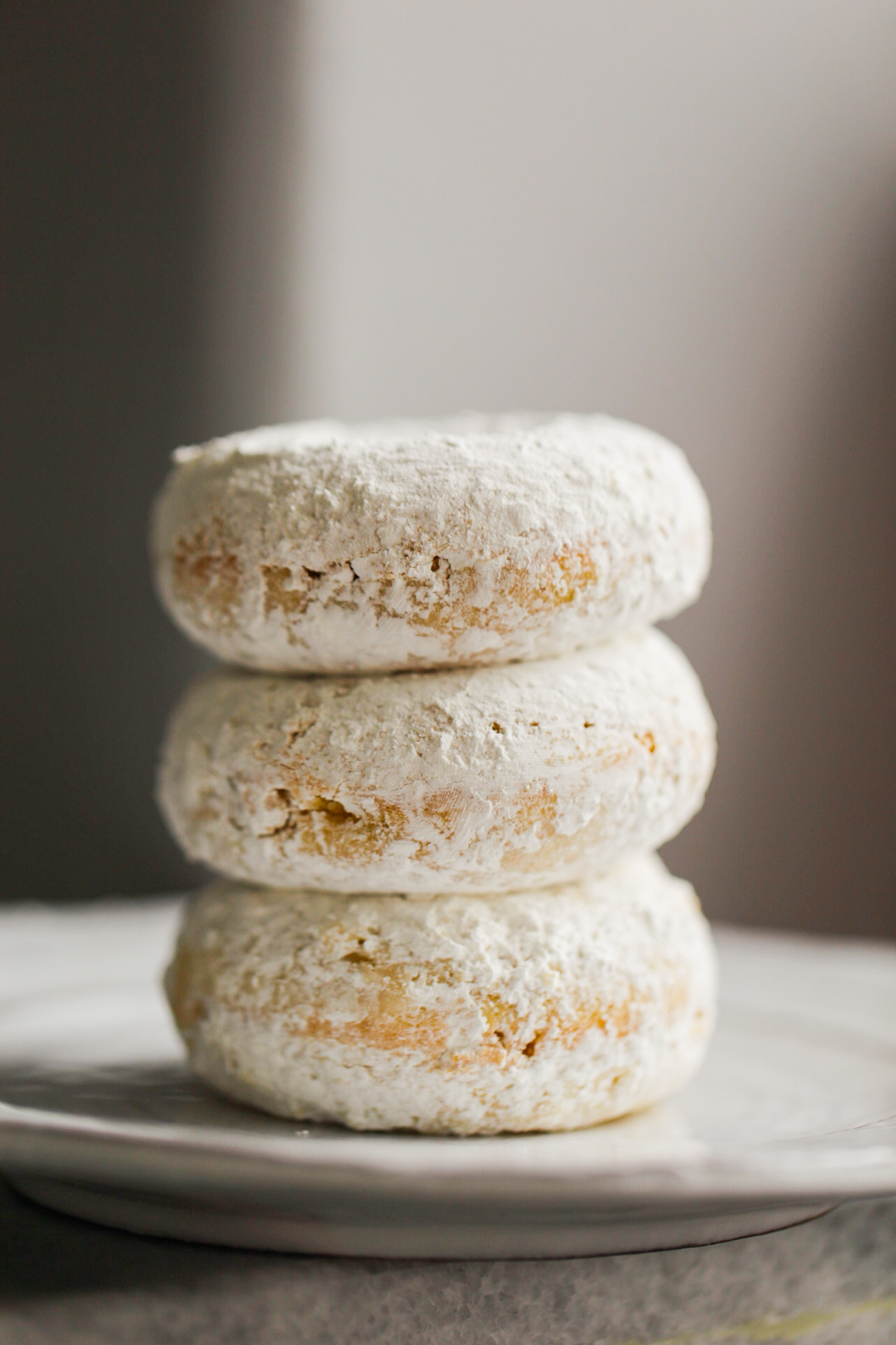 Fluffy and Light
But one of my fave things about the powdered sugar donut was how fluffy, light and simple it was in flavor. Vanilla all the way. It had almost a dry texture, in a cravable way! You definitely could have chugged a Starbucks latte alongside those fluffy rounds, but I don't even think we had Starbucks back then — and I certainly wasn't drinking coffee yet. So maybe just a blue Powerade? Or water? What did I even drink in the mornings before lattes???
Vegan Version Powdered Donuts
I love making donuts, so I basically pulled from my usual fave donut recipe and improvised a bit. The awesome part powdered donuts is that the topping is so darn easy! You just coat on some organic powdered sugar and you're good to go.
The other ingredients I veganized included using:
vegan egg replacer
water as the liquid
organic sugar
Honestly, this recipe for Vegan Powdered Donuts is insanely easy to make and really gives off that classic "Hostess" texture and flavor.
Egg Replacer for Vegan Donuts
Like all my baking projects lately, I have just been really into the JUST Egg – liquid version. It is very similar to the silken tofu puree I usually prefer, only it has a bit more flavor and fluffing power. More flavor: yes please.
But if you can't find the JUST Egg, you can sub with silken tofu, pureed – flax eggs – or even another fave egg replacer like apple sauce, mashed banana or a powdered 'egg replacer' mixture.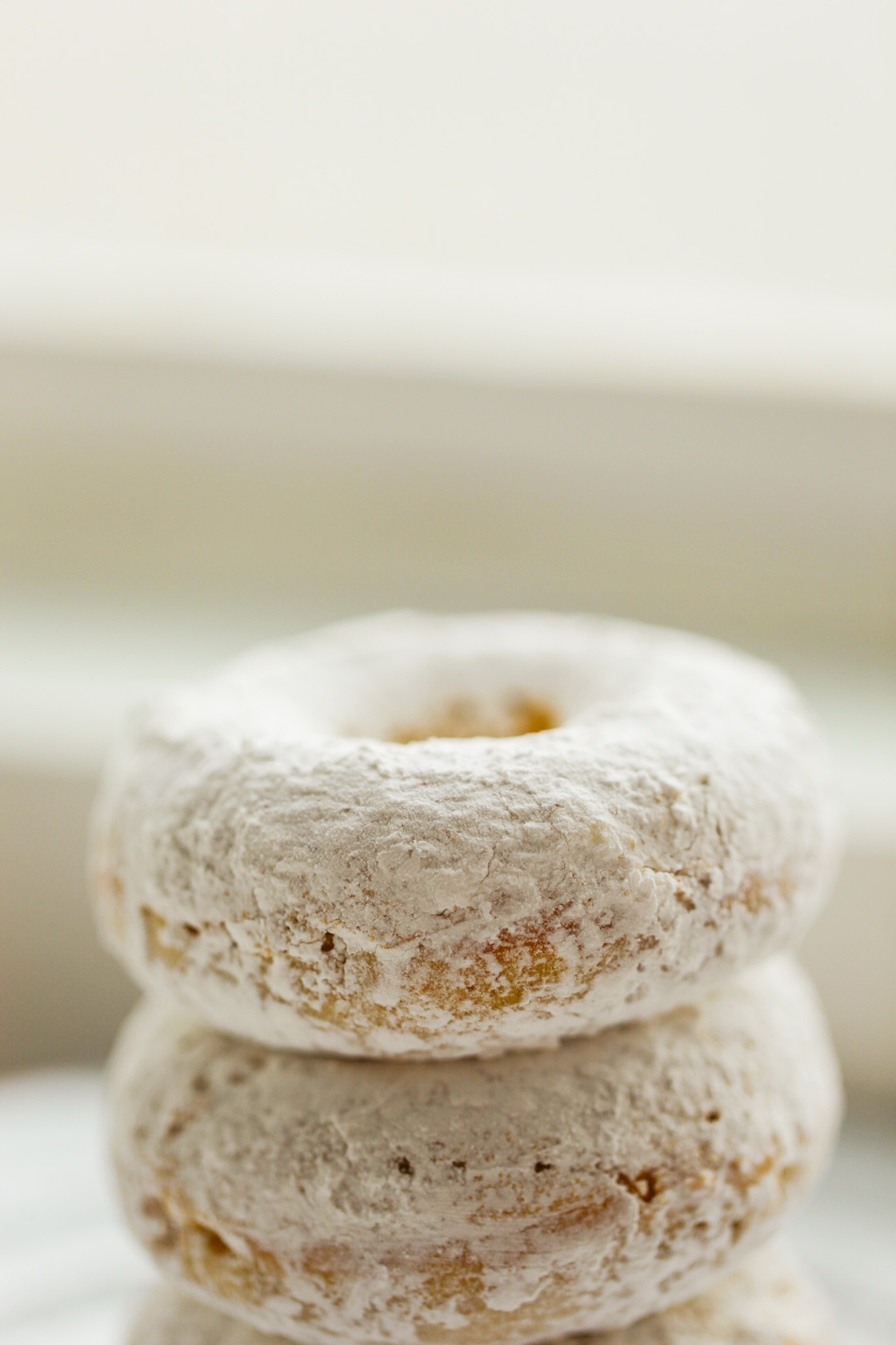 How to Coat Donuts for a Powdered Sugar Flavor…
So easy! There are actually two ways to do this. Number one: Cool and Coat!
Cool + Coat method: Plop your cooled donuts into a bowl of powdered sugar. Keep scooping sugar and patting it into the donut and you flip it over and over again until a thick white coating forms.
Butter Brushing: The second way to do this is to brush your cooled donut with melted vegan butter, then plop it into the sugar. Repeat the same steps above of flipping and sprinkling, patting and repeating until you get a nice thick white coat of sugar.
The vegan butter method adds a bit more flavor and moistness to the donuts, however, being that I kinda like the dryness of a classic copycat "Hostess" donut, the simple cool and coat method works for me.
But if you are having any trouble getting your sugar to stick for some reason, try the vegan butter trick.
Does the Powdered Sugar Coating Last?
For the most powdery donuts, serve right away! The powdered sugar coating will not last for hours and hours. It will absorb and fade a bit…
So if you are serving these donuts a few hours after you powder them up, I will note that the sugar soaks into the donut after a few hours. For freshly powdered donuts – all white and snowy – powder them right before serving. You can either do a fresh double coat before serving or just store the plain donuts until ready to serve and powder them.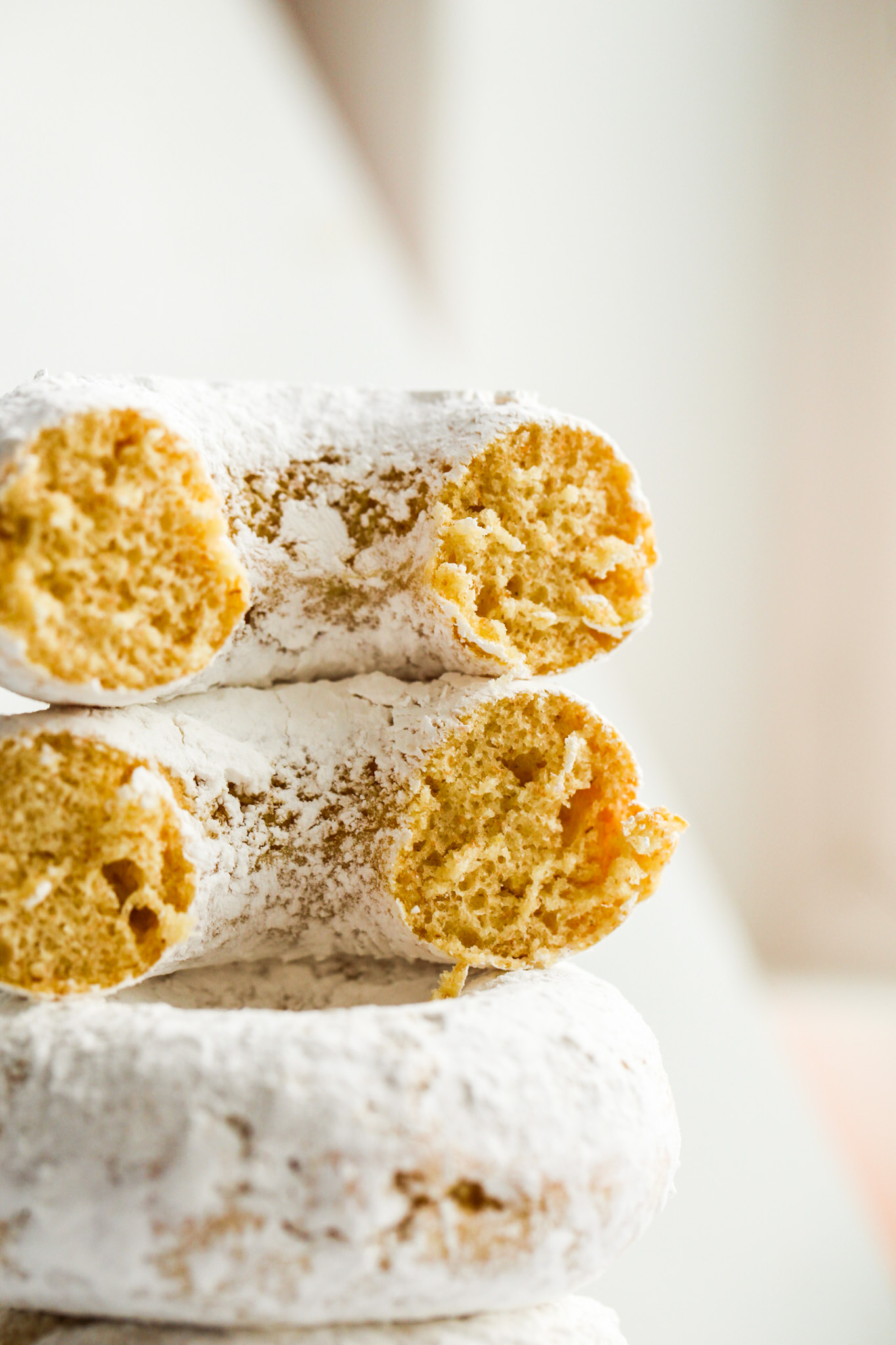 Dessert or Snack
These lovely Vegan Powdered Donuts are perfect for a snack, tea time nibble or light and fun dessert. And if you can find some mini donut baking pans, you can totally re-create the minis! I hope you love this light and lovely dessert just as much as me!
And if you want to build a tray of different vegan donuts, check out all my donut recipes!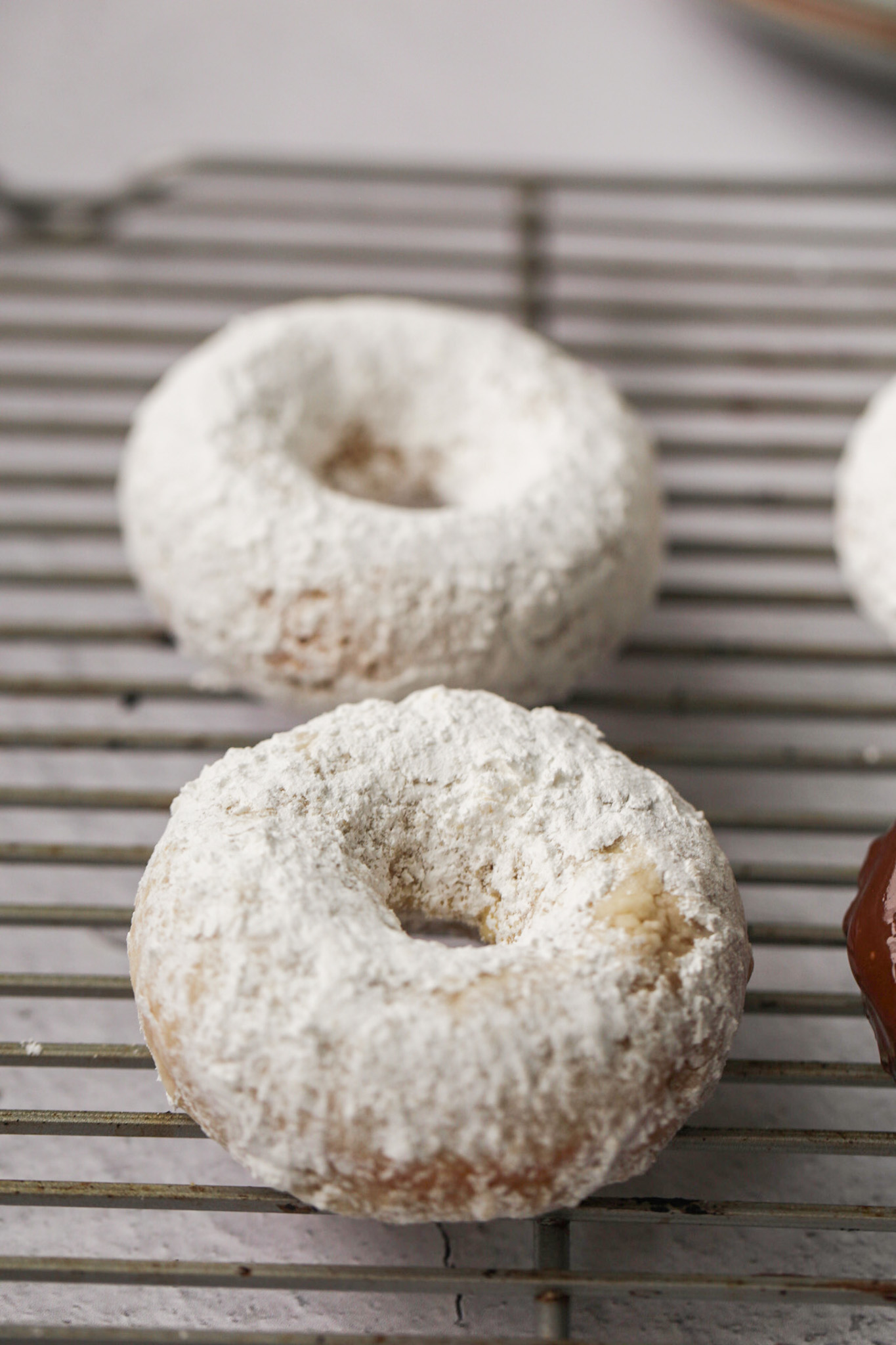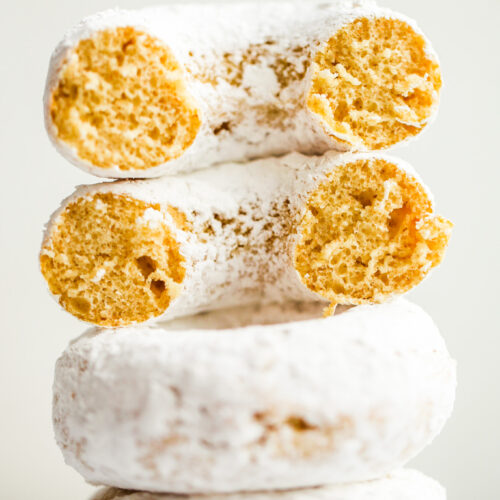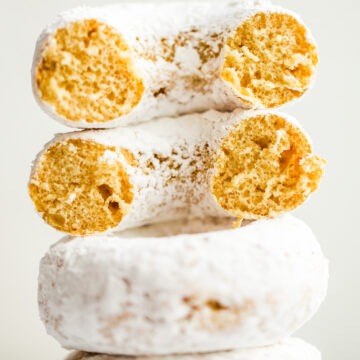 Vegan Powdered Donuts
Fluffy and lovely, these vegan powdered sugar donuts are the perfect snack or dessert.
Print
Pin
Ingredients
⅛

teaspoon

salt

1

cup

flour

,

+ 3 Tbsp

1

teaspoon

baking powder

3

tablespoon

sugar

,

organic

2

tablespoon

vegetable oil

,

see notes

½

cup

vegan egg replacer

¼

cup

water

1

teaspoon

lemon juice

½

teaspoon

vanilla extract

,

optional
Coating
½

cup

powdered sugar

,

organic
Instructions
Preheat oven to 350 degrees. Grease donut pan with oil or vegan butter.

Add all the donut ingredients to a large mixing bowl and whisk well – until smooth.

Spoon the batter into donut pan.

Bake at 350 for 12-14 minutes or until tops are fluffy and lightly browned – and insides pass a toothpick test. Tops should be firm to touch.

Let donuts cool in pan for ten minutes, then carefully remove and transfer to cooling rack. Cool for another 10-20 minutes.

Coat cooled donuts in powdered sugar so a thick white coating forms. Serve!
Equipment
donut tin

mixing bowl

whisk
Notes
Egg Replacers: I prefer the JUST Egg liquid, but silken tofu, apple sauce or flax eggs work too.
Vegetable oils: I use walnut oil, but any neutral veggie oil will work. Safflower oil, coconut oil and more will work.
nutrition estimate | per serving
Calories:
191
kcal
|
Carbohydrates:
33
g
|
Protein:
3
g
|
Fat:
5
g
|
Saturated Fat:
4
g
|
Sodium:
51
mg
|
Potassium:
142
mg
|
Fiber:
1
g
|
Sugar:
16
g
|
Vitamin C:
1
mg
|
Calcium:
45
mg
|
Iron:
1
mg