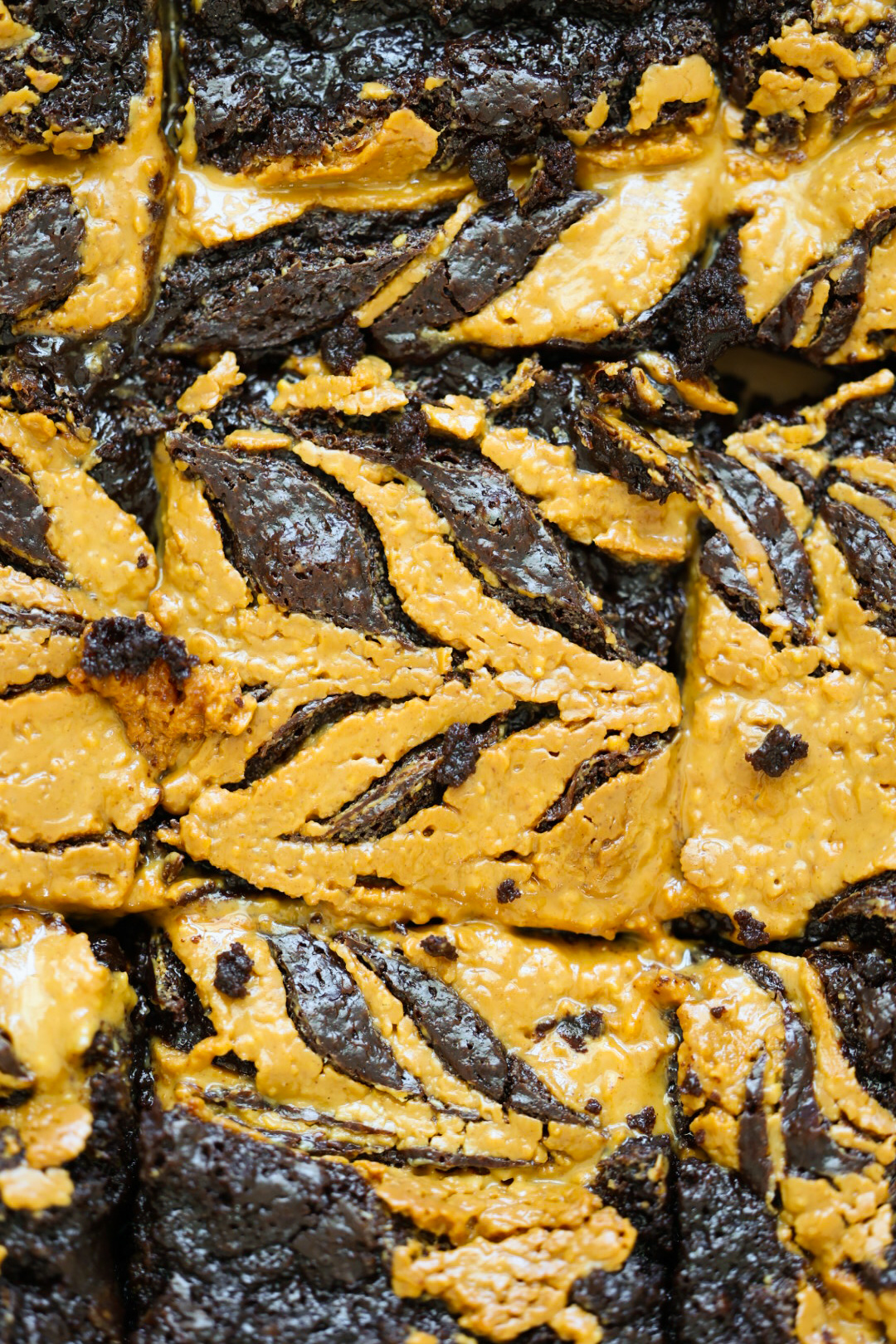 These vegan Super Fudgy Peanut Butter Brownies are easy to whip up and make for the perfect chocolate-craving treat! Plant-based and made using simple ingredients. The peanut butter swirl on top is totally optional, but highly advised. Enjoy these decadent brownies served chilled or warm from the oven.
Fudgy Peanut Butter Brownies
These peanut butter brownies are going to blow your mind. They are so flavorful and rich, in the best way.
These peanut butter brownies are also not super fluffy in a cake-like way. they. Are. Fudgy/ Rich and dense with just the right amount of chewiness and airiness to give them some depth. These brownies remind me a lot of the brownie chunks you might find in your fave brownie ice cream. In fact, these peanut butter brownies, crumbled over top some vanilla ice cream or even banana ice cream from a blender, would be divine.
Vegan 'Eggy' Brownies
These peanut butter brownies have the equivalent of about three eggs. That equals ¾ cup of Just Egg, a vegan egg substitute that you can find at most grocery stores. It is a liquid "egg" made from plants – mostly beans. It adds yummy flavor and a lovely fluffiness to these vegan brownies.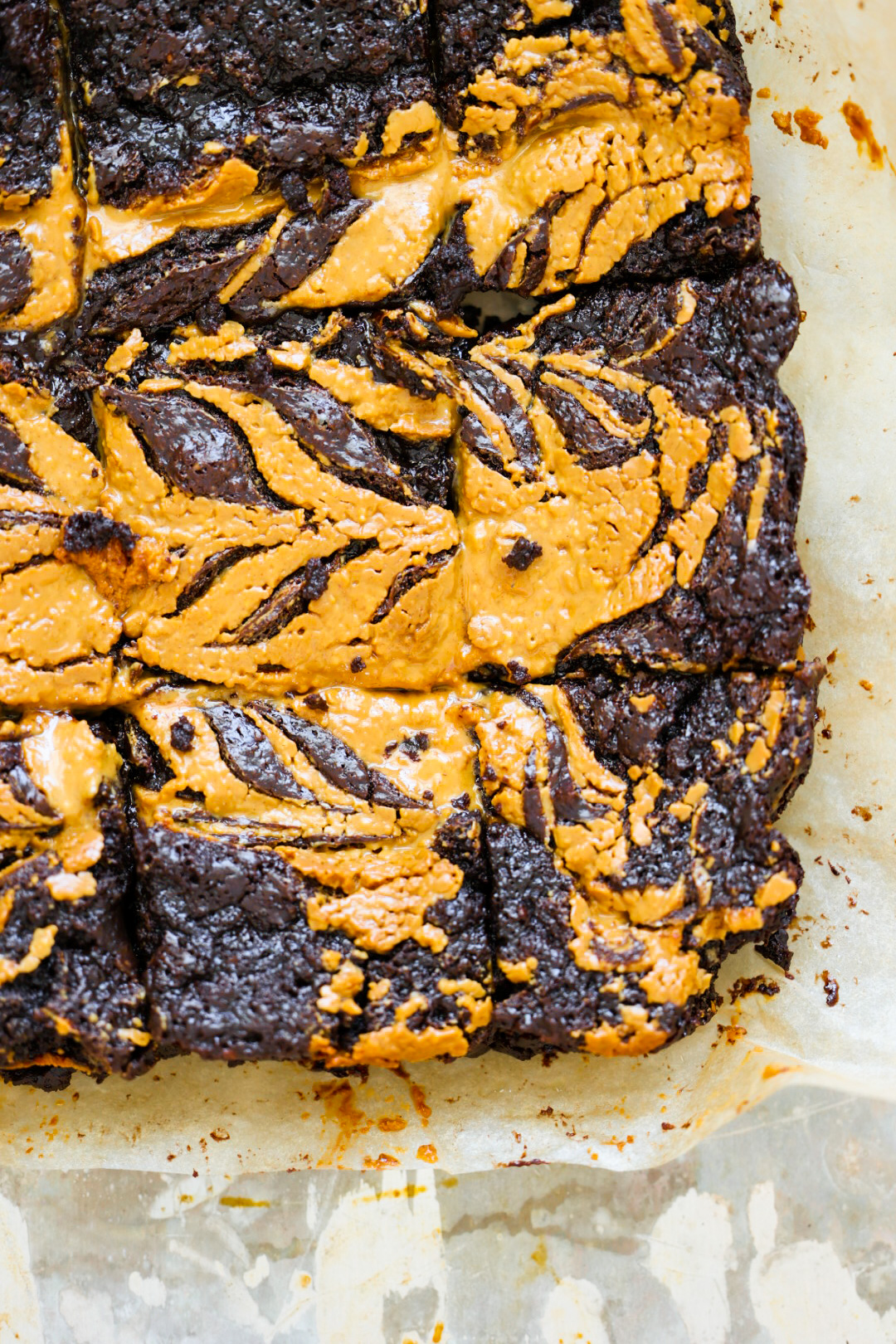 How to Use a Double Broiler for Brownies
I think the best brownies are made using real chocolate – chips or baking bars or chocolate bars. You of course need to melt them before whisking into your batter. And to melt a chocolate chunk of any kind, you need a double broiler set up. Ok, so you could somehow use a microwave, but it is not advised.
A double broiler is simple. You add a small amount – usually a few cups – or water to a large pot. They place a large stainless steel bowl over top. The hot steam warms the bow and gently melts the chocolate. This creates a silky chocolate mixture, allows you to also melt in the butter and sugar, and also prevents you from burning the chocolate. Burnt chocolate is the worst thing that can happen when baking or working with hot melted chocolate.
But still pay close attention to the bowl. You want the heat on low so that the steam doesn't get too intense and warm the bowl too much.
Baking Time for Brownies
I like do about a third of the time at a higher temp – around 400. Then reduce to 350 for the rest of the bake. That way, you get them to fluff and firm up a bit on the edges, while still getting a slow thorough bake-through.
And peanut butter brownies are pretty heavy on top, from the nut butter, so making sure they can fluff up during the bake is important.
When to Slice Brownies?
You can absolutely dive into a baking dish of warm, gooey brownies. Warm brownies pair perfectly with ice cold ice cream. But if you really want to slice into clean squares, you want to wait until the brownies have fully cooled. And even easier to slice: slightly chilled brownies.
These peanut butter brownies will get firm in the fridge so keep that in mind based on how you want to serve and slice them.
My fave baking dish for these brownies is this eight inch square dish.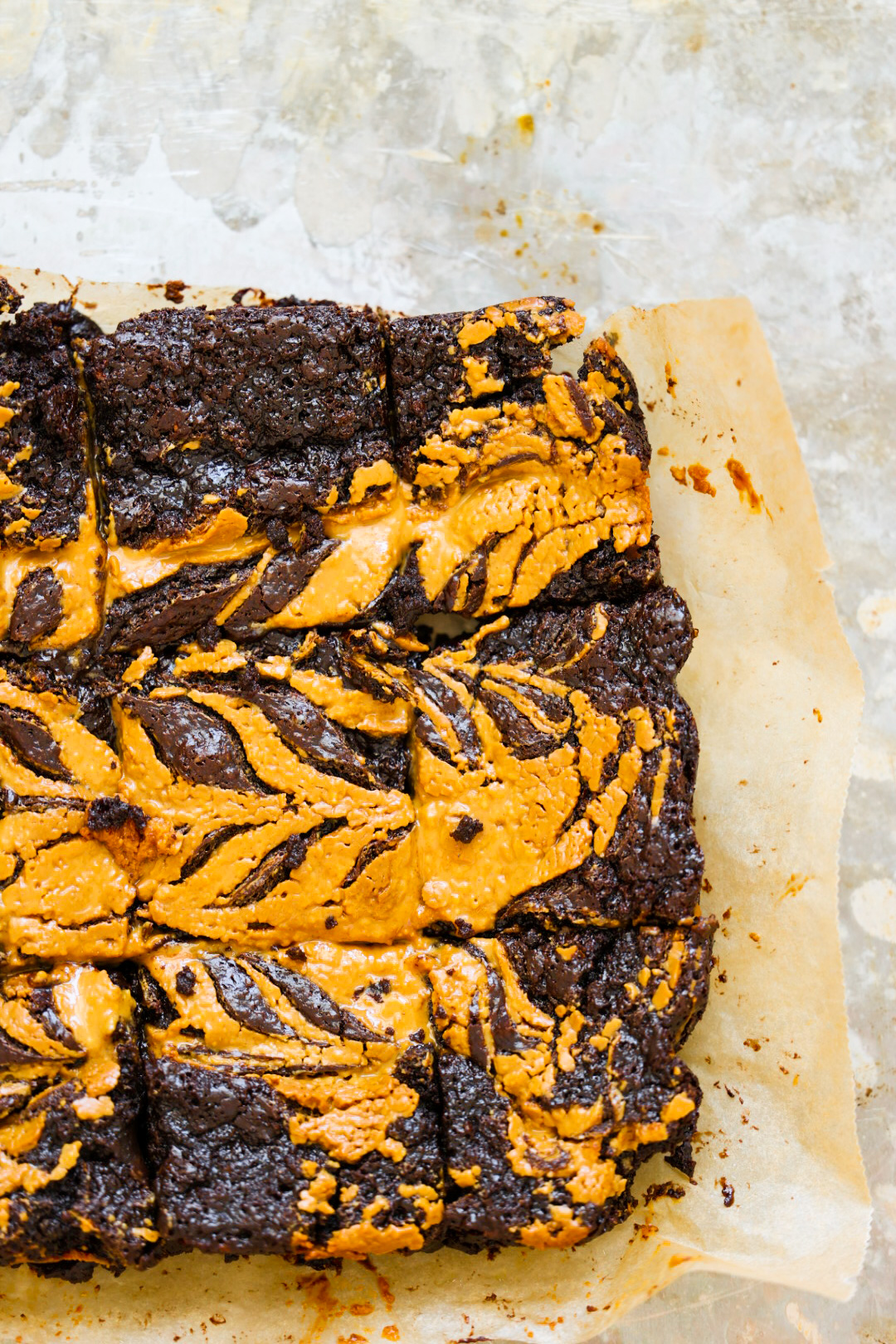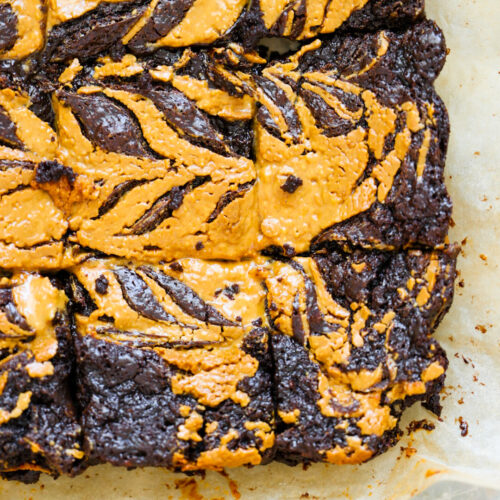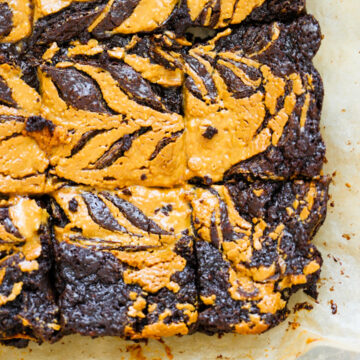 Super Fudgy Peanut Butter Brownies
Fudgy and rich vegan brownies with swirled peanut butter on top.
Print
Pin
Ingredients
Melted:
135

grams

chocolate bars

,

about 1 ½ bars- 70% cocoa

½

cup

vegan butter

1

teaspoon

vanilla extract

1

cup

sugar cane

,

fine
Dry:
½

cup

flour

½

cup

cocoa powder

2

teaspoon

baking powder
Topping:
⅓

cup

peanut butter

,

melted
Instructions
Line an 8×8 square baking dish with parchment paper.

Add dry ingredients to a small mixing bowl. Combine.

Set up a double broiler. Melt in the chocolate, butter, vanilla and sugar. Whisk until smooth. Do not overheat.

Whisk the vegan egg into the dry bowl. Wait a few minutes until the chocolate mixture has cooled a bit. (You don't want to scramble the egg.) Whisk the melted chocolate mixture into the Dry + egg bowl.

Pour the batter into the baking dish and swirl melted peanut butter on top.

Bake for 425 degrees for ten minutes. Then at 350 for another 15 minutes.
Equipment
1 brownie baking dish – square 8×8

1 stainless steel bowl for double broiler

parchment paper
nutrition estimate | per serving
Calories:
355
kcal
|
Carbohydrates:
40
g
|
Protein:
6
g
|
Fat:
21
g
|
Saturated Fat:
7
g
|
Polyunsaturated Fat:
4
g
|
Monounsaturated Fat:
8
g
|
Trans Fat:
1
g
|
Cholesterol:
1
mg
|
Sodium:
128
mg
|
Potassium:
371
mg
|
Fiber:
4
g
|
Sugar:
27
g
|
Vitamin A:
485
IU
|
Calcium:
68
mg
|
Iron:
3
mg