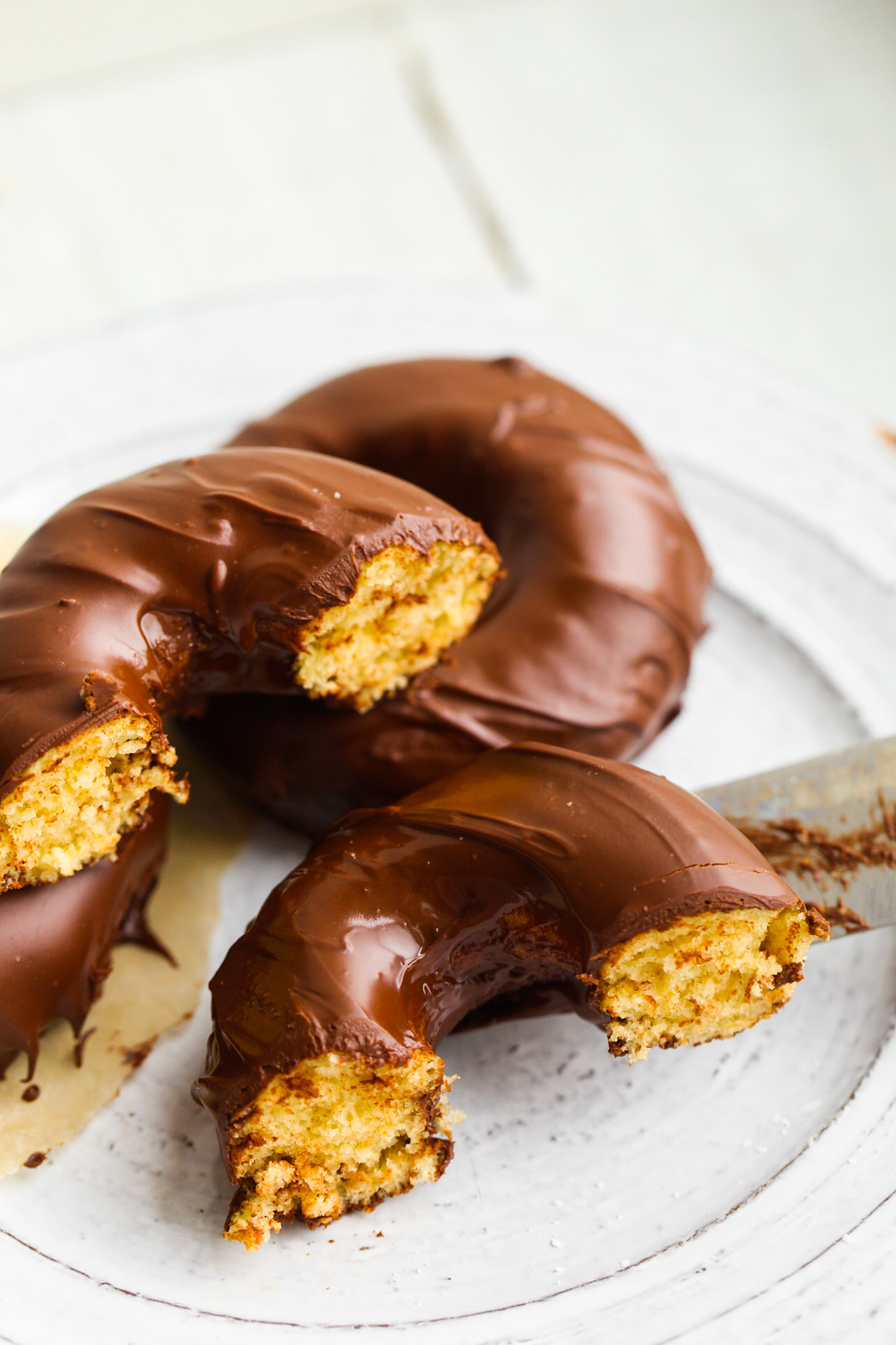 As I was making my baked, vegan 'Hostess copycat' powdered sugar donuts a few weeks ago, of course I also had to pair them with some Chocolate Frosted Donuts as well!
These baked vegan donuts are vanilla flavored and completely coated in a rich chocolate coating. This is not your usual soft chocolate glaze. This is a rich, truly chocolate coating! It absolutely reminds me of the Hostess version I used to eat.
So choose your fave. Are you a powdered sugar donut fan or a Chocolate Frosted Donuts loyalist?? Or maybe a bit of both…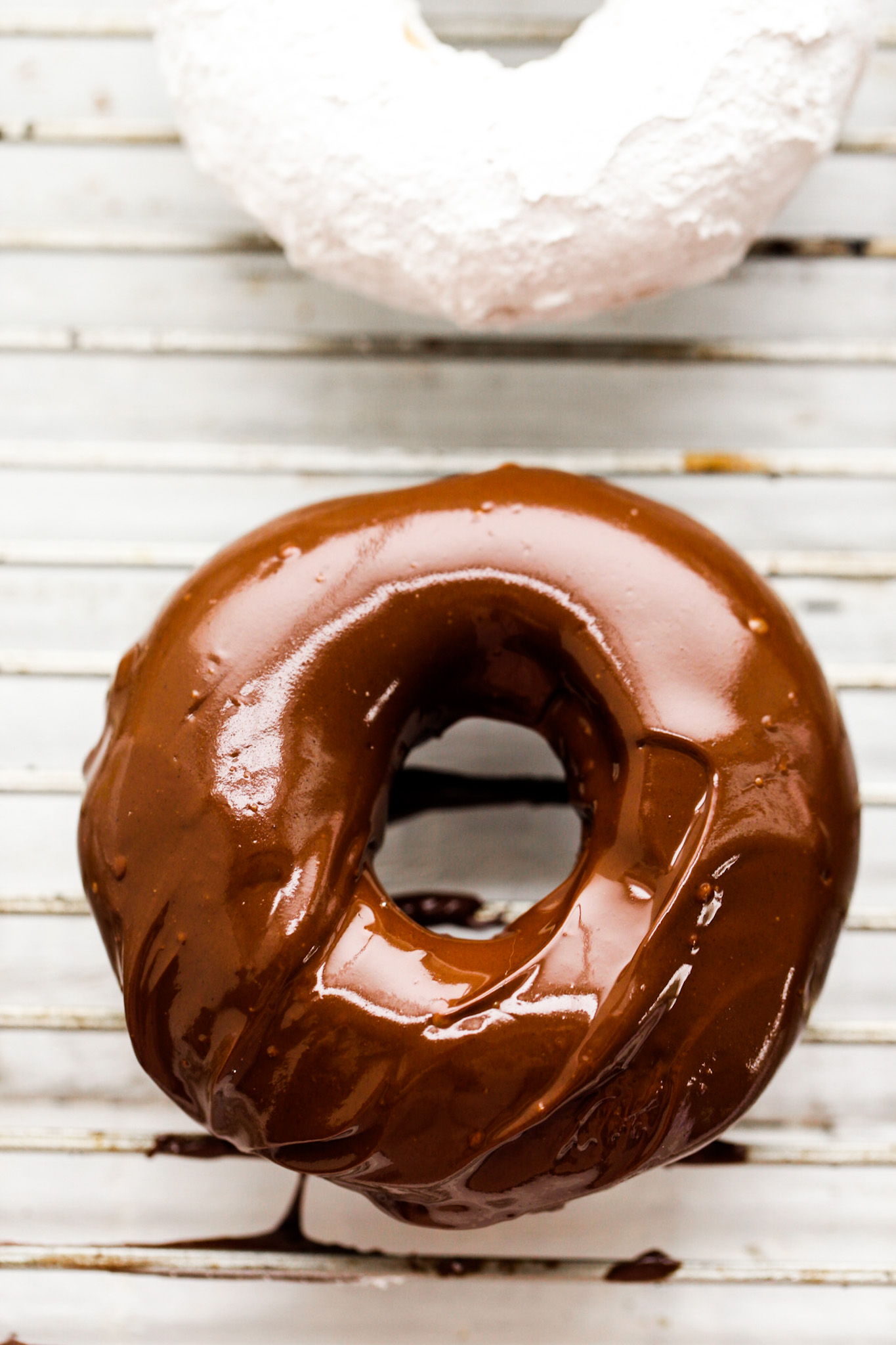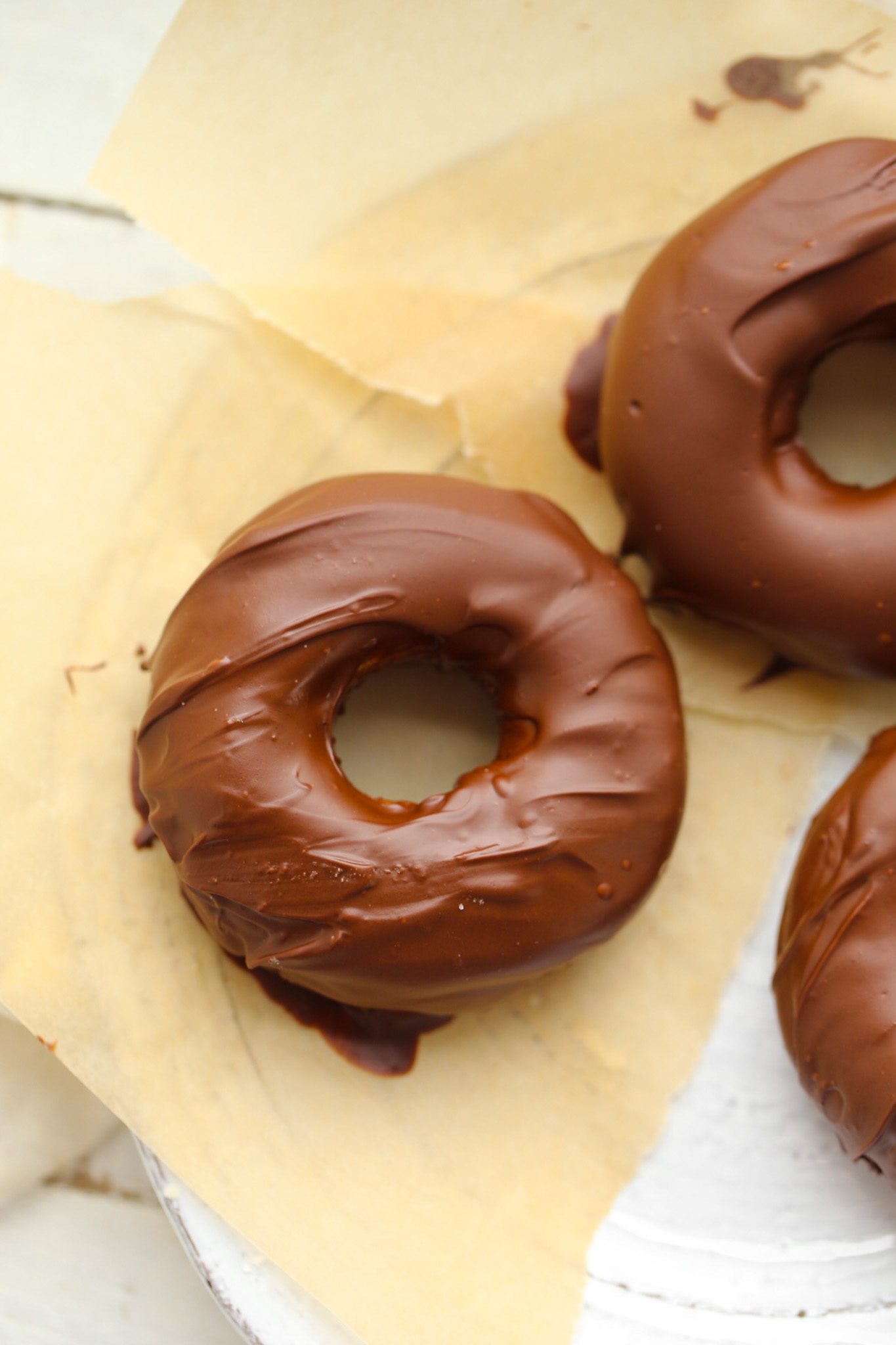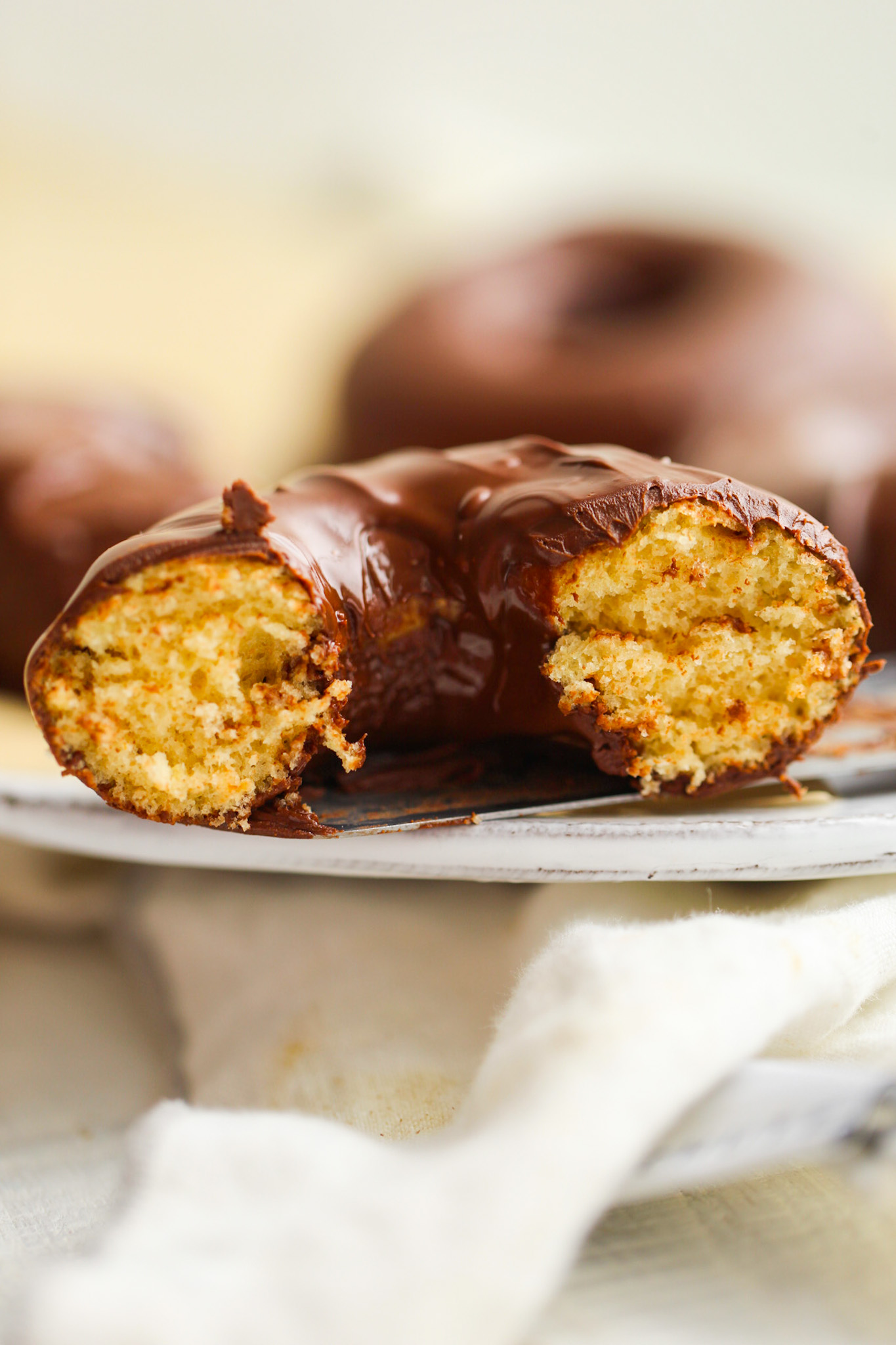 My First Fried Donut Recipe..
Little memory for you.
I remember back in junior high and high school we had a class that was basically all about cooking and food groups and household-type things. It may have been called Health, though I wouldn't really say that was the best name. I remember being so skeptical when the four food groups were shown off on a giant poster board. Meat. Cheese. Tall glasses of milk. All things I had started to shy away from. But the real nutrition education star was the new-ish food pyramid, introduced by the USDA in 1992.
As for the pyramid, fruit and veggie section always caught my eye. Oh, and the plentiful carbs at the bottom of the pyramid – yes please! All the bread, ha.
That classroom had stoves and ovens and countertops. All sorts of cooking supplies. I don't remember the recipes we made, except for one: donuts. But these were fried donuts! I remember pouring the oil into the pot and being shocked by how much oil you needed to fry something like that.
The donuts got all fried and fluffy, oozing with oil and imperfect dough. We coated them in sweet pink glaze and ate them warm. The certainly tasted 'homemade' and I don't mean that in a good way.
Baked Donuts (vs Frying)
These days, I have made 'fried donuts' at home just a few times and I'm just never impressed. This is the one time that baking really does create a better donut recipe in my opinion.
These Chocolate Frosted Donuts donuts – which start with a vanilla donut – always win me over! You can easily achieve a fluffy, amazing, rich (vegan!) donut by using a simple batter and a donut baking pan.
All that vegetable oil to fry something feels so outdated to me.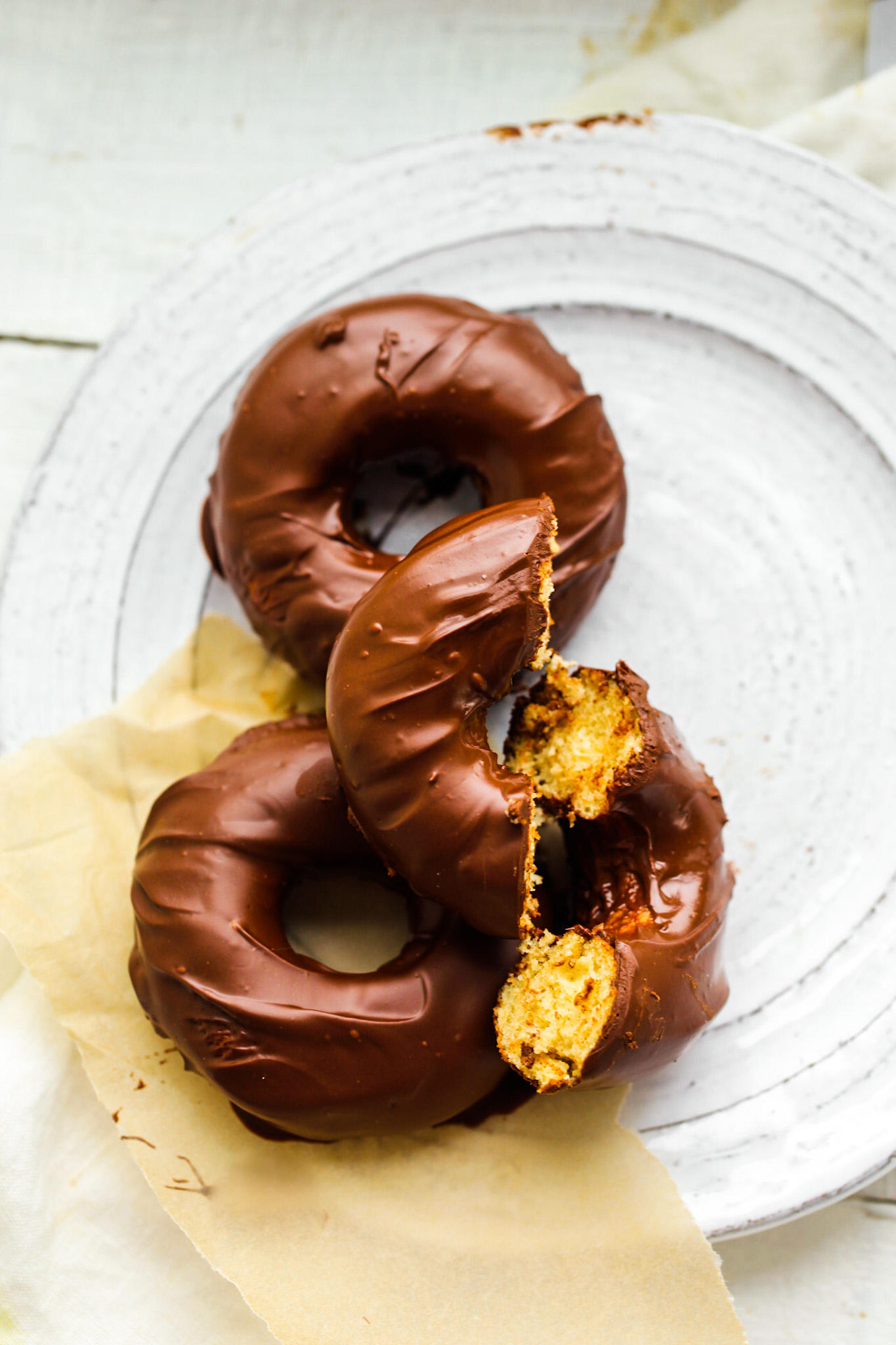 Chocolate Coating for Donuts
There are a few ways to coat a donut with chocolate frosting. A light and shiny glaze is one popular method. A thicker, cake-frosting-like chocolate frosting is another one.
But my favorite has to be this 360 degree-coated chocolate frosted donut. It is my favorite for three reasons..
It reminds me of those mini Hostess frosted donuts (healthier copy cat version)
The ingredients for the frosting are ridiculously simple: one ingredient!
It's a super easy process to coat, chill and enjoy these donuts!
Oh, bonus, you can totally still add rainbow sprinkles if you have them on hand.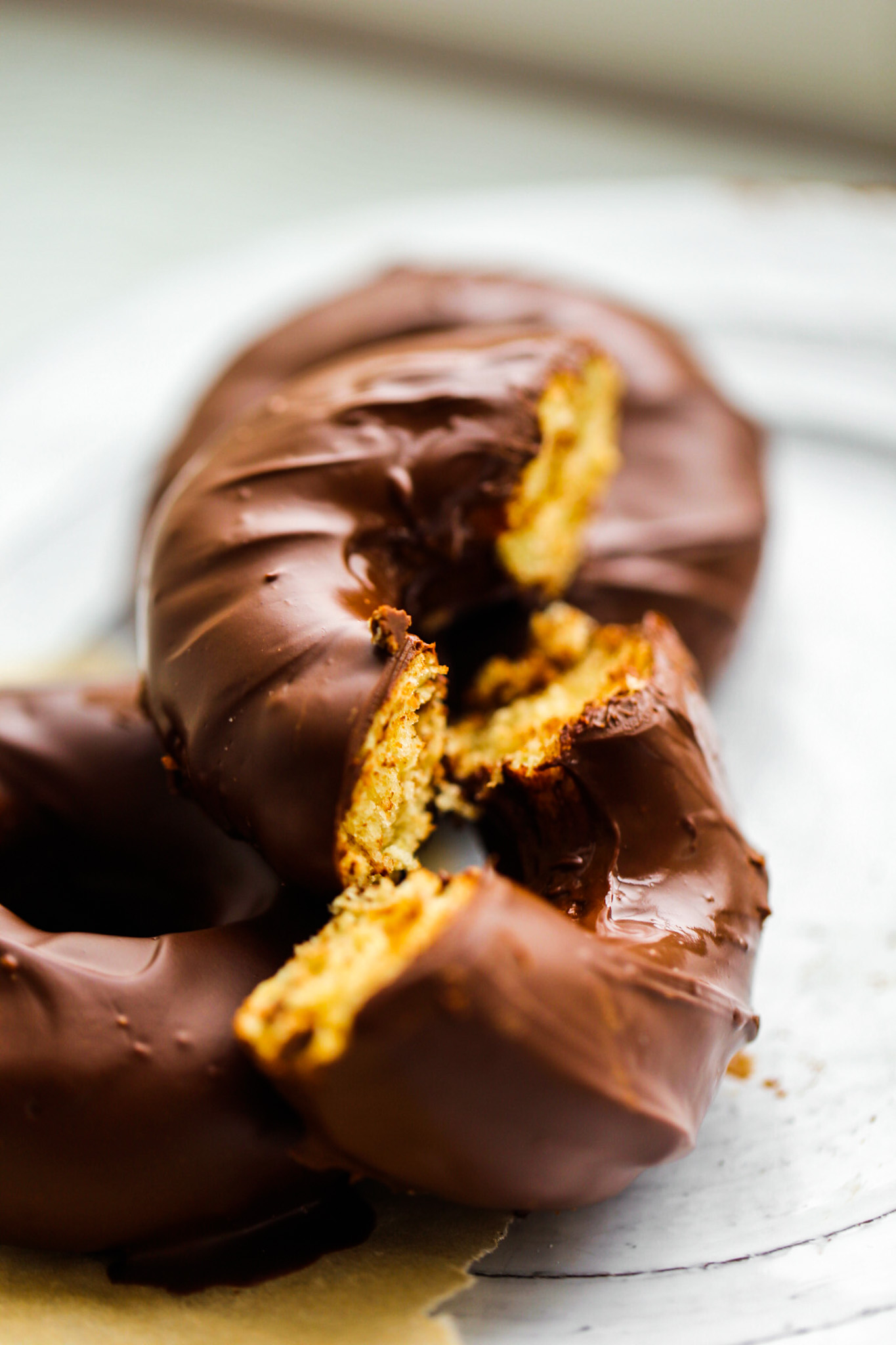 How to Frost Donuts in Chocolate
This is a bit of a messy process. But really you just have to dive in and hand-dunk each baked donut. I like to smush one side into the chocolate, flip, use a spoon to pour some chocolate on that inside crevice – when needed – then lift the donut, drip any excess and place on the cooling rack.
And repeat until all the donuts are covered. If you want a thicker coating you can even double dip them when they are still shiny or even after the first layer of chocolate has cooled.
Your hands will had a bit chocolate-y, but not really something I mind much. If you want to stay mess-free you could wear some disposable gloves or even just try to dunk and lift the donuts using a fork or some kitchen tongs.
Craving more donut recipes?
I have a few of them in my cookbook HHVK, but these Powdered Sugar Donuts are also a winner!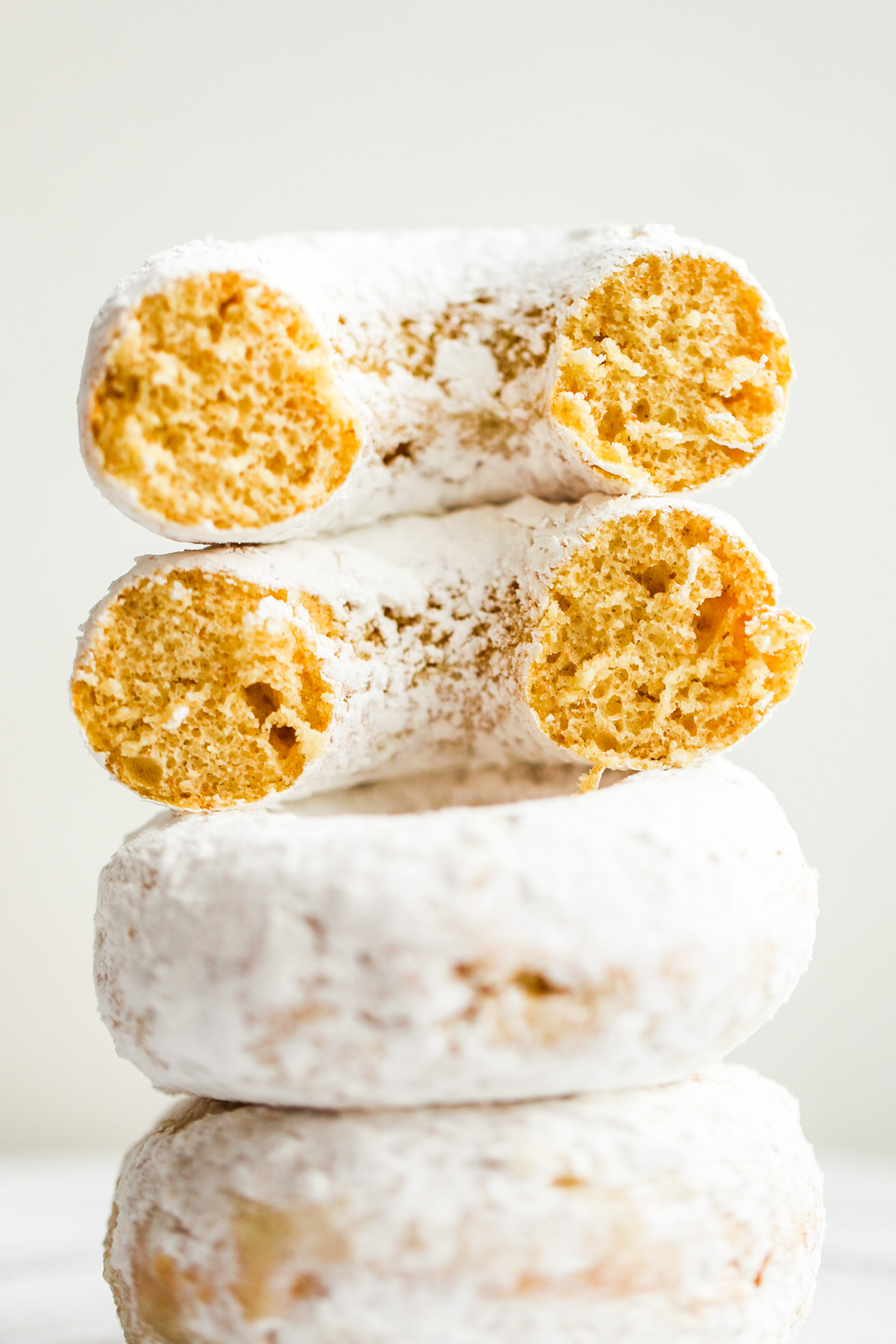 Calories in Chocolate Frosted Donuts
When treating myself, I try not to think about calories. Instead I listen to my body and know that I won't feel good if I overdo it, so portion size, as opposed to decadence amount, is what matters to me. But these super decadent-looking Chocolate Frosted Donuts are pretty great for a treat because they only contain about 228 calories. More or less depending on how many chocolate frosting coats you want to do. Single, double or triple dunk!
Chocolate Chips for Donut Frosting
You can use any semi-sweet or dark chocolate chips, chunks or even bars. Just make sure it is vegan if that is your dietary preference. I love Guittard lately because they always melt so well and taste amazing.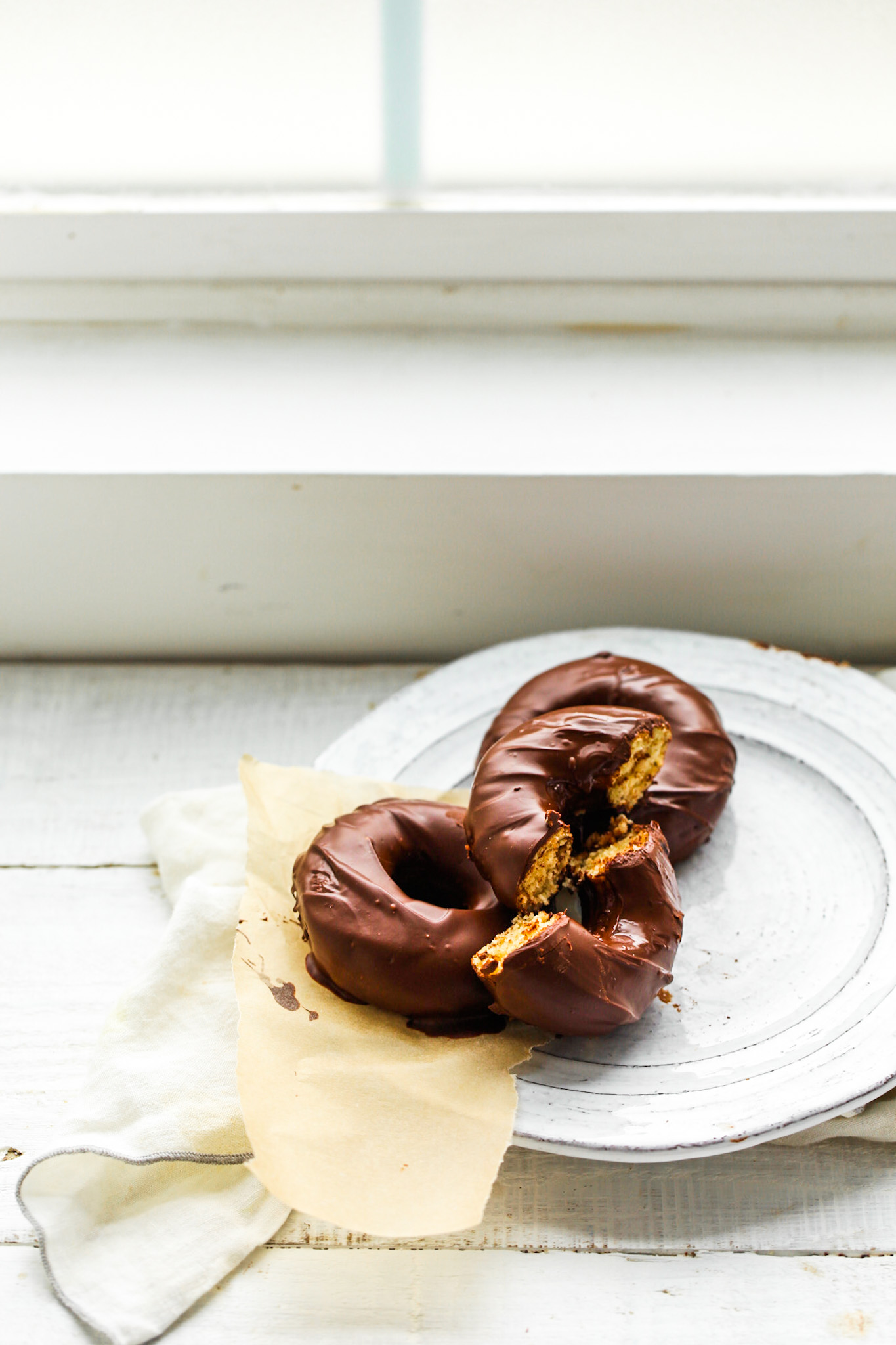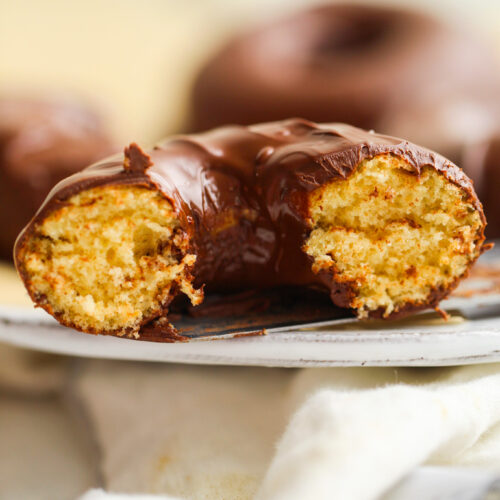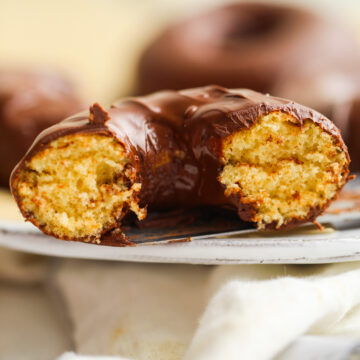 Chocolate Frosted Donuts
These fluffy, vegan vanilla baked donuts are covered all the way around in a rich chocolate frosted coating.
Print
Pin
Ingredients
1

cup

flour

,

+ 3 Tbsp

1

teaspoon

baking powder

⅛

teaspoon

salt

3

tablespoon

sugar

,

organic

2

tablespoon

vegetable oil

,

see notes

½

cup

vegan egg replacer

¼

cup

water

1

teaspoon

lemon juice

½

teaspoon

vanilla extract

,

optional
Coating
½ – 1

cup

vegan chocolate chips
Instructions
Preheat oven to 350 degrees. Grease donut pan with oil or vegan butter.

Add all the donut ingredients to a large mixing bowl and whisk well – until smooth.

Spoon the batter into donut pan.

Bake at 350 for 12-14 minutes or until tops are fluffy and lightly browned – and insides pass a toothpick test. Tops should be firm to touch.

Let donuts cool in pan for ten minutes, then carefully remove and transfer to cooling rack. Cool for another 10-20 minutes.

Coating: In a double broiler setup, melt the chocolate chips until smooth, shiny and silky. Donut the cooled donuts into the chocolate to coat on all sides. You can customize the thickness of the chocolate by doing a single or double – or triple dunk!

Set coated donuts on a cooling rack set over top a baking sheet to catch any chocolate drips. Allow the coating to cool for 10-20 minutes until firm enough to serve. For faster firming up, place chocolate frosted donuts in the fridge or freezer until chocolate firms up. Serve! Store leftovers, covered, in the fridge.
Equipment
donut tin

mixing bowl

whisk

cooling rack

baking sheet
Notes
Egg Replacers: I prefer the JUST Egg liquid, but silken tofu, apple sauce or flax eggs work too.Vegetable oils: I use walnut oil, but any neutral veggie oil will work. Safflower oil, coconut oil and more will work.
nutrition estimate | per serving
Calories:
228
kcal
|
Carbohydrates:
32
g
|
Protein:
4
g
|
Fat:
10
g
|
Saturated Fat:
7
g
|
Sodium:
51
mg
|
Potassium:
142
mg
|
Fiber:
2
g
|
Sugar:
13
g
|
Vitamin C:
1
mg
|
Calcium:
65
mg
|
Iron:
2
mg