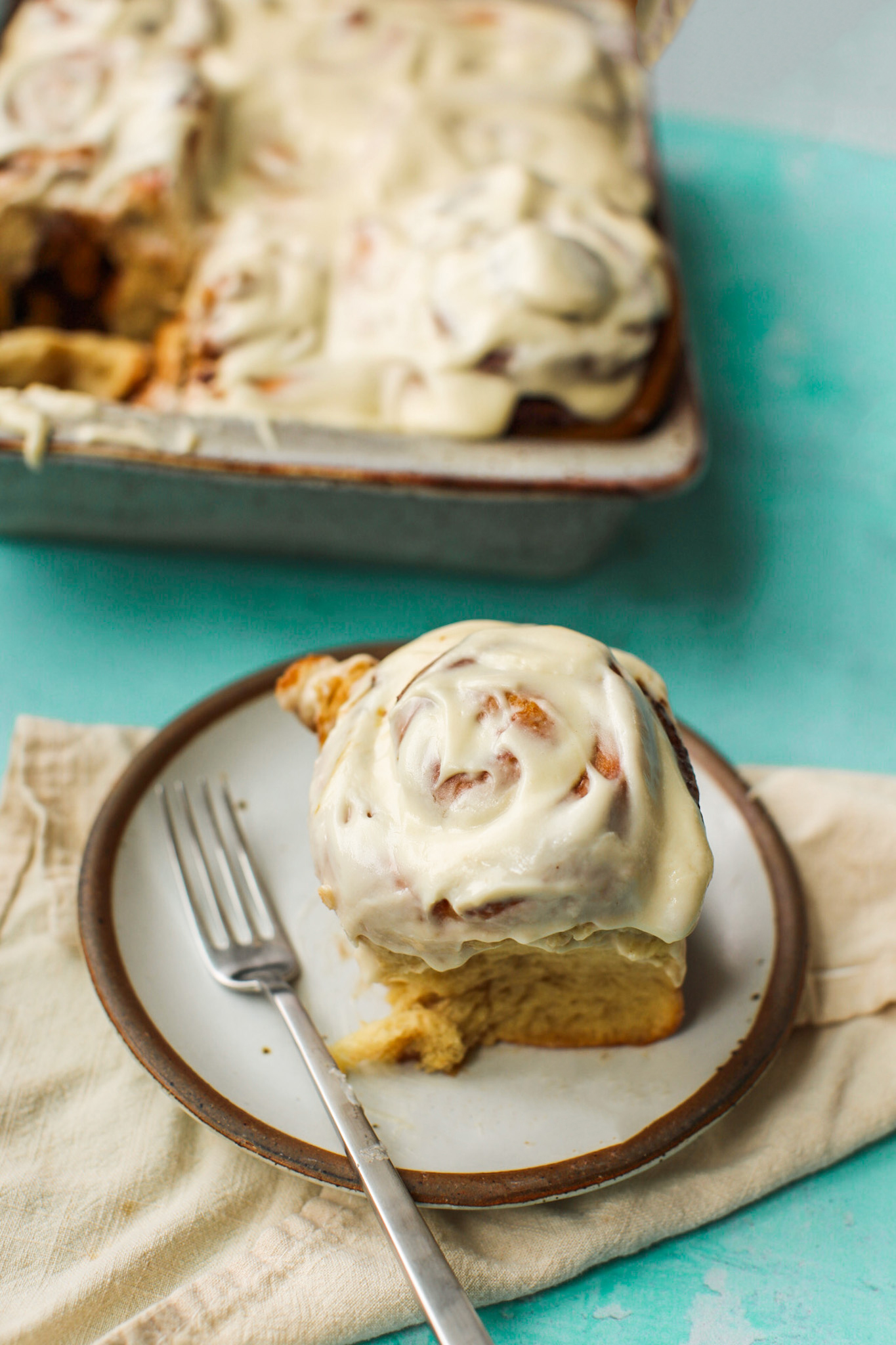 Get ready for some cozy.. These Vegan Cinnamon Rolls are just like the classic I remember buying at the mall when I was a teenager. Fluffy, buttery, rich cinnamon flavor and a buttery, cream-cheesy frosting or glaze on top. Craving some classic cinnamon buns? Here ya go….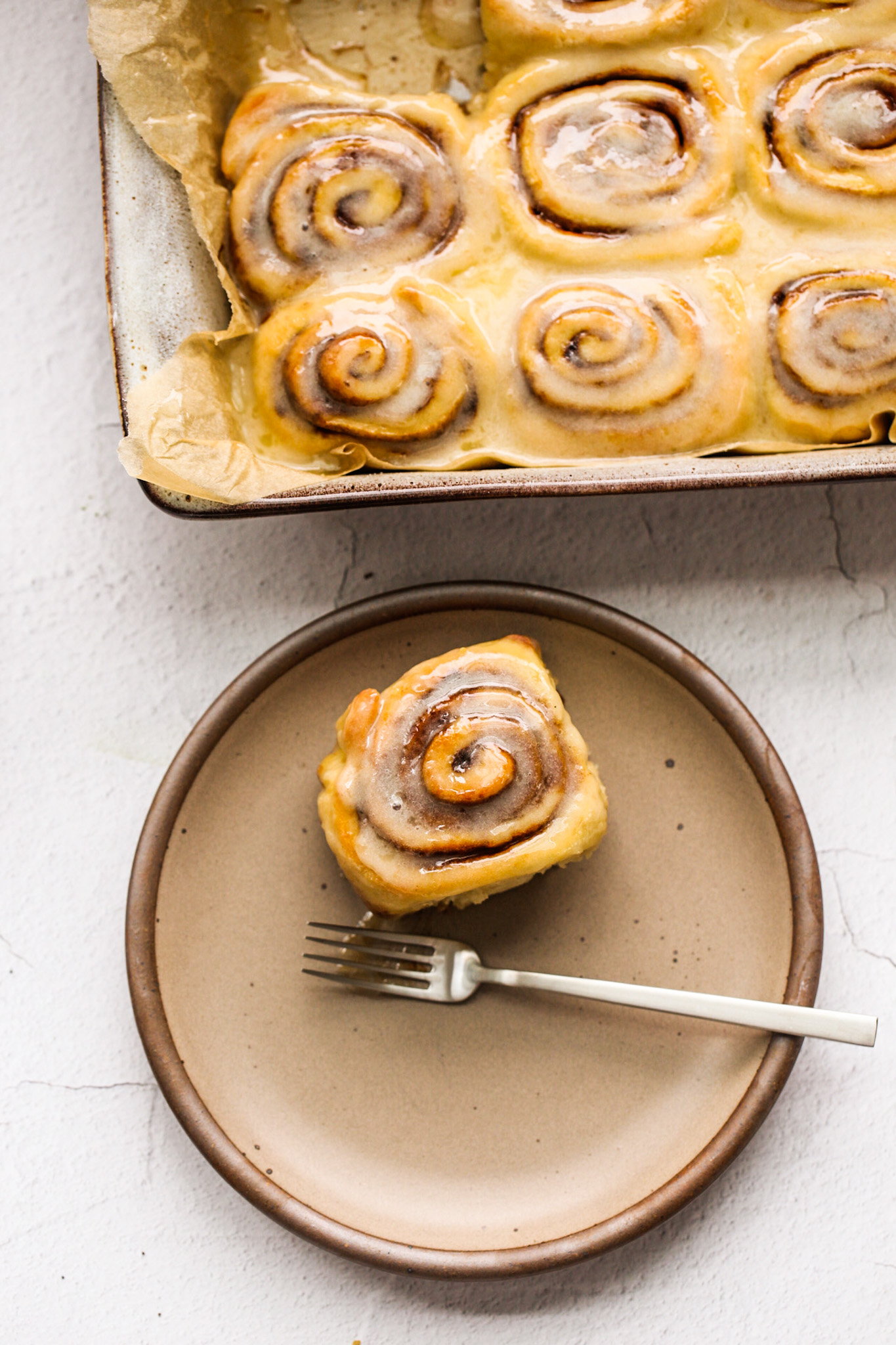 Let's Bake Cinnamon Rolls!
I really don't think there is a cozier recipe than cinnamon rolls. Everyone loves them. They make the whole house smell like it was coated in a vanilla-caramel haze, and they are just the sort of recipe that brings some cheer into your day.
It's no wonder that Cinnamon Rolls are a fave treat for holiday mornings like Christmas, Easter and Thanksgiving. Sunday mornings too. And a day called, any day at all. So let's bake some classic (vegan) Cinnamon Rolls!….
First Things First: The Dough…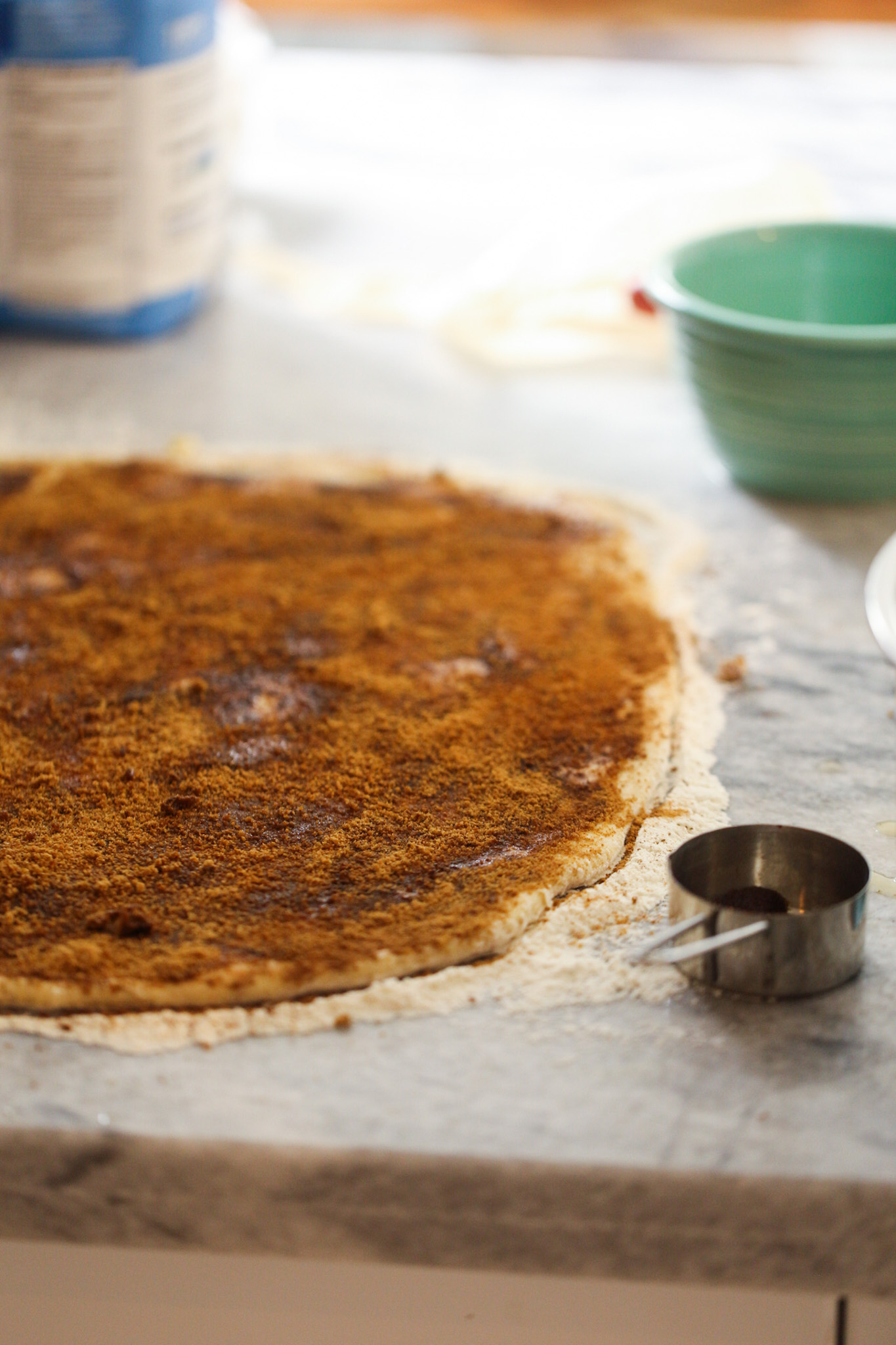 That classic swirl…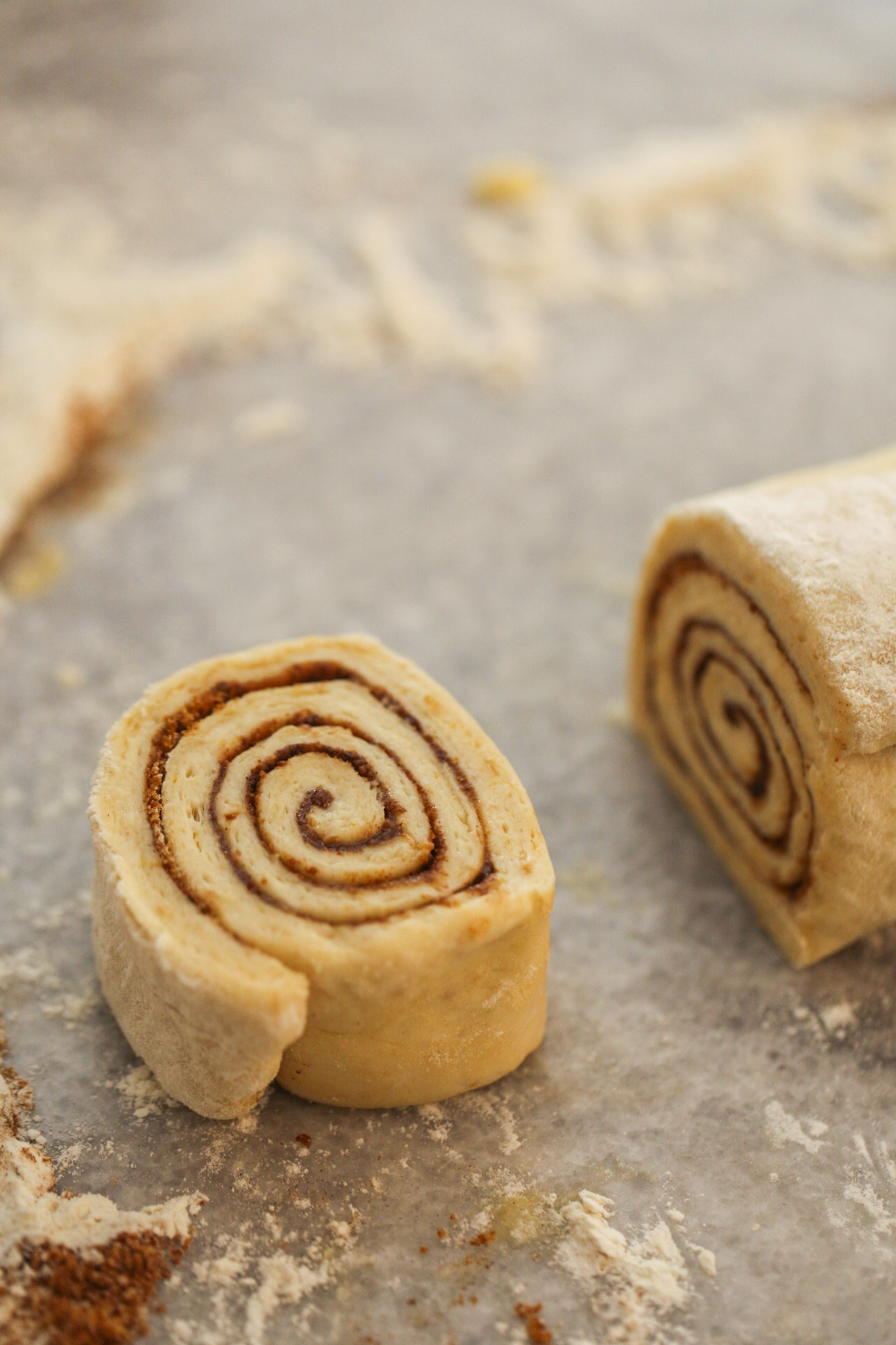 After the second rise…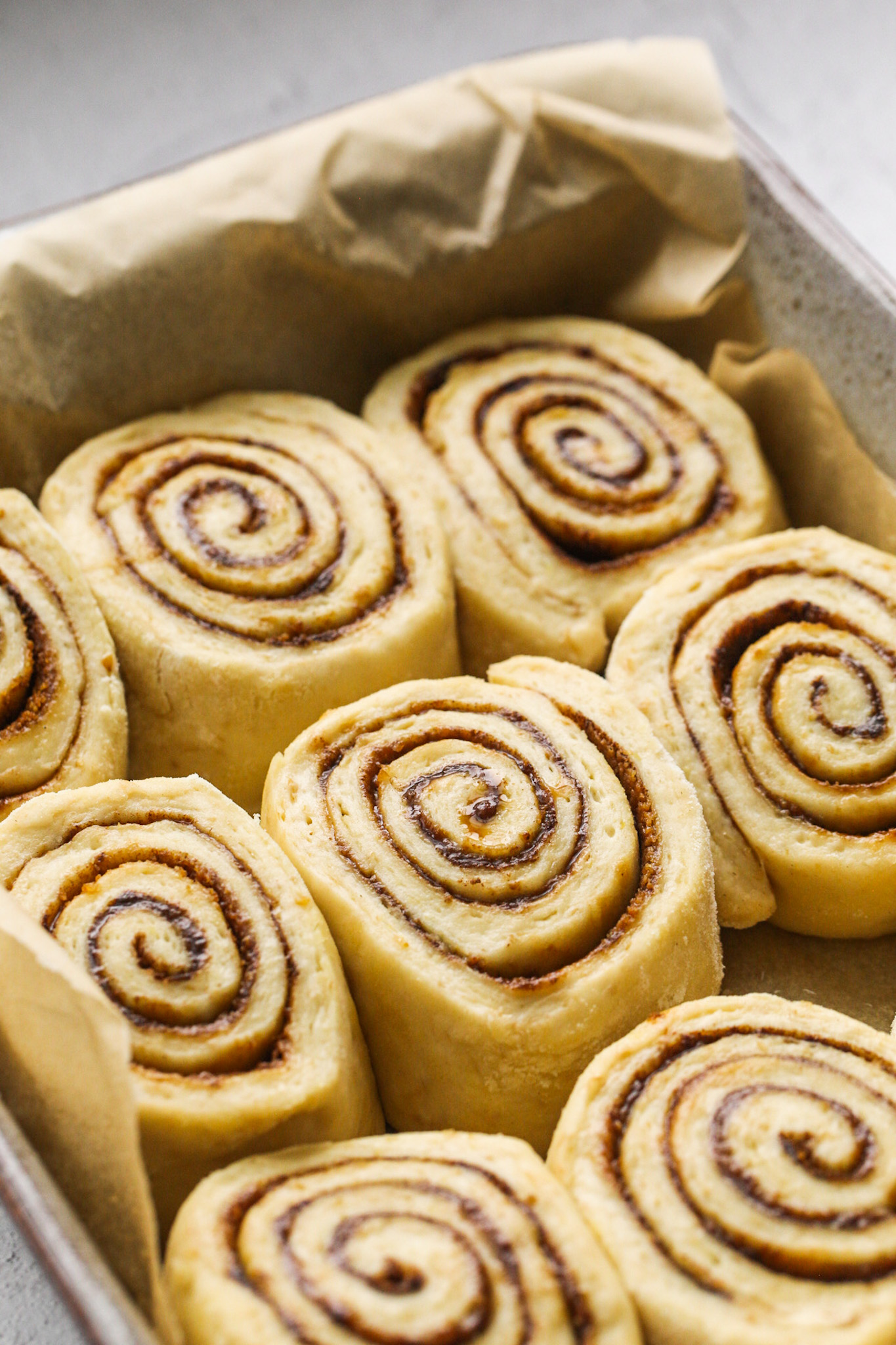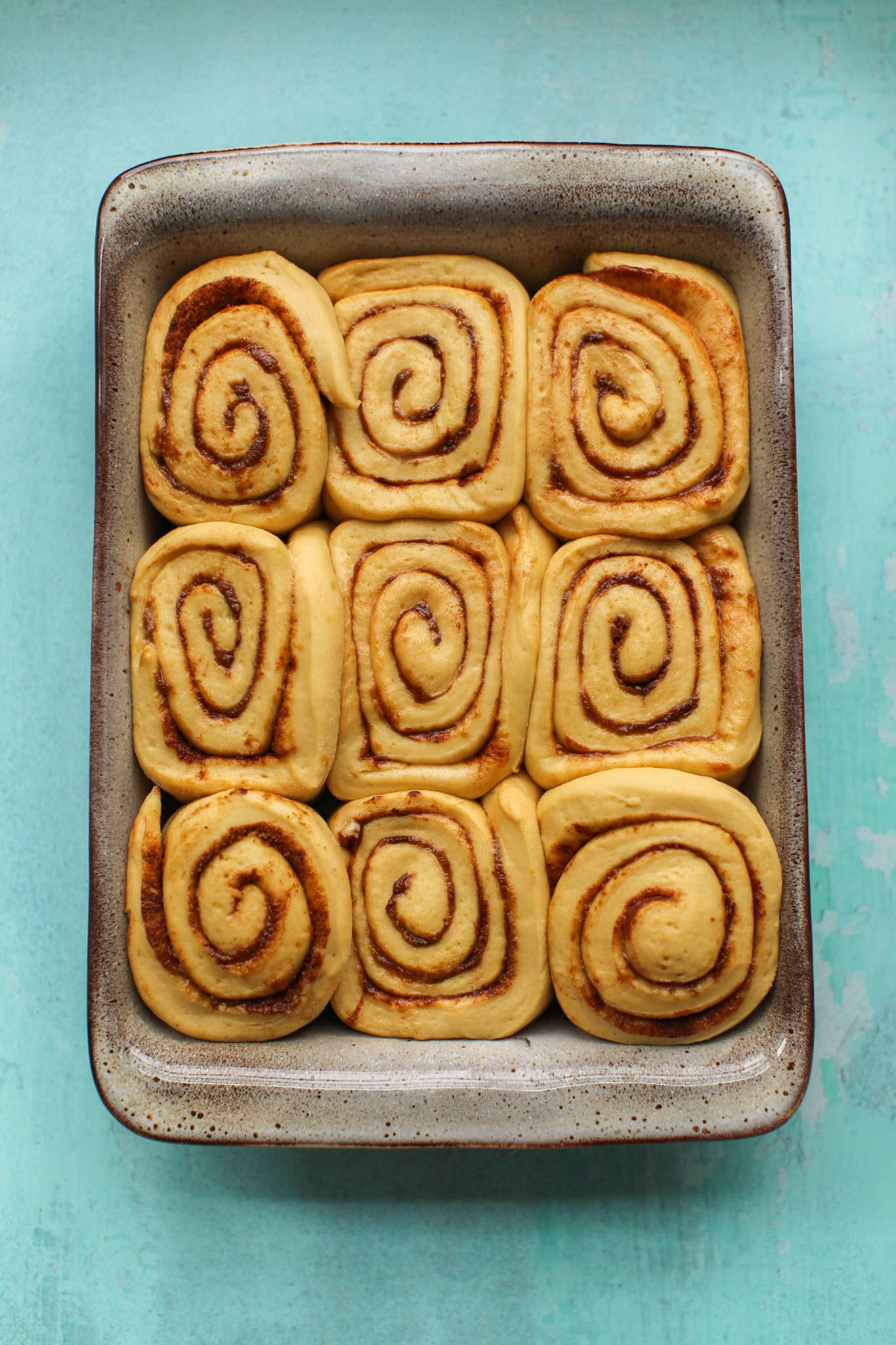 After baking..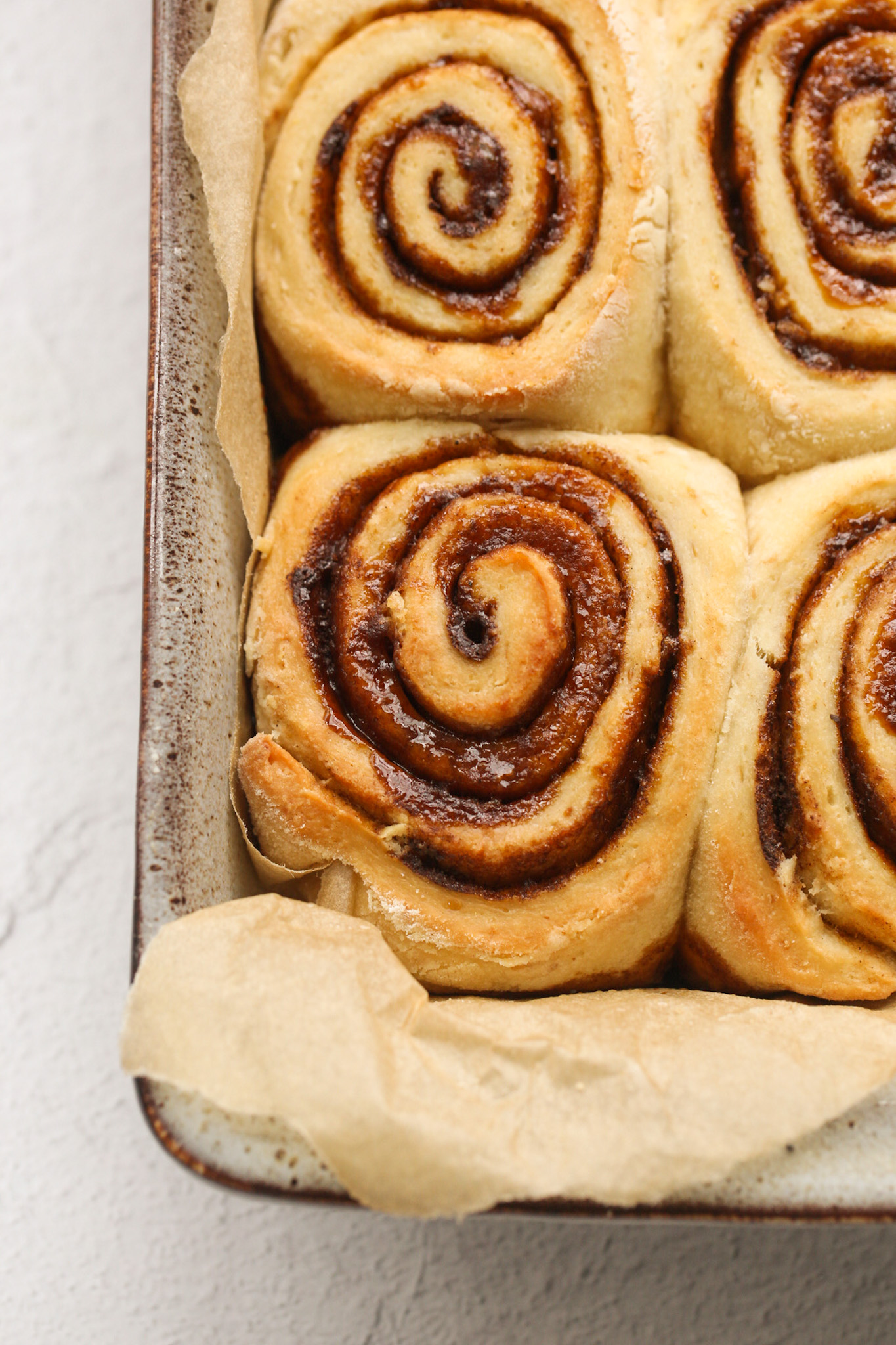 I wanted my frosting to melt and glaze over, so I added it to still-warm buns..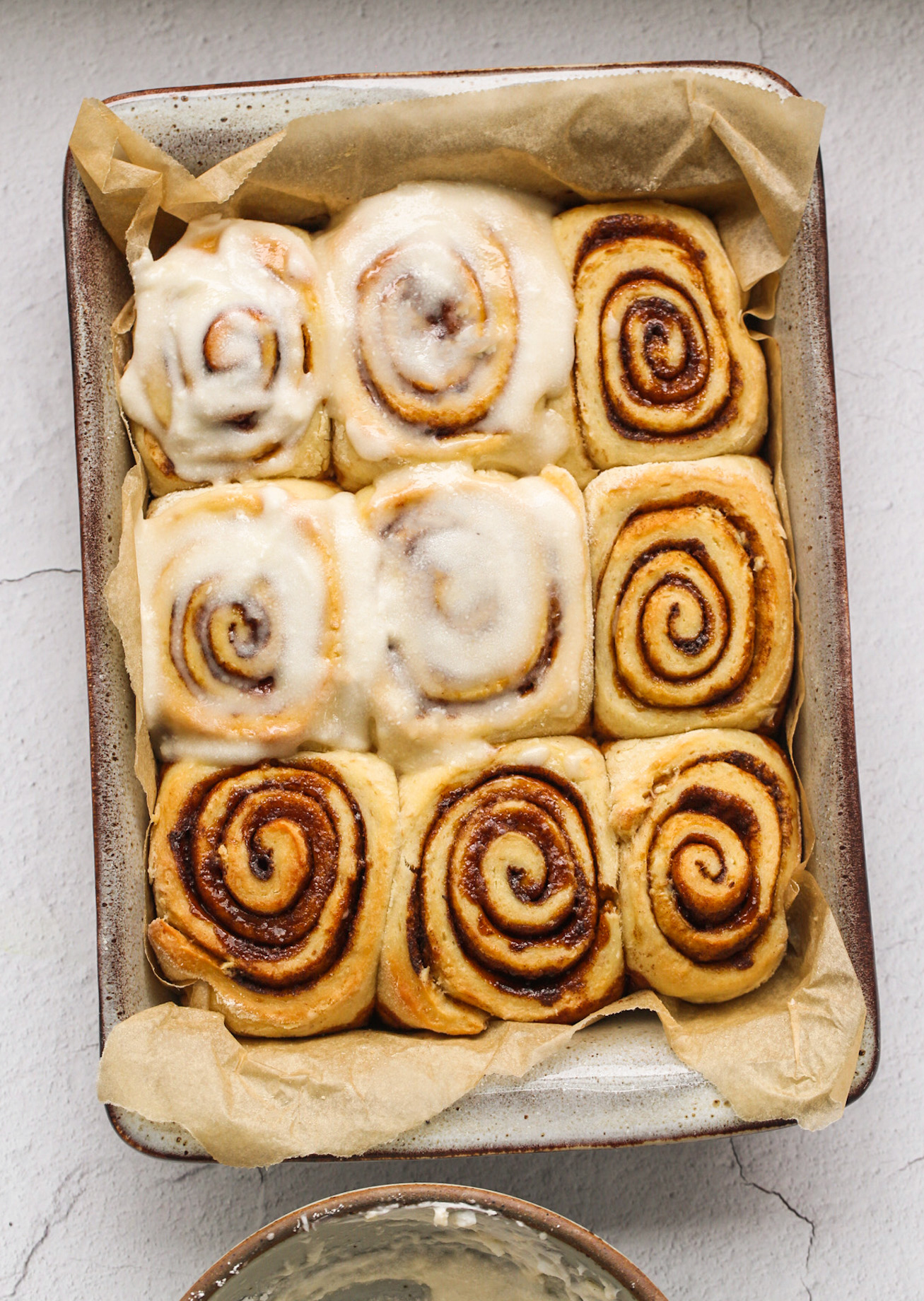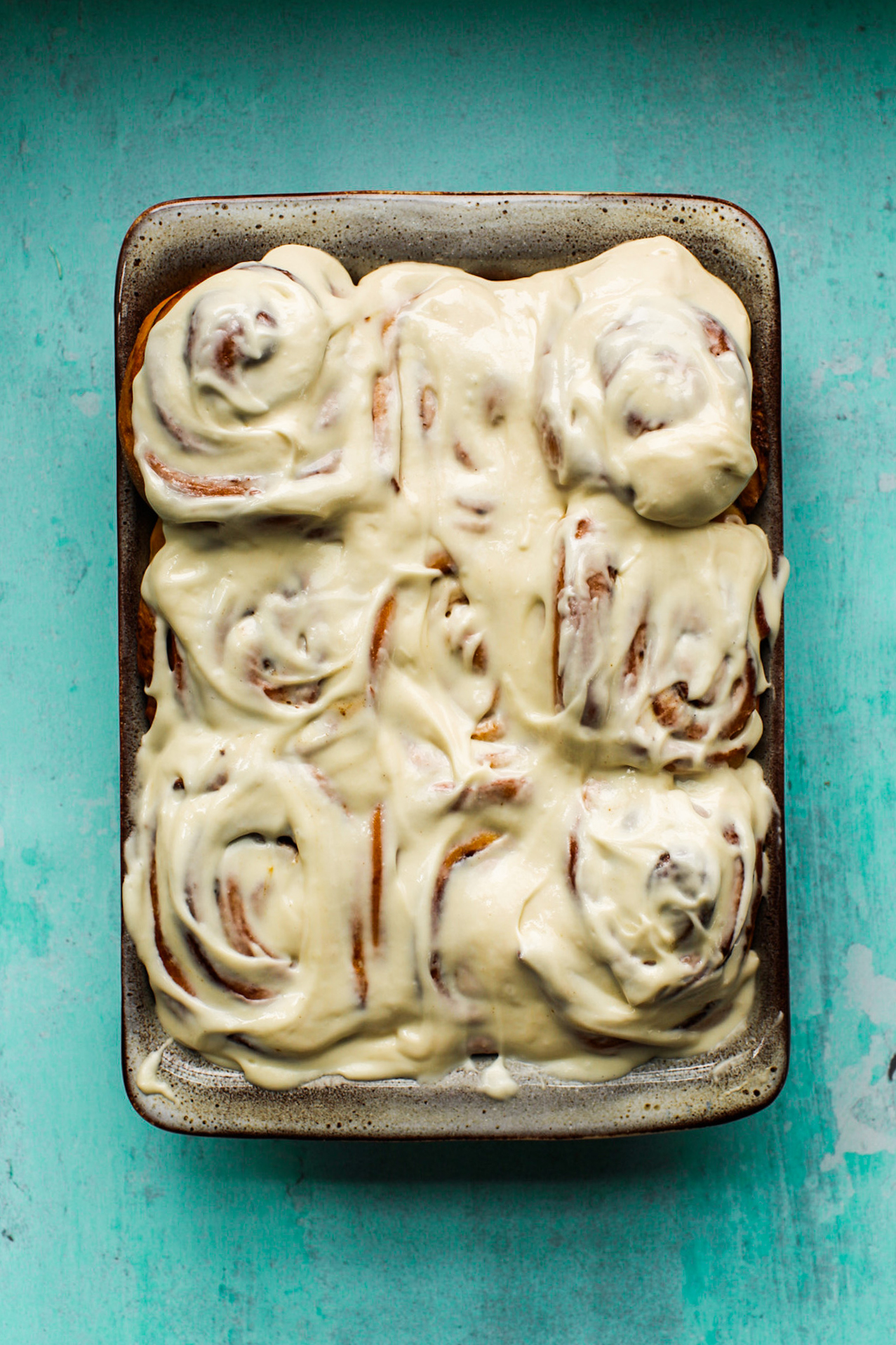 How Do You Eat a Cinnamon Roll?
Are you a peel apart and nibble each layer or do you dive right in fork or face-first with a big bite?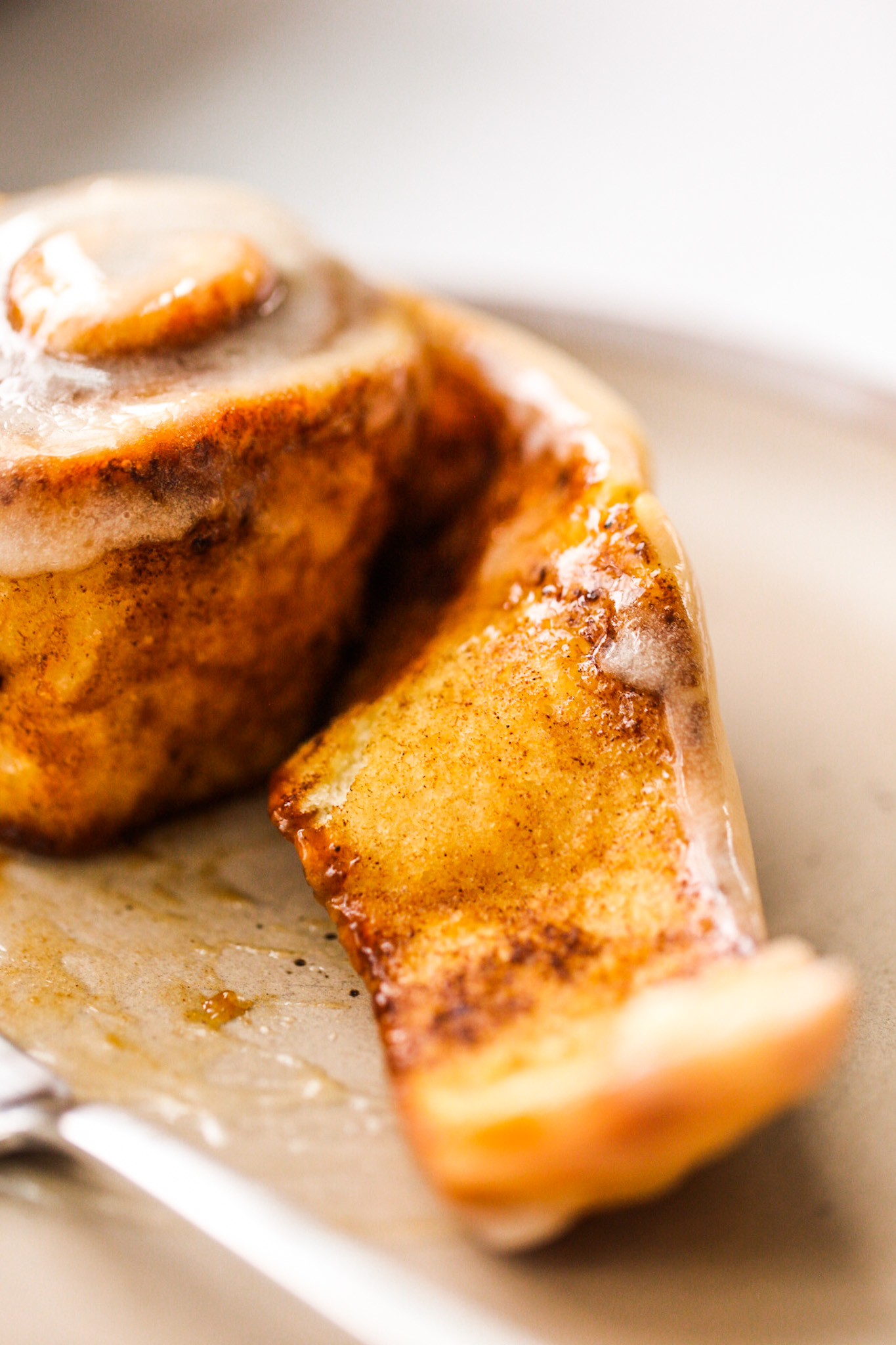 Classic + Simple Recipe
I have a very popular Pumpkin Cinnamon Roll Recipe here on the blog. (Pic below!) But for today's recipe, I wanted a classic, straight-forward take on Cinnamon Rolls. This recipe delivers on sweet, caramelized cinnamon flavor, fluffy pastry spirals, buttery accents and a cream cheese glaze that melts into every cinnamon-sugar crevice.
Those pumpkin rolls I mentioned…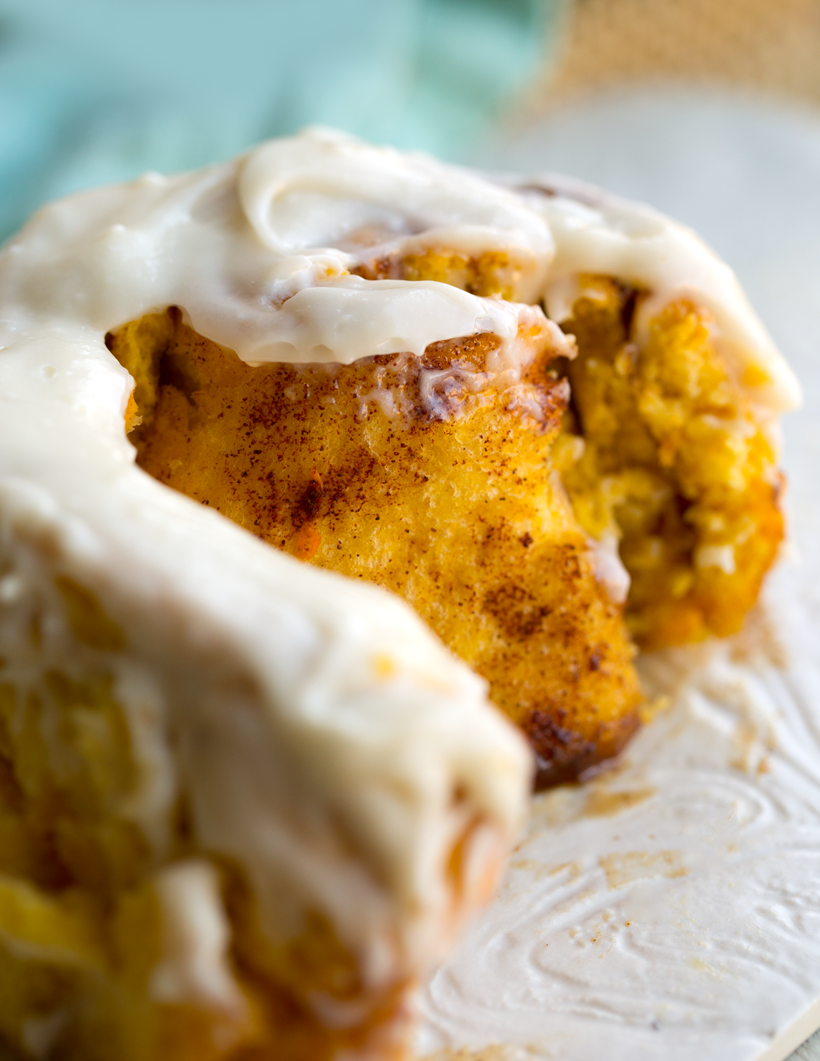 Vegan Version Cinnamon Rolls…
Raisins? Butter? Sugar? Egg?
I didn't add raisins to these buns, although you certainly could. And I actually used coconut sugar in place of brown sugar. A flax egg mixture in place of real eggs. Non-dairy milk in place of milk or water. And of course, vegan butter in place of dairy butter. Vegan cream cheese in that frosting too.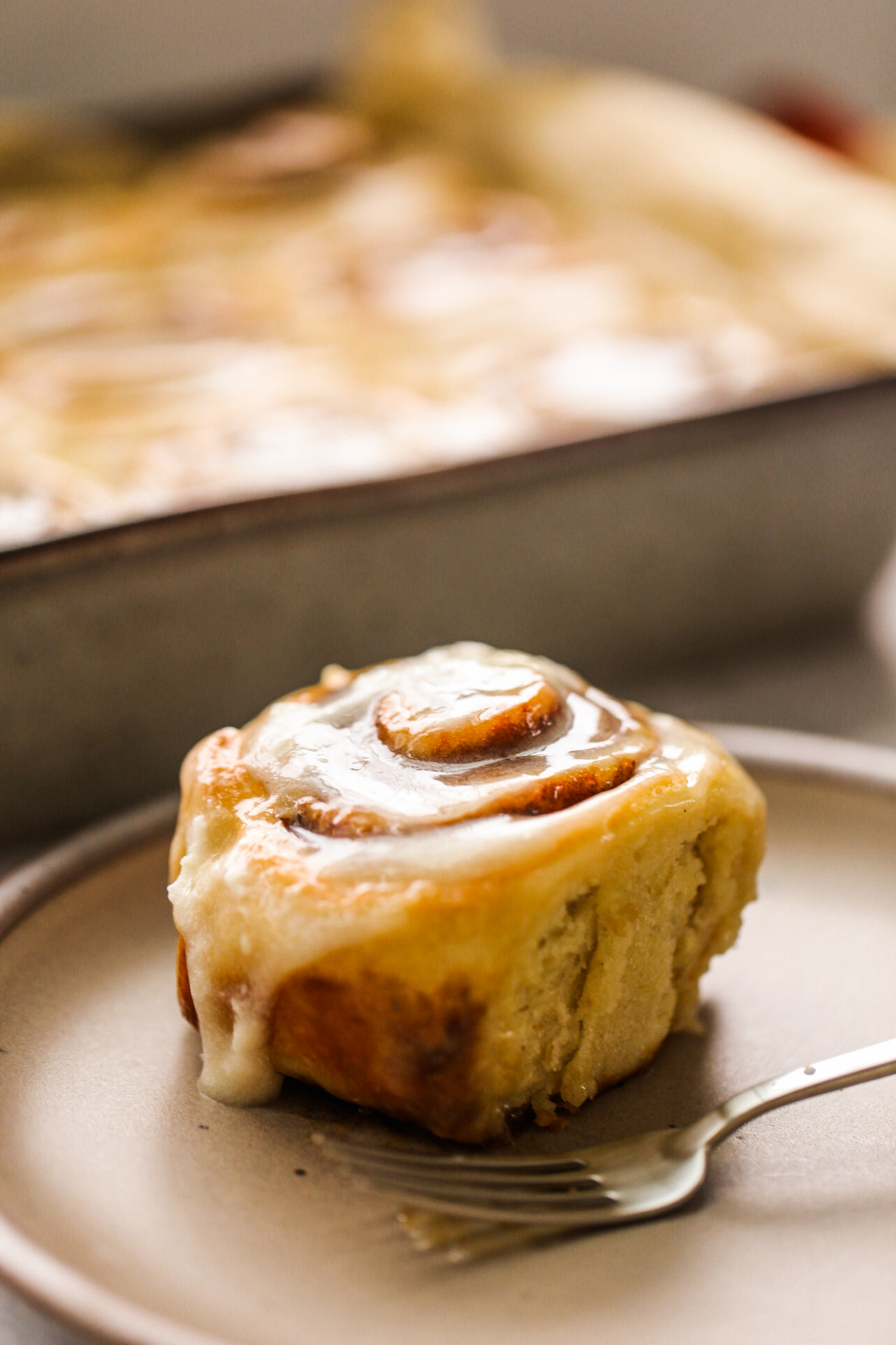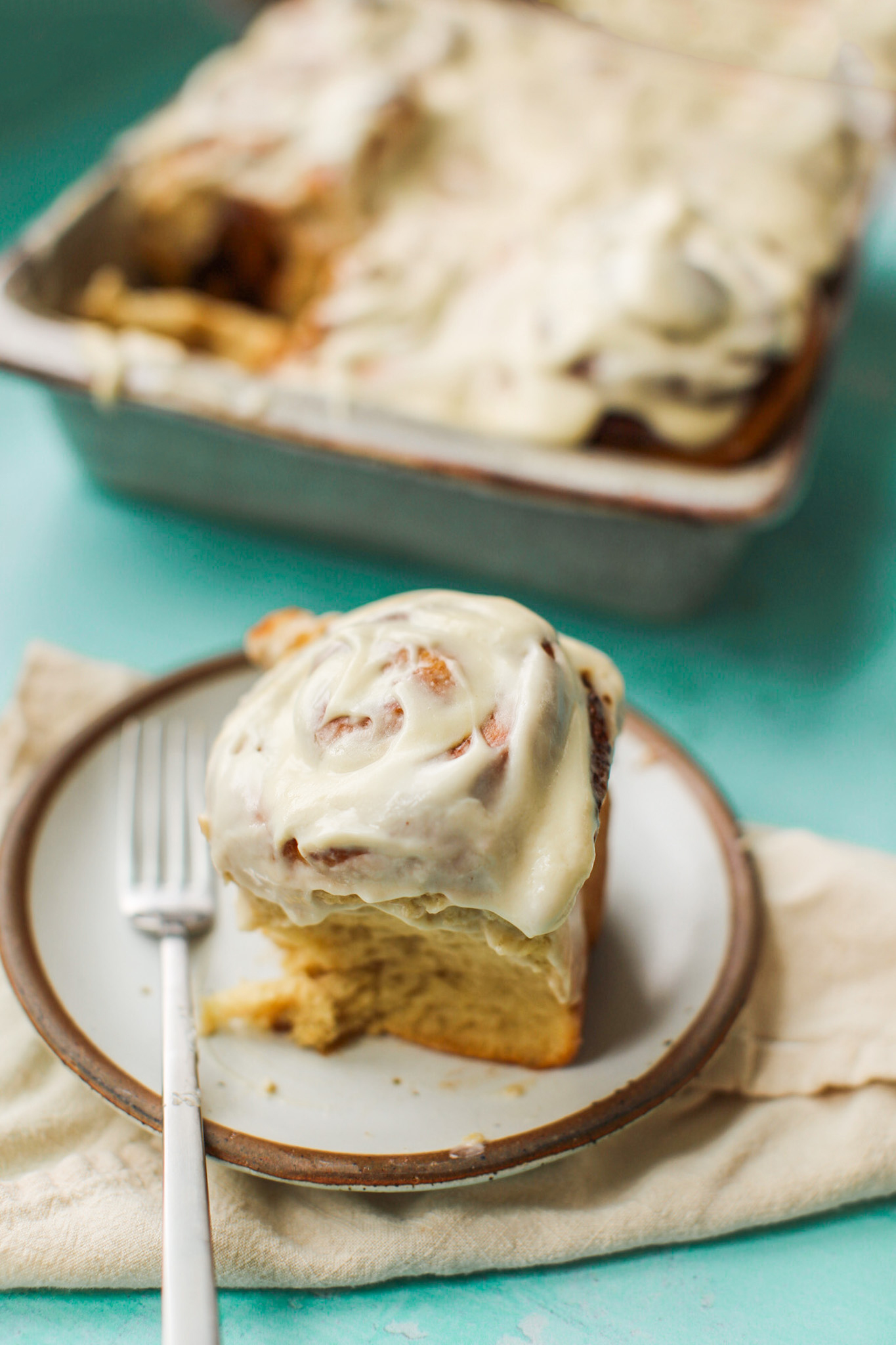 Coconut Sugar
I absolutely love subbing out the brown sugar for coconut sugar in cinnamon rolls! If you are familiar with coconut sugar, you may already know that it has this dreamy aroma that sort've takes your breath away. Hints of vanilla and caramel in every velvety spoonful. So you can imagine how amazing coconut sugar is sprinkled generously inside rolls of buttery, fluffy buns and baked to perfection.
Butter Me Up
These vegan cinnamon rolls have a generous amount of vegan butter actually in the dough. This makes all the difference for how decadent and well, buttery, the rolls taste. The butter adds moisture too which helps create a richer pastry. In my pumpkin rolls, I used the pumpkin puree to achieve a lot of the moisture and added fiber. In these rolls, I lean on the non-dairy milk, butter and flax egg for moisture and oomph.
Hidden Flax
I added in some flax seeds – as a flax egg – to bind the dough together a bit more and add some bounce and fiber to the dough. I was very happy with how this turned out! You really can't taste it – or really notice the ground flax seeds at all, but I think it helps the texture and fluffiness a bit.
Flax Egg Substitute? Tofu!
An alternative to flax seeds would be a blended silken tofu mixture – another good egg replacer for vegan baked goods. For tofu, add about ½ cup as a sub for the flax seed + water mixture in the recipe below.
Milk or Water with the Yeast?
I have made these rolls a few times and I have switched things up a bit with the yeast + liquid step. I have found that both water and non-dairy milk will work! This question was explained on this baking site: can yeast proof in water or milk?
When you use any sort of milk, it will more often than not, contain some sort of sugar. Sugar helps to activate the yeast. But I usually add in a bit of sugar to this mixture anyways, so water works too. The milk might make the rolls slightly richer in texture, but not by much.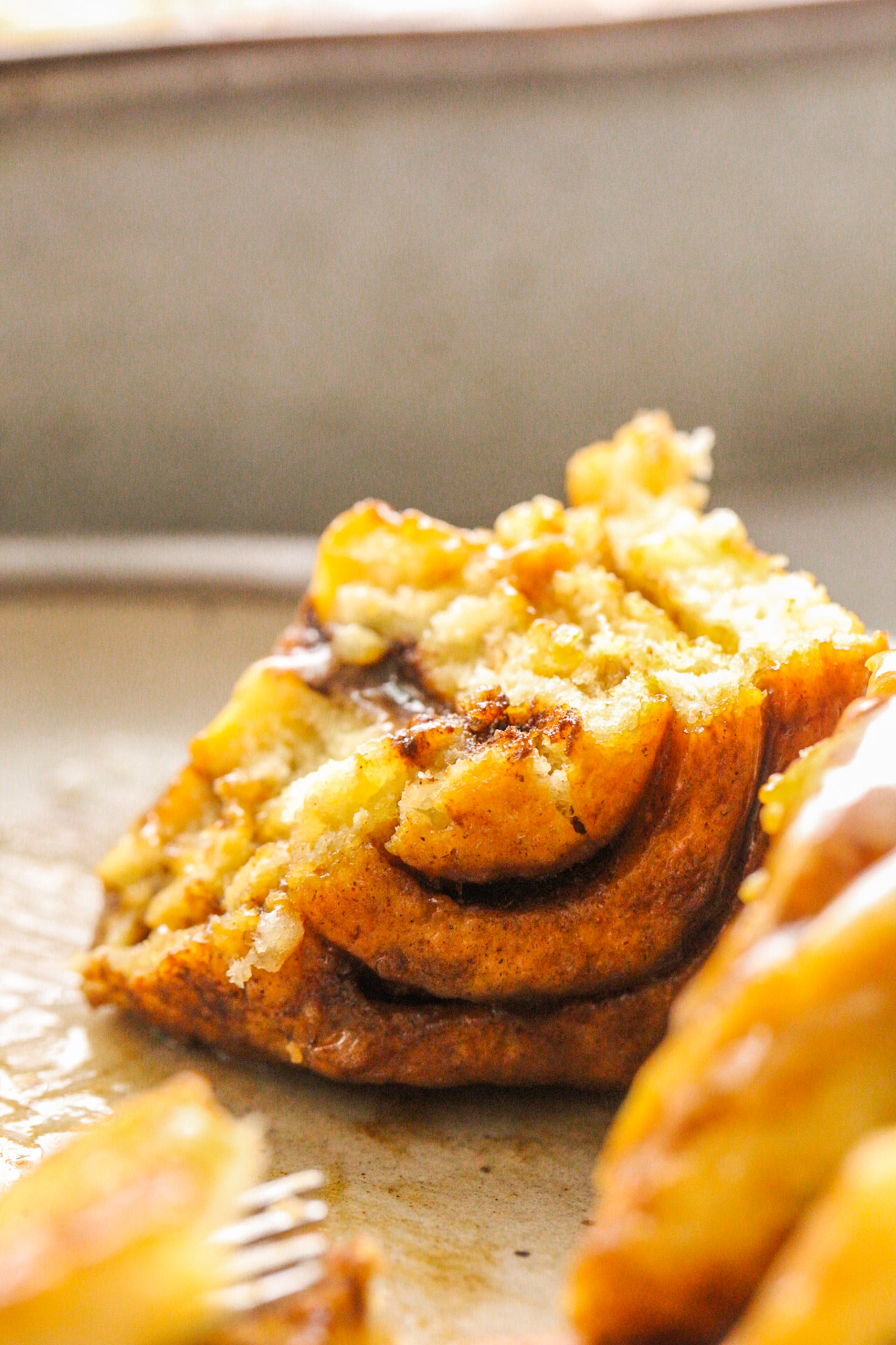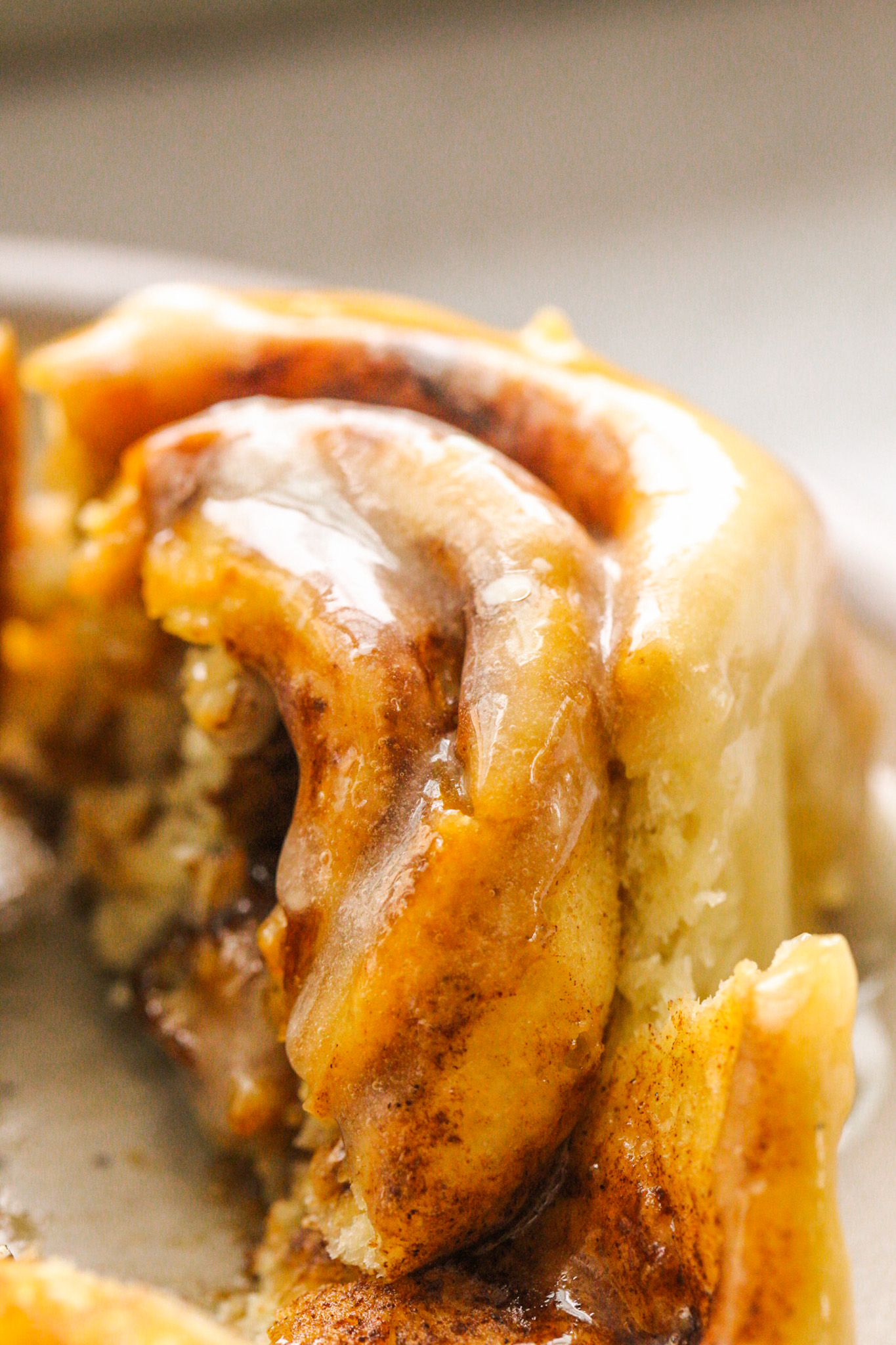 Cinnamon Roll Frosting
There are a two main ways you can frost your vegan cinnamon rolls:
Thinner Glaze – with a sort of glaze-like frosting that melts into all the crevices and firms up into a sticky sweet sheen on top. Usually added when the rolls are still warm.
Thicker Whipped – Thick frosting with a fluffy cream cheese look and texture. Usually added when the rolls have cooled enough to not melt the whip of the frosting.
…Interestingly, the frosting ingredients are pretty much the same for both versions! I add a bit more cream cheese and sugar to my whipped frosting though. But really it's all about when you add the frosting for me. Hot rolls will melt just about anything you slather on top. While cool rolls will allow more cling factor.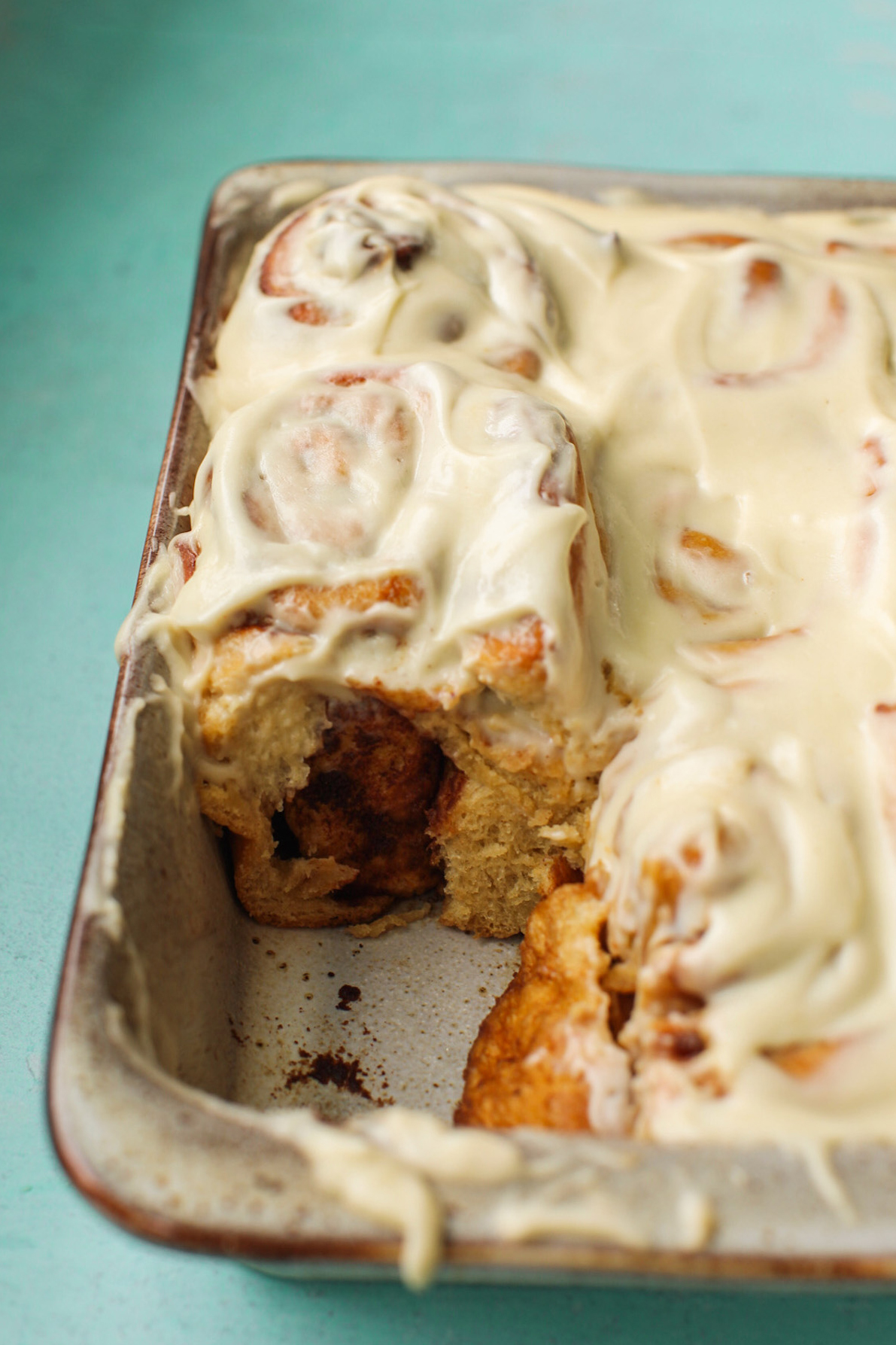 When to Add the Frosting?
I like to add half the frosting when the rolls are still warm so that it soaks into the crevices. then the other half when they have chilled more.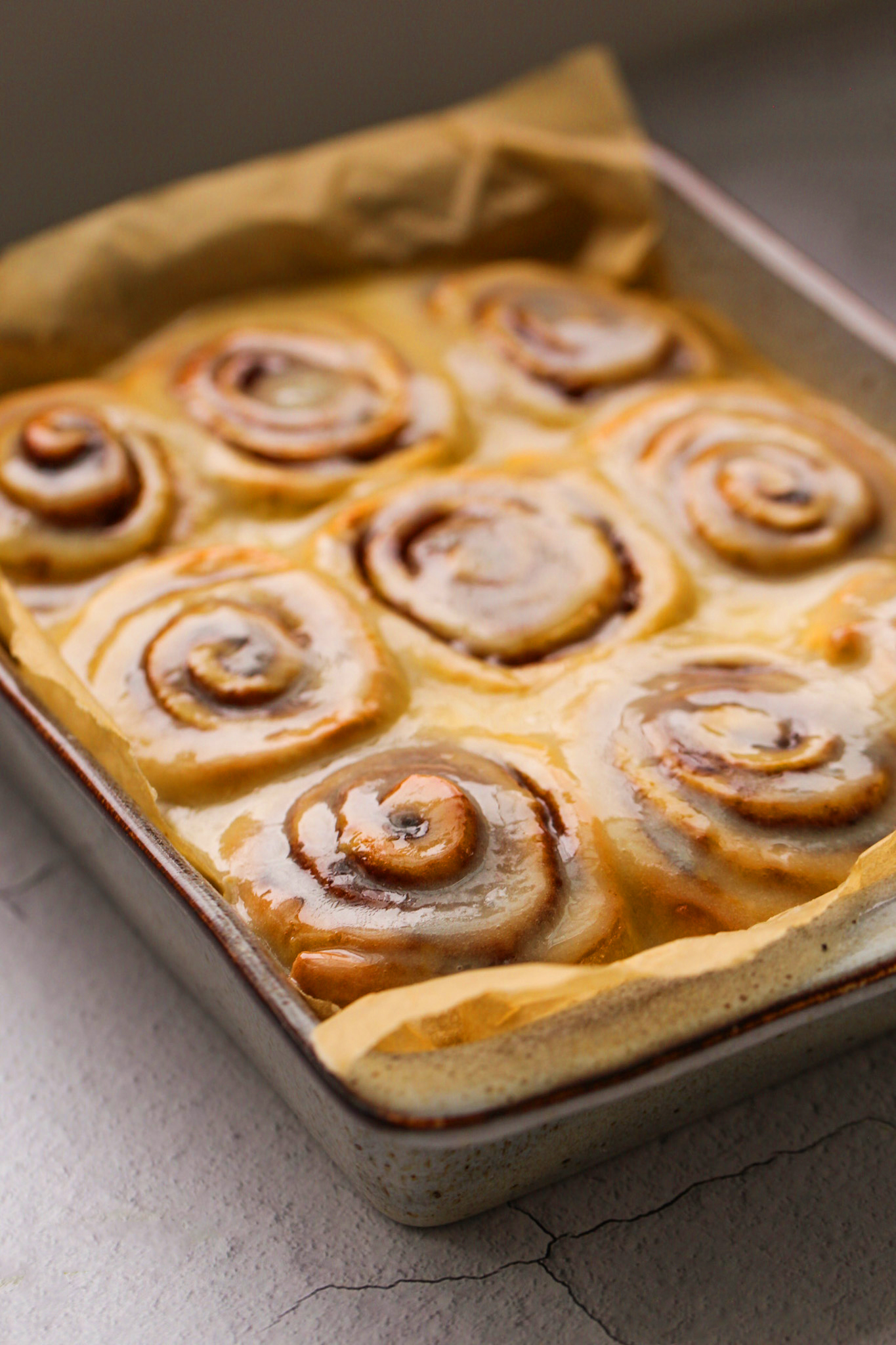 My second test of this recipe – added frosting once cooled – you can see the thickness difference here..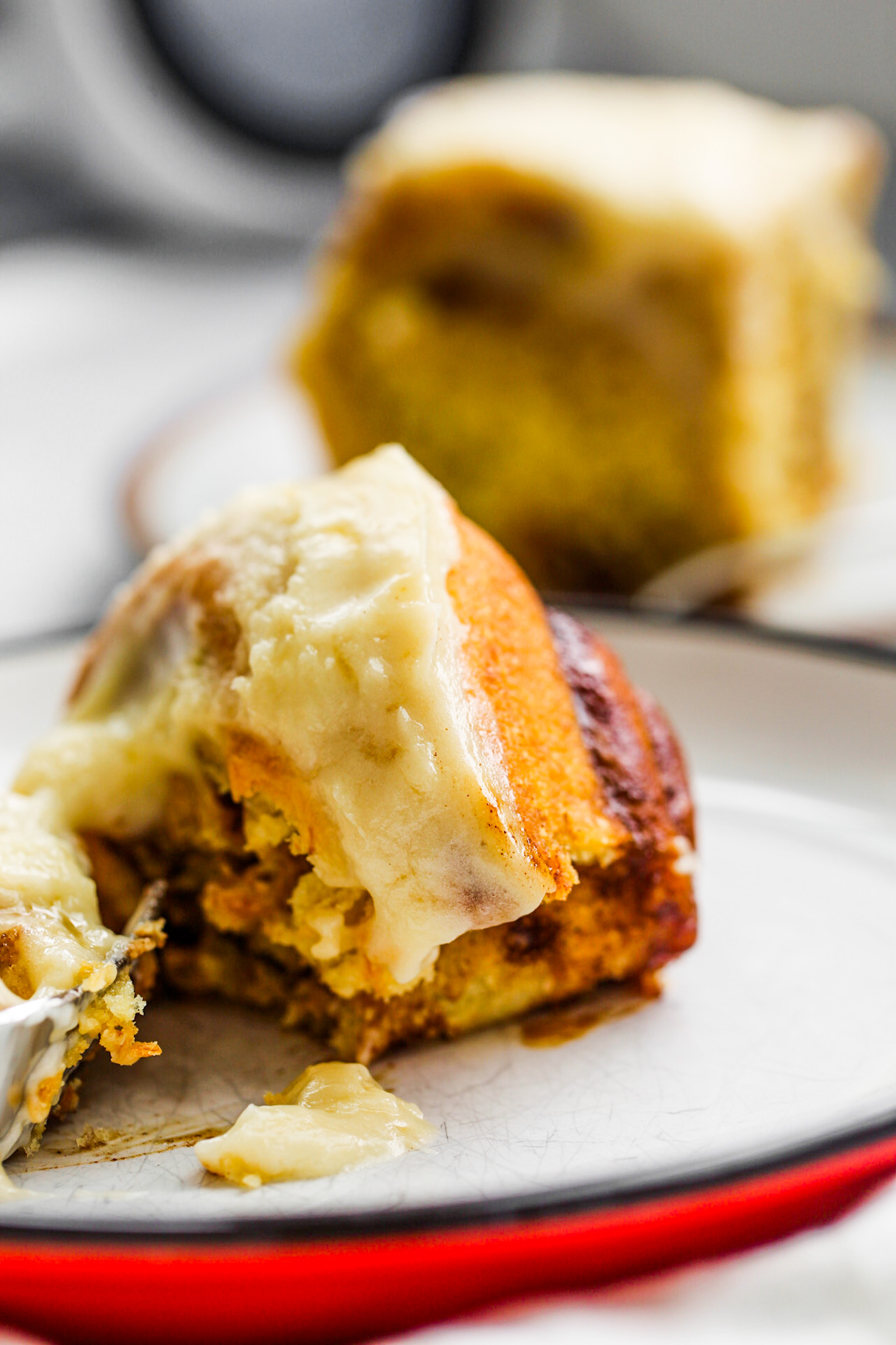 I personally like both frosting options! My Pumpkin Cinnamon Rolls showcase a thicker style of frosting than these more glazed rolls.
It really depends on what you prefer.
Yeasted Rolls
Yup, these rolls use yeast. I used unbleached, organic Bread Flour for these, though all purpose or even pastry flour could be subbed with minimal texture changes.
If you are looking for a yeast-free cinnamon roll, try my recipe here. Not as light and fluffy, but still totally delicious!
How to Make Vegan Cinnamon Rolls Extra Fluffy?
I did a post in that! Get my 7 Tips for the Fluffiest Cinnamon Rolls here.
Cinnamon Roll FAQs..
Q: No Really, When Do I Frost These?
I think this is the most common question I get asked surrounding cinnamon rolls. And again, frost them early for a glaze-like texture – frost them more cooled for a fluffier frosting texture.
Q: Do I have to Rise the Dough Twice?
Nope! You could absolutely just do one rise of the dough – in the beginning when you first create your dough ball. Then roll out the dough, add the filling, slice, place and bake. BUT, your rolls will be fluffier with that second rise.
Q: Can I Make these Ahead of Time?
Yup! After the second rise, simply cover the unbaked rolls with plastic wrap and place them in the fridge. In the morning, bake them as directed!
Q: Wait, Are These Buns or Rolls?
I think I say buns from my 'Cinnabon' memories, but I guess the more correct name is cinnamon roll. Anyways, whatever you call them, these come swirled and fluffy and endlessly addictive.
Q: Can I Use Brown Sugar Instead of Coconut Sugar?
Yup! I use both, but really loved experimenting with coconut sugar this time and I think it will be my new go-to sugar for vegan cinnamon rolls.
Q: How Can I Make These Unique?
If you want a spin on cinnamon rolls, check out my Pumpkin Rolls or my Sticky Walnut Rolls! My vintage coffee cake rolls are also fun.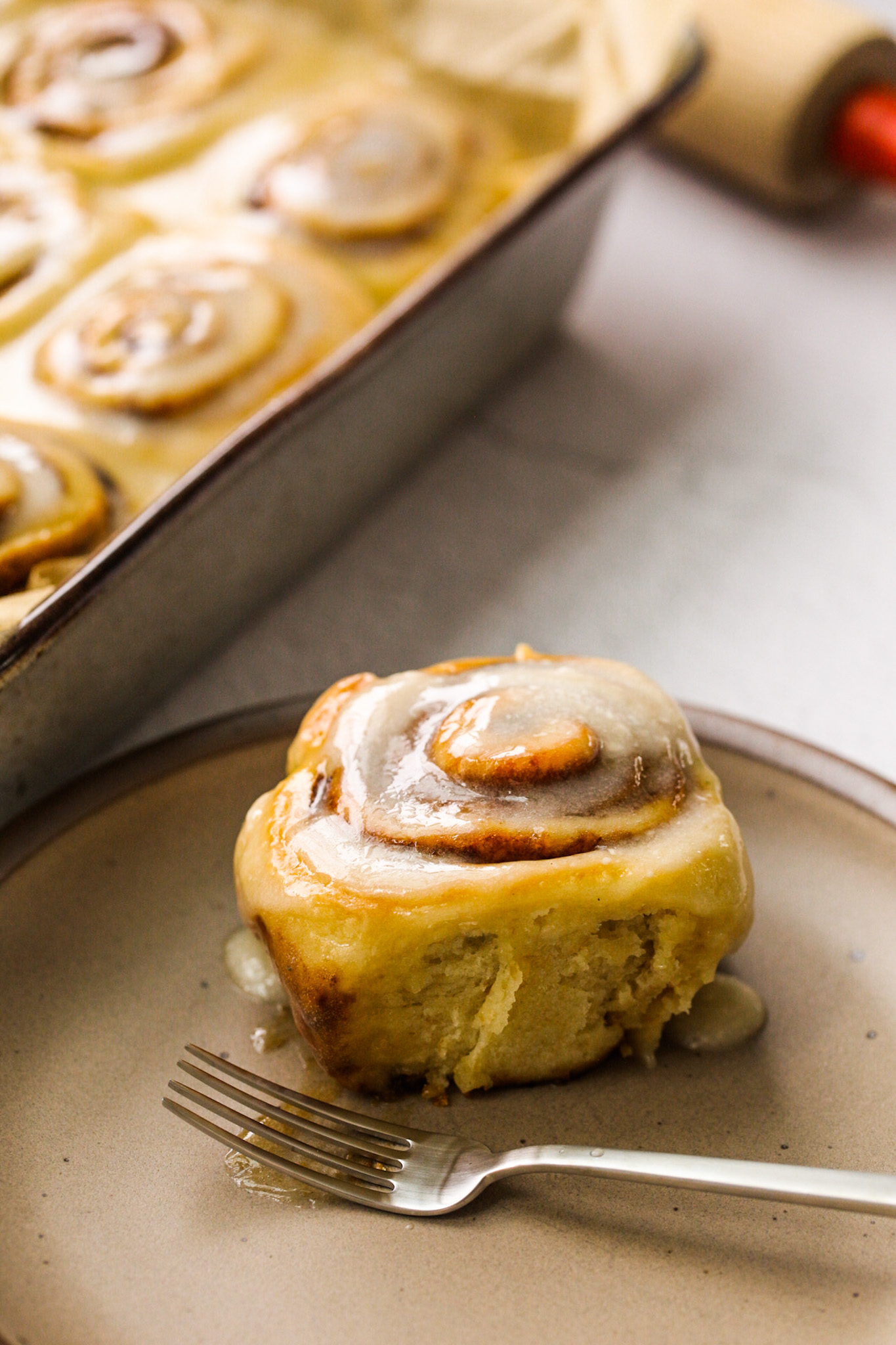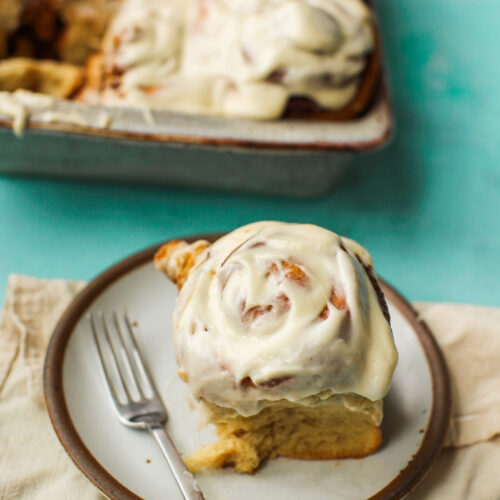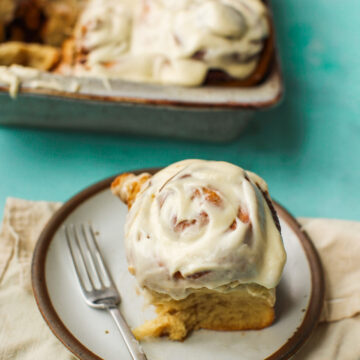 Vegan Cinnamon Rolls
These classic gone vegan cinnamon rolls bake up fluffy and buttery. A cozy anytime treat!
Print
Pin
Ingredients
Dough:
½

cup

warm water

2 ½

teaspoon

yeast

½

cup

soy milk

,

room temp or slightly warmer

½

cup

vegan egg replacer

,

see notes for options

¼

cup

coconut or cane sugar

4

tablespoon

vegan butter

,

melted

½

teaspoon

salt

4

cups

bread flour + extra for rolling out dough

,

see notes
Filling:
⅓ – ½

cup

vegan butter

,

melted

½

cup

coconut sugar

1-2

tablespoon

cinnamon

,

I usually eyeball it to get a generous layer
Cream Cheese Frosting
7

oz

vegan cream cheese

,

softened to room temp

1 ¼

cups

powdered sugar

,

organic – sifted

3

tablespoon

soy milk

a few

drops

vanilla extract

,

optional
Instructions
I prefer using JUST Egg as my egg replacer, but if using a flax seed mixture: Combine the flax seeds and warm water in a small bowl. Stir to combine. Set aside.

Add the yeast, milk and sugar to the large mixing bowl. Stir well to dissolve the yeast. Cover with parchment, plastic wrap or a towel and set aside for five minutes.

Uncover the yeasted mixture and add in the softened butter, ½ cup of the egg replacer of choice (JUST, flax…), salt and one cup of the flour. Mix by hand or with a mixer. Add in the second cup, repeat mixing. Then the third cup. Repeat mixing and finally, the forth cup of flour. By now, your dough should be nice and sturdy – enough to be able to knead either in the bowl or on a floured flat surface – like a counter. Knead for a few minutes until as smooth and fluffy as possible.

Spray your large mixing bowl with a bit of oil (optional) and place the dough into the center. Cover with plastic wrap, parchment or a clean dish towel. If using parchment, place something heavy on top to seal the edges. Set aside to rise for at least one hour, but usually 90 minutes for my dough. It will not double in size, but it will increase in size. This is fine.

When your dough is ready, pull it out and place it on a well-floured flat surface like a countertop. Roll the dough out to about a ten by fifteen shape. It does not need to be perfect! You want it to be about ¼ – ½ inches thick.

Pour or brush the melted butter all over the top side of the dough. evenly distribute all the filling ingredients – paying attention to even the edges. Sprinkle the cinnamon and sugar over top as well.

Roll the dough into a tight spiral and use a knife to portion out 9 equal pieces.

Line your casserole dish with parchment paper. Add the rolls to the dish. Cover again for a second rise. I usually do 30-60 minutes. You want the dough to expand even more.

Preheat oven to 350 degrees.

When dough is ready, place dish in the oven and bake for 25-30 minutes at 350 degrees. The edges should be lightly browned and tops poofy.

While baking, mix your frosting together in a medium bowl. You want it smooth and fluffy. Place in fridge until needed.

Pull rolls from the oven and allow them to cool for at least ten minutes until frosting. If you want your frosting to stay super thick, allow your rolls to cool for longer – a half hour should do it.

Serve warm! Store leftovers in the fridge.
Equipment
Rolling Pin

large mixing bowl

parchment paper

clean dish towel

casserole baking dish

spoon, whisk or mixer
Notes
Make-Ahead Rolls: If you want to prep these the night before and bake the next day, after the second rise, simply cover in plastic wrap and place in the fridge. Pull them out in the morning when you are ready to bake them! Egg Replacer Options: I love the JUST Egg the best, but other egg replacers will work. Try a flax egg, silken tofu (blended to be smooth), pumpkin, other powdered egg replacers and fruit or veggie purees.  Flour: Bread Flour is my flour of choice for these rolls, but any flour will work! AP, whole wheat, sprouted grain and more. The texture will vary based on the flour. Bread flour is rich in gluten and gives a bit more stretch and bounce and rise to your dough.
nutrition estimate | per serving
Calories:
350
kcal
|
Carbohydrates:
32
g
|
Protein:
3
g
|
Fat:
25
g
|
Saturated Fat:
7
g
|
Sodium:
424
mg
|
Potassium:
62
mg
|
Fiber:
2
g
|
Sugar:
26
g
|
Vitamin A:
1075
IU
|
Calcium:
50
mg
|
Iron:
1
mg