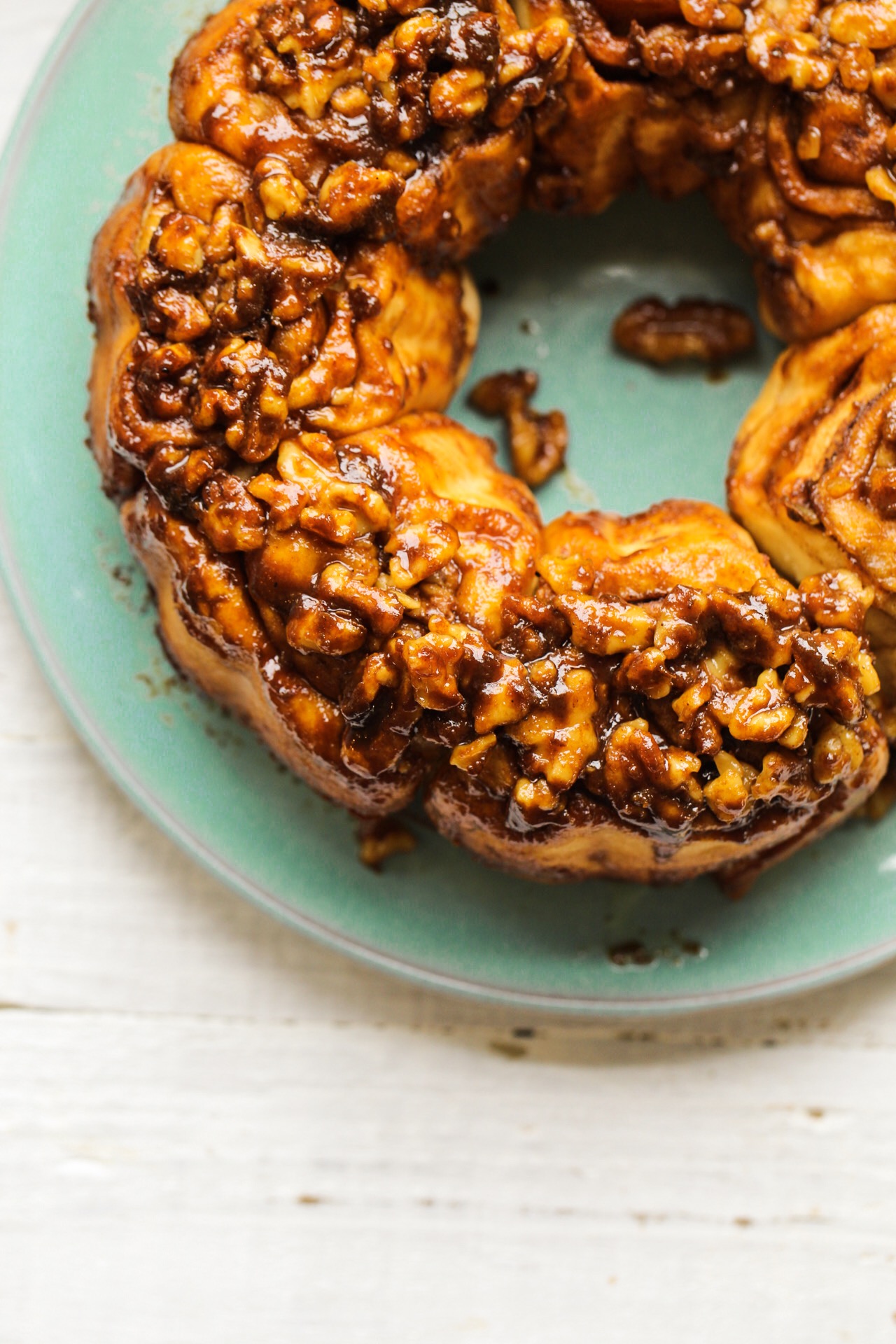 Cinnamon-y rolls have always been a fave of mine in December. And these Walnut Sticky Buns are a fun twist on that classic sweet swirl. These sticky buns come out of the oven warm, fluffy and sticky-sweet in all the right places.
These buns are vegan and come together in just under two hours. Not bad for a yeasted dough and dish with such eye-candy appeal. No need to make frosting or any sauce because the sticky-sweet sauce is baked right in.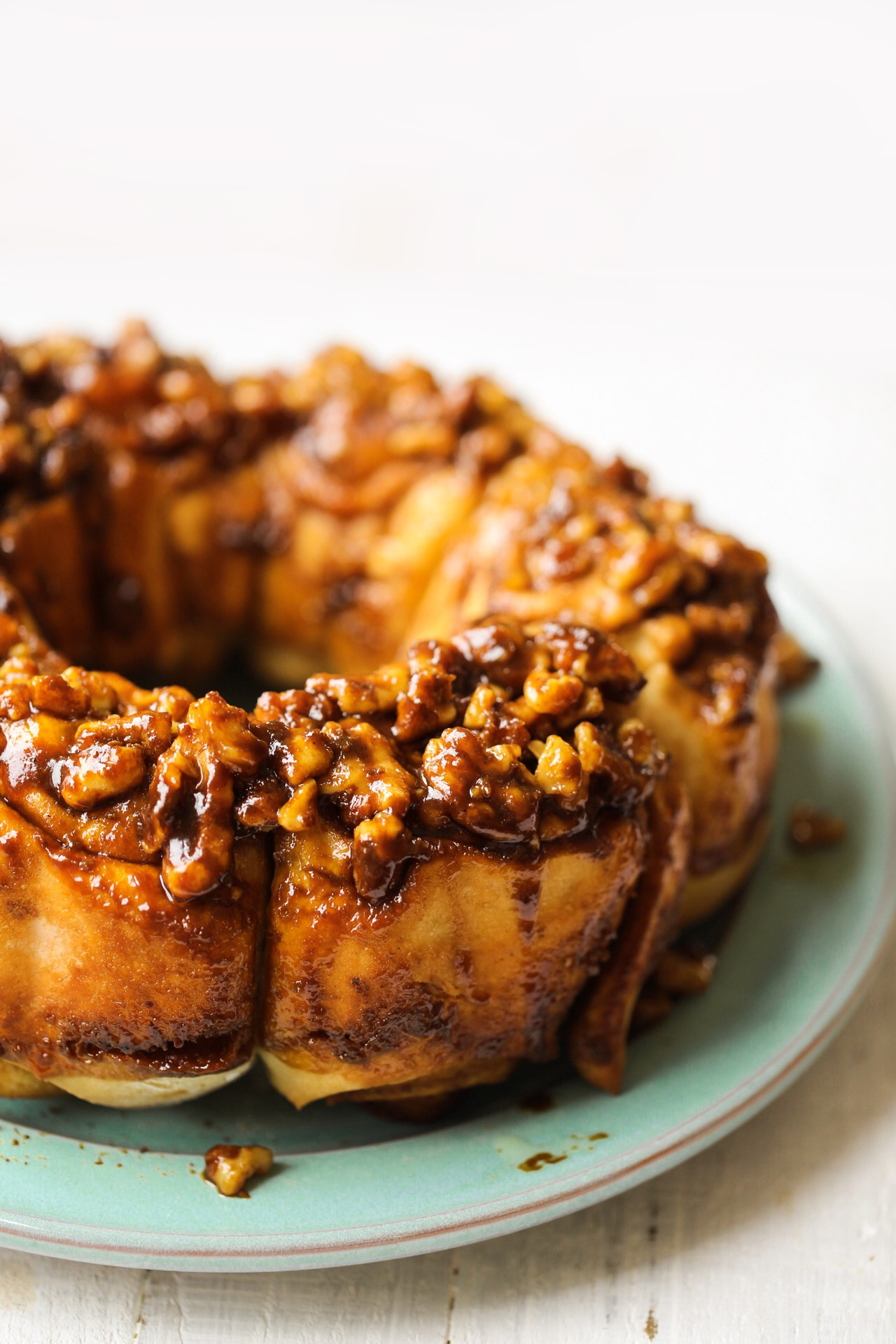 Easy 'Showstopper' Recipe
I don't throw around the terms "easy" or "showstopper" very lightly, but I really thing that for the visual bang you get from these buns versus the amount of effort they require, they truly are an easy showstopper. (And yes, I have been watching way too many past seasons of The Great British Baking Show, so the terms 'showstopper' 'stodgy' and 'sponge' are all swirling around in my head lately. Oh, and I now say BAH-sil instead of BAY-sil.
Walnut Sticky Buns vs Cinnamon Buns
I love these because though they are sweet, they don't feel as sweet and decadent as a frosting-slathered cinnamon bun. I can easily eat one of these at brunch, with a stern latte. The walnuts really bring an earthy accent to these buns. And the sticky topping isn't "too sweet." It feels just right, since it uses coconut sugar and coconut milk instead of highly processed alternatives found in more traditional sticky buns.
The sweetener for these buns is coconut sugar, which has a lovely naturally caramelized flavor to it – especially when baked.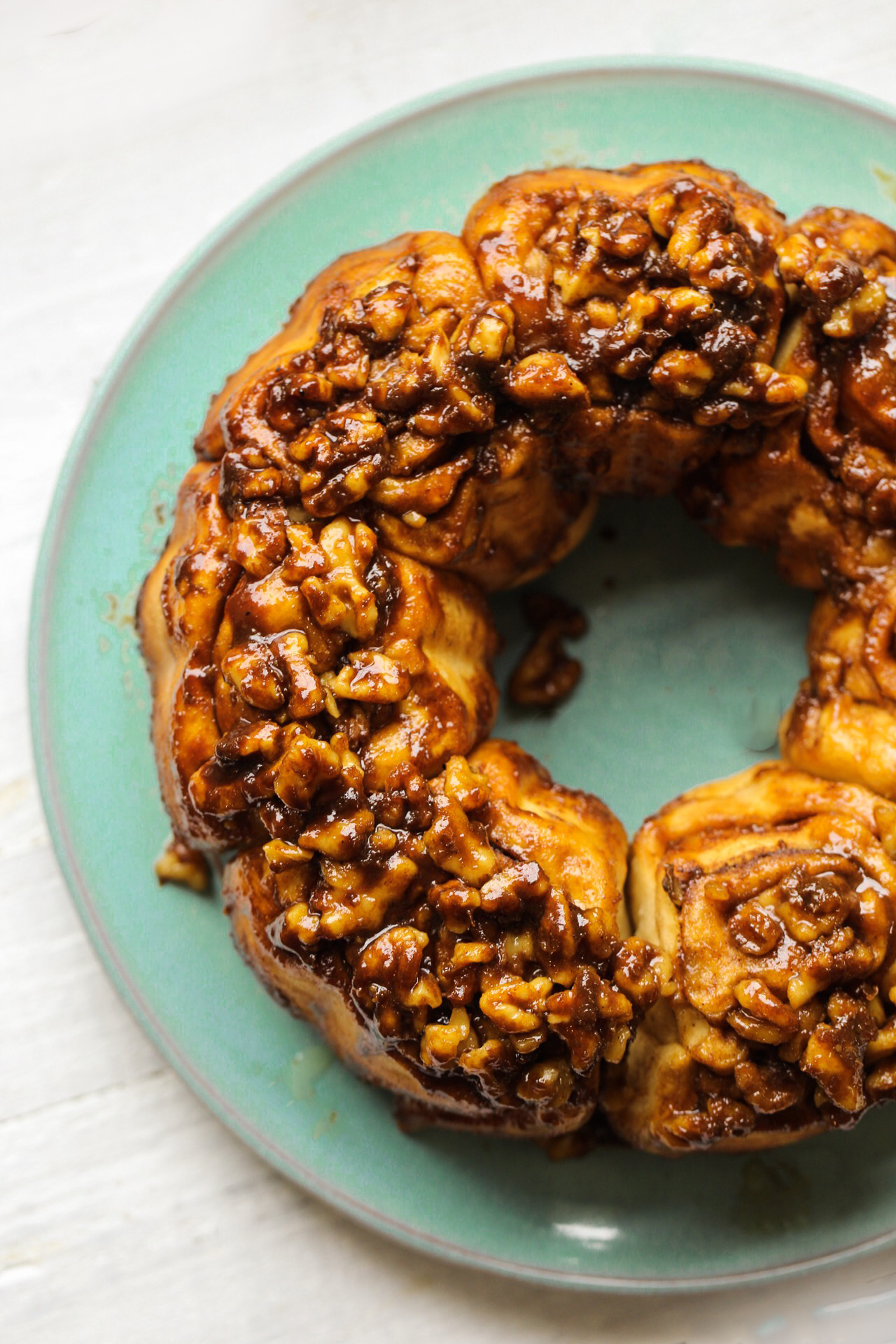 Why Coconut sugar?
"..coconut sugar does retain quite a bit of the nutrients found in the coconut palm. Most notable of these are the minerals iron, zinc, calcium and potassium, along with some short-chain fatty acids like polyphenols and antioxidants. Then it contains a fiber called inulin, which may slow glucose absorption"

– heatlthline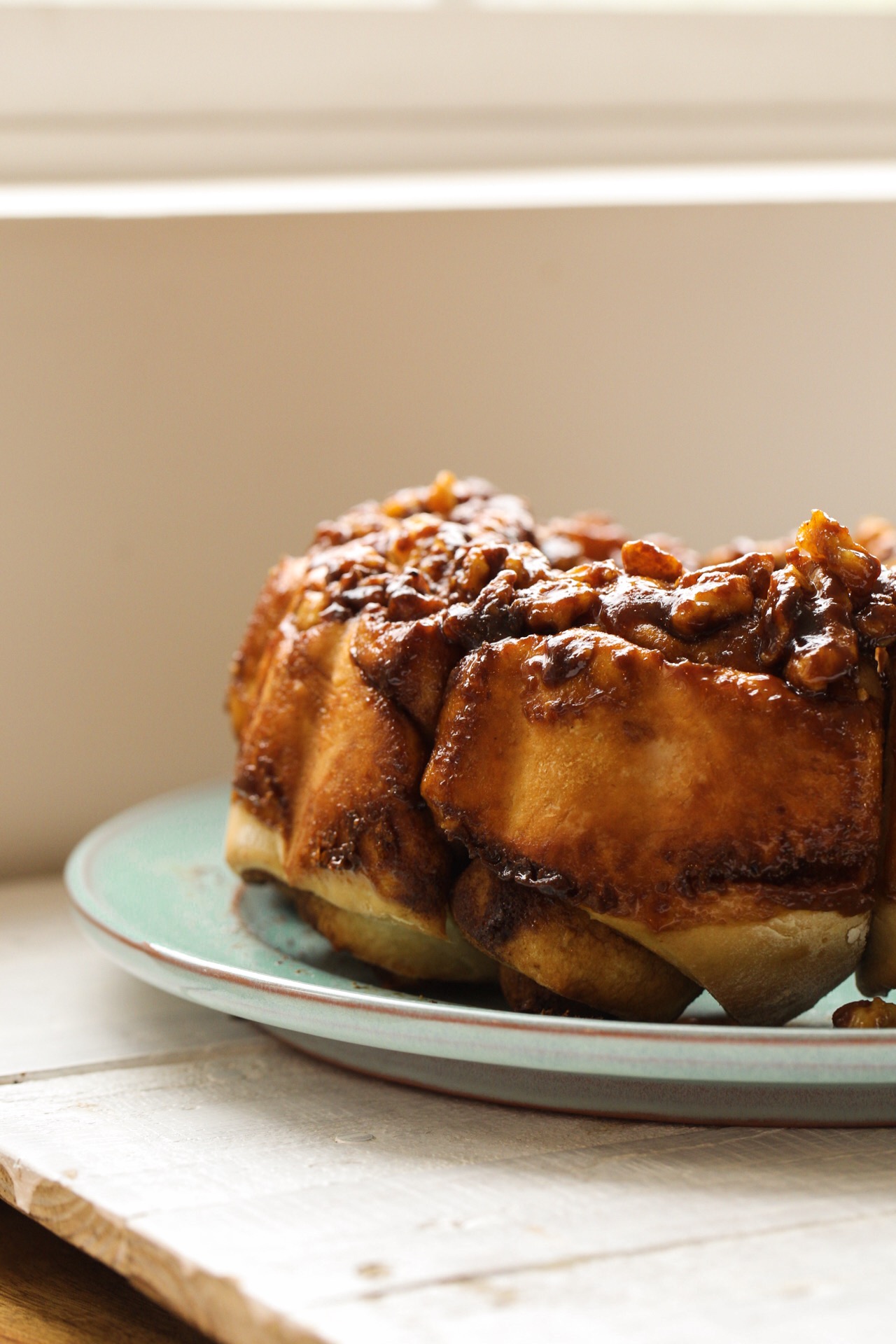 Pecan Buns or Walnut Buns?
You can sub out the walnuts and use pecans if desired. I just personally always tend to have raw walnuts on hand and I love their healthy properties like how one study found that..
"..diets enriched with walnuts led to lower total and LDL ("bad") cholesterol when compared with other diets."

– Harvard Health
…but really, these Walnut Sticky Buns are all about flavor. And fluffy, stick texture. All dreamy things this cold and festive time of year. So whip out the rolling pin and get ready to knead some soft and fluffy dough because it's bun-baking season. And this recipe is a new fave.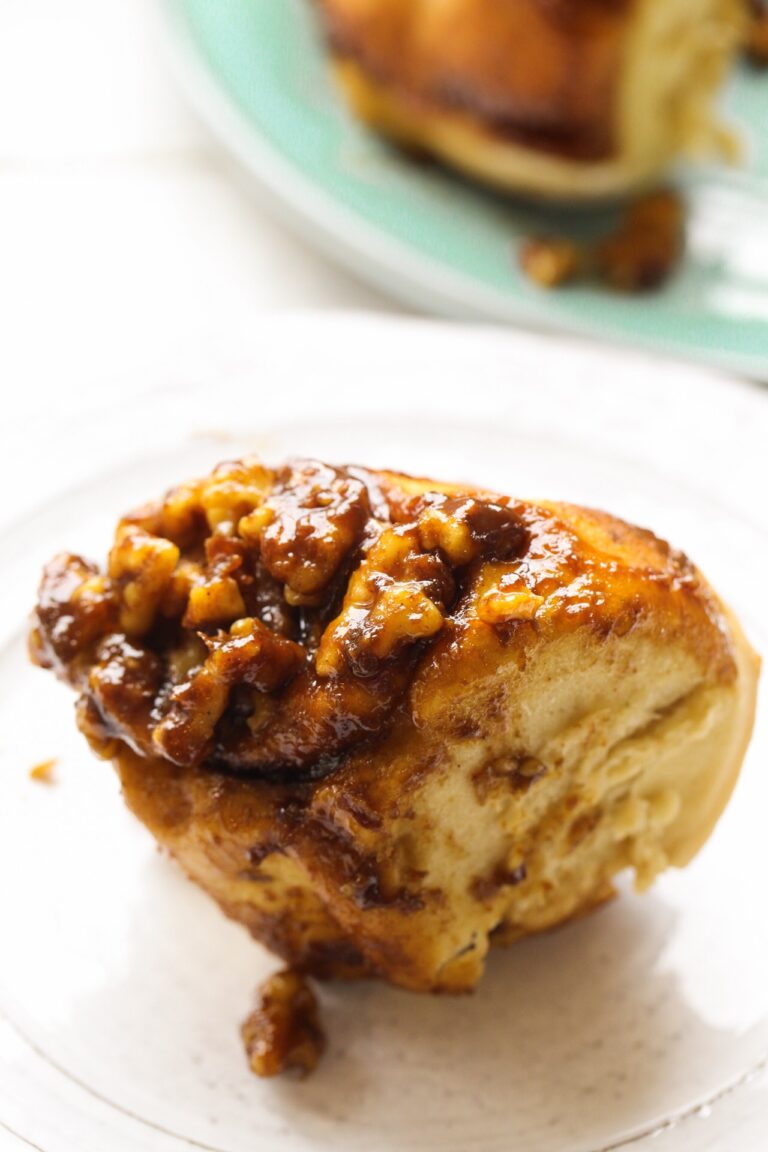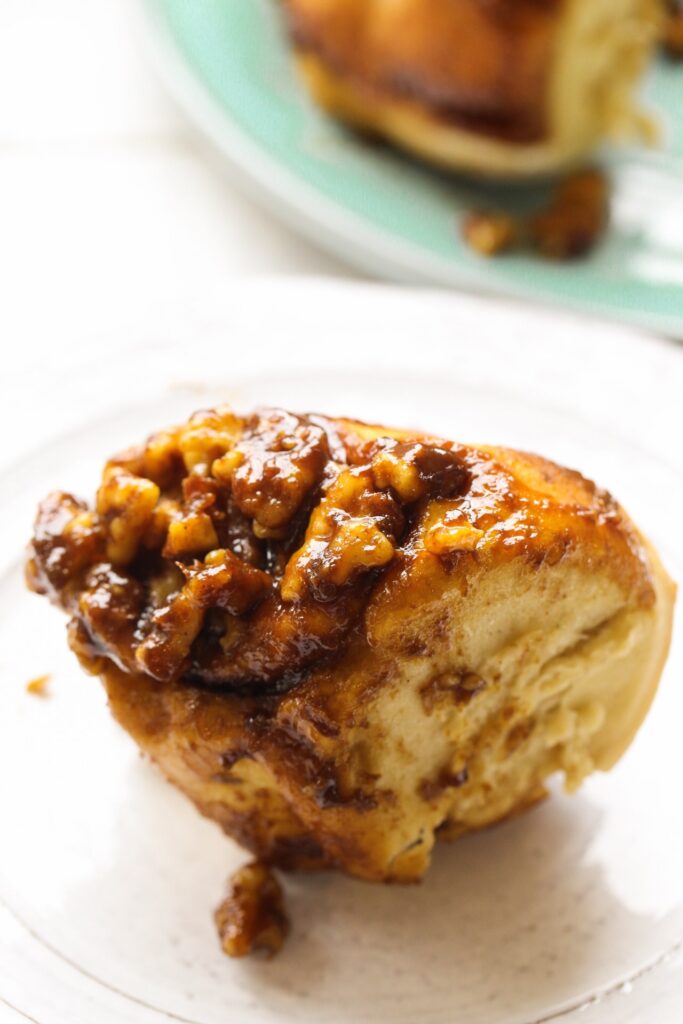 Christmas Walnut Sticky Buns
Last year I served up my pumpkin cinnamon rolls for Christmas morning. But these sticky buns would also be a great dish. I might try to make them again to make sure you can do a make-ahead option, but here is how I think that will go for now..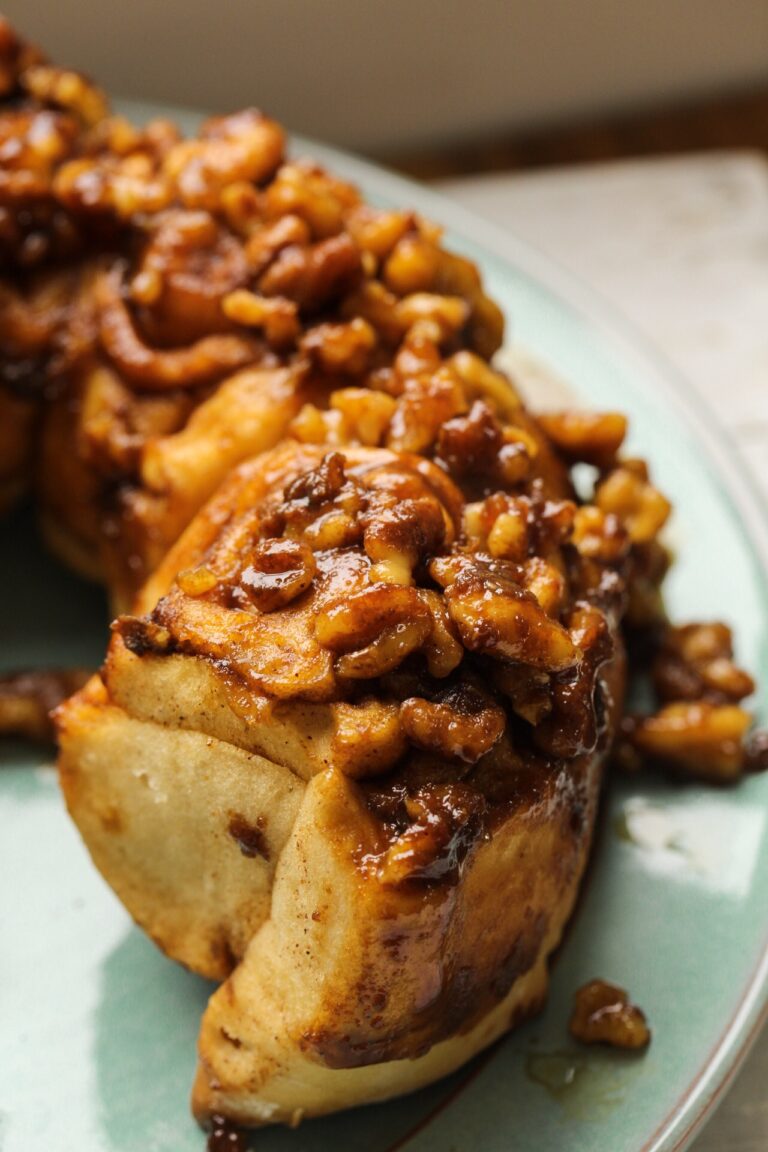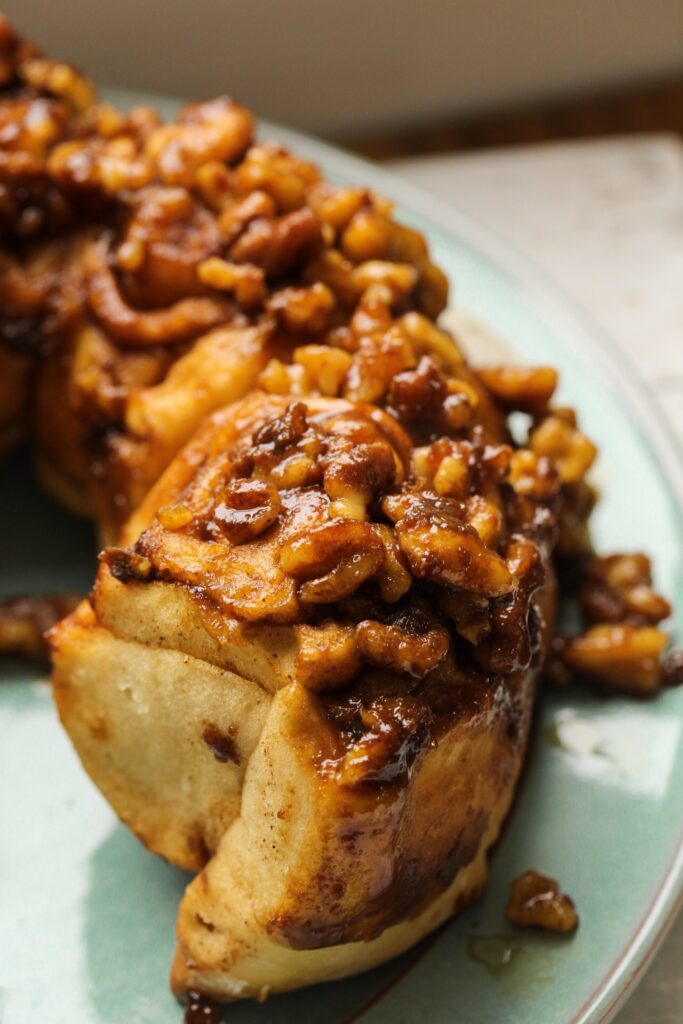 Make-Ahead Buns?
Though I have yet to test this, My prediction is that you can prepare everything up until the baking. So the rolls will be settled in their baking dish. Then you could cover and store in the fridge overnight for baking in the morning. When I test this make-ahead method, I will update this recipe to confirm.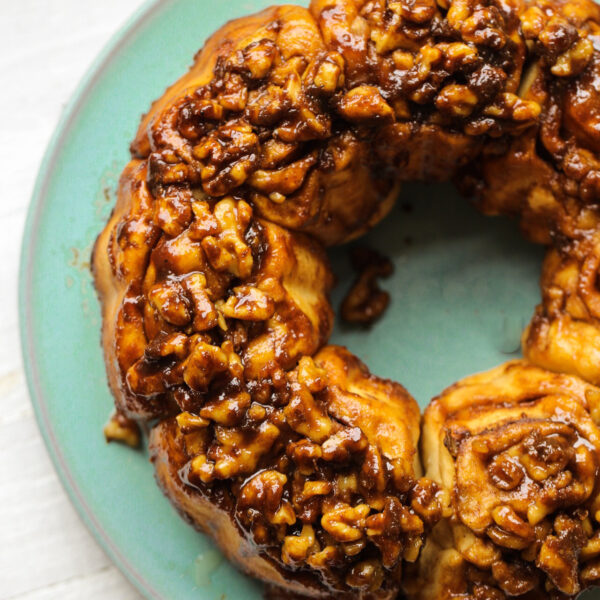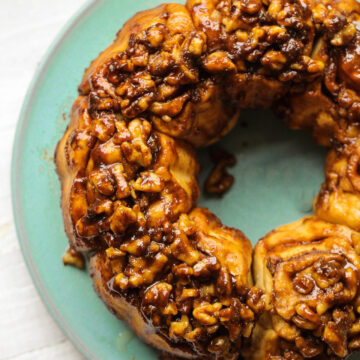 Walnut Sticky Buns
These easy plant-based walnut sticky buns come together in about two hours and come out of the oven warm and fluffy and deliciously sticky.
Print
Pin
Ingredients
Dough
2 ¼

teaspoon

active yeast

1

cup

warm water

3

tablespoon

coconut sugar

2

tablespoon

extra virgin olive oil

1

teaspoon

salt

½

cup

soy milk

,

plain

4

cups

all purpose flour
Filling
¼

cup

vegan butter

,

melted

¼

cup

coconut sugar

2

tablespoon

walnuts

,

finely chopped

2

tablespoon

cinnamon
Sticky Topping
½

cup

coconut milk

,

full fat

½ – ¾

cup

coconut sugar

1

cup

walnuts

,

chopped
For pan
2

tablespoon

extra virgin olive oil
Instructions
Add the yeast, water and sugar to a large mixing bowl. Stir well until yeast is dissolved.

Add the soy milk, oil and salt to the mixing bowl. Stir. Then stir in a cup of flour. then another cup and finally fold in the last two cups of flour.

Knead the dough in the bowl for a few minutes.

Cover the bowl with a clean dish towel and place in a warmish location. Allow to rise for a little over and hour, or until doubled in size.

turn out dough onto a lightly floured surface. Roll out with a rolling pin until long and flat. At east 12 inches by aboutseven or eight inches. About ⅛ -¼ inch thick.

Preheat oven to 350 and grease your baking dish with the two tablespoons of olive oil. Then add the coconut milk

Brush the melted vegan butter onto the rolled out dough. Then sprinkle with cinnamon, sugar and about ¼ cup of the walnuts. Roll up the dough into a tight swirl. Set aside for a minute.

Add the coconut milk, coconut sugar and walnuts to the baking dish. Spread evenly over bottom of the bundt pan – or baking dish if using that.

Slice the dough into 7-9 equal buns, depending on how many and how tall you want them.

Place the rolle, swirl side down, into the baking dish. Allow them to sit, covered, for about ten minutes.

Place the pan in the oven and bake at 350 degrees for 28-30 minutes.

Allow five minutes for the pan to cool a bit, then place a large serving plate over top the buns and quickly flip everything over – so the sticky walnut topping and bottom of pan is now facing up. Tap the outersides of the bundt pan to loosen andy sticky sauce. Lift pan or dish to remove and unveil the sticky buns! Serve warm.
Equipment
bundt pan – or 8" baking dish

Rolling Pin

large mixing bowl
Notes
oil: you could sub coconut oil for the olive oil
nuts: feel free to sub with pecans if desired
nutrition estimate | per serving
Calories:
514
kcal
|
Carbohydrates:
69
g
|
Protein:
10
g
|
Fat:
23
g
|
Saturated Fat:
6
g
|
Sodium:
384
mg
|
Potassium:
200
mg
|
Fiber:
4
g
|
Sugar:
14
g
|
Vitamin A:
301
IU
|
Vitamin C:
1
mg
|
Calcium:
68
mg
|
Iron:
4
mg
Pin these Walnut Sticky Buns for later!…