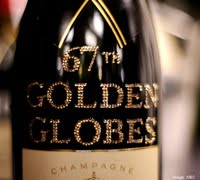 Yes! The 67th Golden Globes menu includes vegan and vegetarian options. Bravo!
It's Not a Party, Without a Menu. Yes, I love the Oscar's, but the Golden Globe Awards are the real party of the year because…they serve food, beverages and are presented 'dinner party' style. Who wants to sit through an awards show without food??? Not me. Or the celebs. Thus every year you will find me snuggly at home, watching the Golden Globes dinner party style. I am always curious to see what the celebrities will be feasting on at the gala. And this year I was thrilled to see this quote on the NBC GG Menu Preview:
"Although vegetarian and vegan options will be available, the standard main course is a surf and turf spectacular featuring sauteed sea bass with truffle endive fritto and braised beef short ribs with artichoke sweet pepper ragout." –NBC Golden Globes Menu Preview
Nice! Click ahead for more, and photos of GG menu items…
Girl from Cali. One of my favorite nights of the year is the Golden Globe Awards. As a girl form Cali, fond of Hollywood and movies, I loved sprawling out on the floor with my palms to my chin, watching the GG's with wide eyes. The stars, sparkle, glam and pizazz always struck my heart. The room filled with creative minds and artistic personalities: I loved it. And still do. It's kinda like my version of the Superbowl.
Vegan Options, but What are They?? I love the mention of Vegan and Vegetarian options at the globes, but I wish they would be a bit more specific and show some photos of the veg options too! Since they are trying to be more "green" this year, and they even had a "green" themed Golden Globes party. More veggie food in the press next year GG chefs! You know going green in your diet is trendy…and a good choice for yourself, animals and the planet.
But anyways…Here are a few of the menu preview photos , from NBC:
And FYI, get some vegan appetizers and party-friendly eats here: Entertaining Appetizers