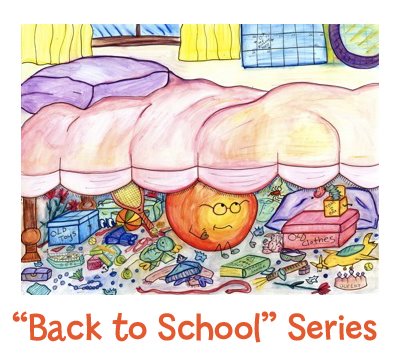 The phrase "Back to School" sends a shuddering feeling of dread through millions of youngsters everywhere. And hiding under the bed will not stop the first day of school from coming. This fall, a long lineup of groggy students will march their shiny new-school-year shoes back into the classroom. But what foods will be lurking inside that lunchbox???

Improving Academic Eats. My school days were riddled with a few too many "Lunchables" lunches, icky cafeteria food and homemade peanut butter and apricot jam sandwiches with a side of sour Gushers or Garfield brand fruit snacks. The cafeteria lunch-hour was not the healthiest of times for most kids I knew. Luckily, my mom balanced out the 'school-yard junk' by cooking my family healthy California cuisine dinners. But what are kids eating today? Much of the same? Is it worse? Is it getting better? I dread to think what some kids have hiding in their backpacks next to their science book and gym socks. Well I'm here to help. My latest month-long series is: "Back to School" Series: Eats for Kids (of all ages). Whether you are five or fifty, you'll get a kick out of these yummy, creative and simple recipes. Click ahead for the full schedule of posts for this upcoming series….
"Back to School" Series: Eats for Students and Kids (of all ages)
8/12/09 Honor Roll Breakfasts
Healthy vegan breakfasts to help get you on your feet, out the door and into an honor roll groove. You'll love my Pop Quiz Toast-Ups, a "plumb" delicious Fruit Parfait, Spelling Test Scramble Pasta and a few ideas for giving your oatmeal a healthy, fun and delicious boost.
8/18/09 Study and After School Snacks
Everyone needs a snack break during their busy day. From kids to teens to full-fledged adults. So here are a few snacks that are not only healthy, delicious but silly enough to crack a smile on your face-even before that history test! Highlights include: Flying Saucer Edamame bowls, Kitchen Sink Granola Bars and a few more surprises for your snacking pleasure.
8/21/09 Lunchbox Showstoppers
What's for lunch? PBJ, cheese pizza, bagel, boring! I'll jazz up your child's lunchbox with a few vegan recipes to tempt even their most skeptical of friends. Bullseye Spirals and Prepster Mushroom Marinara Sandwiches are just a few of the yummy headliners.
8/25/09 Kids in the kitchen
These are recipes so simple that even your kids will be able to put them together. Young kids may need a little help from a big person, but even teens will love making these simple steps recipes. The Rainbow Wraps will blow you away!
8/27/09 Sweet Treats for Grade A Kids…Dessert Time!
Cookies, hand pies and treats are all featured in this post. But a few hidden ingredients boosts the nutrition power of what may taste like incredibly decadent yummies!
9/01/09 After School Sport Snacks
Love this post! Here are a few recipes to fuel your star kid right before the big game-or the entire team on a weekday practice. High in electrolytes and big on healthy flavor, these are all-star recipes will leave your competition in the dust.
9/07/09 Back2School Labor Day Pizza Party
I hope you'll tune in for these exciting posts. Follow the series in the right hand column on my page.
My previous series was my healthy makeover series: summertime eats.
Check back for more great blog series posts to be announced. Look on the right hand side of the home page.