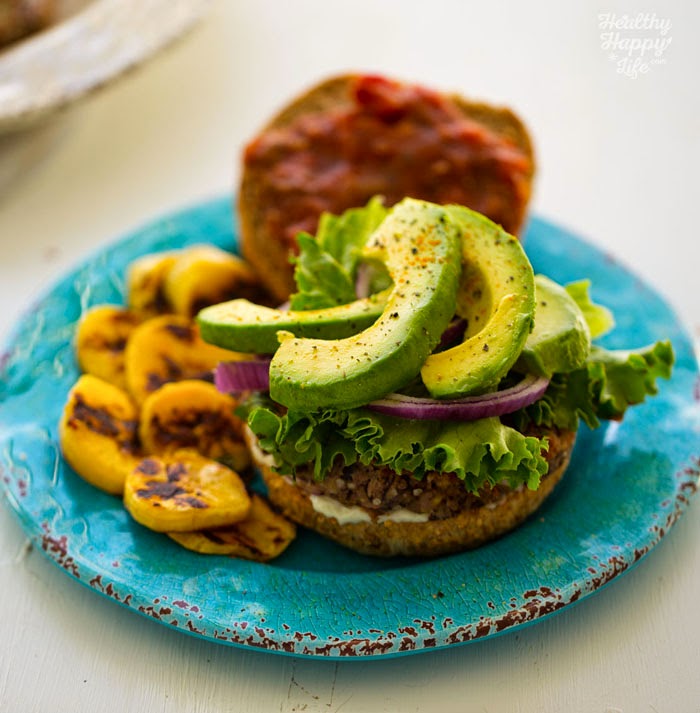 Happy May everyone! I promise you summer is JUST around the corner and all those backyard veggie burger bashes are yours to be enjoyed. Well I think Cinco de Mayo is a perfect holiday to kick off my summertime veggie burger spirit. And this new recipe is one I am kind of swooning over.
Get my Black Bean Plantain Veggie Burgers with Avocado recipe!..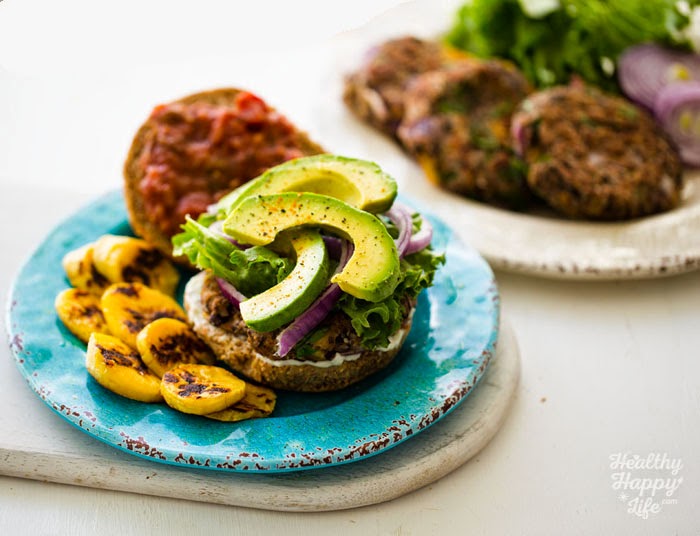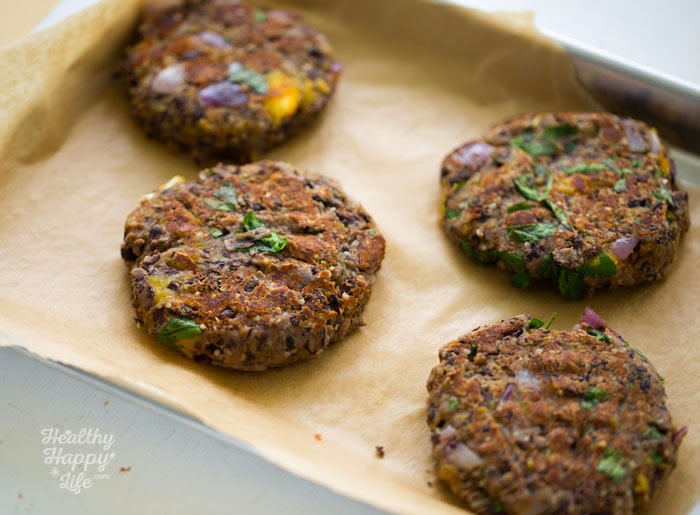 plantain-studded black bean burgers.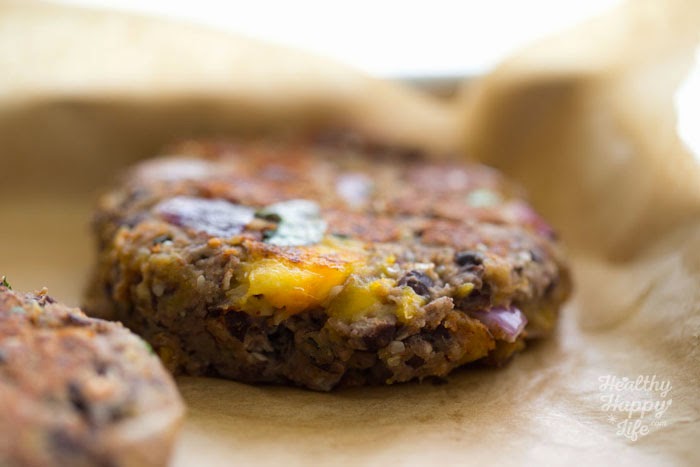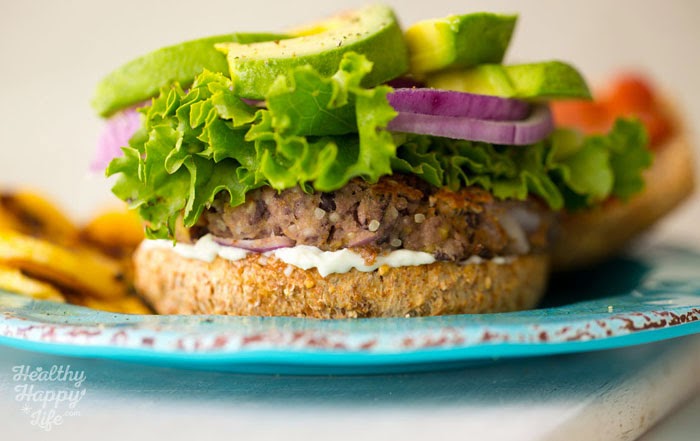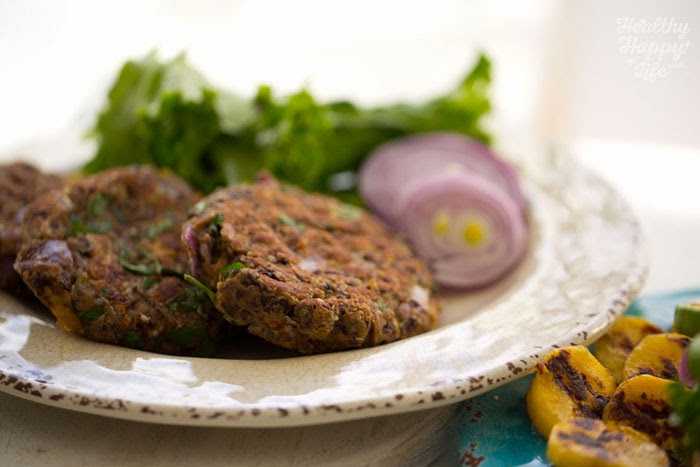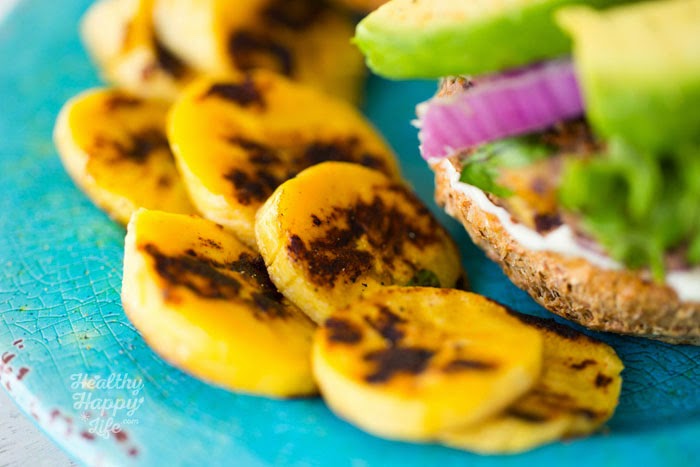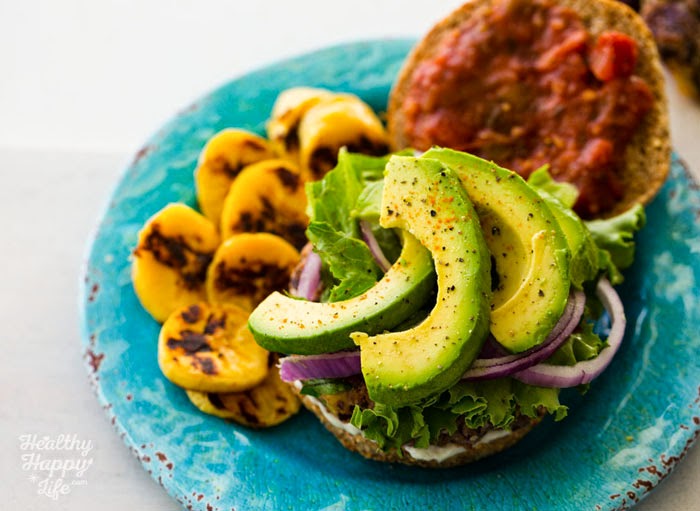 Amazing California Avocados .. that i picked myself! On a recent trip. More on that in a future post!..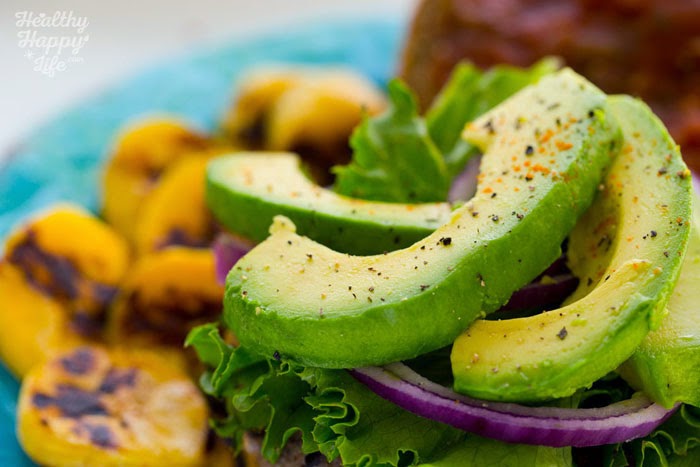 Sticky sweet skillet plantains, mashed with black beans, red onion, chipotle spice and lime juice. Then you quickly crisp up and brown these patties in a skillet and finish them in the oven. Top these burgers with salsa, freshly sliced California avocados and some fluffy green lettuce and your perfect veggie burger is ready. Bring on veggie burger season!..
PS. This recipe is actually based on one of my fave recipes in my book Healthy Happy Vegan Kitchen. My Turmeric Hemp White Bean Burgers! Instead of white beans, I used black, and instead of turmeric I used chipotle. Veggie burgers are so fun and easy to mix up. I have a great veggie burger how-to page in my new book as well!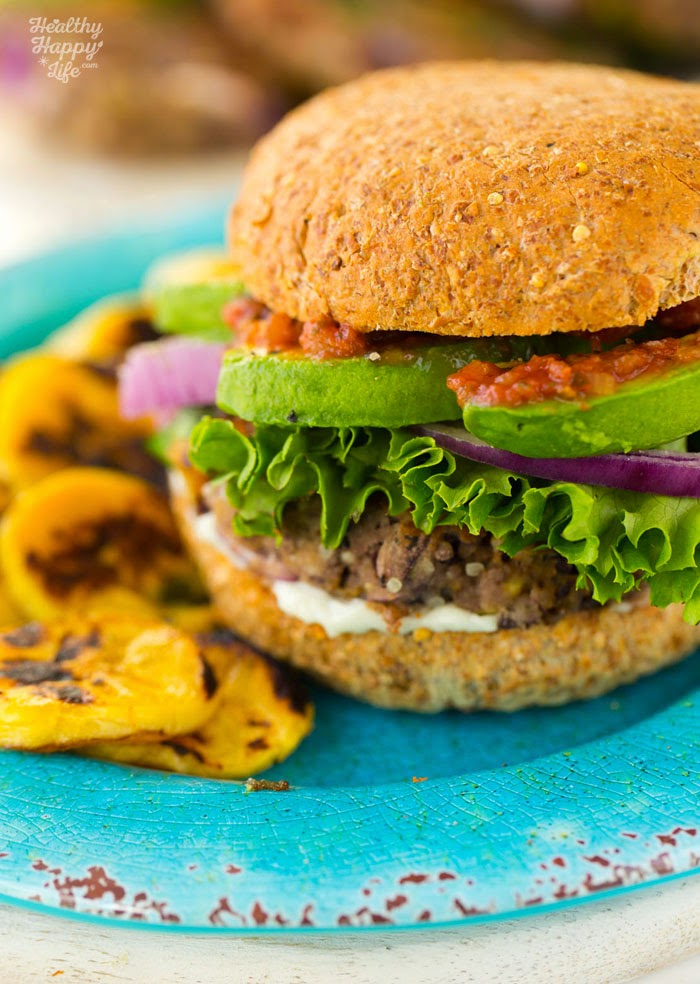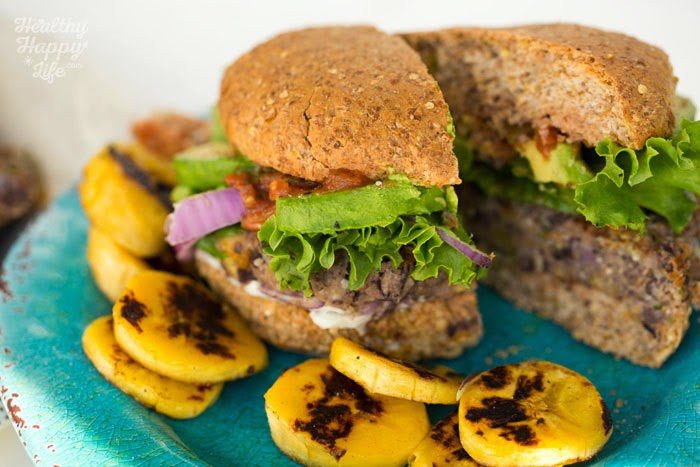 Black Bean Plantain Veggie Burgers with Avocado
By Kathy PatalskyPublished 05/01/2015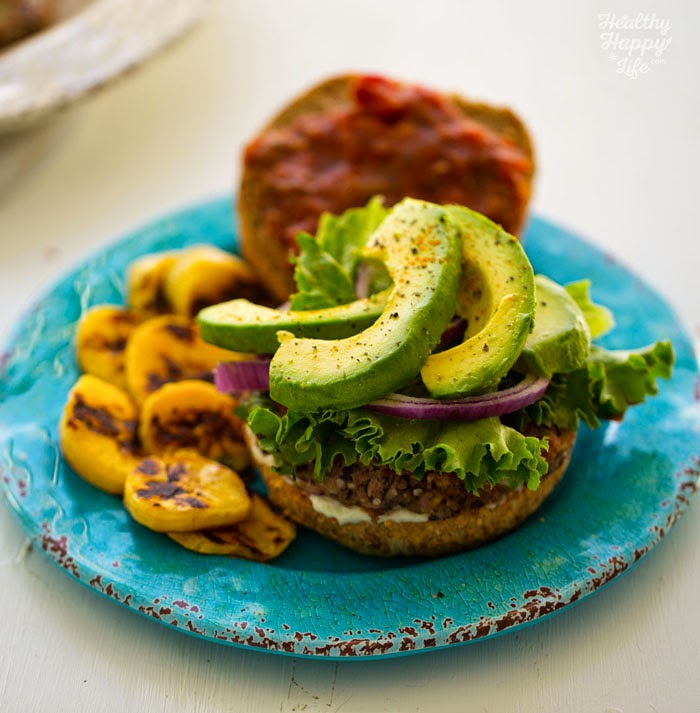 Black bean plantain burgers with onion and chipotle spice.
Ingredients
1 ripe plantain, large (blackened peel)
plantain skillet: 1 teaspoon virgin coconut oil or EVOO
–
1 can black beans, drained and rinsed
¼ cup hemp seeds
1 ½ tablespoon tahini
1 tablespoon fresh lime juice
¼ cup red onion, chopped
2 tablespoon finely chopped cilantro or flat-leaf parsley
1-2 tablespoon oat flour (to help bind)
¼ teaspoon salt + ½ teaspoon chipotle powder
veggie burger skillet: 1 teaspoon virgin coconut oil
–
toppings: sliced onion, lettuce, sliced avocado
condiments: fresh or jar salsa, vegan mayo
buns: I used spouted grain
Instructions
First the plantains. Note: You will be adding 1 cup of the cooked plantains to the burgers, the leftover rounds can be served on the side. So, slice your plantains into thin rounds. Warm a skillet over high heat, add 1 teaspoon oil. Add the rounds to the oiled pan and cook 1-2 minutes on each side. They will slightly brown. Add a splash of water if the pan gets too dry. Remove plantains from pan and measure off 1 cup of the rounds. Add that 1 cup to a large mixing bowl.
Also to the mixing bowl, add: black beans, chipotle powder, salt, onion, hemp seeds, tahini, lime, cilantro and oat flour. Using a fork or potato masher, mash well until all the beans are mashed and split.
Warm a skillet over medium-high heat and add 1 teaspoon oil.
Form patty mixture into round patties and place on the hot, oiled skillet. Continue until all the mixture is used up. Cook 1-3 minutes on each side to brown. You can finish cooking in the skillet, or for easy, transfer the patties to a 350 degree oven and allow them to cook for another ten minutes. You can then leave the patties in the warm oven until ready for serving.
Assembly: I did bottom bun, vegan mayo, patty, lettuce, onion, avocado, salsa, top bun.
Yield: 4 burgersPrep Time: 00 hrs. 10 mins. Cook time: 00 hrs. 15 mins. Total time: 25 mins. Tags: veggie burger, dinner,vegan,black beans, dinner,entree,hemp,fiesta,avocado,sandwich,burger