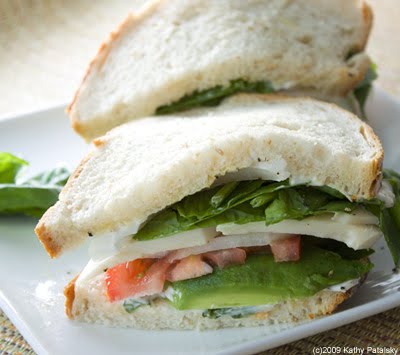 Here's my vegan California Avocado Cheese Sandwich, on Sourdough bread. Two slices of soft San Francisco sourdough, spring green colored avocado slices, thick slices of vine ripened tomatoes, a dusting of black pepper, a smear of angel-white Vegenaise, elegant draped slices of vegan Mozzarella "cheese" and some thick leaves of crisp green field spinach. Tastes like my childhood growing up in Northern California. This is a must try sandwich recipe. And no skimping on the 'freshly baked' sourdough bread. Get my recipe for some quick sandwich inspiration to warm your plate…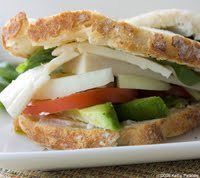 Sourdough Bread. Ah, San Francisco style sourdough bread is the best! Yes I eat mostly sprouted grain and whole grain breads nowadays, but once in a while I need a childhood treat. (Do you only eat whole grain? Splurge for this one. Or find a whole grain sourdough bread – it does exist.)

California Produce. California is a veggie lovers paradise, and this sandwich highlights the delicious elegance of simple high quality ingredients. Tomatoes, avocados and spinach – simple seasonings to compliment: a dusting of black pepper and a smear of Vegenaise. Perfection.
California Avocado Cheese Sourdough Sandwich
vegan, serves one
2 thin slices of fresh Sourdough bread
4 thick slices of avocado
2 slices sweet white onion
4 thick slices of tomato
2 large leaves of field spinach (not baby)
2-4 slices of vegan white cheese
*I used Follow Your Heart brand Mozzarella
2 tablespoon Vegenaise spread
dash of black pepper
Directions:
1. Make your sandwich. Slice. Eat. Enjoy.