If you follow me on Instagram stories, you may have noticed that I have been on a pasta kick the past month. My go-to dinner being pasta – all fluffy and tender with rich yummy tomato sauce coating every pasta-y crevice – vegan Parm on top and served in my fave cozy bowl. And on the side, some sort of veggie or giant salad. I will sometimes add veggie meatballs or sausage to my pasta too. So today, my Chunky Veggie Pasta Sauce recipe..
Homemade Sauce.
And on those super busy nights, a bottle of pre-made marinara sauce is easy and great. But when I have the time, like anything, I much prefer to make my sauce from scratch. And today's Chunky Summer Veggie Pasta Sauce is my go-to tomato sauce when I want a chunky texture and a few veggies in every bite.
For this marinara sauce recipe, I am using in-season zucchini as my veggie, but you could easily swap with mushrooms, carrots, bell pepper or whatever veggies you have on hand.
So boil some pasta and simmer this sauce for a one-bowl meal worth turning on the stove for…
..dishes by East Fork.
It's all in the sauce…
I seriously need a pasta sauce that I can eat by the spoonful because it is my favorite part of pasta night. This marinara sauce is just that! Chunky and totally spoonable.
There are three vegan cheeses that I like on pasta. The Follow Your Heart shreds. The Galaxy vegan Parm crumbles. Or my DIY walnut-nooch cheese. Or go cheese free. Some fresh basil or toasted pumpkin seeds would also be nice on top. A few fresh capers adds a pop of color and brininess.
So what about these ingredients?
– capers: I love the salty, punchy flavor a few capers add to sauce. I also love them on pizza! They have this fragrant briny flavor that I just adore.
– olives: similar to the capers, salty and punch of flavor – you could use just one or the other too.
– zucchini: seasonal veggie. You could sub with mushrooms or pepper or even kale or spinach. Carrots or even corn also work! add veggies that add texture and some color too.
– EVOO: the dreamy ingredient to bring some smooth body and richness to your sauce. You can start with just three tablespoons and add more as you crave it. Many store-bought sauces are heavy handed on the oil and salt, so if you want to achieve that sort of oomph, don't be shy with those two ingredients. But if you want something lighter, stay light on the EVOO.
– bay leaf: I always add a bay leaf to my sauce or soup. It adds a zingy depth of flavor that I can only really describe as a hum of flavor.
– spices: I used a dry seasoning blend. It included oregano, marjoram, thyme, basil, rosemary and sage.
– tomatoes: I prefer San Marzano for their rich red color and flavor, but you can use any organic tomatoes you'd like.
– vegan sausage: This is optional, but I love the flavor and 'meatiness' that a Field Roast sausage adds to my sauce. It really makes it feel more like a meal. You could also play around with adding lentils or beans.
– garlic: Always add more garlic if you are a garlic-lover like me! I used six large chunks, but could've easily added six more. Yes, I love garlic that much.
– nutritional yeast: totally optional, but it adds a cheesy depth of flavor and a few added nutrients like B vitamins.
You could call this a marinara sauce if you'd like because it's all veggies and a tomato base. Pasta sauce, marinara sauce, your call.
Really, this sauce tastes even better the next day because all the flavors marinate just a bit more and the sauce reduces a bit. Yummy on day one, extra yummy on day two. And if you have leftovers, you can chill for a few days or freezer for next week.
I used Rigatoni pasta with my chunky pasta sauce because I think it just looks so pretty in giant floppy shapes, the sauce wiggling into the noodles. But any pasta will work!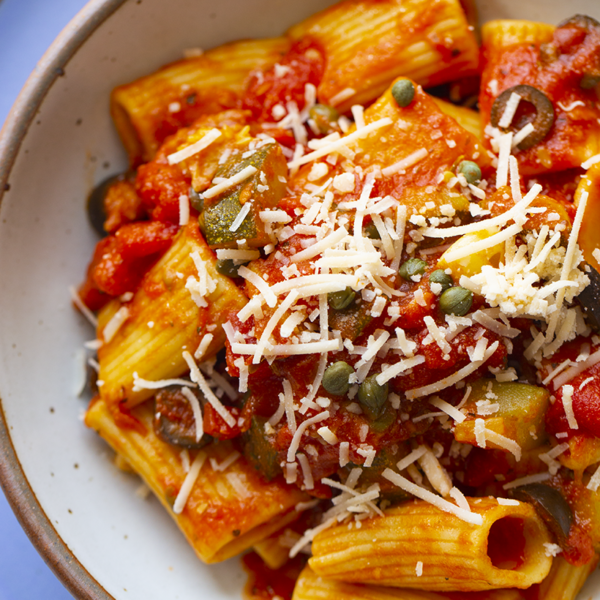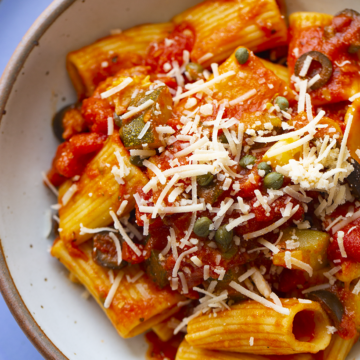 Chunky Veggie Pasta
This chunky, colorful, veggie-filled marinara sauce is perfect on your fave pasta for an easy, delicious plant-based meal.
Print
Pin
Ingredients
6

tablespoon

extra virgin olive oil

6

cloves

garlic

,

chopped

1

cup

zucchini

,

chopped

2

oz

black olives

,

sliced

2

tablespoon

capers

1

vegan sausage

,

chopped – I used Field Roast Italian flavor — optional

2

tablespoon

dried Italian seasoning blend

,

salt-free

2-4

tablespoon

nutritional yeast

,

optional

28

oz

can of diced tomatoes

,

San Marzano used

28

oz

can of crushed tomatoes

,

San Marzano used

1

bay leaf

1

teaspoon

crushed red pepper flakes

start with a ½ teaspoon salt and add more to taste

optional: splash of white wine

optional: 1 small onion

,

diced
Instructions
Add the oil and garlic to a large sauce pot over medium heat. Cook for two minutes. Then add in the zucchini and optional onion. Cook for 3-5 minutes, or until the zucchini is tender.

Add in all the remaining ingredients and bring to a slow boil. Then reduce heat to medium-low and simmer uncovered for at least twenty minutes. The longer you simmer, the more developed and bold the flavors will become.

Do a taste test and add more salt to taste if desired. You can also add more red pepper flakes or nutritional yeast to taste.

Boil pasta and drain. Toss with sauce. Add some vegan Parm to serve. This pasta is delicious same day, but the sauce is even better the next day! Leftover sauce will keep in the fridge for 2-3 days. Or you can freeze leftovers for about a month for best flavor.
nutrition estimate | per serving
Calories:
160
kcal
|
Carbohydrates:
3
g
|
Protein:
2
g
|
Fat:
16
g
|
Saturated Fat:
2
g
|
Sodium:
236
mg
|
Potassium:
122
mg
|
Fiber:
1
g
|
Sugar:
1
g
|
Vitamin A:
78
IU
|
Vitamin C:
5
mg
|
Calcium:
14
mg
|
Iron:
1
mg
Pin this recipe for later…