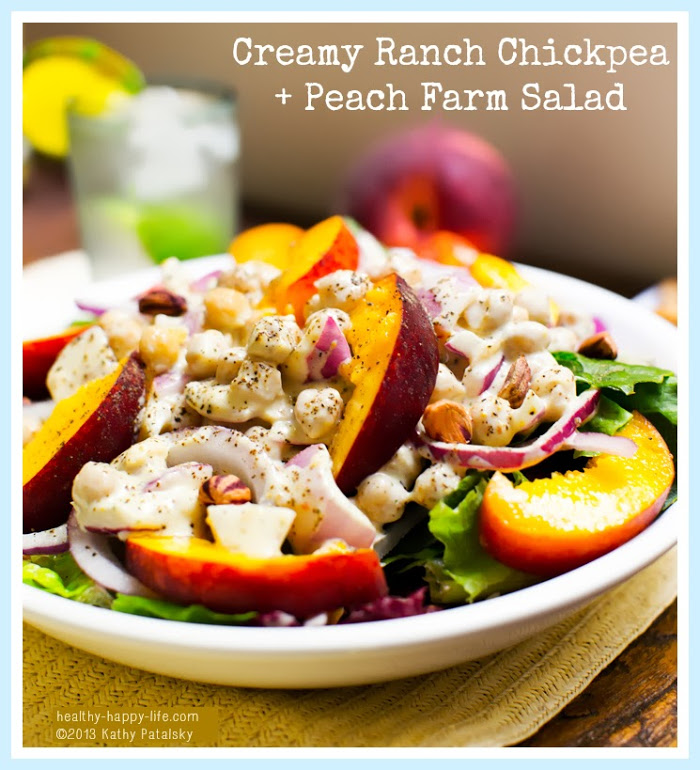 This Creamy Ranch Chickpea + Peach Farm Salad is wonderful for a sunny day lunch or light dinner. Creamy peppercorn and ranch-flavored chickpeas smother crisp, crunchy greens like shredded cabbage, romaine and carrots. Juicy sweet peaches sliced on top add sweetness and a subtle tartness to the nutty, perky chickpeas. No need for dressing on this salad – the ranch dressing is built in! Accents of crunchy peanuts and fresh lime juice. Serve this salad and satisfy your summertime salad cravings. Super easy to make, I whipped it up in just twenty minutes (longer if you allow the beans to marinate in the fridge a bit)…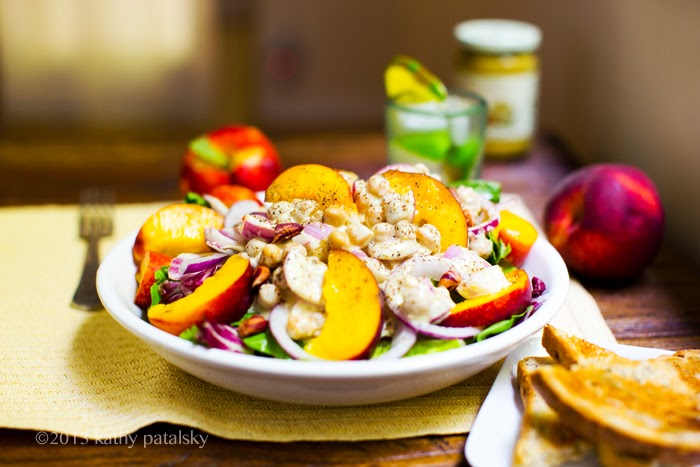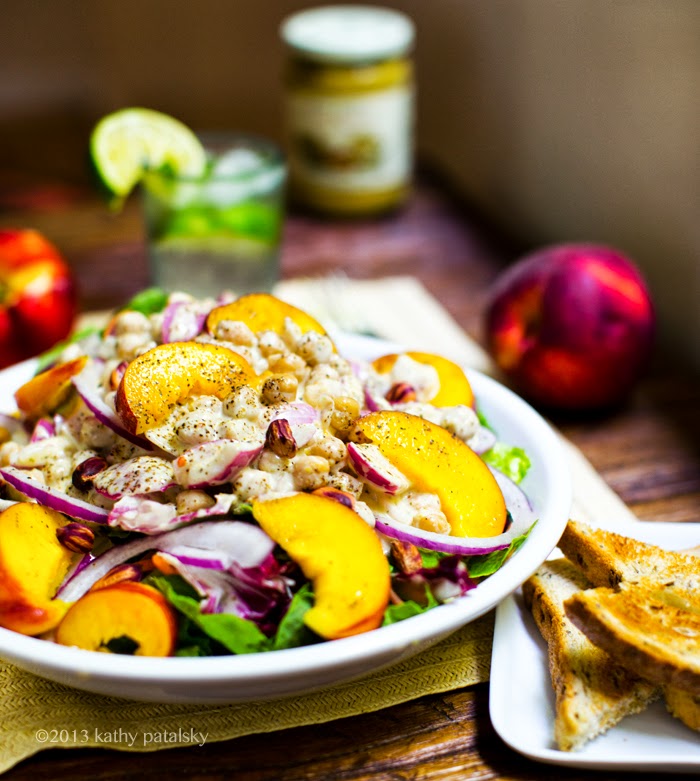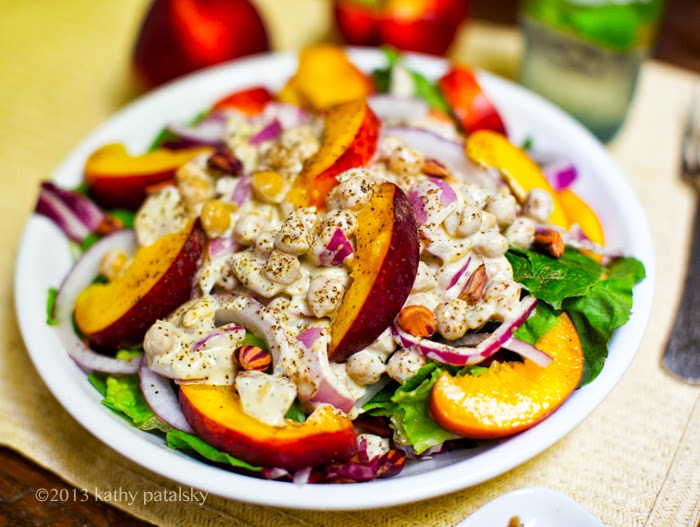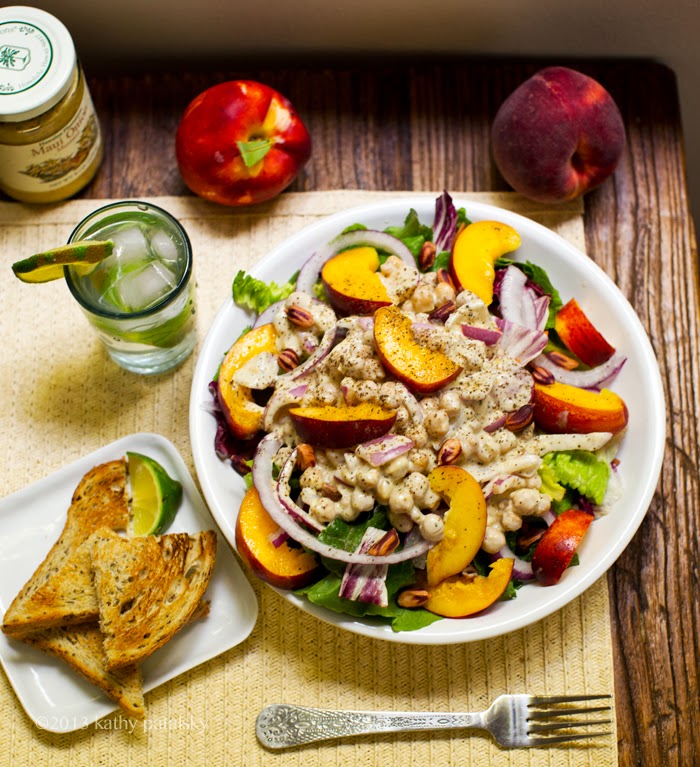 P e a c h e s = Bl i s s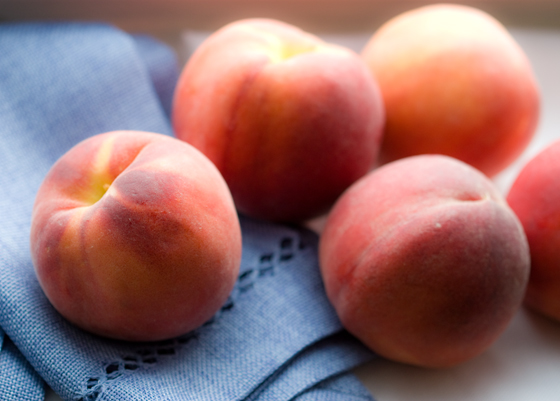 Fruit Bowl. My recipes are often inspired by fruit. Since I was a little girl climbing the fig, plum and apricot trees in our California backyard, I have always been a fruit lover. Give me a giant bowl of fruit and I am happy. Maybe it is the sweetness, the hydration that comes from fresh fruit or maybe even the vitamins and minerals – things like vitamin C, potassium, vitamin A and more that can be found in a wide variety of fruit.
A few other fruit-inspired recipes..
* My Pineapple Fried Quinoa Pineapple Boat .. pineapple!
* Double Chocolate Ganache Strawbery Layer Cake .. strawberries!
* My Citrus + Butternut BBQ "Chick'n" Salad .. citrus!
* Frosted Blueberry Cake .. blueberries!
* Summer Peach Bruschetta … peaches!
* Easy Vegan Caramel Apples … apples!
* Balsamic Peach Avocado Salad .. peaches!
* Strawberry Avocado Ginger lemon Salad or Tartine .. strawberries!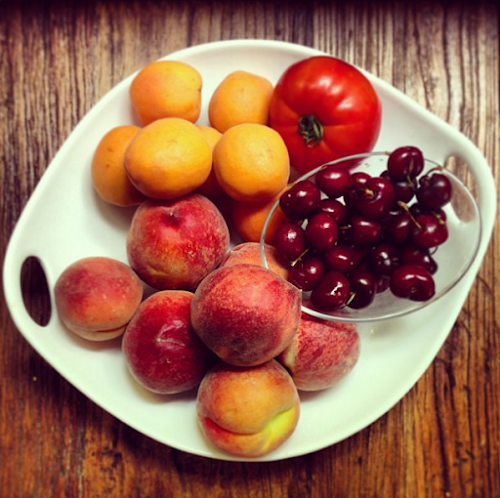 One of my fruit faves: peaches and nectarines. I pile them into bags at farmer's markets and I really cannot resist them. Not a bad food addiction to have. This Creamy Ranch Chickpea + Peach Farm Salad embraces ripe, juicy summer peaches and/or nectarines. Perfect for lunch or dinner.
Creamy Salads. I think summer is the time to indulge a craving for all things creamy, ranch-ish, vegan mayo infused and "salad" made. Potato salad, creamy cole slaw and these ranch beans. If you like vegan mayo (Vegenaise or another brand) even a little bit. Then go on and embrace its creamy deliciousness. This recipe is a great place to start.
Special Diet Vegan Mayo. You can even find vegan mayo in soy-free, olive oil-based, organic, low-fat and other specialty varieties!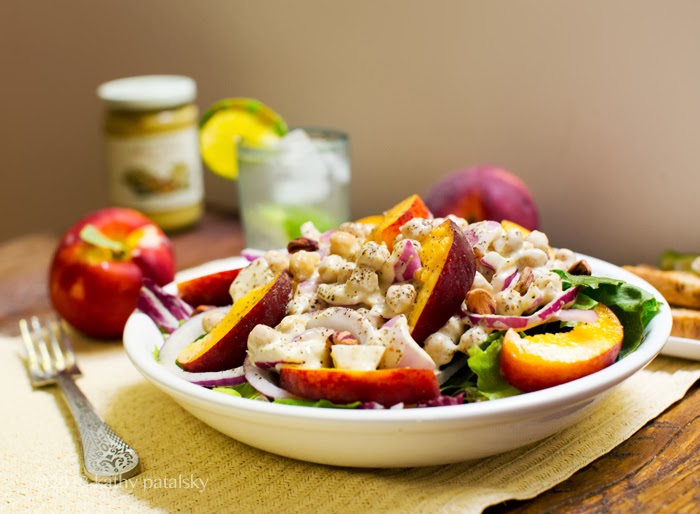 Creamy Ranch Chickpea + Peach Farm Salad
vegan, serves 2
Creamy Ranch Bean Salad
1 16oz can garbanzo beans, drained/rinsed
½ cup onion, chopped (red or sweet – red will be bolder in flavor)
¼ cup parsley, finely chopped (optional)
3 heaping tablespoon vegan mayo (yes, you can add more if you want uber-creamy beans)
1 tablespoon Dijon or whole grain mustard (Dijon will add spiciness)
1 teaspoon mixed herb spices (spice/herb blend – any brand .. salt free)
⅛ teaspoon freshly ground black peppercorn pepper (or any black pepper)
1 ½ tablespoon apple cider vinegar
1 ½ tablespoon grade B maple syrup
pinch of salt
Other add-ins to this salad could be: chopped celery, nutritional yeast, brown rice, quinoa, chopped apple, chopped radish, cubed cucumber, large chopped tomato…
Salad – add to *each* serving bowl:
2 cups romaine or romaine blend greens (I used an easy bagged salad with organic romaine + shredded carrots + cabbage)
2-3 round slices of onions
1 chilled peach or nectarine, sliced (you can also add grilled fruit!)
1 tablespoon peanuts (I used raw + wild jungle peanuts)
squeeze of lime juice on top + zest
additional dressing if desired: simply add some fresh lime juice over top and a drizzle of your favorite oil. Try cold-pressed pumpkin seed or EVOO.
Directions:
1. Open your can of beans and drain liquid. Rinse beans in cold water very well. Add beans to a large bowl.
2. Chop onion and add to bean bowl along with the other "bean salad" ingredients. Toss well until beans and onion are creamy coated. For extra creamy ranch flavors add an extra spoonful of mayo.
3. Place the bean salad in the fridge to chill for at least 15 minutes. Leave 1-2 hours for a more marinated salad (recommended!)
4. Quick assembly! Add the salad to serving bowls, top with beans, as many as you'd like. Add the peanuts and slice peaches over top. Spritz with fresh lime juice and zest. Serve! I like some toasted rye bread on the side. You could even add some tempeh bacon.