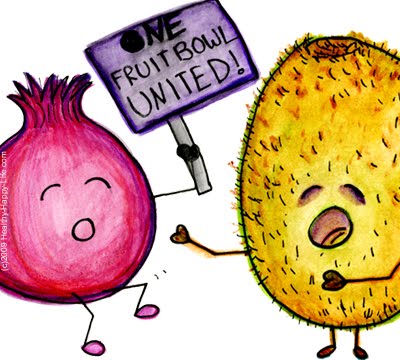 2009 has been a delicious year for foodies, and even vegan foodies like me, but I say bring on 2010. And oh, if I can squeeze in a few *special requests* for the coming year, it would be much appreciated. Here is my end-of-the-year rant about what I want to see more (and less of) in 2010. Dear 2010, let the vegan foodie ranting begin…
A Forethought: Why the Rant?
Eating 100% Vegan is Hard! Anyone who tells you being vegan is easy – is lying. Or they don't get out much. Or they own their own vegan restaurant. Or they have time-traveled back from the future where vegan eating will indeed be a lot easier than it is today. It's hard. That's why a lot of people can't commit to a 100% vegan lifestyle – and that's OK, even eating veg a few times a week is a big step up from the mainstream.
"Vegan" is a lifestyle that takes patience, loyalty and passion. It's a physical, mental and emotional challenge. It messes with your social circles, relationships and trips you up in your daily routine. It tests your analytical skills as well as your leadership qualities. It's a label you love at times and loathe at others. Its a "what-I-eat" label that you wish wasn't such a social label. But really, labels and stereotypes are tools for the incurious and ignorant. Eating vegan isn't a diet and it isn't a label, it's a lifestyle. You live it or you don't. And the challenge is obvious since vegan eats sometimes require an against-the-current swim to get to.
So, at the end of each year I think every special diet person out there (vegan, food allergies, kosher, gluten-intolerant, diabetic and more) deserves a little time to rant. Here's mine.
Here it is, my rant of what I'd like to see more and less of in 2010.
My 2010 Vegan Foodie Rant: Dear 2010,…
Here we go 2010, lets make this a foodie year to remember…
First off, more coconut water please. Everywhere. In vending machines, at corner stores, sporting events, concerts, on restaurant menus and at the movies. A hydrated movie patron is a happy movie patron. Four stars for those little tropical fresh young coconuts. Speaking of movies, can we get some vegan snacks at the concession stand please? Soy crisps, air-popped popcorn with real sea salt (maybe a drizzle of macadamia oil) and perhaps a soy-friendly espresso bar in those megaplex theaters, so I don't have to keep sneaking in my Starbucks Soy Latte.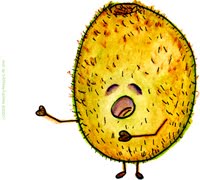 Onto foodie entertainment, I want to see more actual cooking shows on The Food Network and less "sugar glass, BBQ-cookoff, cake-making" competitions. More Chefs cooking on Food Network please. (Gosh, that sounds like the age-old rant of MTV needs to play more music videos.) Food Network needs to play more cooking shows. Dicing, chopping, slicing, braising, roasting – I want to see and hear all those glorious kitchen sights and sounds. Oh and while I'm talking Food Network, how about a few more vegan-friendly shows. Maybe something like Emeril Green on the Planet Green channel. Love that show. Maybe even an all-vegan cooking show. It's about time, the world is ready for a vegetarian FN cooking star. Maybe something that focuses on ECO-friendly green eating and not just (butter and meat, butter and meat, butter and meat and sugar too. Butter and meat and sugar and cheese. Forgot the cheese.)
Its a new decade, why not make 2010 the year of the epiphany: vegan food is delicious (and easy to cook). Oh, and it's cheaper too. A block of tempeh vs. a block of meat – you do the math. Yummy, healthy, wallet-friendly and earth friendly. It doesn't get more 2010 than that. Tempeh, organic fruits and veggies, hemp milk, maple syrup, quinoa pasta, acai smoothies, yum, yum, and more yum.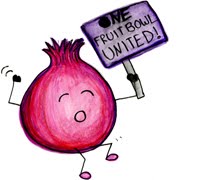 More of the entertainment world: I predict celebrity chefs and shows will continue to triumph: Hell's Kitchen, Top Chef, Chopped, Chef Academy, FN cooking shows, and even travel/foodie shows like No Reservations continue to see good ratings. And I love the new crop of foodie shows like What Would Brian Boitano Eat, Avec Eric, Melissa's Ten Dollar Dinners, The Best Thing I Ate and more. I adore cooking shows, Chefs and anything on my TV chatting up foodie fare. Now I am just hoping to see more vegan challenges on Top Chef and even a few organic/vegan featured episodes on those FN food shows. Fingers crossed!

In terms of how we eat in 2010, I think Americans are cooking more vegetarian meals at home (due to health/economic/green values). Mainstream America is finally learning more about 'what veg*ns eat'. The big question used to be "What do vegetarians eat?" Now it seems to be "Where do vegetarians eat?" It's super easy to eat veg at home thanks to supermarkets like Whole Foods. Now if only the restaurants would catch up!
A foodie trend this past year has been gourmet, foodie-worthy food trucks. Love those. Mud Truck in NYC is iconic. So is Dessert Truck – wish they had vegan options. Also, vegan-friendly fast food is hot right now. Aka, Chipotle's ground-breaking Garden Blend experiment. Now if only they can get a veggie-only grill. Tsk. Tsk. Tsk.
For the Kids! I've been thrilled by the number of companies that have taken a special interest in children's health, lunches and healthy food products this year. Whole Foods Market ran its School Lunch Revolution program which brought in over $710,000 in donations. Veggie lunches in schools are on the rise – lets hope this continues through 2010. More vegan school lunches. It's my personal 'More Tempeh in Schools!' plight. I will not quiet myself until every first grader knows what tempeh is and can have an option of baked tempeh fingers vs chicken fingers. Tempeh sticks beat chicken any day of the week. Plus, I've been noticing more wellness-based kid and baby food brands popping up. Such as Tyler Florence's Sprout baby food brand.
What's a Vay-gen? Awareness. More awareness for special diets is needed. I don't mind if someone asks me what I can or cannot eat as a vegan. But if that 'someone' is the Chef at a restaurant, then I'm worried. Chefs, prep-cooks, sous chefs and anyone working in food service needs to know what vegan, gluten free, low sodium, kosher, organic, low-fat, nut-free and vegetarian really mean. Google is for gosh sakes. I don't want to resort to handing out little definition cue cards every time I eat out at a mainstream establishment.
More special requests: More soy milk options – everywhere! I am always shocked when I go to a brunch spot or breakfast sit down and there is no soy milk available in the restaurant kitchen for my tea or coffee. What is this 1980? No, it's 2010, well almost. Soy milk should be available everywhere dairy milk is served. Period.
Out with Vegetarian Menus! Another special request is that more restaurants replace their 'vegetarian menu' with a 'vegan menu' or vegan menu options. I don't know any vegetarian who wouldn't mind eating a vegan meal for one sitting. "Vegetarian options" are almost always loaded with cheese, milk, cream and butter. Why not just call it what it is: the cheese tasting menu. Just give me a good vegan option, just one per menu even, and I will be a happy diner – well it's a start anyways. If I hear one more restaurant manager say to me "Oh, we have plenty of vegetarian options," then proceeds to hand me a menu list with nothing but cheese-smothered food, I will scream. No more cheese please. Cheese, butter and cream are loaded with saturated fat and if you are a vegetarian who lives on a lot of 'dairy products' I highly suggest you take a close look at those nutrition labels and consider going vegan.
…on that note, I might start doing what Kristen from KristensRaw.com does: writing my special request on the restaurant receipt, like "If you served more vegan options, I'd eat here more often." or "If you served more organic foods I'd eat here more often." Nice idea Kristen.
And lastly, I hope we can all chill out in 2010 and remember the simple things in foodie life: a crisp organic apple, eaten whole. A bowl of raw cashews. A perfect pat of almond butter spread on some sprouted grain toast. Steel cut oats boiled into a creamy homemade oatmeal breakfast. A sweet caramel-essence tropical papaya for breakfast. Crisp clean pure drinking water. Chilled pure coconut water. A chunk of dark chocolate. A handful of blueberries. A bunch of black grapes. Fresh squeezed OJ. Fluffy brown rice. Warm simmering soup. Steamed sweet green broccoli. Tea with lemon. A frosty banana smoothie. A big green salad filled with garden fresh ingredients. Simplicity is bliss, foodies agree.
Happy 2010 everyone.
What would you rant about??? Feel free to rant me in the comments, I'd love to hear what you dream of in your foodie 2010 dreamworld.