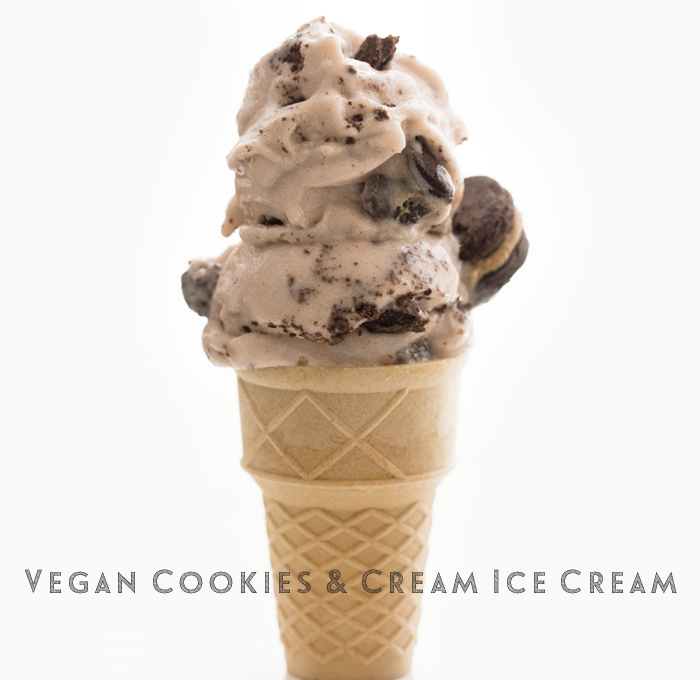 My favorite ice cream flavor ever: Cookies and Cream. Those crumbly, softened dark black chocolate cookies crumbling their way through luscious, silky vanilla ice cream, white and black-speckled. Bits of rich cookie against the pure white vanilla simplicity. Flavors reminiscent of dunking a chocolate sandwich cooking in a chilled glass of (non-dairy) milk.
There are a few C&C vegan ice creams in stores, but sometimes I find the store bought offerings to be a bit too sweet, sugar-infused and too dense in calories for me to really enjoy whenever I want.
Enter this DIY Cookies and Cream Ice Cream. Velvety vegan blender ice cream is the base, and my homemade chocolate sandwich cookies dance between the fluffy white ripples of frozen bliss. Scoop this cold creation onto a vegan ice cream cone and dessert bliss is yours…
This recipe is not meant to be a classic representation of Cookies and Cream. That would require the cookies to be much sweeter, and the ice cream to be much higher in fat and sugar as well. But this vegan version I came up with really satisfied MY craving, so I hope it does for you as well.
Peanut Butter Cookies. I decided to add a peanut butter accent to this recipe by filling the cookies with sweet peanut butter as the filling, instead of vanilla. However, you could try a filling with cocoa butter or cashew cream for a more classic white filling, but I really loved the peanut butter accent here.
Flour. I made these cookies twice. Once with oat flour (gf) and once with wheat flour. Both versions were delicious, but the oat flour had a bit more of a nutty, oat-y, earthy flavor – more texture. The photos shown are the wheat flour version.
Sweeter cookies? If you are really craving a sweeter chocolate cookie, you can add in a few more teaspoons of sugar without compromising the overall consistency.
Cocoa. Be sure to use unsweetened, vegan cocoa powder. Higher quality cocoa (or cacao) powder produces richer, more flavorful chocolate cookies.
Roll out + cut cookies..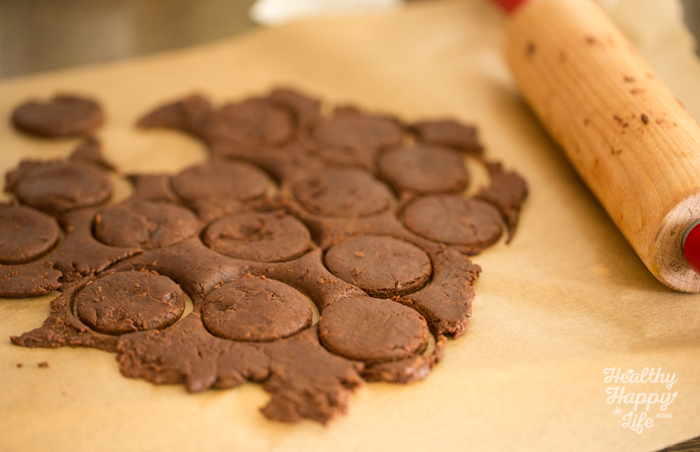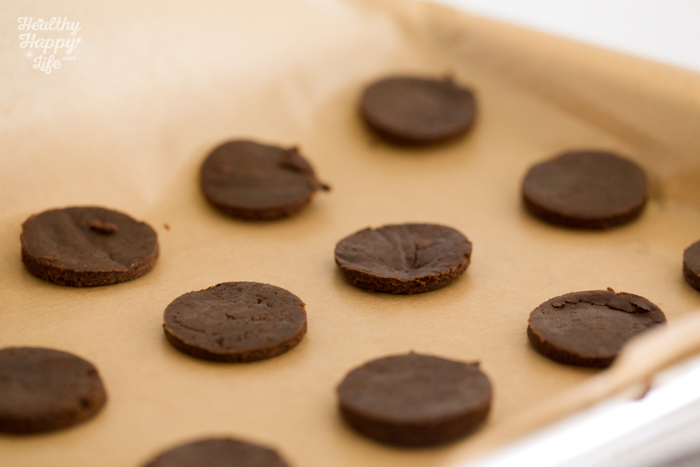 The ice cream. Super simple, healthy and delicious.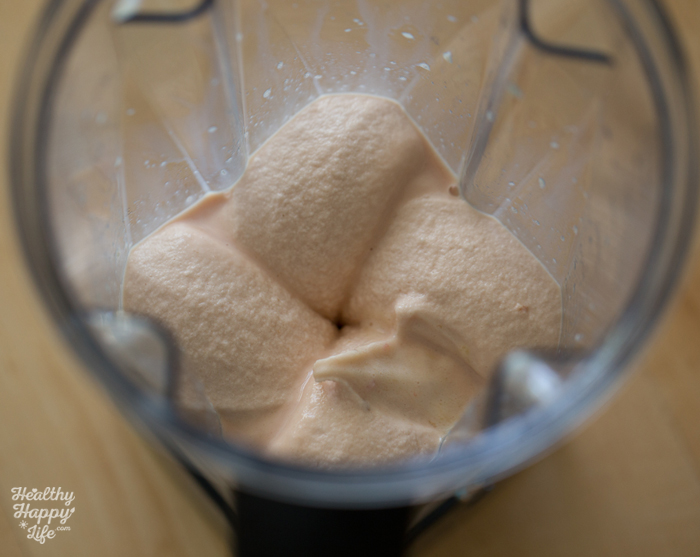 PB -filled sandwich cookies.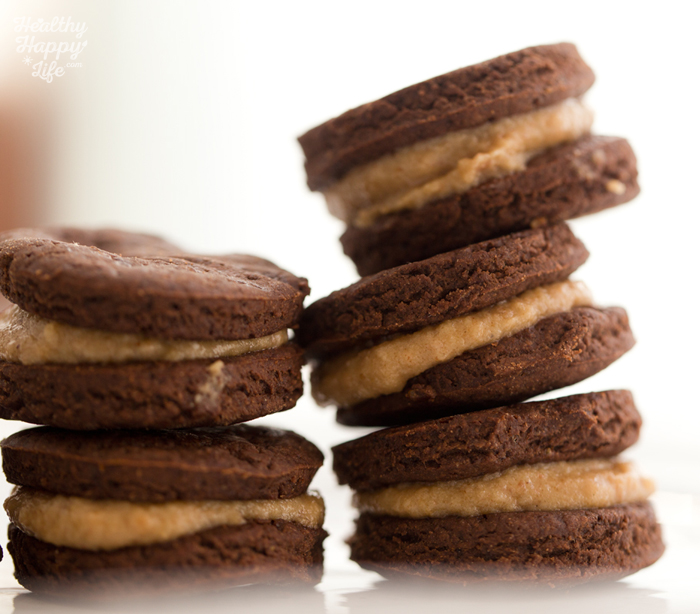 Soft serve mixed with cookies.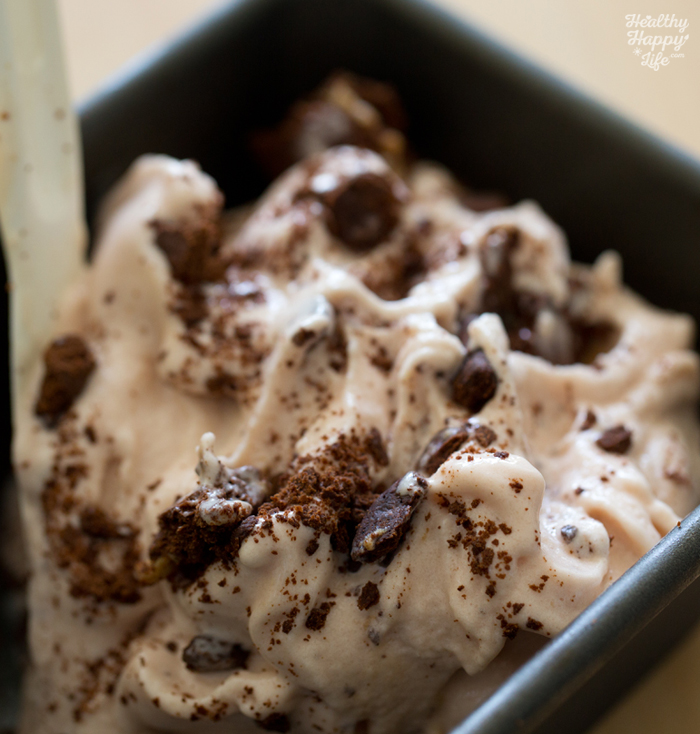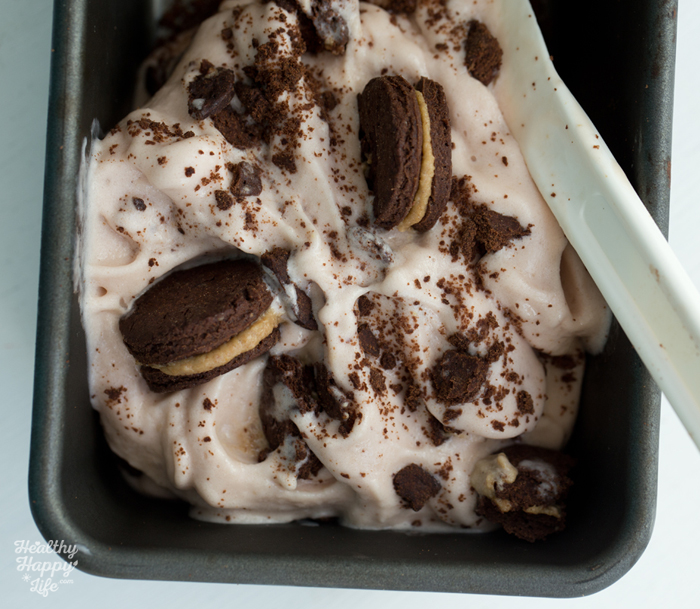 Ready to go.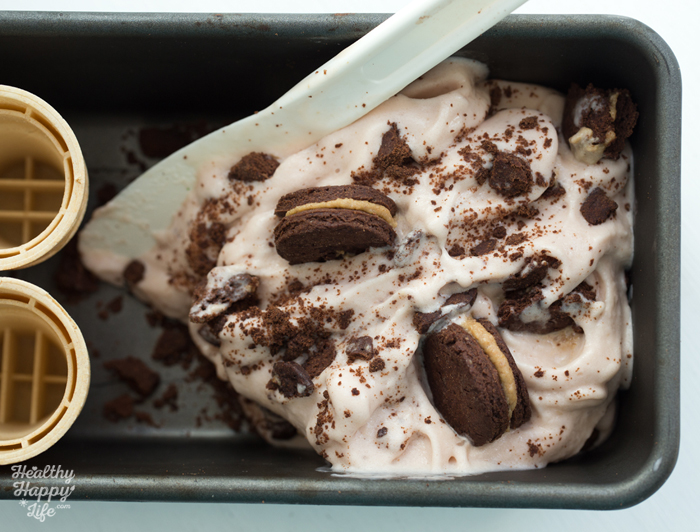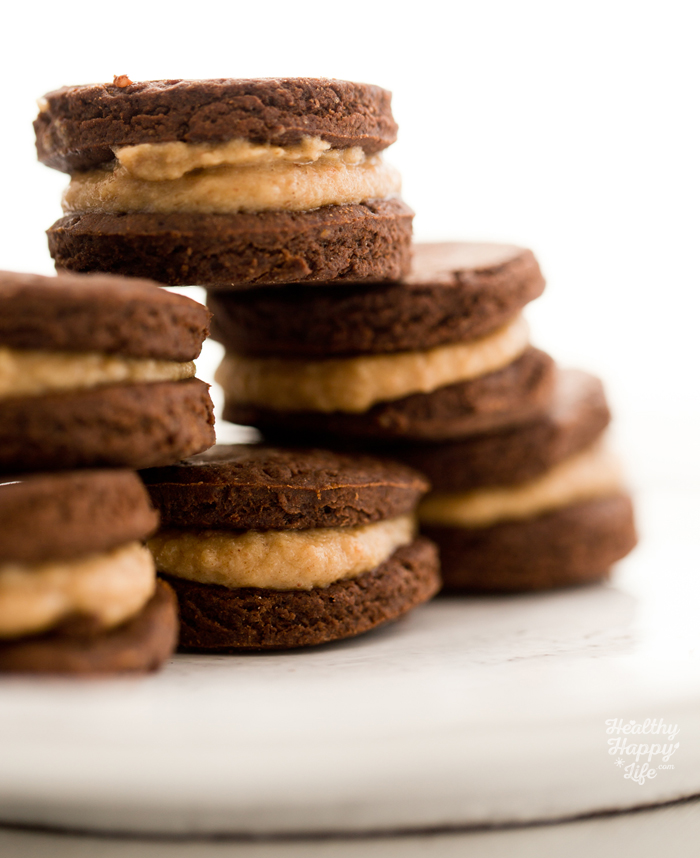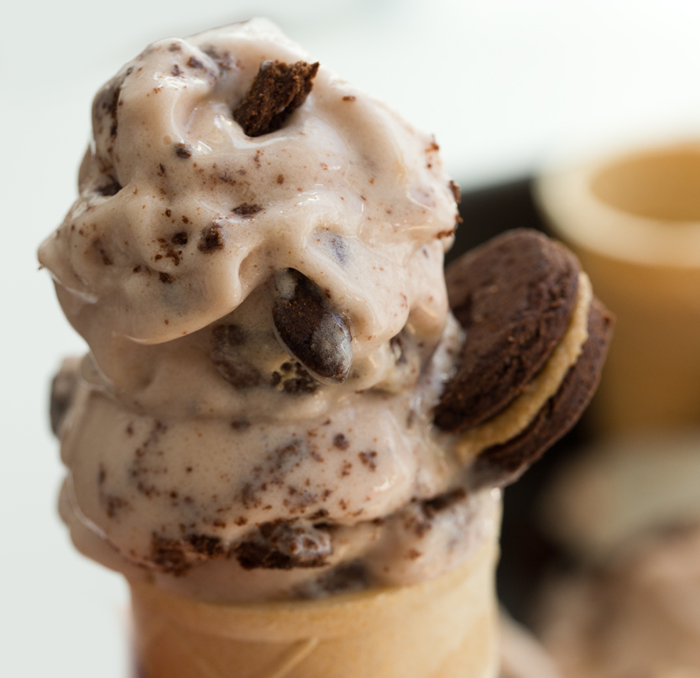 Vegan Cookies and Cream Ice Cream
By Kathy Patalsky
Published 07/05/2015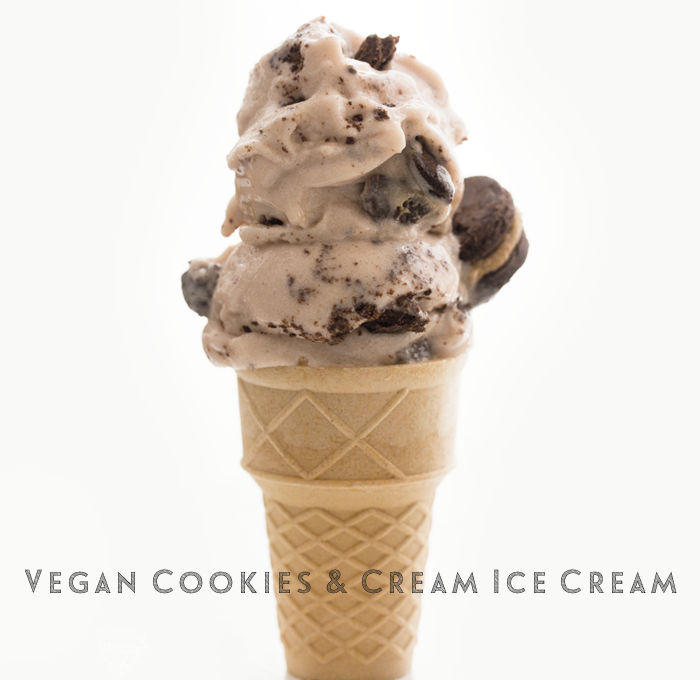 This from scratch vegan cookies and cream ice cream is super healthy, yet still satisfies your classic cookies and cream craving.
Ingredients
Chocolate Sandwich Cookies:
¾ cup flour (any variety)
¼ cup cocoa powder
3 tablespoon coconut sugar
3 tablespoon vegan butter, melted
1 ½ tablespoon water
Peanut Butter Filling for cookies:
2 tablespoon melted peanut butter
sweeten to taste (I used Medjool date paste – sugar could also be used)
Simple Banana Ice Cream:
3 frozen bananas (extra ripe when frozen)
1 cup frozen watermelon (or another frozen banana)
½ – 1 cup non-dairy milk (OR vegan creamer or coconut milk for richer ice cream)
optional: a few drops of vanilla extract or a vanilla bean pod for extra vanilla flavor
Instructions
Preheat oven to 350 degrees. Grease or line a baking sheet with parchment paper or non-stick liner. ASLO: Place a metal bread pan in the freezer at least 20 minutes before beginning he recipe.
Add cocoa powder and flour to a large mixing bowl.
Fold in the melted vegan butter, water and coconut sugar. Fold until a dough forms. Place dough in the freezer for 5-10 minutes to chill.
Roll out cookie dough once it has chilled a bit. Roll to ⅛″ thickness, or as desired.
Bake cookies for ten minutes. Allow to cool fully before using in ice cream recipe. Cookies can quickly be chilled by placing the the freezer.
Whip together the peanut butter filling. For extra thick filling, try using Medjool dates as the sweetener instead of a classic vegan sugar or liquid sweetener like maple syrup. Spread the peanut butter between two chilled cookies to create the sandwich cookies. Note: You could just use the chocolate cookies as is, with no filling.
Add all vegan ice cream ingredients to a Vitamix or another high speed blender. Start out with just ½ cup liquid and add more as needed to blend. Blend until creamy smooth.
Just before you end blending, add 1-2 cookies to the ice cream and allow them to blend into the ice cream to make tiny black specks.
Quickly pour ice cream our into the chilled bread pan. Crumble about 3 or 4 cookies over top and fold them gently into the ice cream. Crumble a few more cookies on top. Place ice cream back in the freezer.
Timing here is tricky. You want to chill the soft serve blender ice cream just enough so that it gently scoops into a cone, but not too long so that it gets hard and loses its silky texture. For me, about ten minutes usually does the trick.
Scoop ice cream onto ice cream cones and garnish with whole cookies.
Yield: 2 servings + extra cookies
Prep Time: 00 hrs. 20 mins.
Cook time: 00 hrs. 10 mins.
Total time: 30 mins.
Tags: ice cream, vegan, cookies and cream, dessert,cookies,chocolate,banana,blender,vitamix,diy,recipe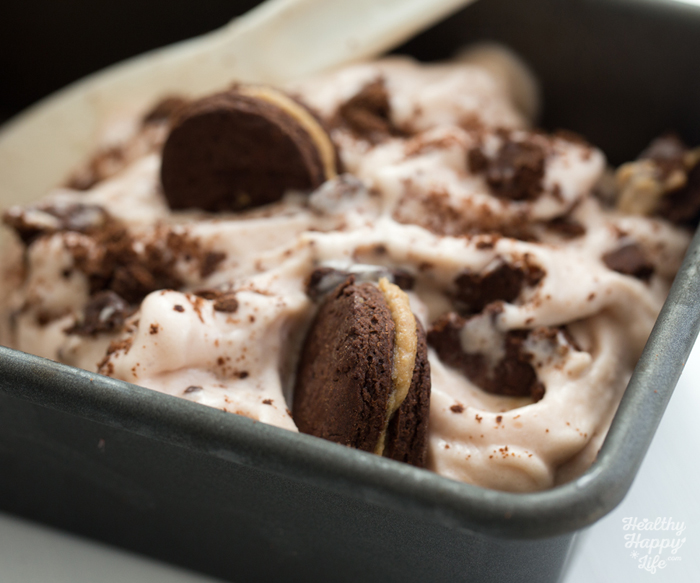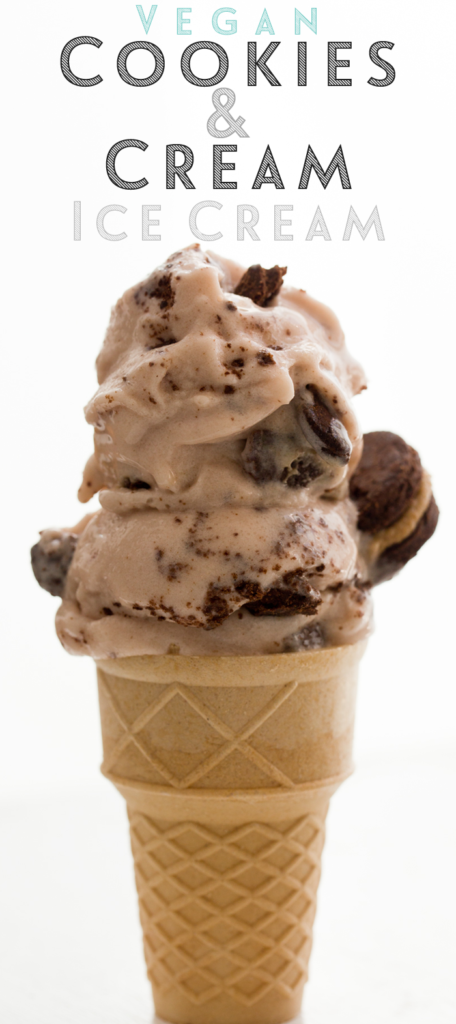 *contains a Vitamix affiliate link.