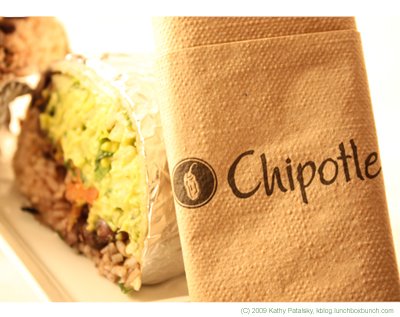 I'm just a California girl living in NYC.
And with that, comes my forever love and adoration of good Mexican food. Spicy guacamole, a clean spicy salsa verde, red rice, black beans, sizzling veggie fajitas, essences of cilantro, fresh homemade corn tortillas — all make my mouth sing.
NYC is not a Mexican food haven. However it does have its bright spots like Dos Caminos on Park Avenue, with those yummy big bowls of guacamole. But I learned quickly in this town that the restaurant with the flashing sombrero on Broadway? Probably not your best best for a plantain and fresh cilantro garnished meal. So where does a vegan turn when a burrito craving strikes fast and furiously?
Chipotle. Really.

Chipotle is indeed fast food, but in my opinion it is one of the best chains for vegans craving a fast food fix. But there are rules one must follow…..Keep reading for a few interesting Chipotle Food Facts and my five healthy tips for eating healthy at Chipotle.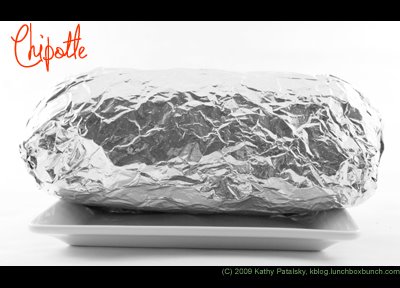 Five Healthy Food Tips for Eating at Chipotle

1. Ban the three C'S SOUR CREAM and CHEESE and CHIPS
One ounce of cheese contains 100 calories and 8.5 grams of fat. 5 grams of saturated fat.
One ounce of sour cream contains 120 calories and 10 grams of fat, 7 grams of saturated fat.
Four ounces of chips contain 570 calories and 27 grams of fat! Yikes.
Not good. Depending on how much cheese/sour cream you request on your creation, you could be adding 100-500 calories to your meal. And possibly even 40 grams of fat. (I've seen those "lots of cheese please" and "more sour cream" folks, you know who you are!)
Knocking off these toppings is the best move you can make at Chipotle.
2. Bowl, Salad, burrito or tacos?
Everyone wants the burrito right? But there are options. Let's compare the facts:
Flour Tortilla: 290 calories, 7 grams of protein, 9 grams of fat, 3 grams sat. fat, 670 mg sodium, 20% RDA calcium, 15% RDA iron.
Soft Tacos: (3 soft taco shells) They usually give you three, so I multiplied the per taco facts by three. 270 calories, 7.5 grams of fat, 3 grams sat. fat, 6 grams protein, 600 mg sodium, 18% RDA calcium, 12% RDA iron
Hard Tacos: (3 shells) 180 calories, 6 grams of fat, 1.5 grams sat. fat, 30 mg. sodium, 6% RDA iron and calcium.
Bowl: All ingredients. 0 wrap.
Salad: The dressing contains 270 calories, 24 grams of fat and 700 mg. sodium. If you choose the salad, good for you, but replace the dressing with a few sides of salsa. Those high calorie dressing will always do your calorie expenditure in!
If you aren't going for the burrito cowl, clearly the hard tacos are the winner for health. But even more interesting is the fact that the tacos are pretty similar to the burrito tortilla serving. Many people think that the soft tacos are much better than the burrito. No so much.
My suggestion: If you can't order the hard tacos or bowl, get a burrito and simply don't eat ALL the tortilla. It's not hard to not eat that last bite which is usually a big hunk of folded tortilla. Discard those tortilla ends, and save about 100 calories I'd guess.
3. Add the Fajita Veggies!
Wow, at only 20 calories per 3.5 ounce serving, you'd be a fool not to add these tasty veggies to your meal. 30% RDA of Vitamin C and zero grams saturated fat only sweeten the fajita veggie argument. Did I mention that they taste delish?

4. Salsa Salsa and more Salsa!
Salsa adds a ton of flavor, without the fat and calories. Load up on the salsa. Especially the Green Tomatillo salsa which is low in sodium and calories, only 15 calories per 3 ounces. Compare that to 240 calories per 2 ounces of sour cream! Plus all salsa is close-to or completely fat free. The corn salsa is the highest in calories, at 80 calories per 3.5 ounces.
Plus, you should know the benefits of eating spicy foods…!
5. Where's the Protein?
The meat options at Chipotle are about the same. Just under 200 calories, hefty amounts of protein (barbacoa with 24 grams to the chicken with 32 grams). Around 7 grams of fat. But if you are like me, you are excited for the vegan protein at Chipotle. Complete proteins are achieved by combining beans and rice. 8 ounces of rice/beans contains 9 grams of protein. And only 2 grams of fat. 250 calories. If you are a meat eater, go with the chicken for the most protein. Vegans will enjoy the yummy rice and black beans.
Bonus Tip: What about the guacamole????
OK, I can't leave off my favorite part: the guac. Chipotle prides itself on delicious fresh guac, and I have to agree that for a "fast food" chain, this guac rocks. 150 calories per 3.5 ounces and 13 grams of fat, 2 grams saturated fat. Plus I hope I don't have to remind you that those other 11 grams of fat are heart-healthy monounsaturated avocado oils which have been shown to provide a plethora of health benefits. More on avocados here.
CHIPOTLE "FUN FOODIE" FACTS
My burrito combo is 585 calories. Not bad. Check your own nutrition facts here at burrito fan.

Need some Vitamin A? Add some romaine. One serving provides 80% RDA of Vitamin A.
Steve Ells modeled Chipotle after the taquerias in the Mission District of San Francisco. (Maybe that's why this Santa Cruz Cali girl loves the Chipotle flavors.)
Chipotle has only added one thing to their menu in 13 years, the vinaigrette dressing. Wow, that's hardcore tradition.
There are a number of vegan and vegetarian friendly menu options. (Which is hardly the case at traditional fast food outlets.)
Chipotle is the largest restaurant buyer of avocados in the country.
Chipotle food is NUT and EGG free. The only dairy is in the cheese and sour cream.
Foods at Chipotle have no artificial colors or artificial flavorings.
30% of Chipotle beans are organic. They strive to make this number rise.
The cheese and the sour cream at Chipotle is free of the synthetic growth hormone rBGH.
All nutritional facts and food fun facts have been obtained from the Chipotle website.