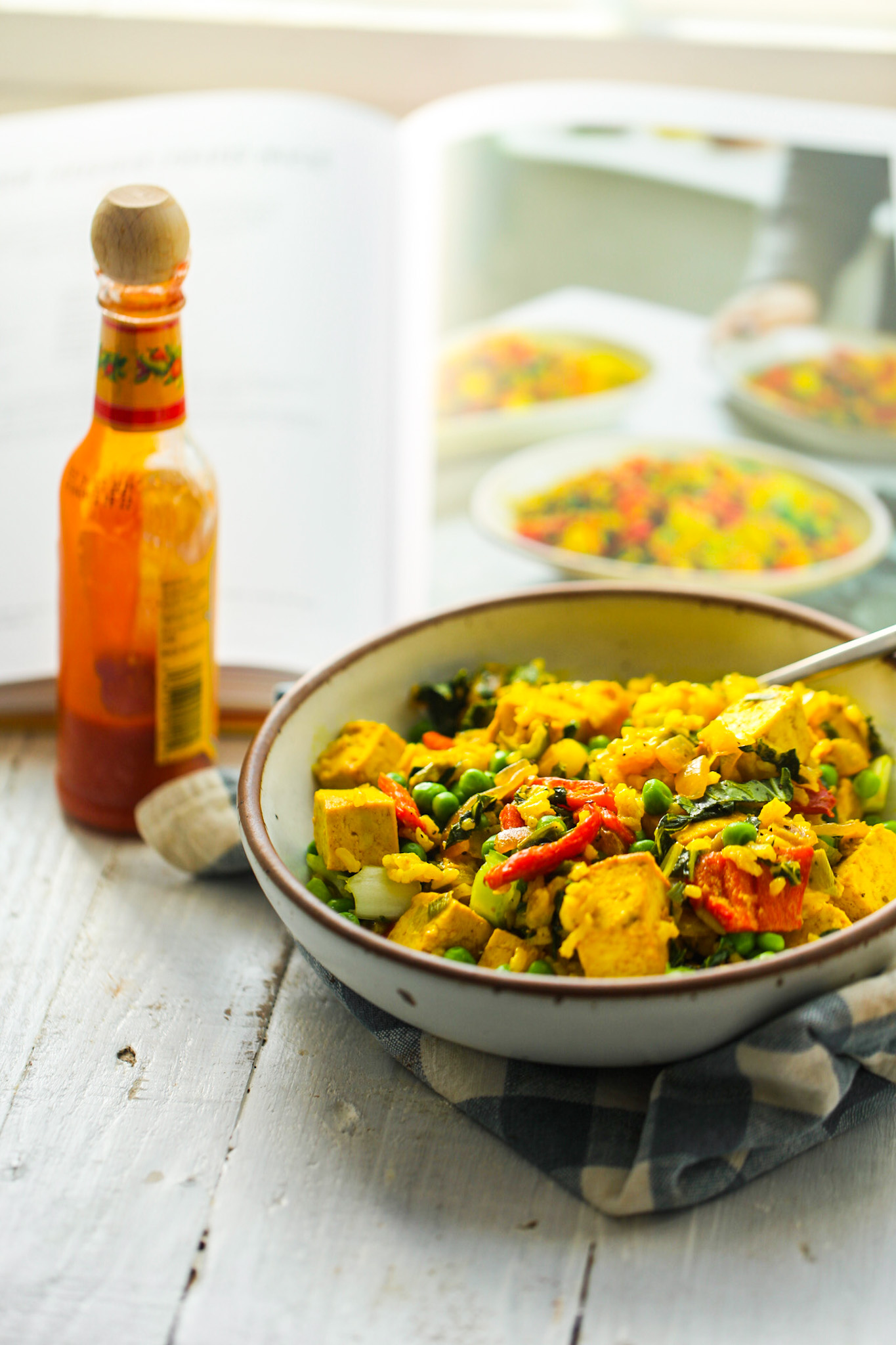 I love when shiny new vegan cookbooks hit the market. I know how much work, sweat, kitchen-time, love and tears go into those hefty stacks of paper, so I am always thrilled to celebrate and share. And so it goes for Deliciously Ella's brand new cookbook, Quick & Easy Plant-Based Deliciousness! Today I get to share a recipe from the book: Ella's Super Veggie Fried Rice, as well as giveaway two signed cookbooks!….
Ella's gorgeous super veggie fried rice photo from her cookbook…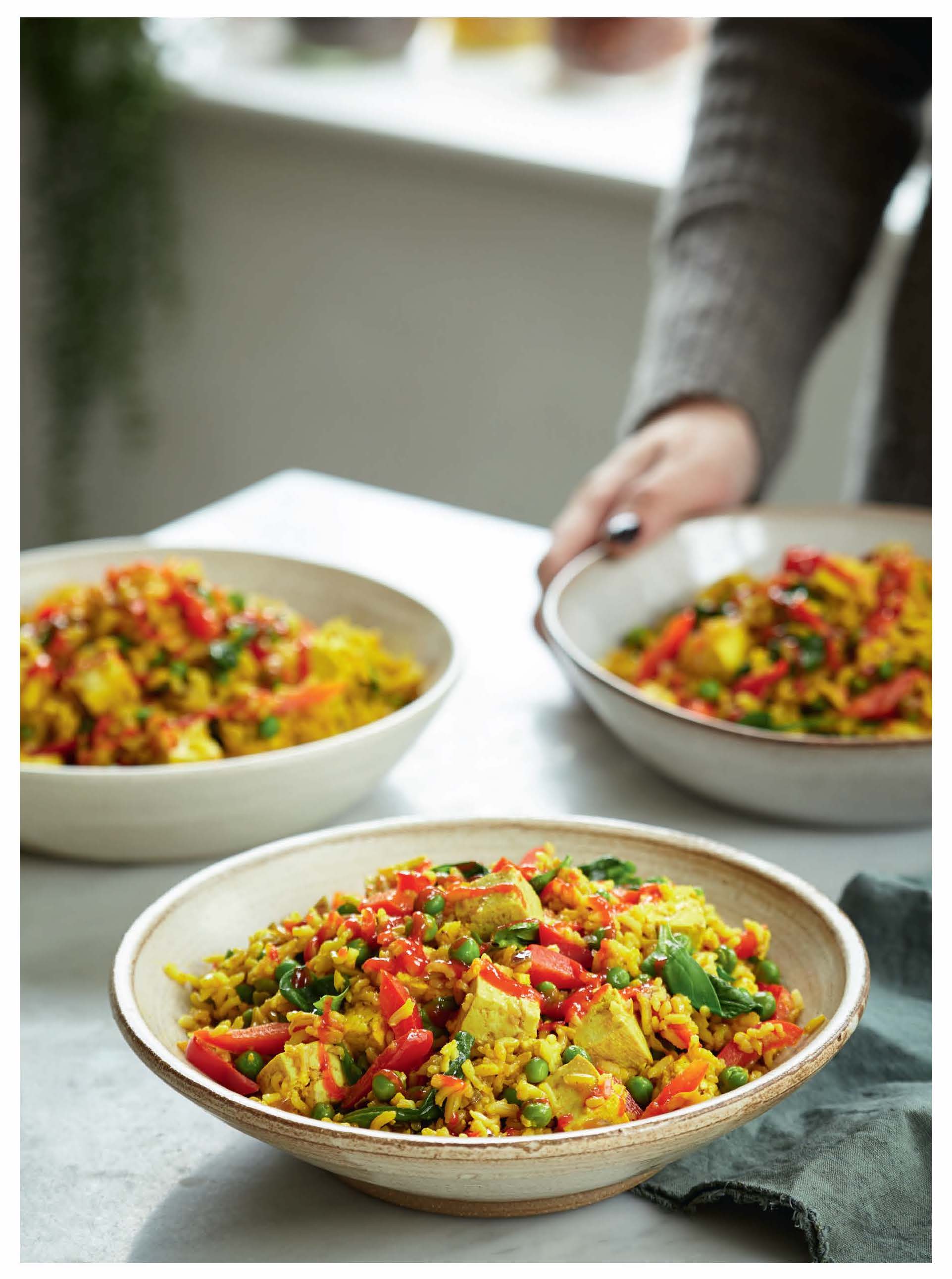 …notice she has a nice helping of sriracha on top. I would normally LOVE hot sauce, but the whole third trimester thing has me pushing aside all my fave spicy foods. Hello heartburn.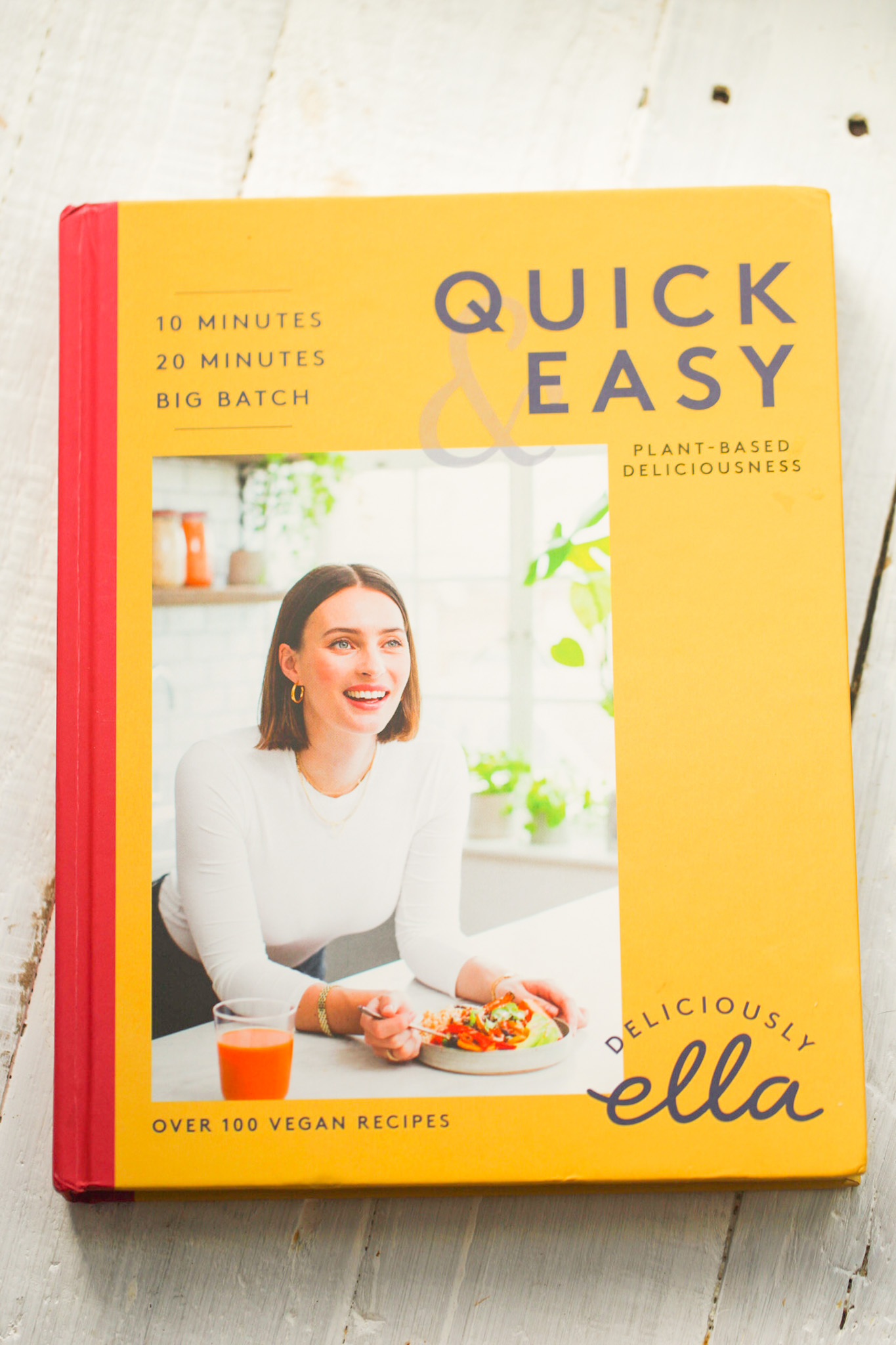 Deliciously Ella's Quick & Easy Cookbook
This book is gorgeous! It is a cheerful mustard yellow with a poppy red binding. The matte finish is just lovely and it is a sturdy hardcover. It retails for $30 US and you get over one-hundred vegan recipes!
Ella's Quick & Easy Cookbook has thick sturdy, color-tabbed pages. And yup, every recipe has a photo! There are also gorgeous lifestyle photos throughout of Ella and her beautiful family.
I love the nutrition tidbits that are speckled throughout.
I also love how she has sections called:
10-15 minutes
20-30 minutes
big batch
weekend
..in addition to the usual suspects like breakfast, dips and dressing and sweets.
So yeah, the book is gorgeous and the recipe look completely solid.
Snag this book on Amazon today!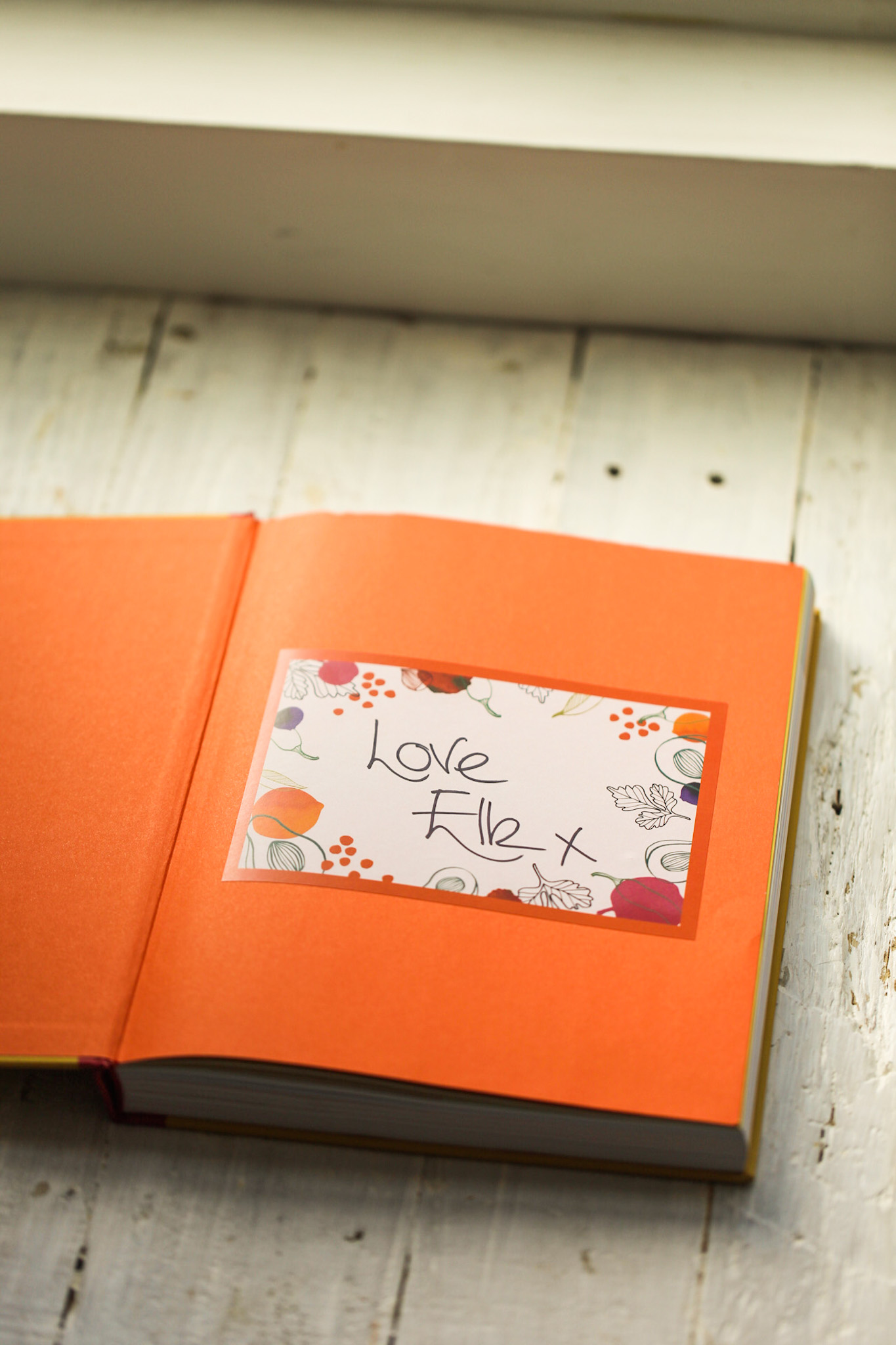 Who is Ella?
If you are in the vegan world, you are probably already following Deliciously Ella somewhere online. On Instagram she has close to two million followers.
You can find her recipes on her website as well as in her App and many best-selling cookbooks. She also has a deli in the UK! On our last visit I kept trying to get over to it, but it just didn't happen. Next time!!
She has also evolved into a full-scale brand with products like snacks, breakfasts and frozen meals and desserts. (Applause!)
But really, Ella has always appealed to me because she reminds me of myself! She started out like so many vegan bloggers, just wanting to share her recipes and wellness outlook with the world. And so many people have latched onto her talent and glowing energy. You can read more about her wellness journey on her about page.
Ella says on her website…
"Deliciously Ella was originally intended to be a personal project, a way to encourage myself to fall in love with plant-based eating and make healthy eating delicious."

– Ella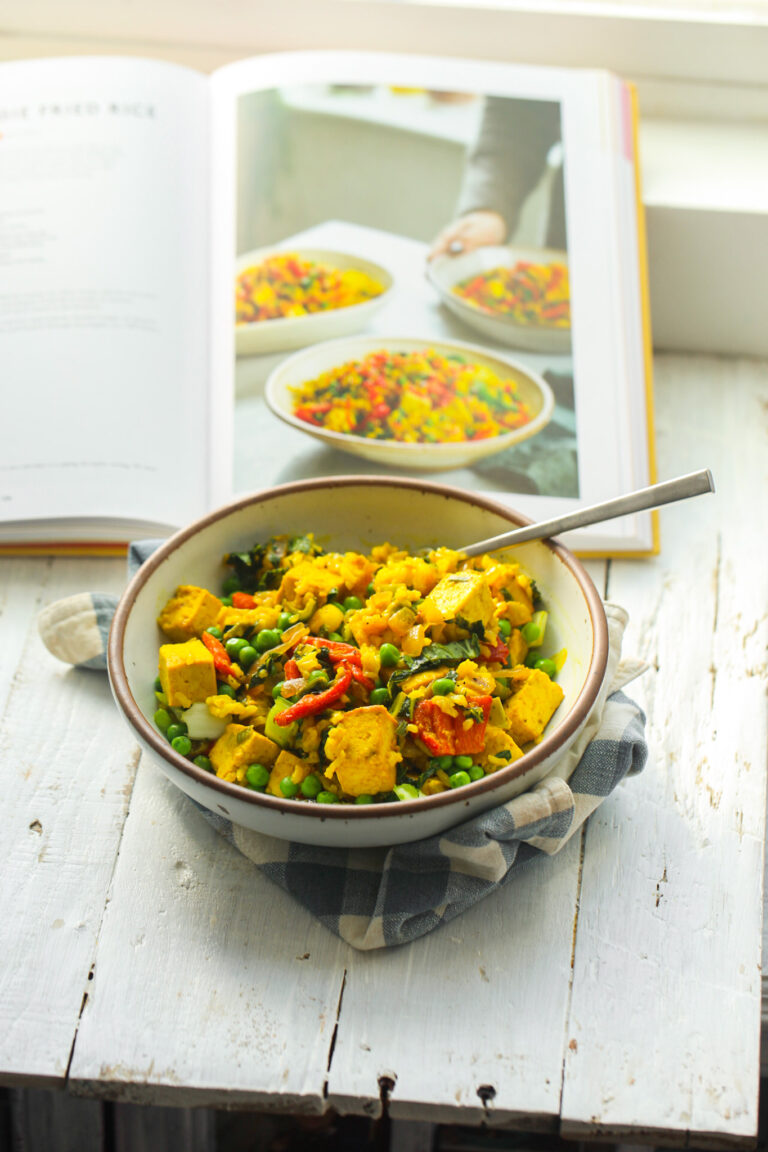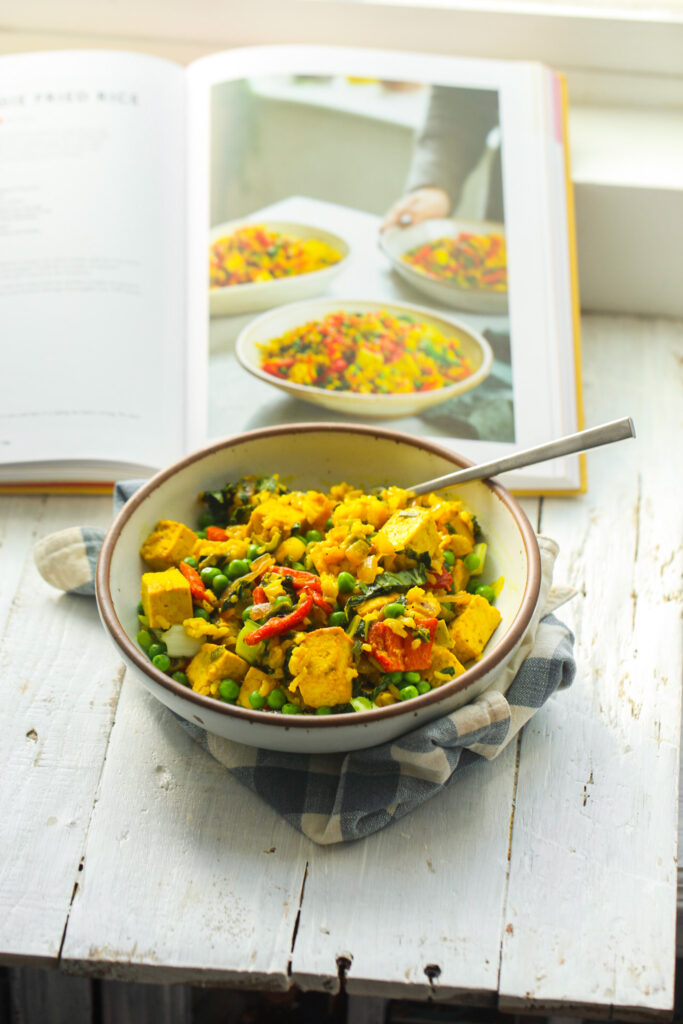 Super Veggie Fried Rice
I have been making a lot of rice recipe during quarantine. I started using my Instapot to make fluffy, amazing rice in minutes. So when I saw this recipe I was super excited to both try it and share it with you guys!
It is a cozy rice dish filled with rainbow-colored veggies. Perfect for that 'at-home-takeout' vibe.
This recipe shows up in the 20-30 minutes section of Ella's new cookbook.
Happy skillet Ahead!…
I had to add the peas separately because my husband hates them. I love them! More peas for me!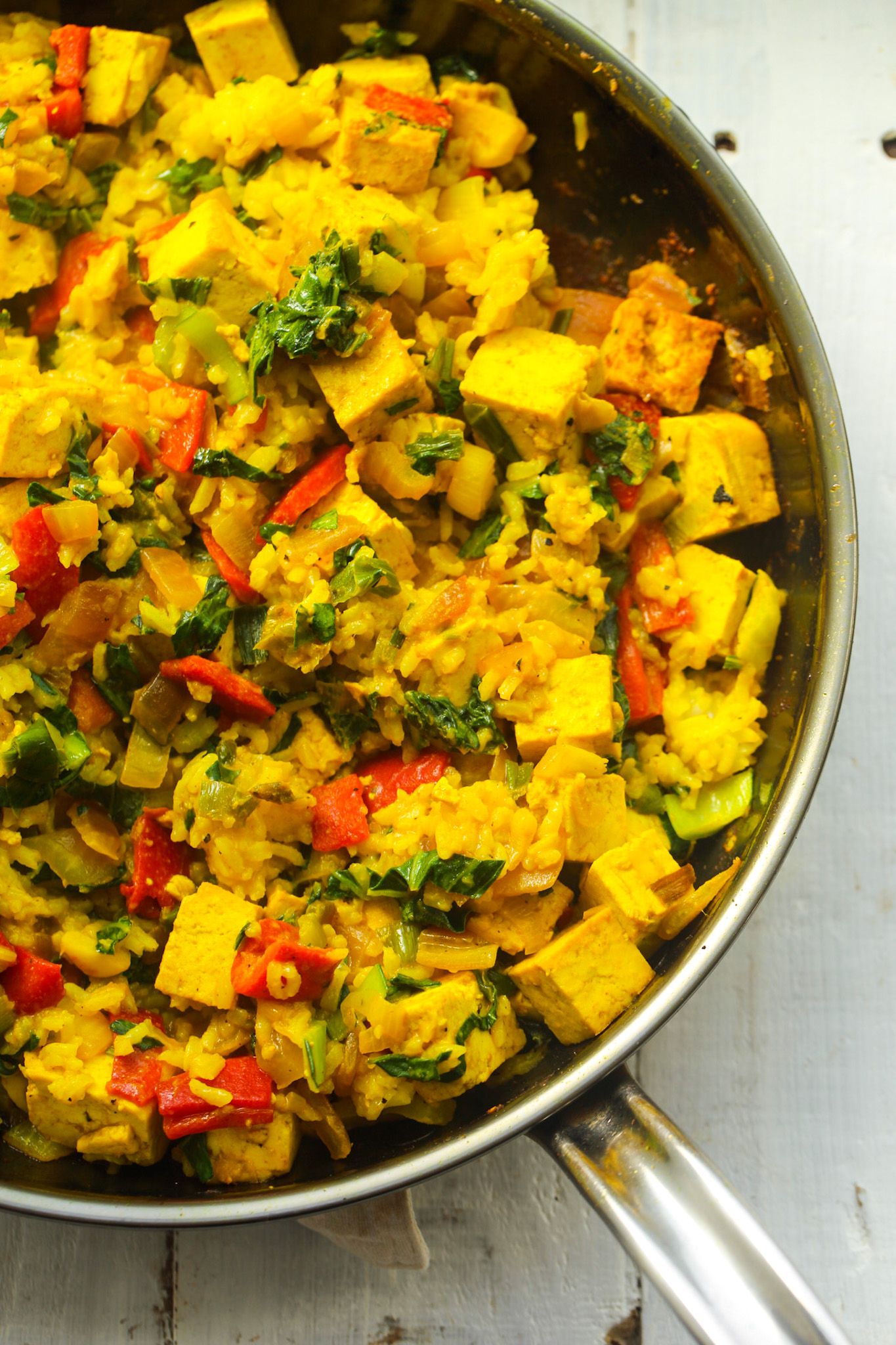 Ella says about this recipe…
"This and the Creamy kale and mushroom salad (page 99) are the two recipes Matt and I make the most at home. I've been making them almost every week for the past year. I always make extra rice when I'm cooking one of our stews or curries so that I can throw this together the next day. I love it with lots of sriracha."

– Ella, on her Super Veggie Fried Rice
Yes, please! This sounds like something I should be doing more of since I always have leftover rice. So excited to have this idea in my head now! And while Ella's exact recipe looks ah-mazing, I would guess that she would be totally in favor of using whatever veggies you may have on hand if need be. But I'm definitely trying this recipe as is very soon!….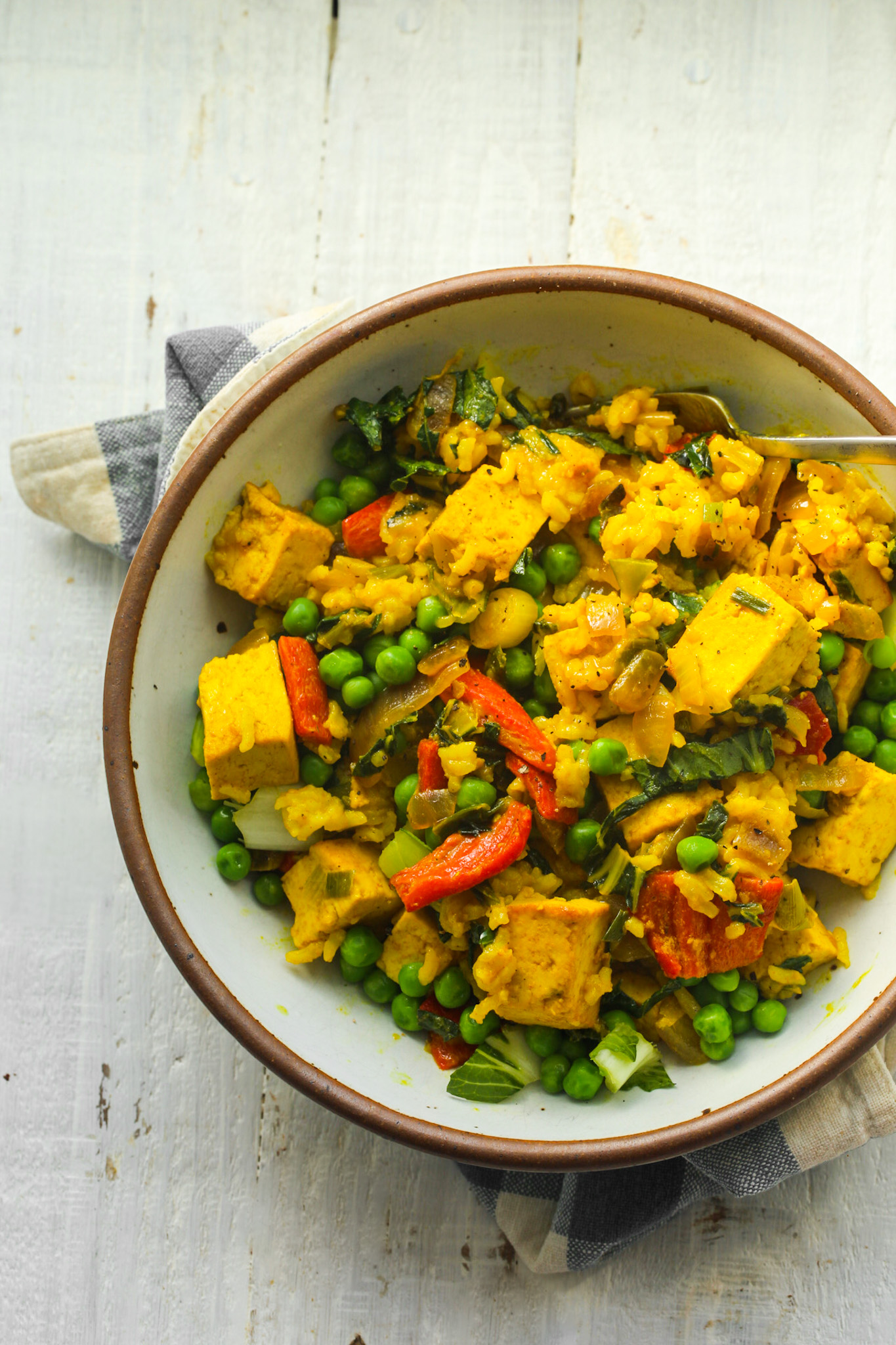 Cookbook Giveaway!
Enter the Quick & Easy Cookbook Giveaway below!
PRIZE: (2) winners will be chosen! You will receive a cookbook with signature from Ella! (USA shipping only)
And if you simply cannot wait to snatch up this book, hop over to Amazon.
a Rafflecopter giveaway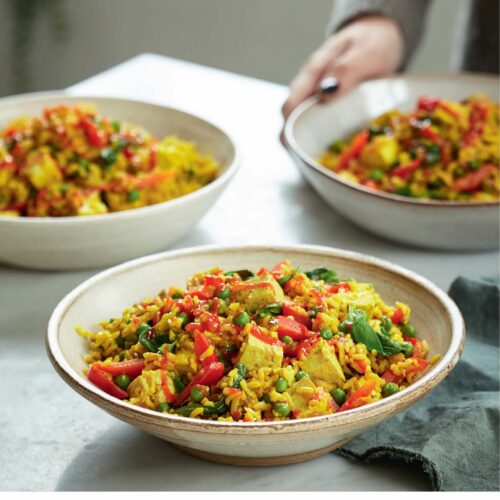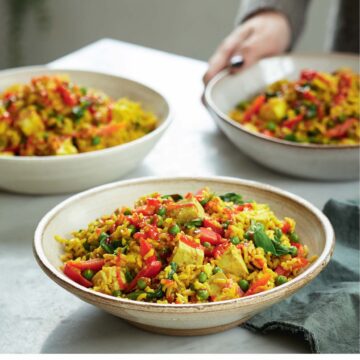 Super Veggie Fried Rice
This recipe is from Deliciously Ella's cookbook, Quick & Easy Plant-Based Deliciousness.
Print
Pin
Ingredients
¼

cup

sesame oil

1

red onion

,

minced

3

scallions

,

minced

2

teaspoon

ground turmeric

2

cloves

garlic

,

minced

14

oz

firm tofu

,

cubed

1 ¼

cups

frozen peas

2

red bell peppers

,

cut into ½ inch cubes

3 ½

oz

spinach

,

two large handfuls

2

tablespoon

tamari

1 ½

cups

cooked rice

salt and pepper

sriracha or hot sauce
Instructions
Place a large skillet over medium heat and add the sesame oil. Once warm, add the red onion and scallions, garlic, turmeric and lots of salt and pepper. Cook for a couple of minutes before adding in the tofu. Mix well, ensuring the tofu gets coated in turmeric.

Add in the peas, bell peppers, spinach, tamari and rice and cook for another couple of minutes before serving, making sure the rice is piping hot and heated through thoroughly. See notes.
Notes
note: If reheating rice, make sure you only reheat it once and that it is piping hot before serving. More info on this in Ella's cookbook.
note: The recipe and image is given for sharing, courtesy of Deliciously Ella and Yellow Kite Books.
nutrition estimate | per serving
Calories:
342
kcal
|
Carbohydrates:
32
g
|
Protein:
13
g
|
Fat:
19
g
|
Saturated Fat:
3
g
|
Sodium:
32
mg
|
Potassium:
421
mg
|
Fiber:
4
g
|
Sugar:
9
g
|
Vitamin A:
4279
IU
|
Vitamin C:
88
mg
|
Calcium:
180
mg
|
Iron:
3
mg
A few of the other vegan cookbooks I have featured.
Pin this recipe for later…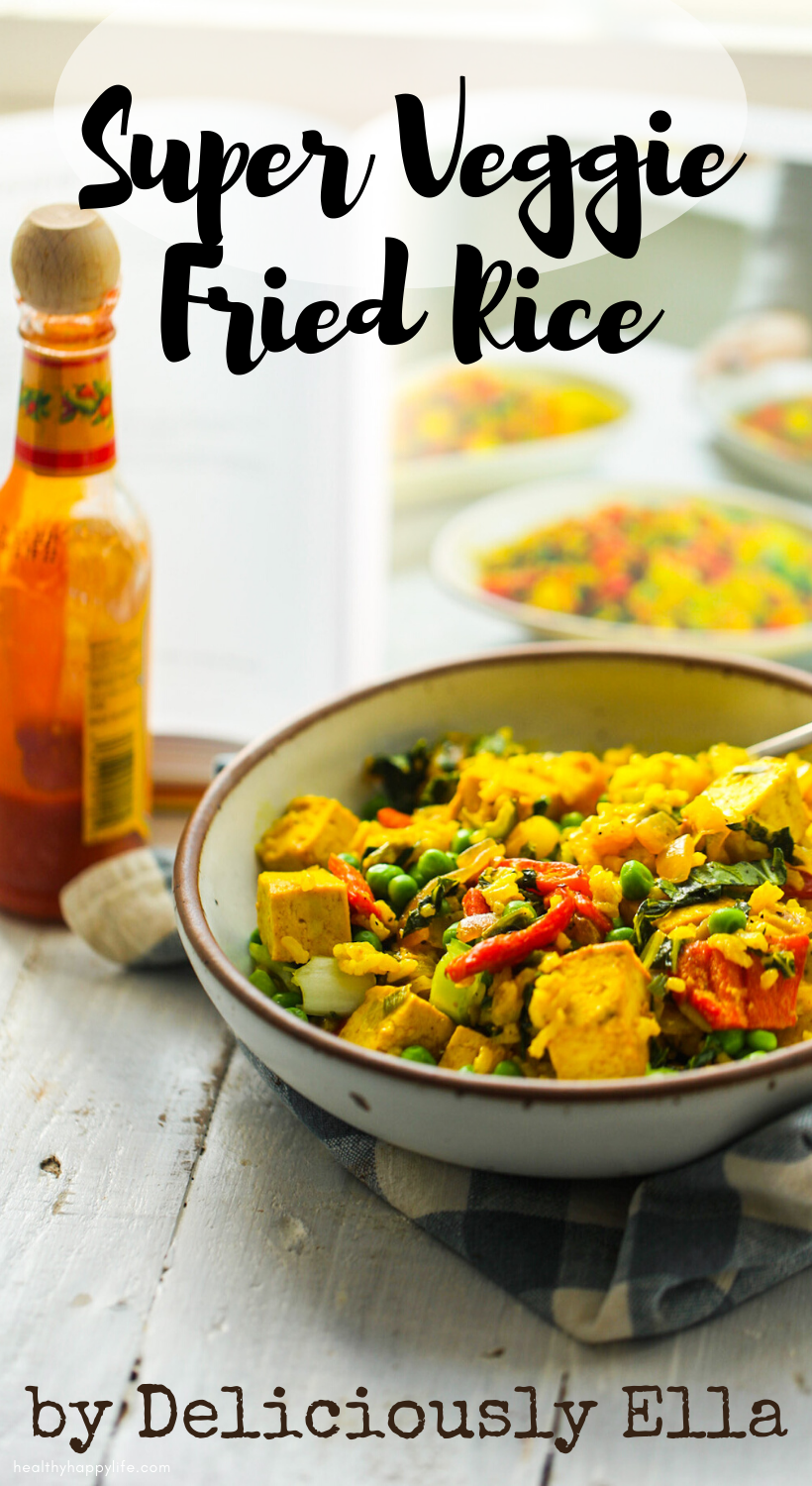 disclosure: I was gifted one book for myself. not a sponsored post, just a fan! This post contains an Amazon affiliate link too.