Today I am sharing the fairytale land I fell in love with aka, my Switzerland Travel Adventures..
Arriving at the International Terminal at LAX was the start of our week-long European adventure, visiting Switzerland and Italy. Passport in hand, it was ready to be stamped since it had not been used in far too long. We arrived at the terminal three hours ahead of our departure time. There was no line at security and the terminal was like a ghost town. We wheeled our large carry-on bags through the echoing hallways of the freshly updated terminal, passing a fancy wine bar, upscale shops reminiscent of Rodeo Drive and a fancy new Starbucks. We had enough time to order a sit-down feast of two vegan sandwiches, then I plopped in an "Express-Spa" chair for a quick manicure. Then after a few hours of killing time, I grabbed a Starbucks soy matcha and we slowly boarded the plane. Boarding the plane is such a strange feeling when you are traveling internationally. Here I was in my "summer clothes" in the end of November in LA, leaving seventy degree weather, with my giant green Vaute Couture winter coat tucked under my arm, ready to be pulled on the minute we touched down in a far off snowy land, aka Switzerland. I'm still not sure if I slept or just rested for that 11 hour flight..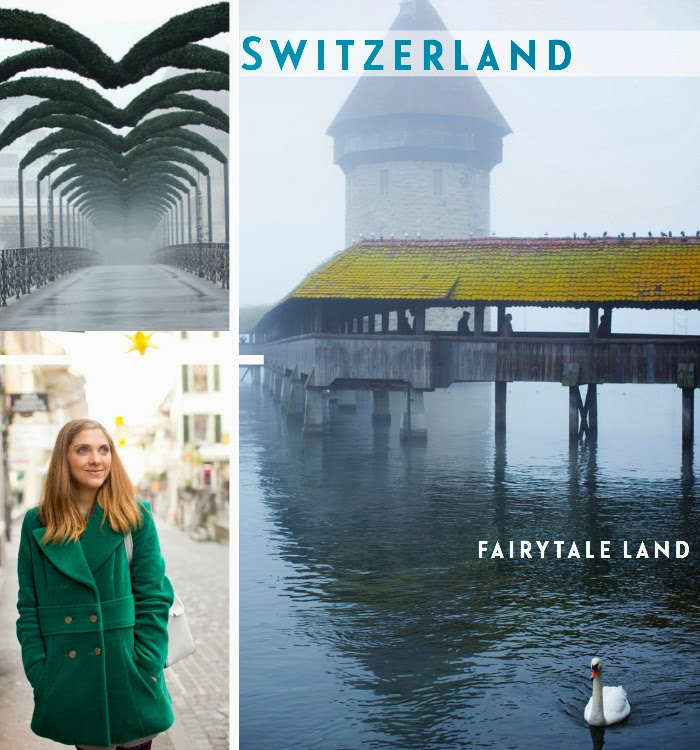 As our plane touched down in Zurich, Switzerland we descended through a heavy layer of frost white clouds, clouds that looked like a snowbank of freshly fallen white powder. The clouds were dotted with grey mountain peeks and a peek of faded blue sky here and there. As we glided down towards the airport, I could barely even make out our distance from the ground, through the pea soup thick cloud banks, when suddenly we bumped onto the runway. As we slid onto the runway, those snowy clouds faded into white misty fog that hung low on the ground, hugging the planes and green trees lining the terminal. The moody, misty weather made me feel like I had landed on another planet, a far off place, a fairytale land. As we slowly exited the plane, I fely my heart race as I was suddenly in a brand new place, with a language neither of us spoke and customs we planned on "winging" as we went along. I stepped out of the plane, rolled my green carryon luggage off the plane ramp and I felt a brisk icy chill in the air and suddenly, hello Kathy, welcome to Switzerland.
Walking through the steel grey accented terminal can only be described as dramatic. For a California girl used to loud bustling terminals and fits of laughter in every hallways. The terminal was even more ghost town like that the LAX terminal we departed from. No one spoke as the plane passengers calmly and quickly walked down the hallway to the airport exit. The terminal had concrete walls and columns, tall ceilings, modern lighting, floor to ceiling glass windows with those dark green trees and that thick white cloud cover right outside, dancing in between the parked planes. It was about 4:30PM in Zurich and the sunlight was quickly dying, the velvety fog sky would soon be purple and midnight blue and dark black.
We hopped on a passenger shuttle that took up to the airport exit. It was a bit anxiety producing when everyone on the shuttle was silent. I kept peering at my husband out of the corner of my eye, a smirk on my face when a loud cow sound came on the airport speaker, promoting tourism in Switzerland. It made me laugh because all I kept saying about Switzerland was that I wanted to see the mountains and the cows.
We exited the shuttle to the arrivals terminal, hundreds of locals were gathered around the exit door, with signs welcoming their arriving friends and family, just like you see in the United states. But instead of loud, noisy welcomes, it was again dead silent. My eyes bugged out of my head as I exited through the walkway lined with silent people all looking through the flow of exiting passengers. But we finally made it out, somehow hopped on the correct train to Lucerne, and were on our way to our hotel, as night fell over this strange new land.
Switzerland Travel Blog
It's 7:30pm in Lucerne Switzerland, We easily checked into our hotel, the Hotel Montana, a modern little hotel overlooking Lake Lucerne.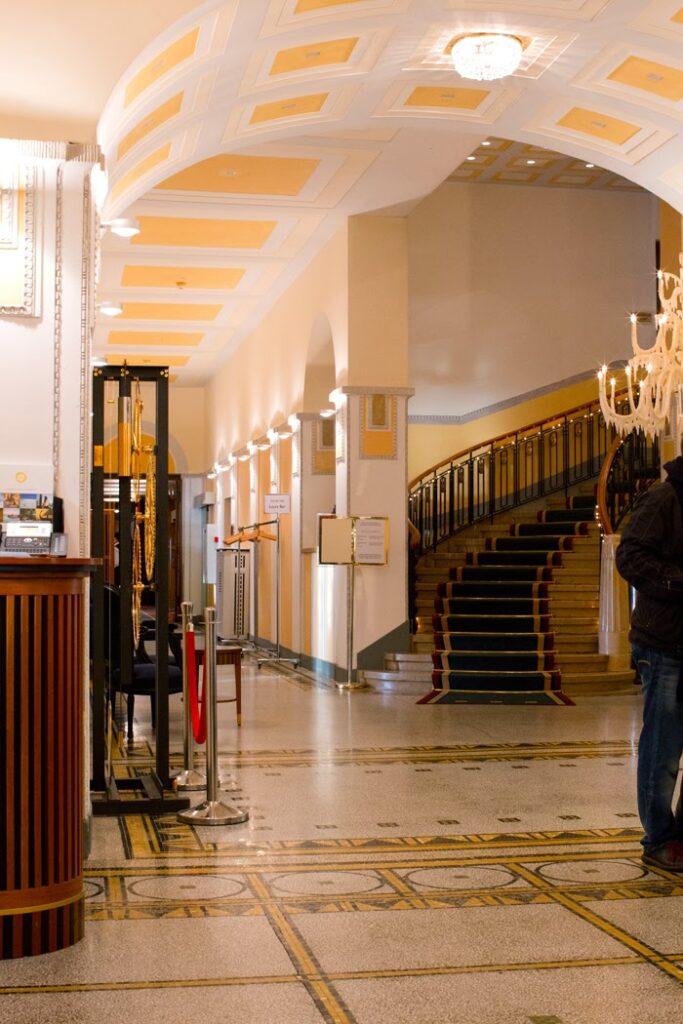 Hotel lobby..

The fog is so thick when I step out onto the balcony all I see in front of my face is white fog, gobs of it, and a few piercing orange lights twinkling through the mist. No lakes. No mountains. No town. Just white.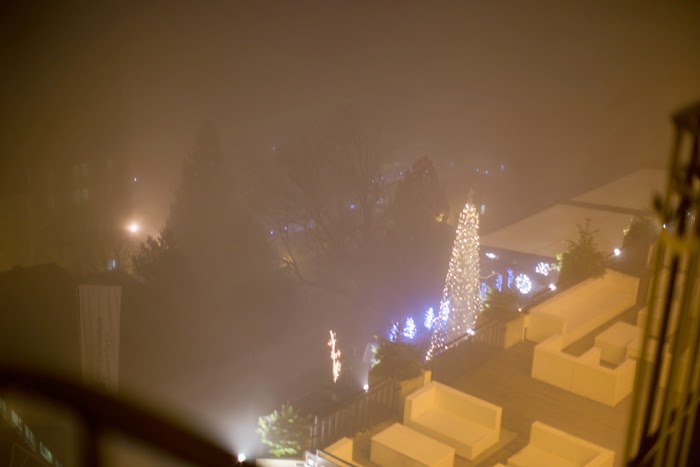 I am starving for dinner after that 11 hour overnight flight, three hours at LAX, and two hours on the train from Zurich. Vegan vegan vegan. I now started to freak out with extreme hunger creeping into my belly. Veggies and bread was all I could imagine on the menu, so I might have to dip into my protein bar stash. Not exactly something I was excited about. But before food, I needed a hot shower.
I step into the super steamy, super hot shower. I felt as groggy as my kittens on a Sunday morning. As the water splashed on my skin I could feel the blood rush into my fingers and toes. I was instantly calmed. Though we had inquired about local spots to grab a bite to eat, we decided on room service since it was pitch black outside, nothing but those few spooky twinkling golden lights. I think I mumbled something to my husband about a giant salad, lots of veggies, no butter and any bread they could find. I was not feeling too optimistic about options.
My stomach, feeling empty and confused and now warm from the hot shower, growled at me as my husband knocked on the bathroom door. I flinch as he says "Hunny…" in an ominous way. Great. I bet they cannot do my salad with no cheese or the pasta all has egg in it. Or they don't even know what vegan means. Oh man. He nudges open the door and says these words…
"Hunny they have a special vegan menu, they are bringing it up to the room."
My eyes perk wide open and my insides feel all warm and fuzzy. Yay. A million times yay. Maybe this really is fairytale land and I am Elsa. Wait, Frozen takes place in Norway, never mind.
I rub some moisturizer on my clean and fresh face, my cheeks, fingers and toes pink from the hot shower. I pull on my Britney Spears Vegas tee, you know a taste of home, and some fuzzy turquoise WiildFox pants and instantly feel better.
The day of traveling was long. Though it would have been amazing to actually sleep on the Swiss Air flight, it was one of those flights where I cannot even remember if I slept on the plane or if I just laid there eyes closed, desperately counting the dings from the seatbelt sign, trying to fade away into dreamland.
At this moment, it is 11am in Los Angeles and I am ready for bed on Switzerland time, at barely 8pm local time now. So that says something about my in-plane sleeping hours.
But I left out a funny note. Though we were exhausted from our travels, it was a Saturday night here in Lucerne and the city seemed bustling! The restaurant in our hotel and most of the hotels around is fully booked. There were hoards of elegantly dressed locals spilling out of the restaurant into the lobby of our hotel. Our bellman mumbled something to us about a concert in the city tonight.
As I floated out of the bathroom, all cozy and warm, excited for my vegan menu, my husband laughed to me, "Hey guess what the big concert is tonight?"
"What?" I asked.
"Billy Idol."
"Oh my gosh. Can we please go?" I joked. Well, half-joked. How cool would that to see Billy Idol in Lucerne, but that was not on my to-do list. The truth is I was ecstatic to crawl into the fluffy white bed in our hotel room, crawl into a deep peaceful Switzerland slumber and wake to a brilliant sunrise tomorrow.
All great adventures start with a good night's sleep, right?
But first this VEGAN MENU. I was in heaven. Not only were there amazing offerings, but the food tasted delicious! The food came from the fancy restaurant downstairs, so it was all gourmet and elegantly plated. I was not expecting that! Chickpea tartlet with swirly sauces on the side? Yes please. Oh, but Switzerland is expensive! So while I do not remember how much this room service meal was, I do remember one entree being $40 or so. So there's that. But we agreed, right now, worth it! Check out these yummies.. (I had the amazing chickpea tartlet and a starter salad .. yes I satisfied my hunger.)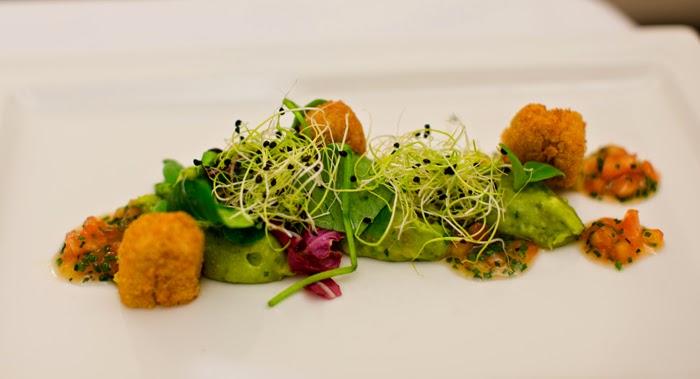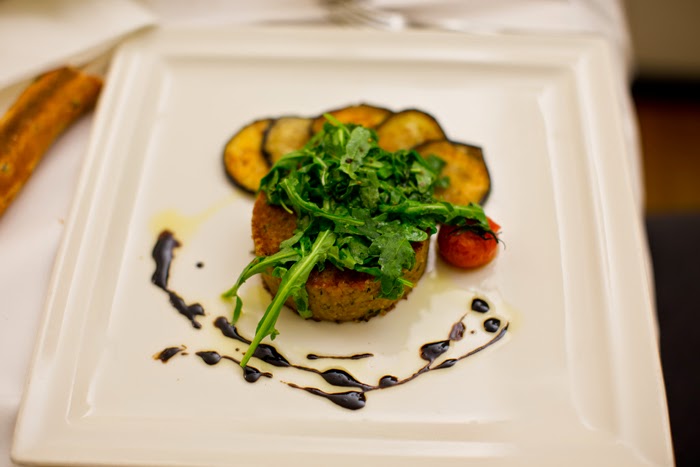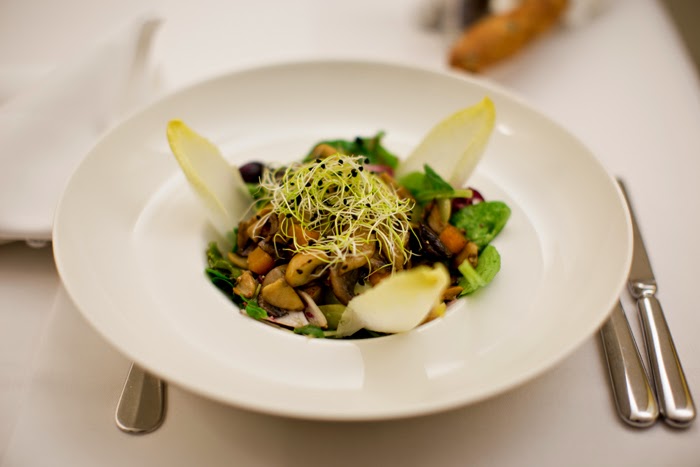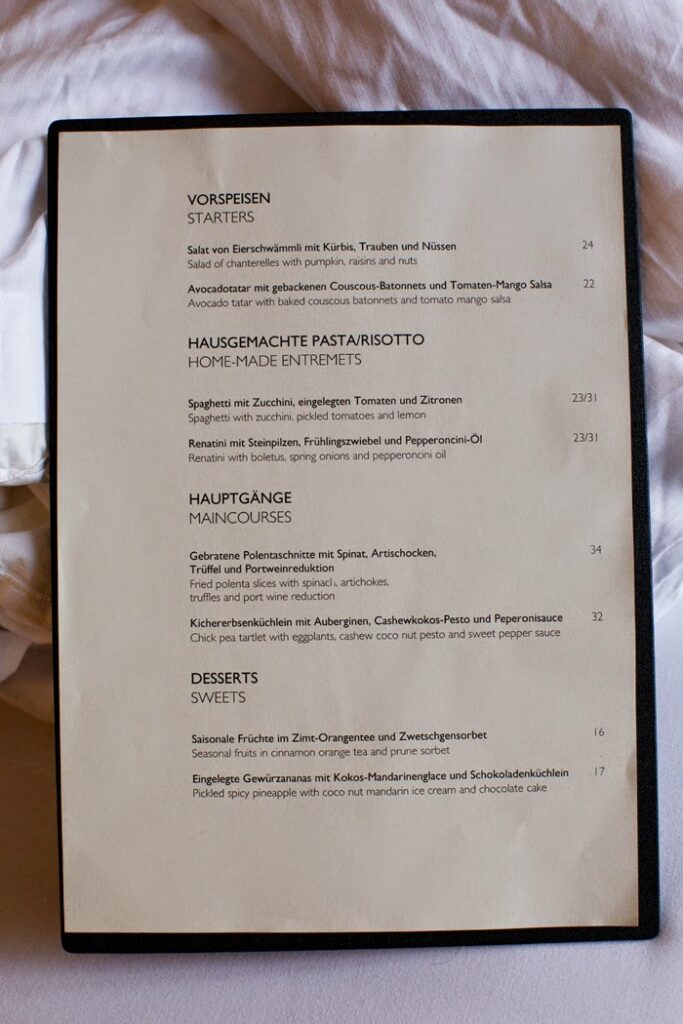 The vegan menu.. (Applause to the Hotel Montana for that)

— next day —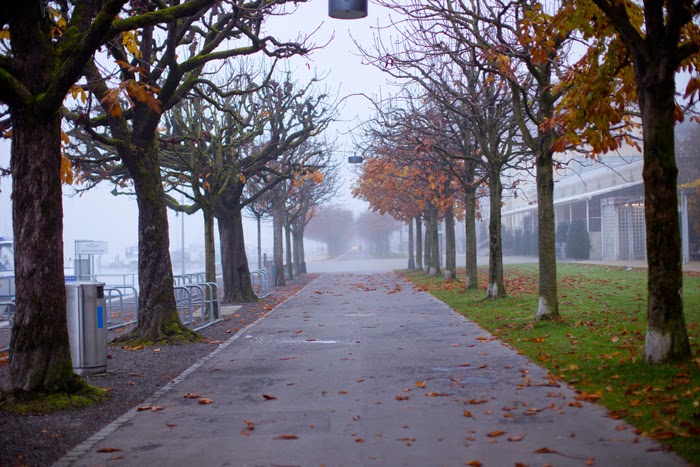 The morning started with heavy fog. Not the rainbow-colored, piercing sun, bright light sunrise I imagined. Opening the glass door to our balcony I could see nothing, still, but white. White fog as heavy as clouds. Thick smoke. The lake and mountains were out there somewhere, supposedly, but we had yet to see them.
Anxious to venture out, we left our room around 8am.
To get down to the lake, our hotel uses a funicular, a cable car of sorts that takes you down the (very short) mountain. It is a lot of fun actually, kind of like a slow roller coaster. Decked out with twinkly lights too..


Finally out in the fresh Switzerland air I was skipping along like a bird freed from its cage. The air was crisp, cold, refreshing and brisk. We walked along Lake Lucerne, it was silver and smooth like glass with heavy fog hanging over the lake. But that thick fog made it so all we could see were the edges of the water and docked boats speckling the shore line, a few birds and fluffy white swans sleepily gliding across the calm water. The only people awake on this damp and brisk Sunday morning were a few warmly dressed joggers running along the elegant tree-lines stone path that lined the lake and buildings. My cheeks and nose were pink from the crisp air but I was just so excited to explore that I couldn't think about the cold. Well, at first.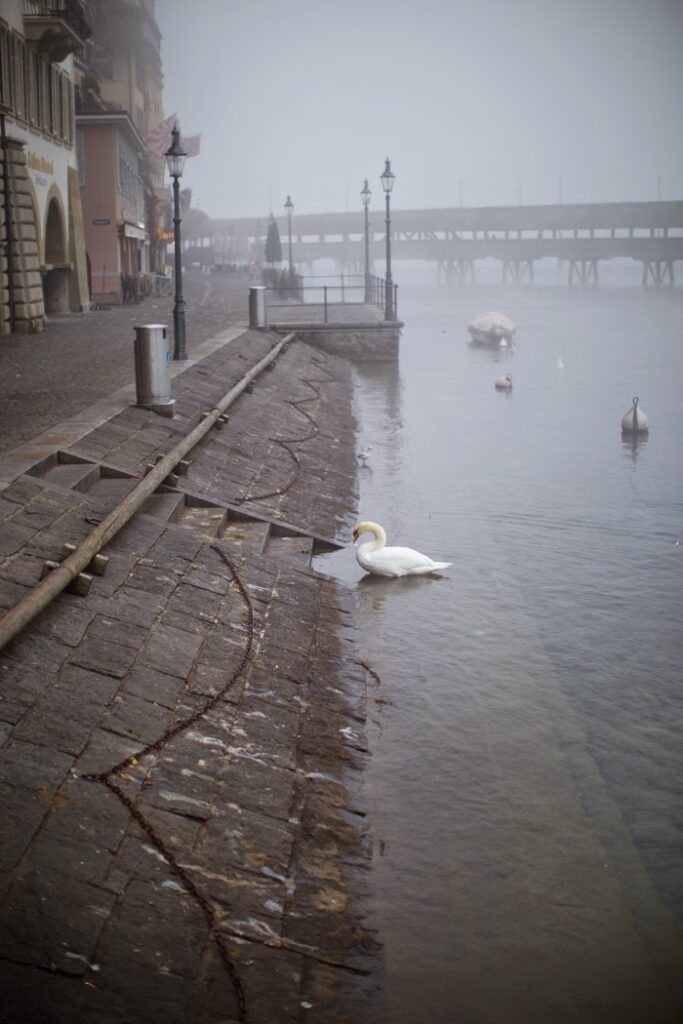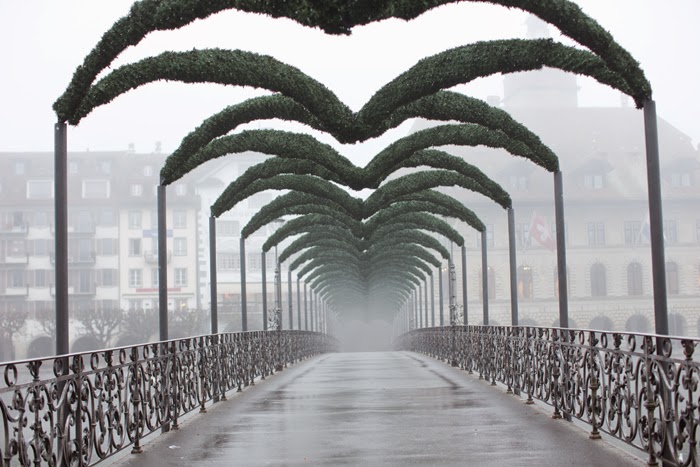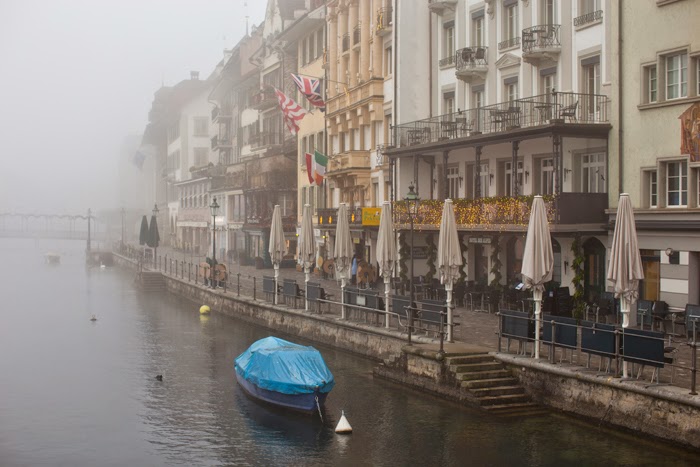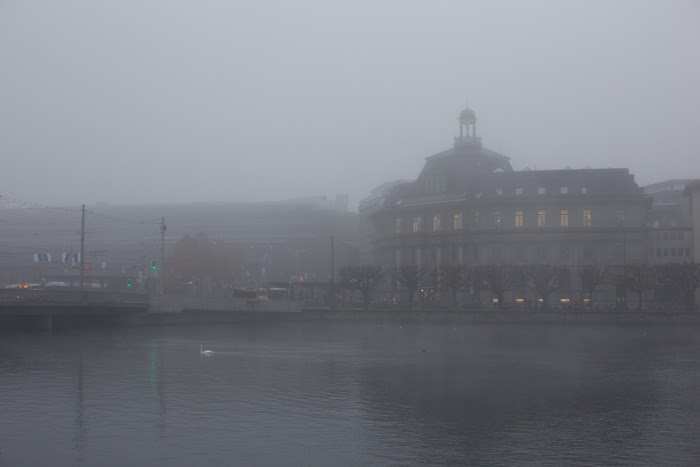 We wandered over to the famous Chapel Bridge, built in 1333. Yes, 1-3-3-3. Along the musty wooden bridge there are swans and ducks gliding along Lake Lucerne at every turn. They are calm and quiet and look at you with modest interest, until they happily glide away onto the next corner of the lake. They stop and park themselves on the shore and prune their feathers completely unaware of the tourists snapping photos of them.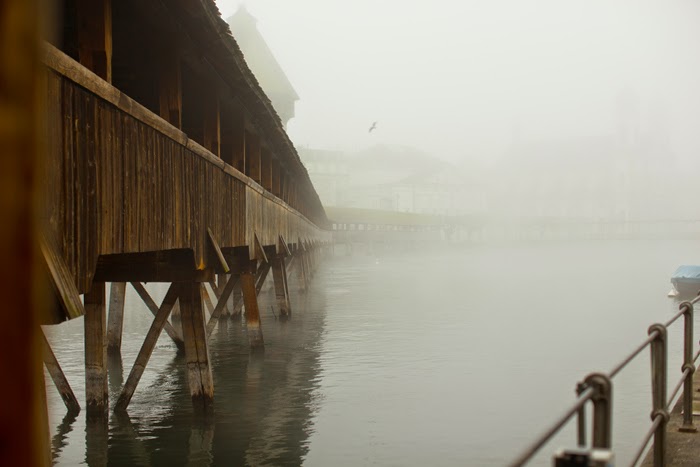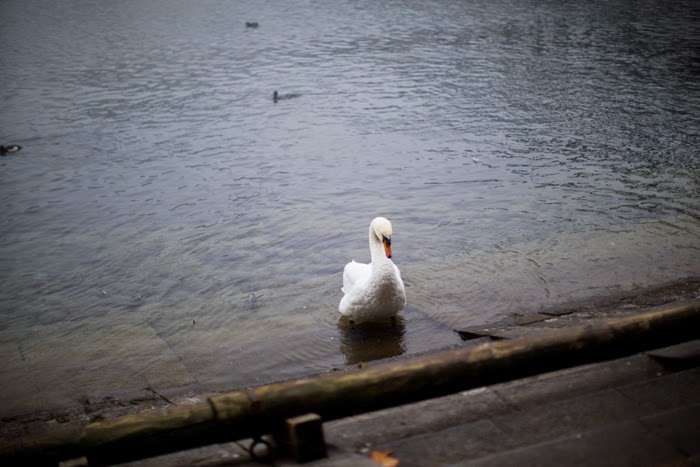 The heavy fog, white sunless sky and cold chill in the air may have seemed like classic "bad weather." But to me it was magical. The fog made the air misty like fairy dust, hanging over the water it felt like it was an ancient fog, from another land long ago. That fairytale land I keep referencing. Think Lord of the Rings or Disney-made magical castles. I almost expected to see a galloping horse plow over the bridge. The old wooden bridge and moss-covered towers appeared not from this modern world.
Alone on the bridge, because we were clearly the only two tourists up and awake on this "low season" November morning, it felt like we had the entire magical setting to ourselves. I skipped over the wood planks, leaning over the edge of the bridge to say hello to the birds, more than a few times. I think I started to lose feeling in my fingertips, toes and face at this point, but I seriously didn't care.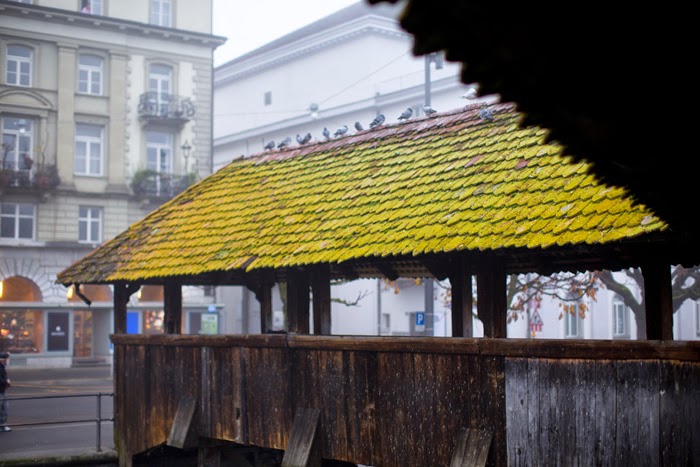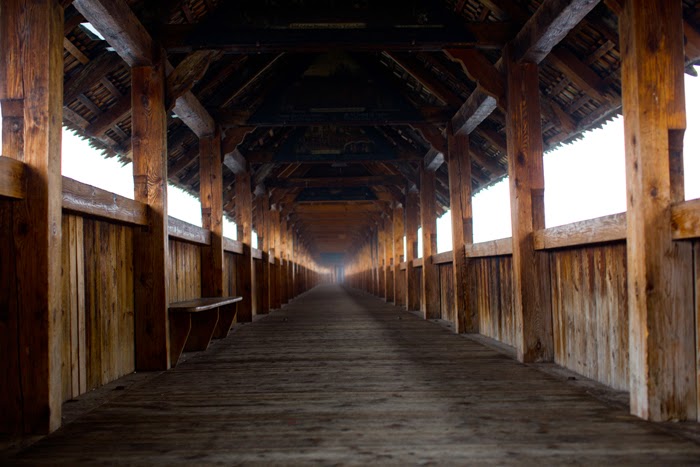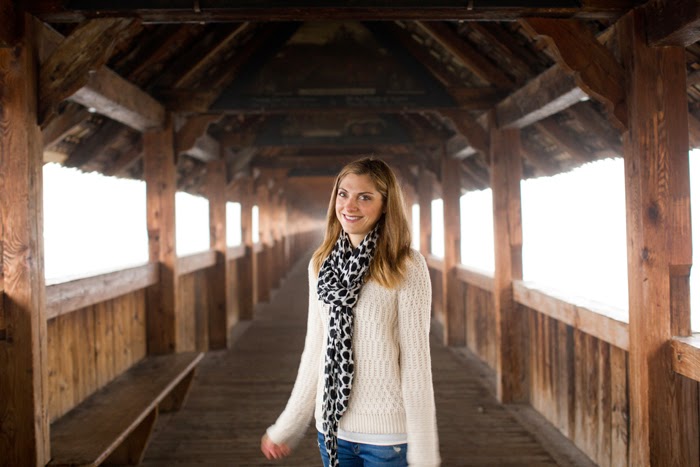 Castles, galloping horses, church music echoing from the town cathedral. This was our Lucerne morning.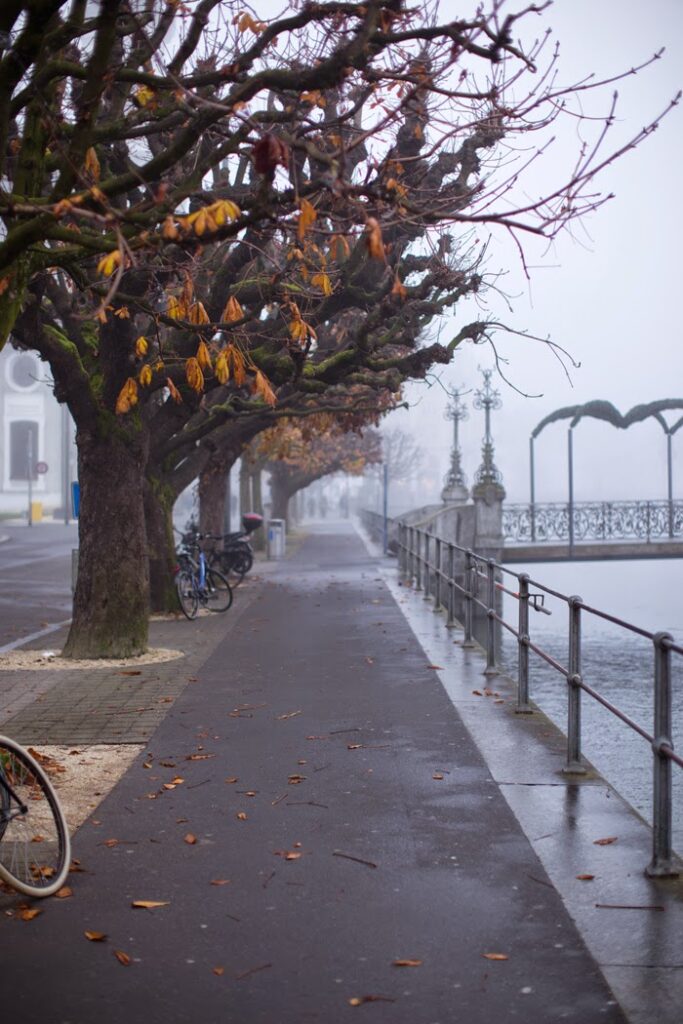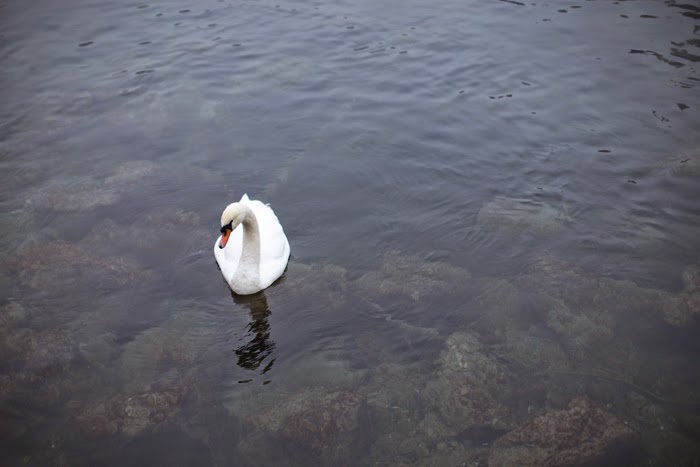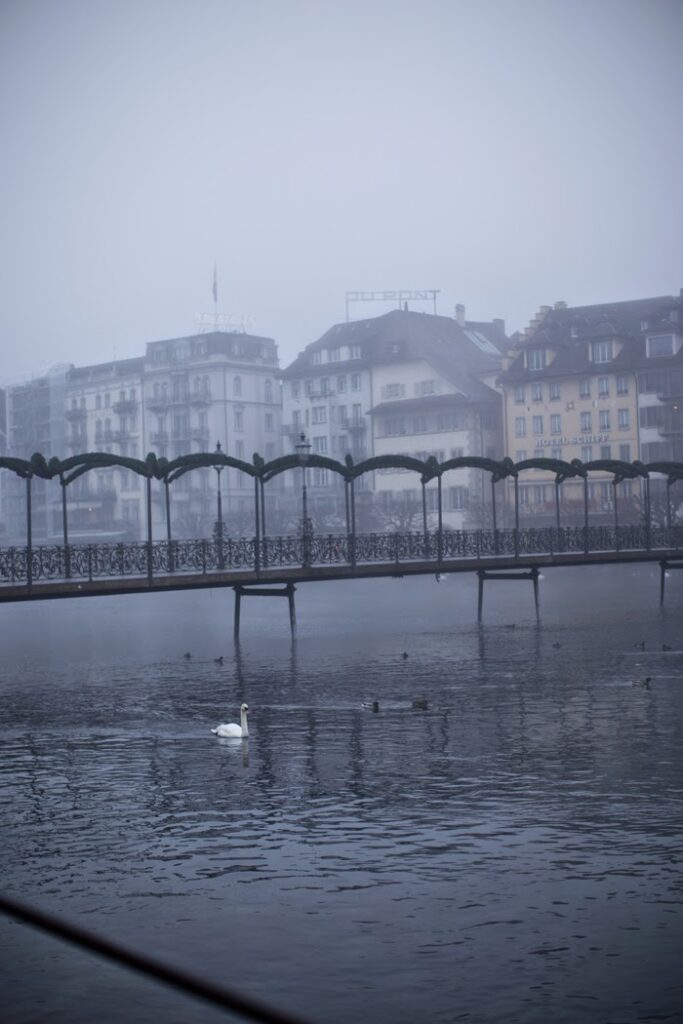 The mood was killed when the chill got the better of us and we wandered into .. a Starbucks and ordered extra hot beverages. Cue warmth please! My creamy soy matcha latte tasted extra amazing. It paired perfectly with strolling the cobblestone corridors and winding pads of the city. I didn't even mind that everything in Switzerland is outrageously pricey. I think at some point we spent $30 at Starbucks.
On our walk back to our hotel, we popped into the large church, perched on a hill, with elegant spirals and beautiful architecture. There was choir music filing the church walls as we sat for a few mites to listen and take in the musty church air and warmth from the old wooden pews. I closed my eyes and felt full.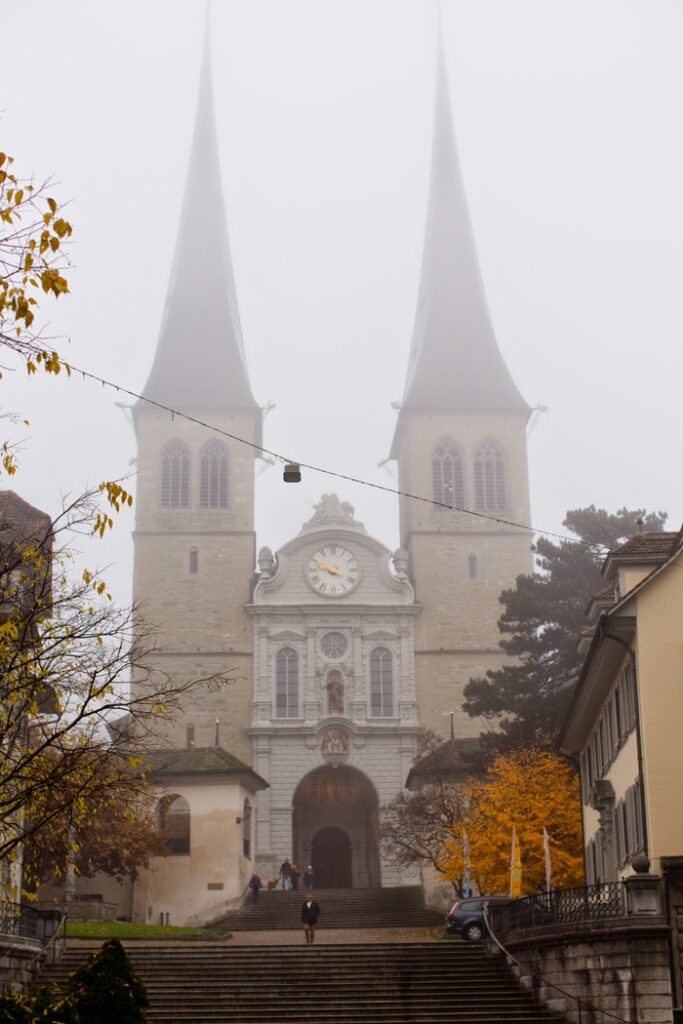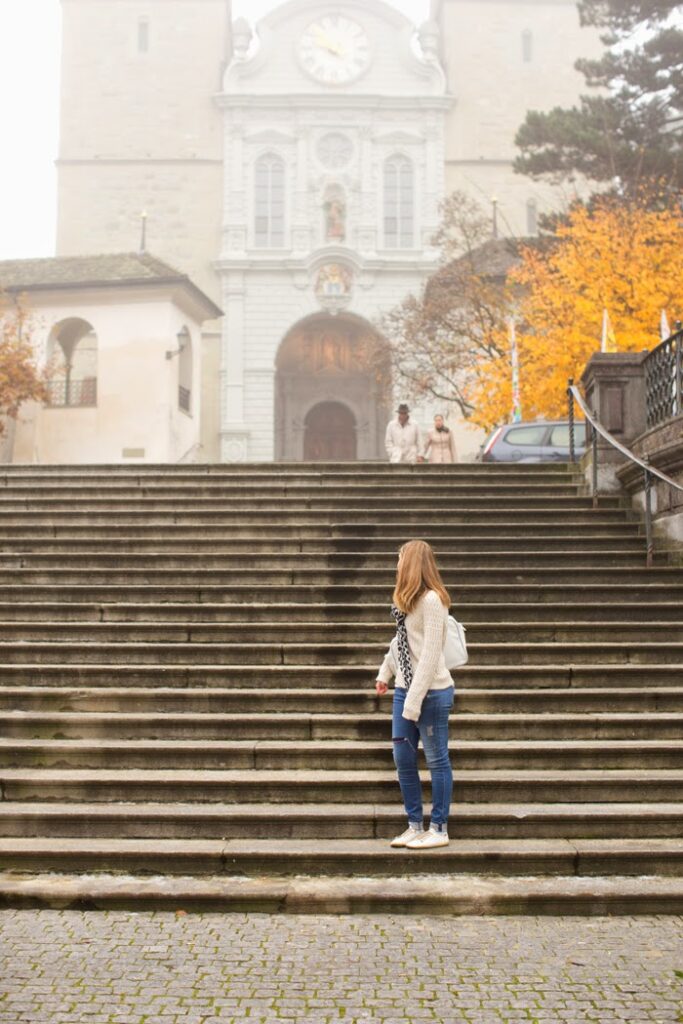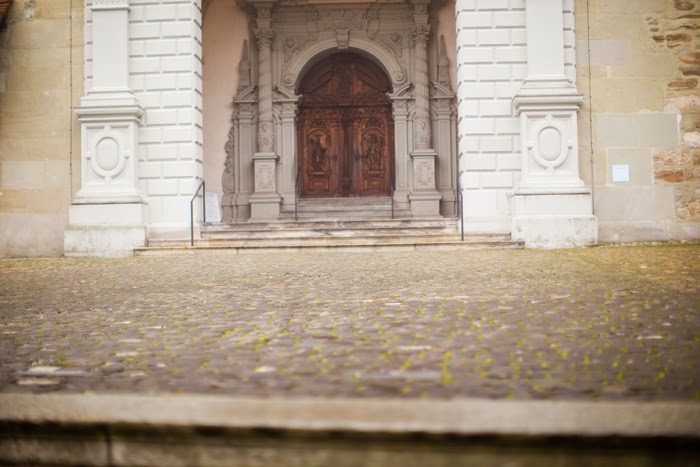 After our morning stroll, we popped back up to our room to change. We then went back to the train station and hopped on a train to Bern, the capitol city of Switzerland. We strolled the buildings for a short while but decided we wanted to pop over to Thun. This turned out to be a brilliant idea because Thun was a highlight!
Thun was sunny and warmer than anywhere else we had been that day. We strolled along the swan-filled lake alongside plenty of sunglass-wearing locals and tourists alike. Families with their strollers, smiling kids and dogs strolled the crowded stone paths. In the distance I finally got my picture perfect view of the Swiss mountains, with their towering snow white peaks and jagged edges.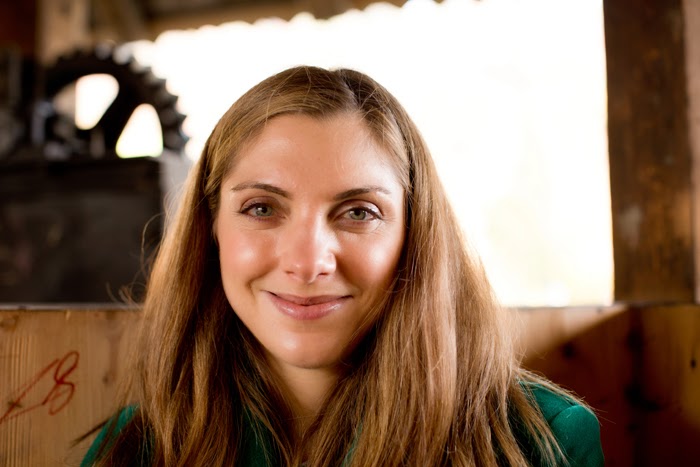 Yay sunshine on my face!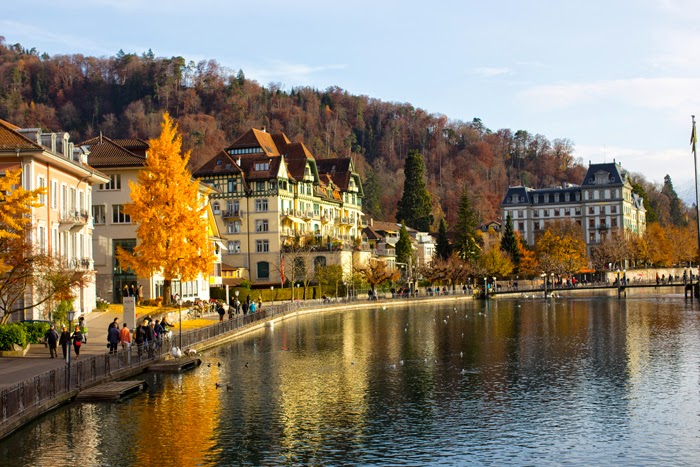 Thun is gorgeous..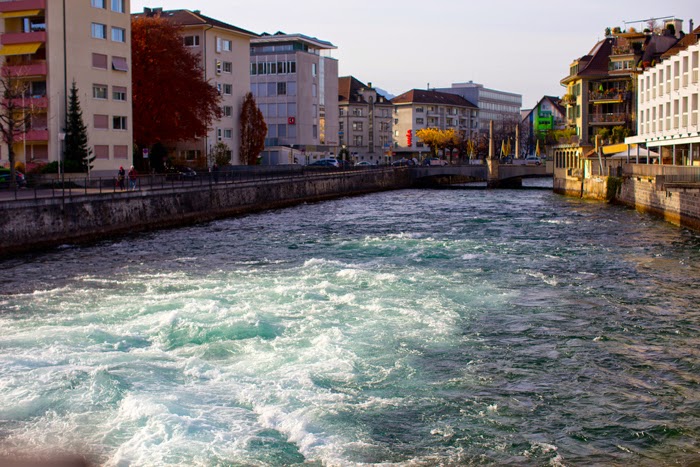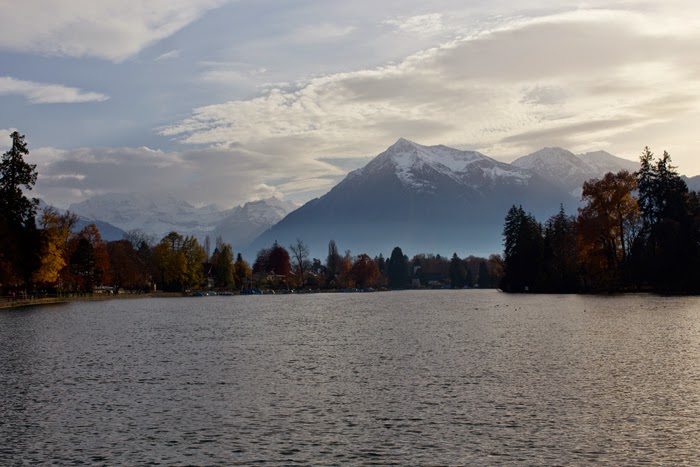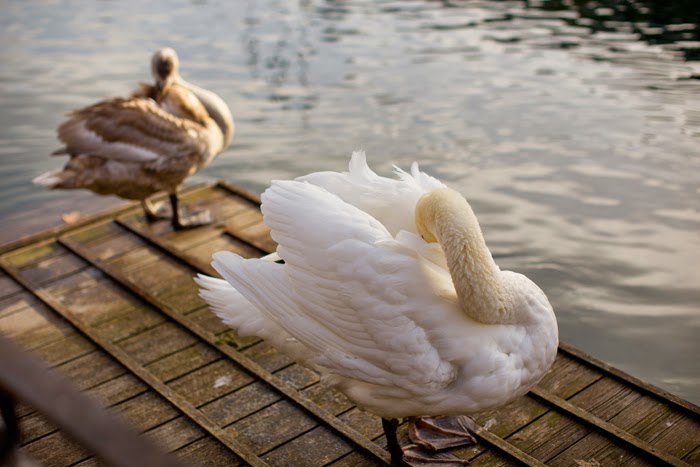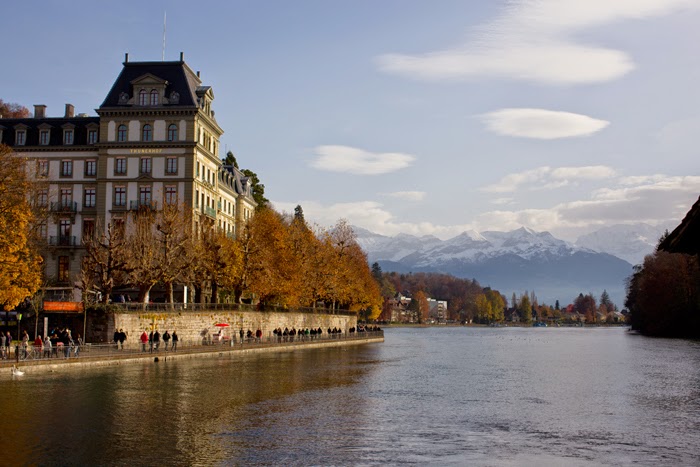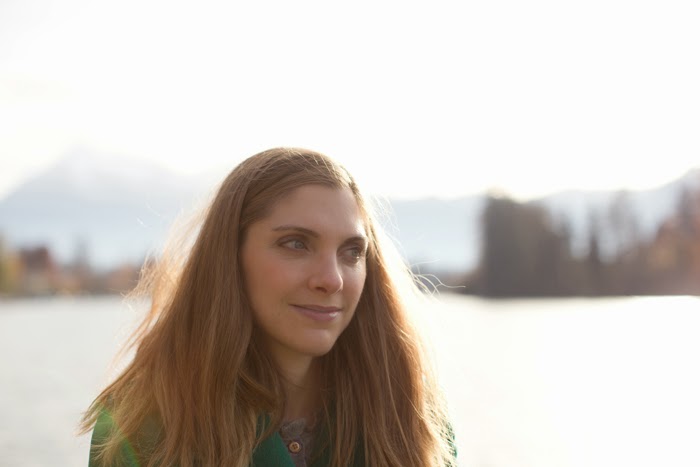 The oddest part about our one full day in Switzerland was that it was a Sunday which meant that all the stores were closed. So that basically forced us to do everything else besides shop. This was a welcome constriction because it meant more time was spent climbing steep stone staircases, exploring the quiet side gardens of chapels and castle-looking building and of course exploring the lakes, 360 degree views, wide piazzas and narrow bridges all while taking photos and feeling invincible, sucking in cold clean air and feeling the bright yellow sunlight, crisp on our faces.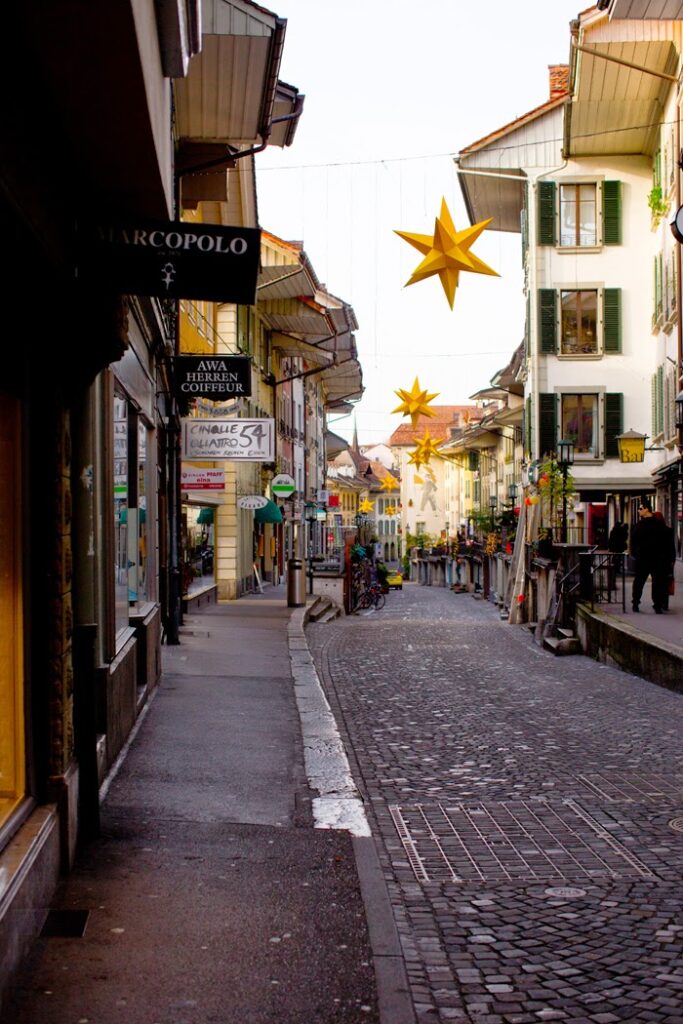 All the closed shops..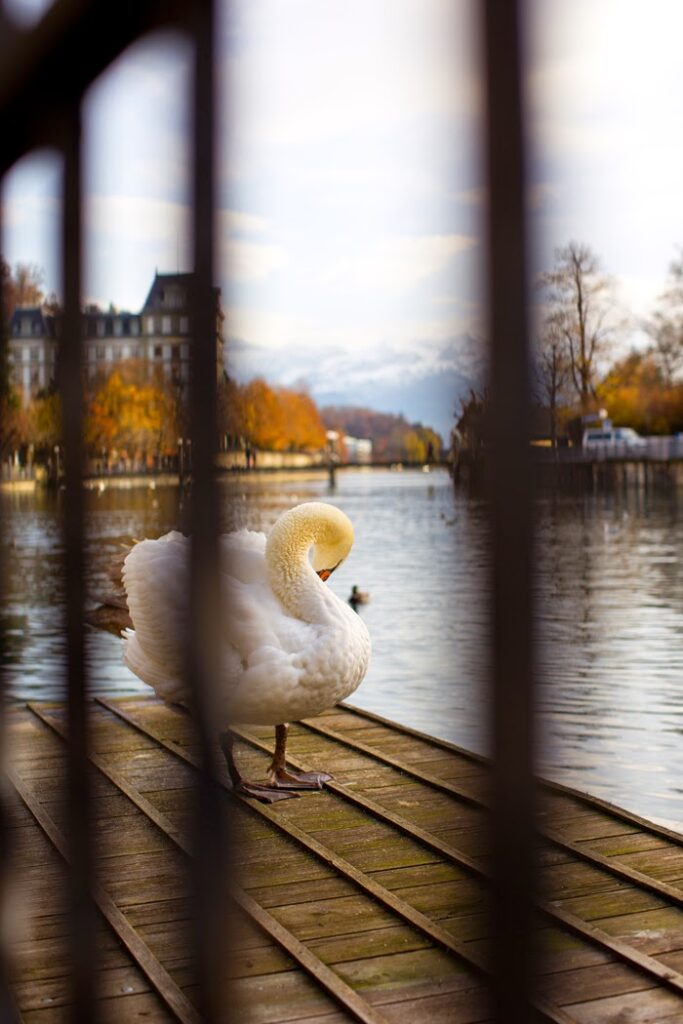 More swans of course..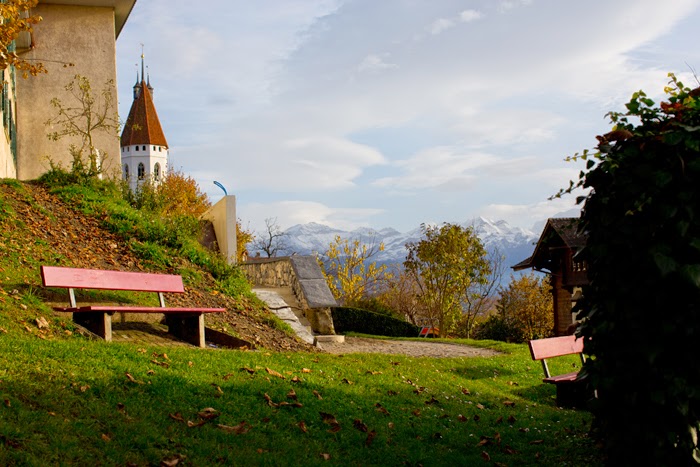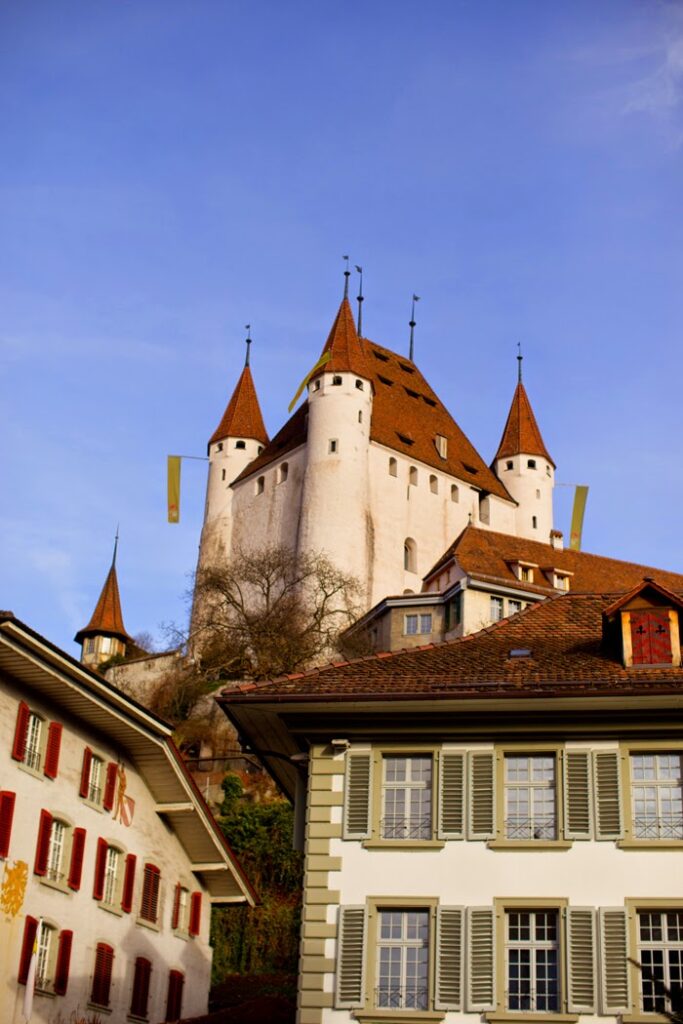 My castle on a cloud..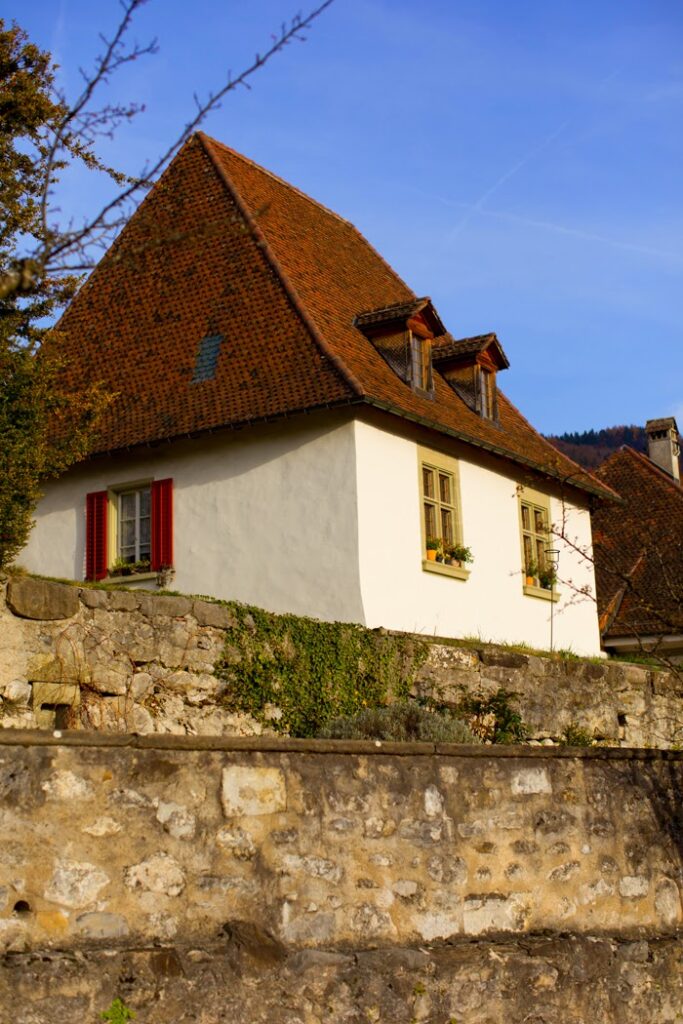 My cottage on a cloud..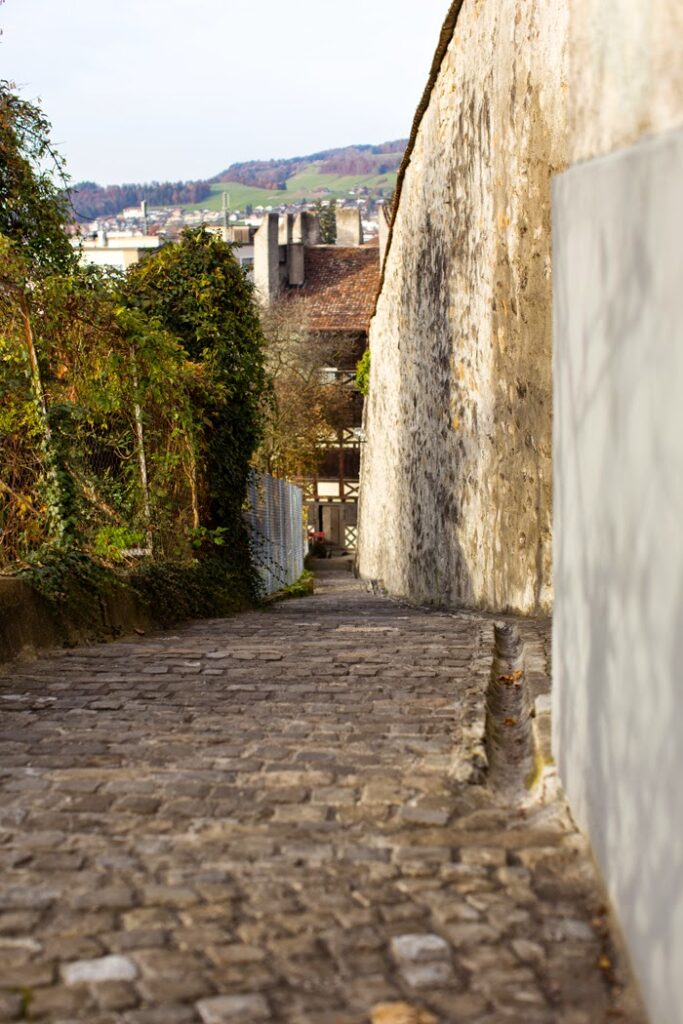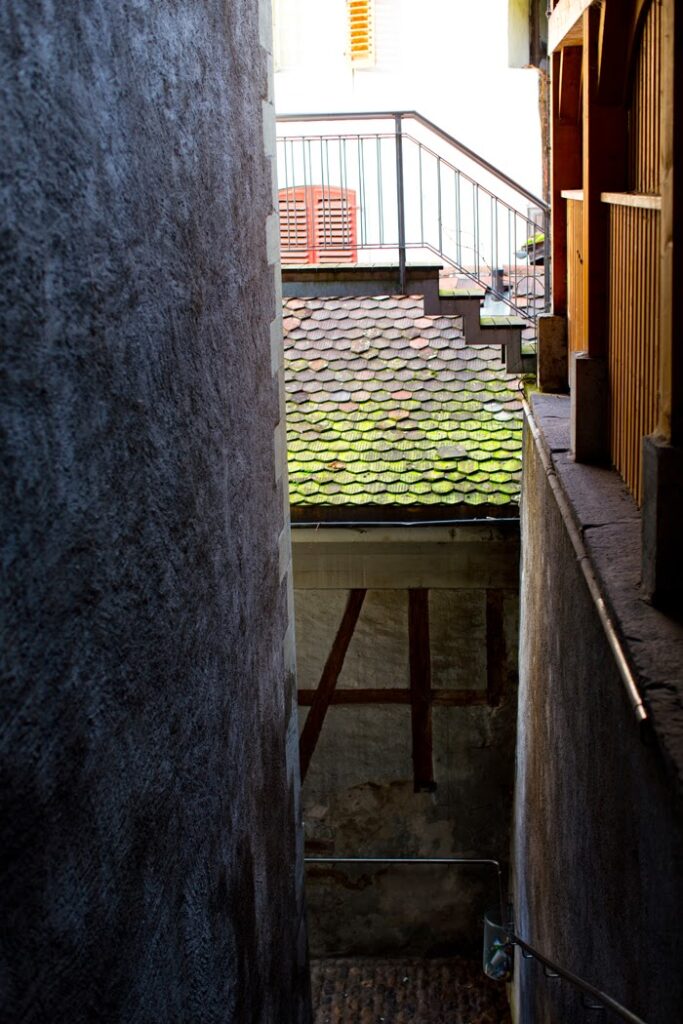 After a good amount of time exploring Thun, we hopped back on the train and headed back to Luzern, you notice I am now spelling it the way the locals do. Luzern vs Lucerne. Immersion lessons are the best! The daylight hours were sparse. The sun rose around 7:30am and set at 4:40PM. Which meant that by the time we were back in Luzern the sun had set. I could barely keep my eyes open on the swaying train that swept us quickly back to our hotel around 5pm. I had a curious concoction of jet lag, anxious sleep, exhaustion, tired muscles, a rocking train and happy fullness lulling my eyes shut.
At 620pm when we were back in our room, we decided to keep things easy and eat dinner at the hotel restaurant, the same place we ordered room service from last night. I ordered another item off the vegan menu. It was amazing, so there was no complaint from me. I had a large raw salad, speckled with spiced nuts and homemade croutons of thinly sliced baguette bread, a sweet and savory balsamic vinaigrette. For my entree, I kept things cozy and ordered the vegan spaghetti with sweet and tender sun dried tomatoes and green zucchini, a very light tomato and olive oil sauce. It was comforting and the perfect carb-loading power-fuel dinner for our next day's adventure. A glass of red wine to split was the perfect touch. Falling asleep was easy, Switzerland dreams and swan-gliding wishes on my pillow. And hopes that we might actually see our "lakeside view" if the fog cleared the next day!..
And thank goodness, it did!..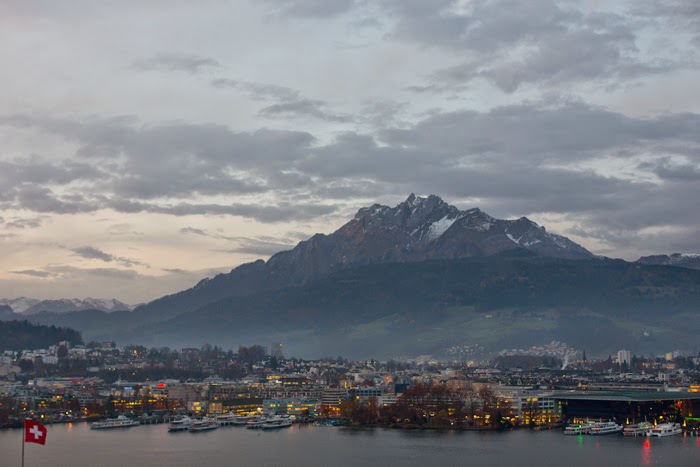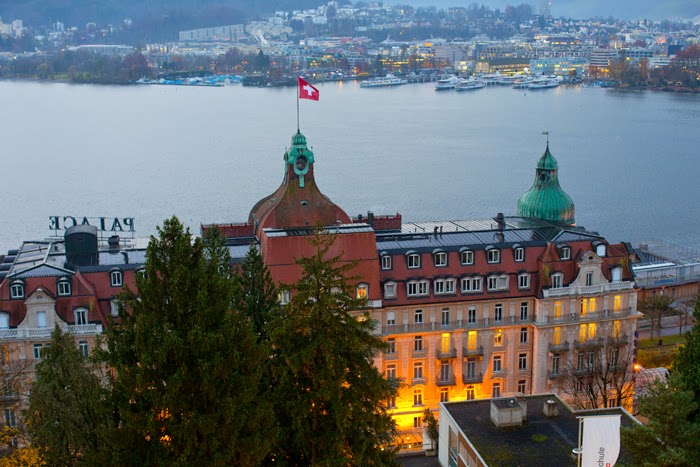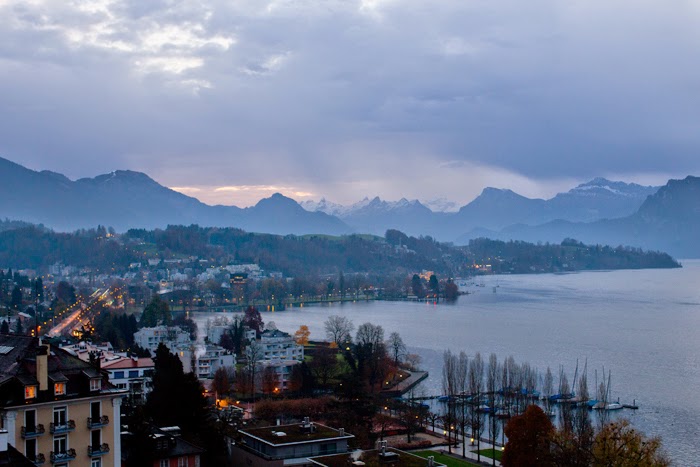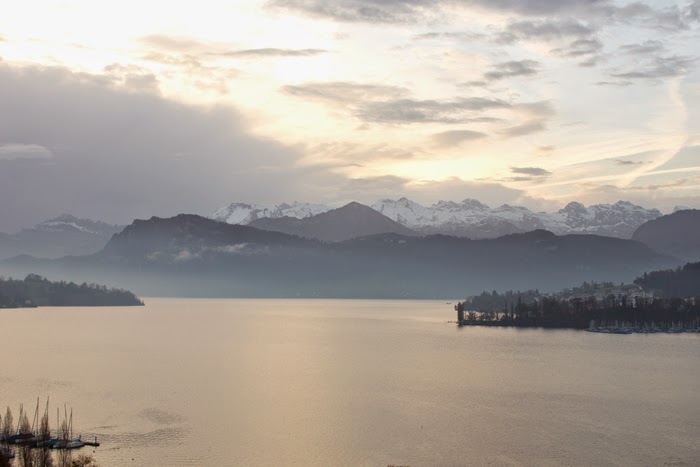 those mountains..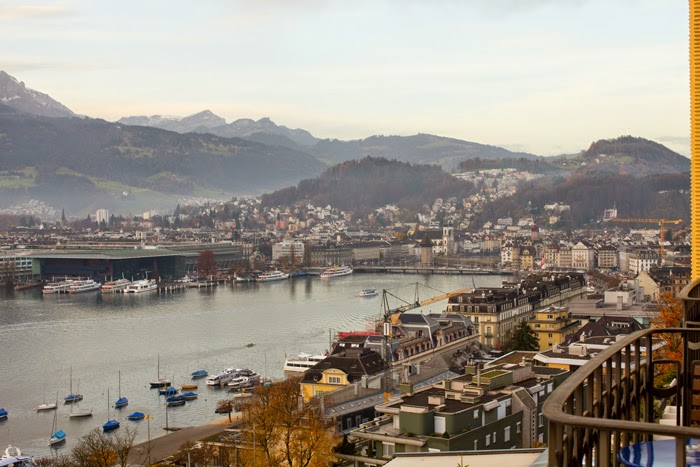 To be continued!.. Next up Vegan Eats + Art in Florence Italy! — READ PART TWO HERE: 10 Discoveries in Florence, Italy
Places We Visited:
Hotel Montana — loved this place. Clean modern rooms and that to-die-for vegan menu for in-room dining and at the fancy, beautiful restaurant. Get a room overlooking the lake, the view is so breathtaking (once the fog clears) that you will not want to leave your room! Small boutique hotel with elegant touches and kind service. I loved the fresh fruit available to guests in the hallways each morning. I snatched more than a few fresh oranges!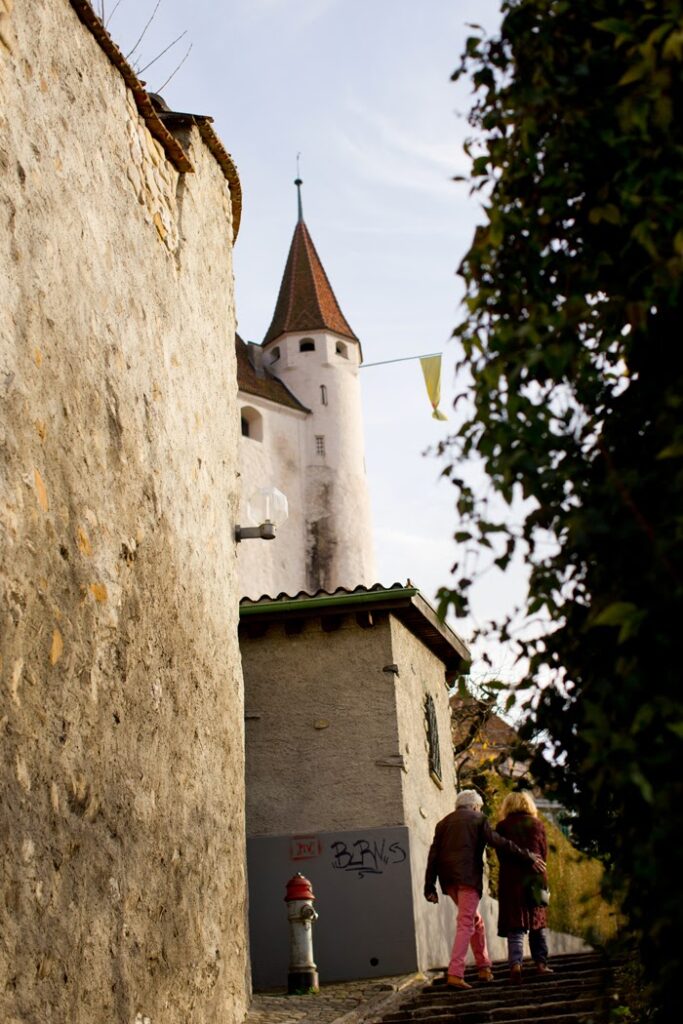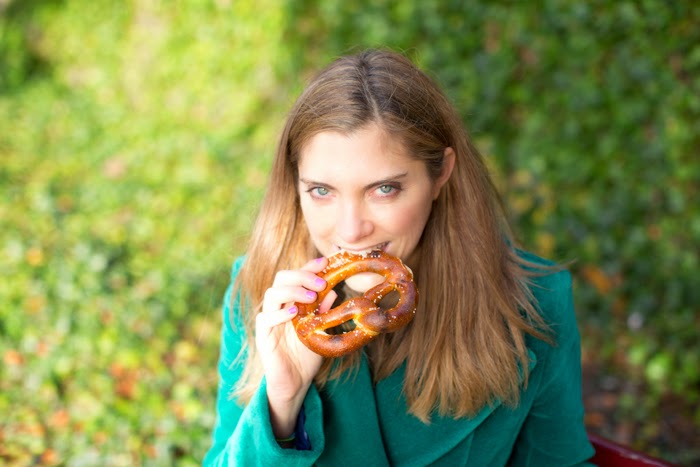 And don't forget the vegan-friendly Bretzels! The best pretzels ever..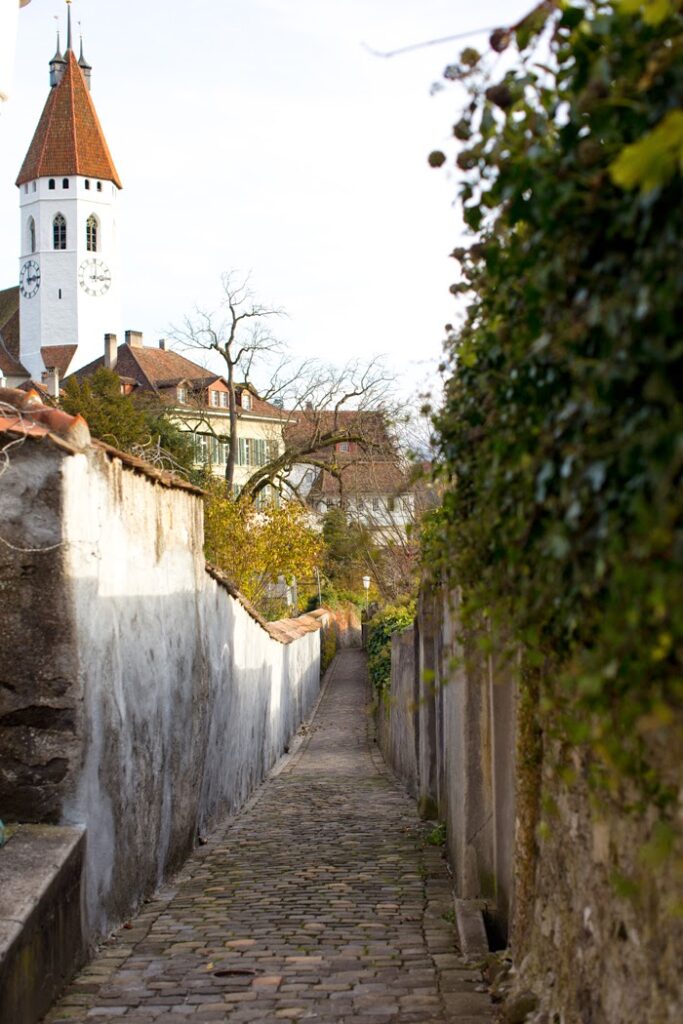 ps. All photos by moi: Kathy Patalsky ©2015 — all rights reserved