I will lead with this. These muffins, they taste like pancakes. And scene.
I would gladly eat pancakes for breakfast every single day of the week. Fluffy goodness, studs of fresh fruit, a melting pat of vegan butter and loads of amber-golden maple syrup swirling over top. Fork dive into the warm, skillet-fluffed stack and you feel instant coziness. But pancakes (and waffles for that matter) are special 'weekend' food on most weeks. Brunch hour goods. Which doesn't do me any good on a Monday morning when I am trying to figure out what to eat for breakfast, in between reading endless emails and getting a fresh start on a handful of projects for the week.
(Ya, I wrote this post on Monday .. and finally posting it .. it has been one of those weeks. There was a nap yesterday and I watched Hope Floats on Netflix. Hi.)
But back to pancakes. So what are we to do? I have the solution, friends. Muffins! Blueberry Buckwheat Morning Muffins that taste just like the real pancake-y thing, but are easily made ahead of time and warmed up for instant satisfaction. Pancakes every day of the week? Maybe not. But pancake-y muffins, oh yes..
Book Recipe Spin. Btw, book owners might notice that this recipe is actually a buckwheat spin on my Coconut Oil Muffins recipe in my book, Healthy Happy Vegan Kitchen.
The best part about these muffins (besides the overflow amount of blueberries) is that they bake up fluffy! Vegan muffins can be tricky. And if you lean towards gluten-free, even trickier! But buckwheat flour and the tofu and that banana all really help to make these muffins fluffy. Sometimes I get sick of adding "flax eggs" to everything simply because as much as I hate to say it, sometimes flax seeds give off an unappealing flavor and with delicately-flavored baked goods, every bit of flavor counts.
Fun fact: Buckwheat flour is gluten-free and buckwheat is not a grain.
Gluten-free-ish. Wait, what does gluten-free-ish mean? It means low gluten. Which means just ½ cup of wheat flour. Most muffins contain more like two cups. Less gluten, basically. (If you want 100% gluten-free you could sub in gf flour or even 100% buckwheat. But since buckwheat absorbs moisture very well, you might want to reduce the flour by a few spoonfuls..)
Nutrition goodies. Wild blueberries in every bite. Hearty gluten-free buckwheat flour. Silken tofu, protein-rich. Fresh lemon. Cinnamon. Virgin coconut oil. All good things in these dreamy bakery-style muffins.
Baking time. I will admit I left these in at the 400 degree mark a bit too long. The tops and bottoms looked a tad over-browned – but they still actually tasted perfect and were super soft and fluffy, so maybe the buckwheat browns more easily in this recipe. The leftovers we have been nibbling all week have even moistened up a lot upon rewarming.
I would do 20-25 minutes for these depending on your oven. I have a convection bake setting that I used so that is why mine baked a bit faster than normal.
So that's it for this post. This has been one of those weeks when I am just grateful to get a post up, one I started on Monday .. and now it is Thursday. Ha. But I did get some awesome side projects done earlier this week. Though the last two days have been a bit stressful and non-productive. I even squeezed in a nap yesterday afternoon while watching Hope Floats on Netflix. I don't think I have napped in over a year. It felt really good. Sometimes you just have to listen to your body. (If possible. Easier said than done, but that's the goal, right?)
And ps. thank you for checking out my matcha chat!! The giveaway for it ends tomorrow. I am excited to film more of them for you 🙂
If you make these muffins, share them online and be sure to tag me on Instagram or twitter so I can see how they turned out for you! xoxo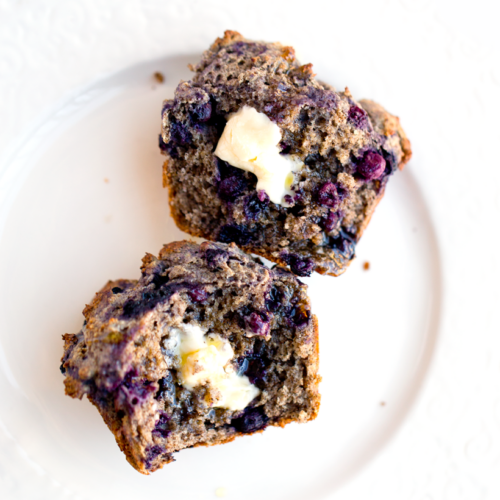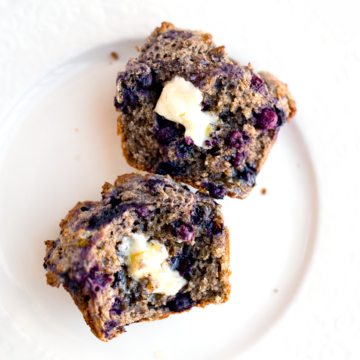 Blueberry Buckwheat Morning Muffins
These fluffy vegan muffins have flavors of blueberry, cinnamon, vanilla and hearty buckwheat in every bite. 
Print
Pin
Ingredients
Wet: (blender)
1 medium ripe banana

¼ cup fresh lemon juice + a pinch of zest

7oz silken tofu

¼ cup maple syrup

1 teaspoon vanilla extract

½ cup virgin coconut oil, melted
Dry:
1 ½ cups buckwheat flour

½ cup wheat flour

1 tablespoon baking powder

1 teaspoon ground cinnamon

¾ teaspoon sea salt
Fold in:
1 cup frozen wild blueberries or fresh berries
Instructions
Preheat oven to 400 degrees. Line or grease a muffin tin.

Blend all wet ingredients in a blender.

Combine all dry ingredients in a large mixing bowl.

Pour the wet into the dry bowl and whisk briskly or beat with a mixer on low, until smooth.

Fold in the berries. Add more or less to your tastes.

Bake at 400 degrees for eight minutes, then reduce heat to 350 and bake for an additional 11-17 minutes. You want the edges of the muffin to be very lightly golden, an cooked through the middle. The reason I like the higher baking time for the first few minutes if so that the fluffiness of the muffin tops is preserved quickly and the muffins don't fall flat.

Cool and serve with vegan butter and maple syrup for the full "pancake" sub effect!