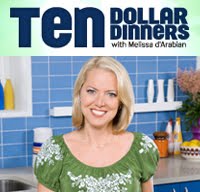 It's always a pleasure to read an email from a blog reader about how my recipes and posts have inspired them to embrace a healthier lifestyle. But the other night when I received a personal email from Next Food Network Star winner Melissa d'Arabian, I was beside myself with glee. Melissa is currently the host of Food Network's Ten Dollar Dinners, which was just renewed for a second season. Melissa had read my blog post featuring my vegan interpretation of the Potato Torte recipe she featured on her premiere episode of Ten Dollar Dinners. I've been an avid watcher of Melissa's show since it began. I also blogged each episode of NFNS. I predicted she would win from episode one!
Melissa is Awesome. The fact that she took the time out of her busy schedule to write me was truly thoughtful. And there were a few things she told me that I was giddy (and frankly surprised) to read, including her Farmers Market inspiration. Melissa said:
"I just moved to the Seattle area, and have been inspired by the amazing farmer's markets here. And, I've been exploring some vegan cooking actually…working on a few recipes as we speak."
Exciting! Check out more of what Melissa had to tell me…
Besides being inspired by Farmer's Markets, Melissa also says she is enjoying exploring the many diverse cookbooks that were sent her way once she won The Next Food Network Star show. And one of the avenues she has been exploring ambitiously is vegetarian cooking! Fabulous. What sparked this curiosity? Of all things: PETA. Melissa said:
"PETA sent me a bunch of cookbooks and a heartfelt letter asking me to consider more vegetarian meals. I decided to educate myself more on the subject, and thus my experiment has been launched."

Bravo PETA. Honestly, sometimes I think PETA can be a bit extreme in its PR efforts, and almost be counterproductive in advancing the acceptance of a "vegan lifestyle". But hooray to PETA on this one. I'm so glad that PETA has opened a productive dialogue with such an influential new celeb-chef like Melissa. And I'm thrilled to see that Melissa is so open minded. Melissa also said: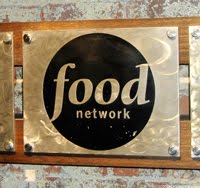 "Ten Dollar Dinners was just renewed for a second season, so I'm excited about having some interesting new ideas to add to the mix."

"I make my crusts with half whole grain flour, but have never used spelt….I'll have to give it a try."
My Response on ingredients to try: I told her she must try spelt flour. As many vegan and gluten-sensitive bakers know-it is fabulous and quite high in nutrients. Other awesome vegan baking ingredients are in this post: 5 secret vegan ingredients. (Maybe Babycakes NYC should send her some of their spelt flour doughnuts. yum!) I also told her she should try Vegenaise and Follow Your Heart vegan cheese. And I certainly hope she has experimented with coconut water, a busy woman and mom like her needs to stay fully hydrated, right!? I also told her that I loved her applesauce granita idea. So simple, yet delicious and healthy. However, I didn't tell her my own NFNS audition tale, maybe she can read it herself if she needs a good escape at the end of one of her long, busy (but glorious) days.
This lady is for Real. Every first impression of creativity, grace, charm, kindness, intelligence and character I got from watching Melissa on TV seems to be absolutely true. This lady is for real! The sky is the limit for her. I can't wait to see what her curiosity and talent brings to her show Ten Dollar Dinners, next season! Be sure to watch (or DVR it) with me on Food Network. You can even become a fan of Melissa's on Facebook. She updates her status regularly with recipes, life and family quips, and updates about her new dream job on Food Network.
Food Network, Melissa d'Arabian
Permissions: In case you are wondering, I did indeed ask for permission from Melissa first before posting her quotes, she graciously allowed me to do so.
The Farmer's Market, Union Square NYC always inspires me (more of my FM photos here):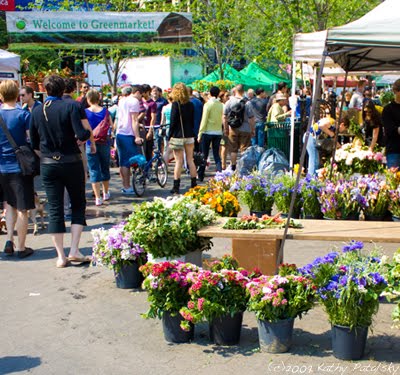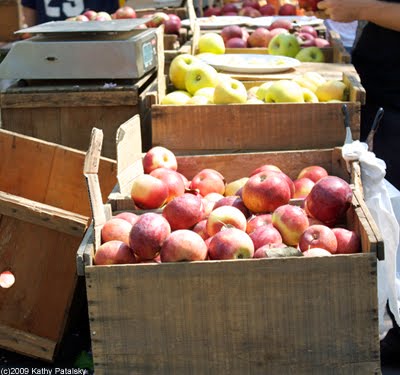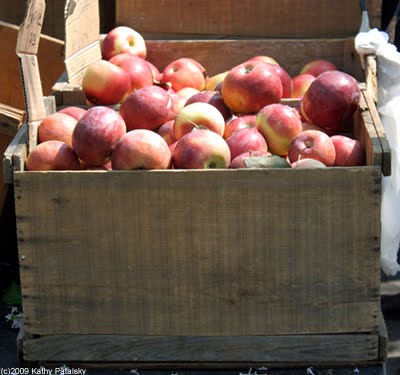 My Sweet Potato Torte veganized version of Melissa's recipe: