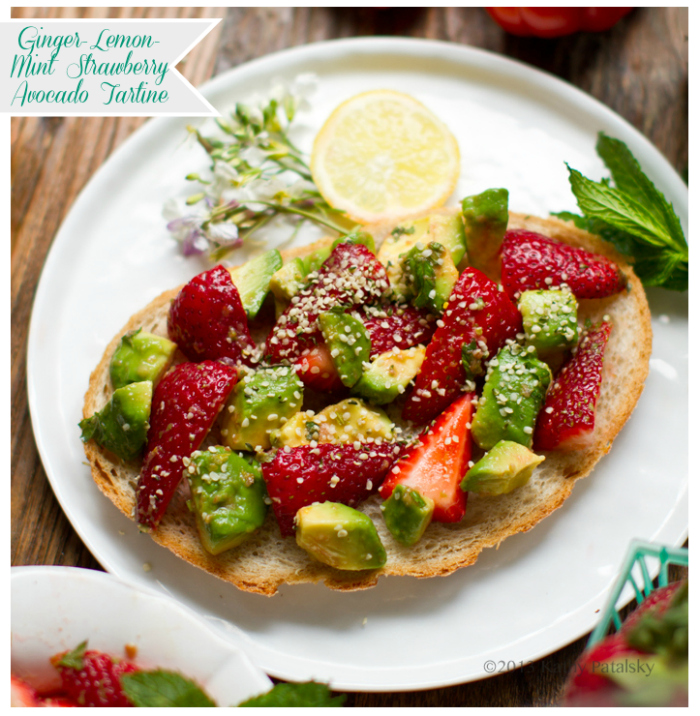 This Strawberry and Avocado Tartine is infused with lively spring flavors: fresh lemon, raw ginger and refreshing peppermint. Serve this recipe as a fruit salad side dish or pile on top of warm toast for a rejuvenating spring tartine. Avocado toast infused with springtime. I sprinkled some protein-rich raw organic hemp seeds of top for added protein and texture. If you have never enjoyed the AMAZING flavor combo of strawberries + avocado, now is your moment. Get inspired…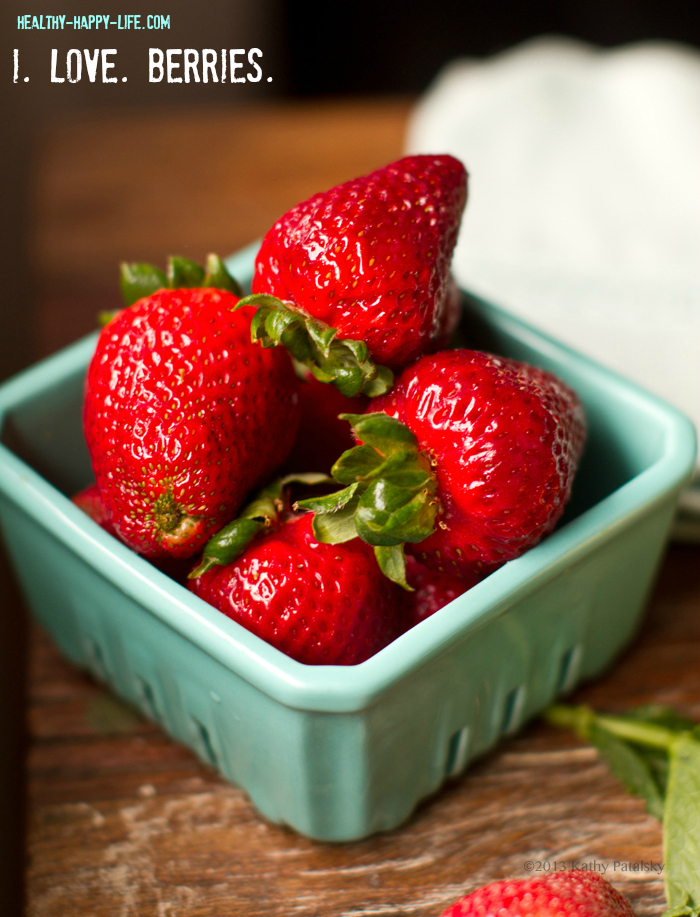 Oh the baby heirloom tomato. so freaking cute I had bring it home..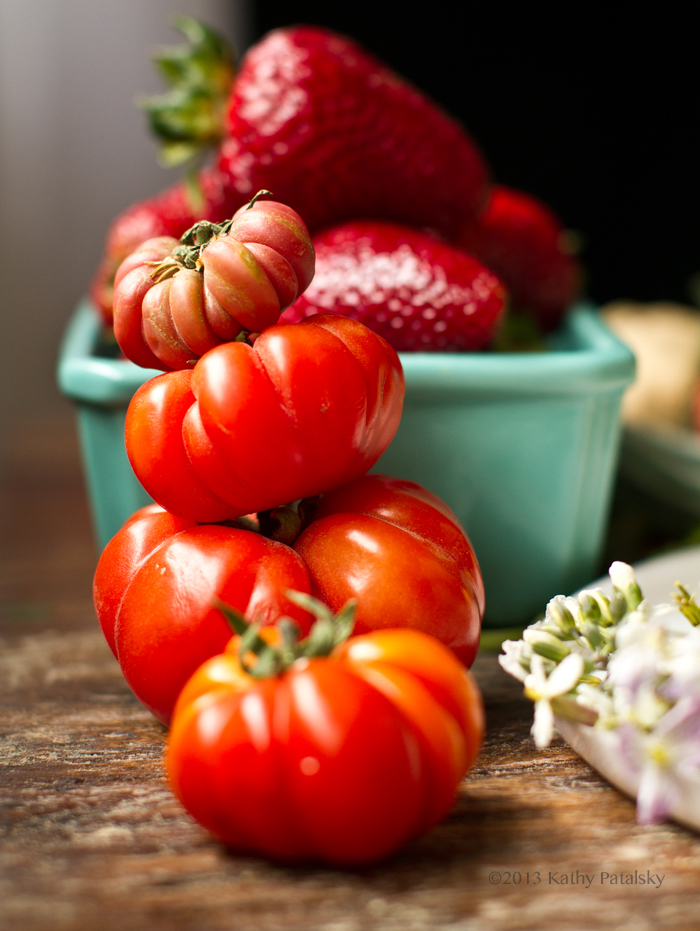 Green + Red. Served as a fruit salad..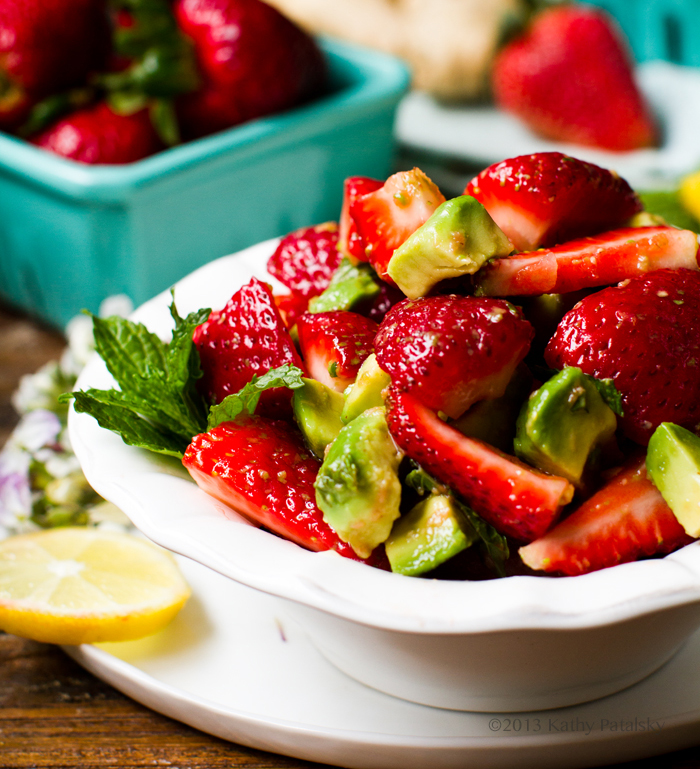 More Farmer's Market tomatoes. Not in this recipe, but they certainly could be added!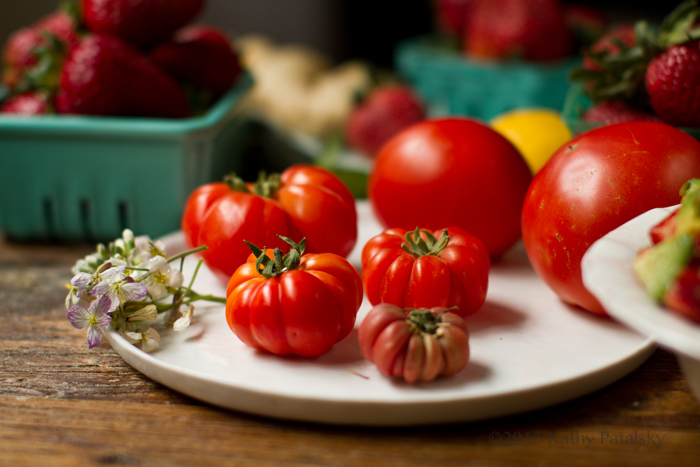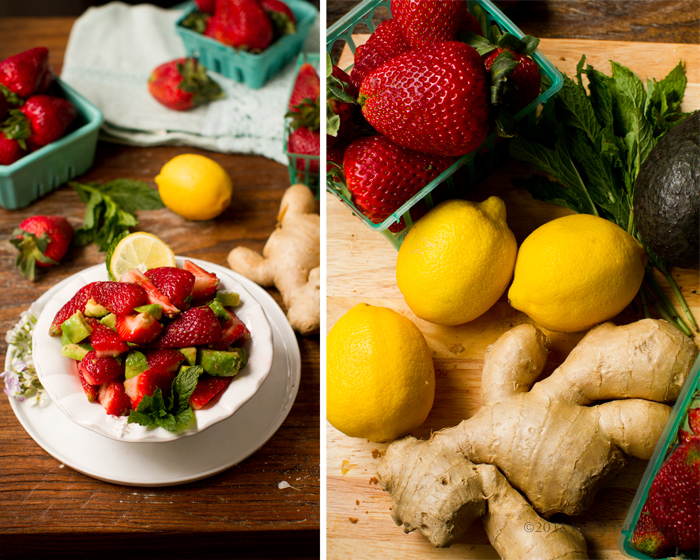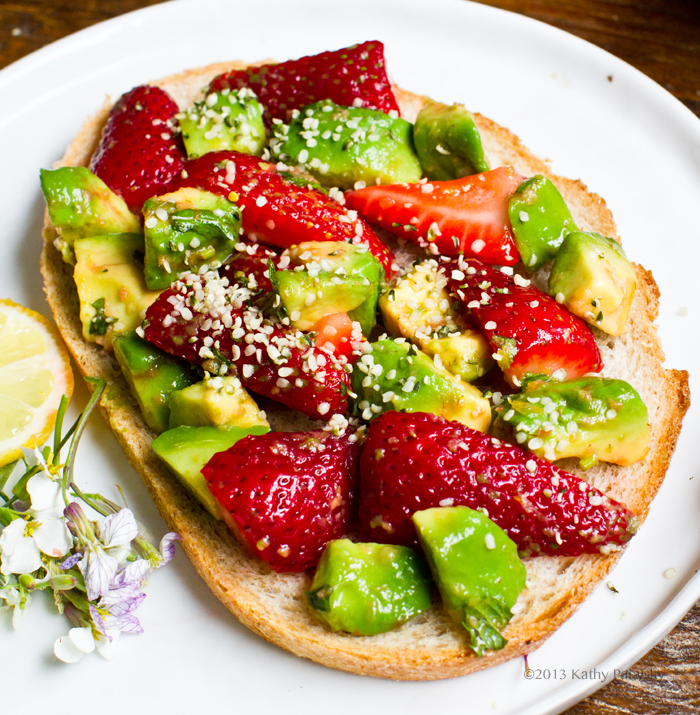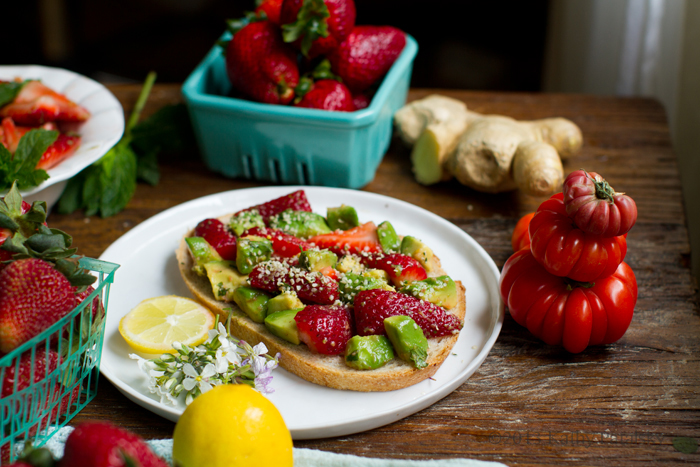 Farmer's Market Sunday. Busy blurry weeks. Jumbled plans. Chaotic schedule. Whenever things get crazy busy (work & personal, because for me they really do blur together) I simply cannot WAIT for the weekend. Because I know that no matter how busy I am and no matter how long my to-do list may be, when the fuzzy peach sunrise melts across a powder blue morning sky on Sunday morning I am free. There is nothing that can get in the way of a sacred Sunday when computers can be closed and reusable shopping bags opened – to fill with piles of fresh Farmer's Market produce. Coffee or matcha tea on the way home and nibbling on fresh berries all day long. Work, sure, but only by choice.
That was this Sunday, and I am happy to share my peaceful space with you. Not sure why, but fresh berries, all shiny and sweet, fresh tomatoes in all shapes and sizes, fluffy kale, and bunches of fresh herbs just seem to make everything right in the world. Instant happiness via fresh produce and greens and flowers. I guess I can thank Mother Nature for those gifts.
Also on Sundays, a perfect time to reflect on yourself. Your place in this fast-moving world. Your mood, energy and attitude. To listen to the conversations that take place in your head as well as with other people. Today's mantra:
-> Practice shaking off negativity the way a wet dog shakes off water. And absorb positive thoughts & interactions like a sponge! #Happiness— Kathy Patalsky (@lunchboxbunch) April 14, 2013
Other weekend awesome-ness: Lunch at M Cafe. Vegan "Club" Sandwich + M Tonic Juice & Sweet Potato Fries..
And trying on all my Vaute Couture goodies..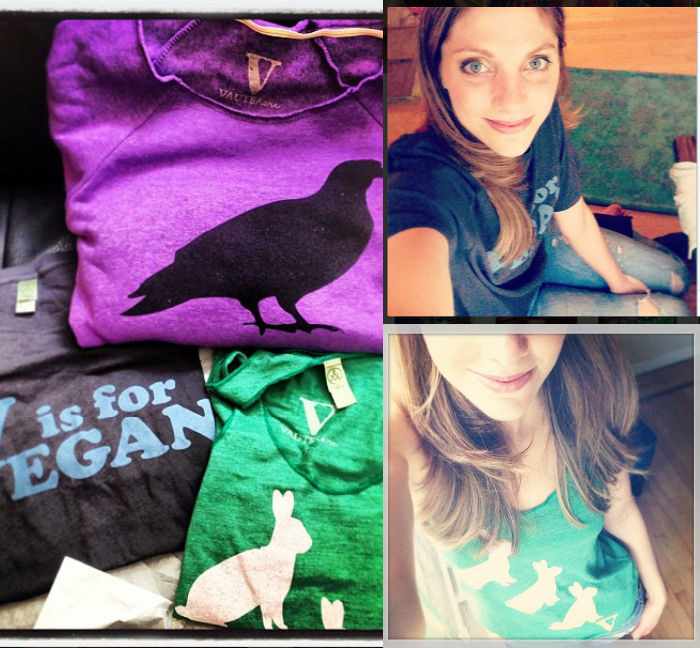 And the recipe.
Fresh Ginger. I have been grating fresh raw ginger on my salads, in my miso soup and over top just about everything lately. (Ginger + lemon + roasted beets = YUM!) Raw ginger is warming and soothing. Stimulating yet settling. I love it. And fresh ginger pairs so nicely with sweet strawberries. This fruit salad and sunny day lunch/breakfast or brunch tartine is one to crave. Easy to make!..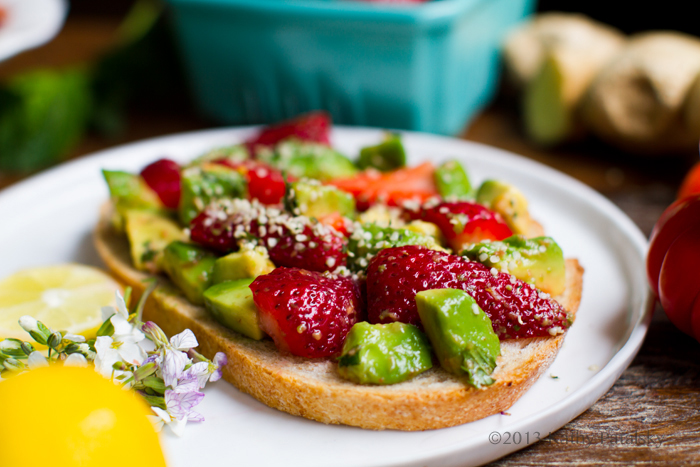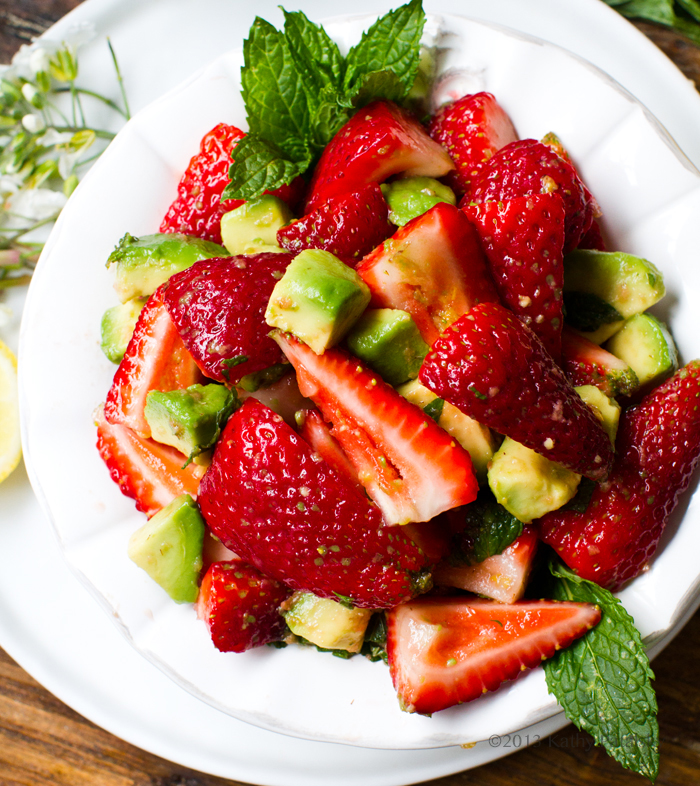 wheat sourdough. luckily, I am someone who CAN handle a little gluten (gf folks, use gf bread)..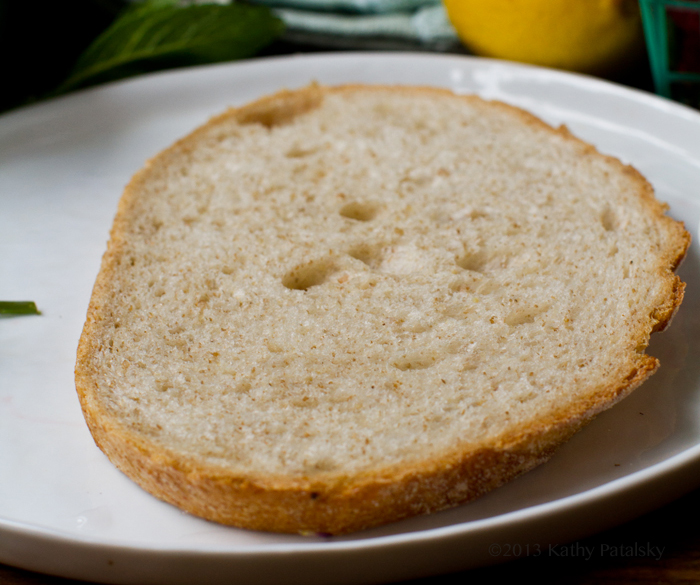 More hemp seeds please..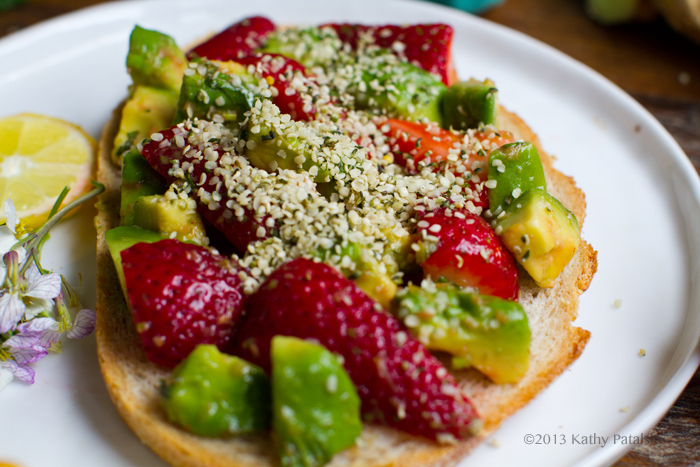 Ginger-Mint-Lemon Strawberry Salad Avocado
vegan, makes 4 ¼ cups
3 cups fresh organic strawberries, sliced
1 small avocado, diced
1 large or 2 small lemons, squeezed + pinch of fresh lemon zest
⅛ teaspoon fresh raw ginger, grated with a microplane
splash of grade B maple syrup (optional)
1 tablespoon fresh peppermint, finely chopped + a few leaves as garnish
2-3 tablespoon raw organic hemp seeds (optional)
for tartines: add your favorite toast to serve (optional: drizzle of your favorite oil like macadamia nut, pumpkinseed or EVOO)
(You could also do "deviled avocados" and stuff avocado halves with this fruit salad – hemp seeds on top!)
Directions:
1. Wash and slice berries, removing tops. Place in large mixing bowl.
2. Add diced avocado, lemon juice, ginger, mint and maple syrup.
3. Fold well. Let marinate at least a half hour for best flavor. I place in fridge to marinate and chill.
4. Serve!
Ideas:
* Add hummus to your toast before adding the berries and avocado salad on top.
* Try sprouted grain toast for extra nutty flavor.
* Add raw walnuts for an nuttier salad.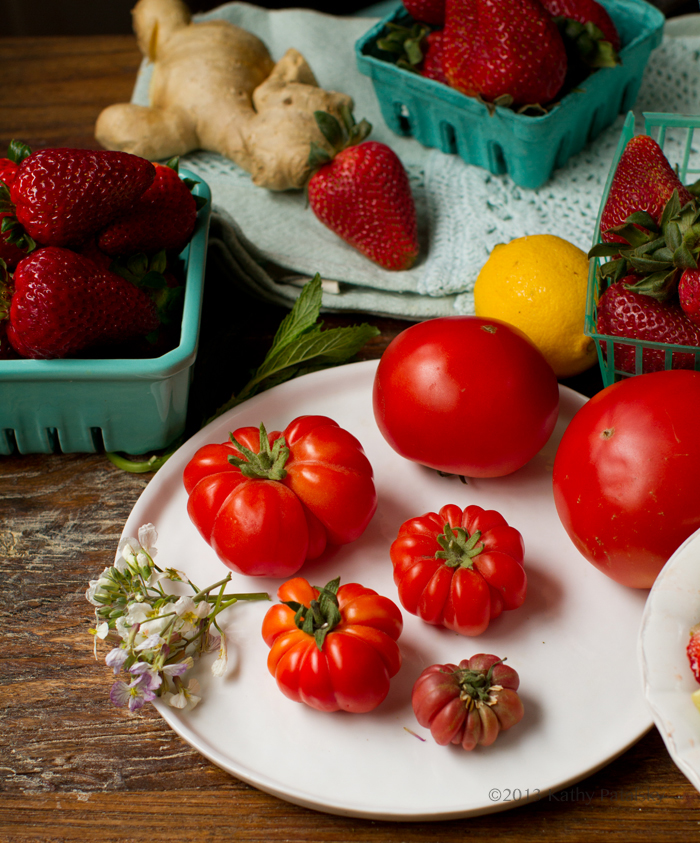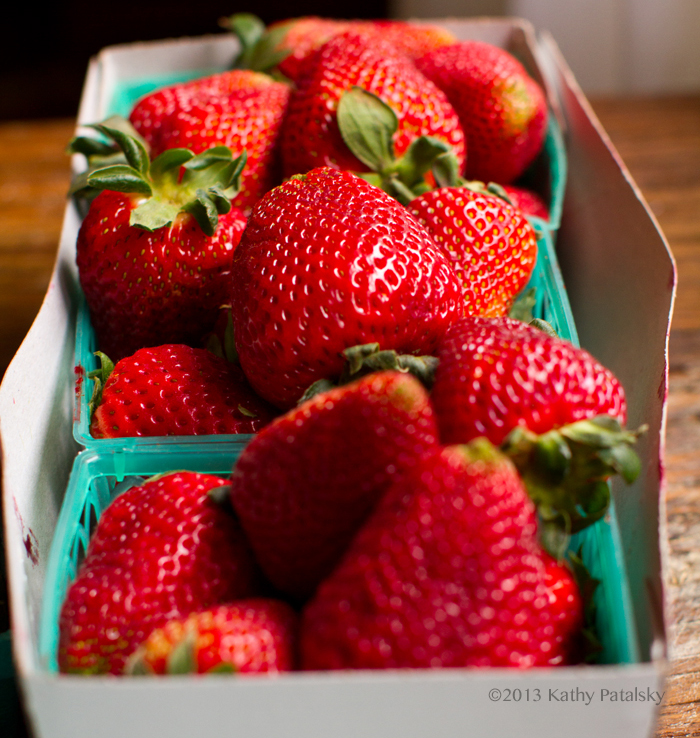 baby tomato…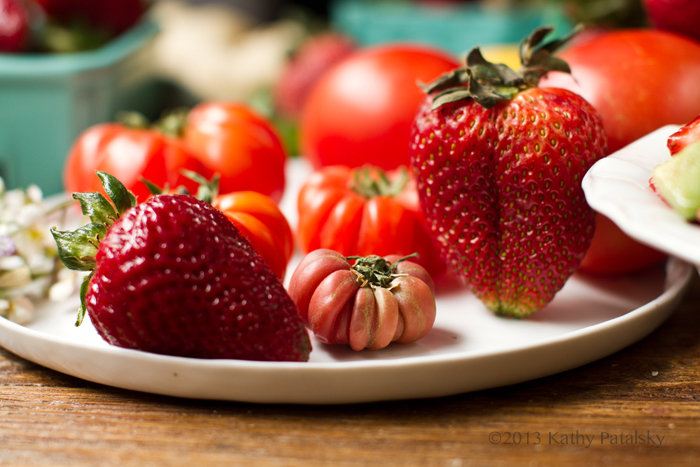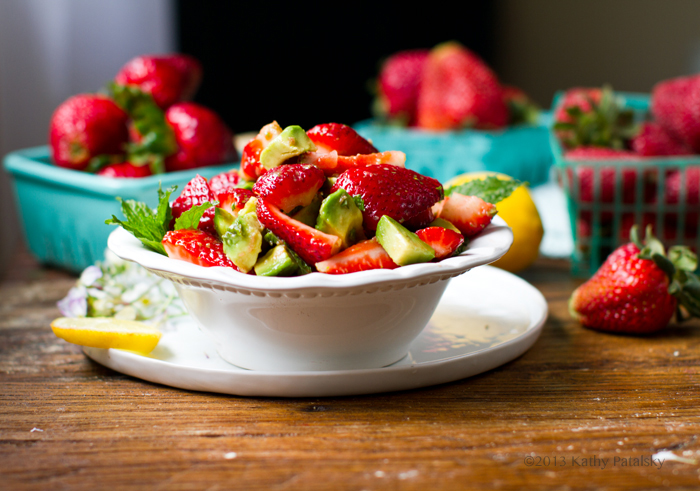 Also try my Strawberry Heart Avocado Salad!