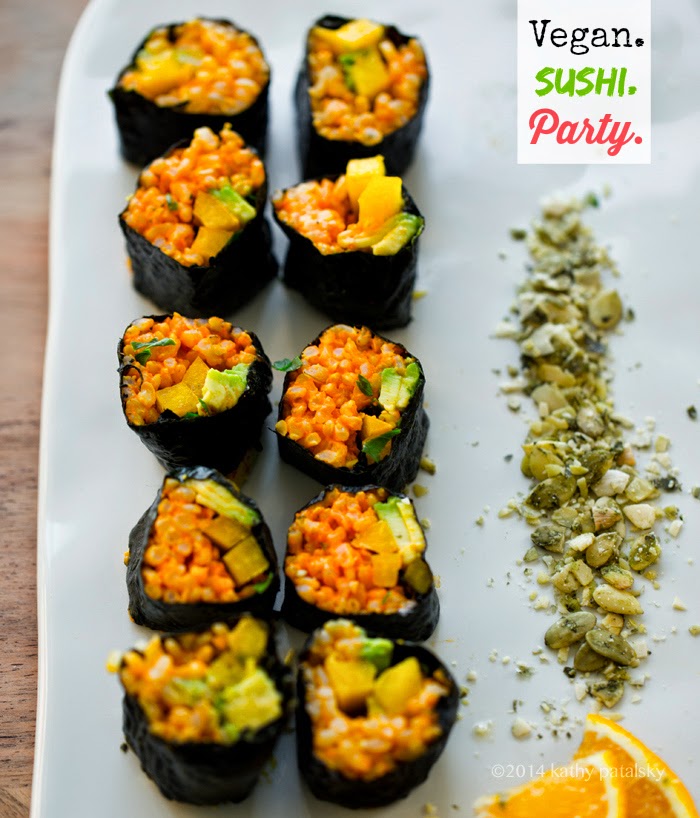 Hooray, I am no longer a sushi-making virgin! And my first thought after taste-testing my homemade vegan sushi, "What took me so long to try this??"
..It was that darn bamboo mat. I was convinced that I needed to own a bamboo rolling mat to make sushi! (more on that later)
My Golden Avocado Sushi Roll is so easy to make and big on flavor and healthy benefits. My special turmeric-infused brown rice (love the perky golden color!) leads the way, with accents of crisp yellow bell pepper and buttery avocado. A hint of sweet, tamari, ginger and citrus too! So grab some nori wraps from the store and start steaming some brown rice because today we make sushi!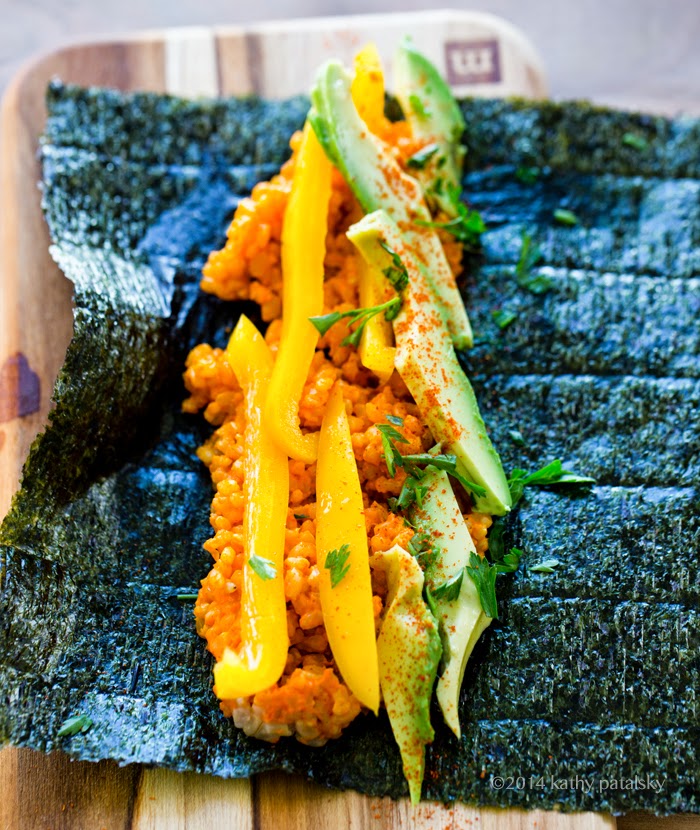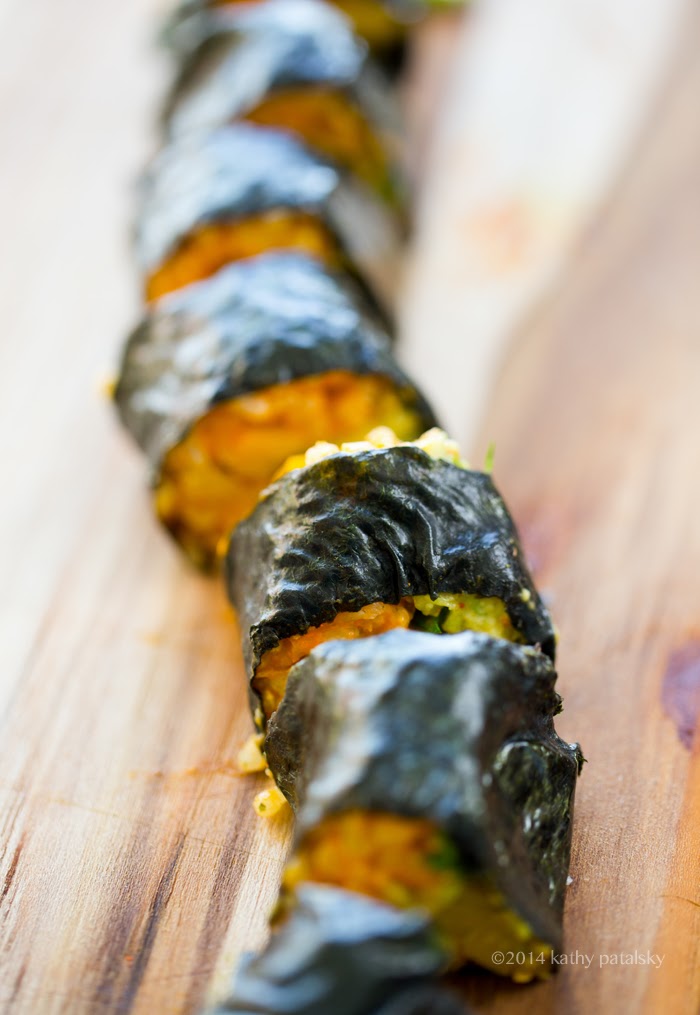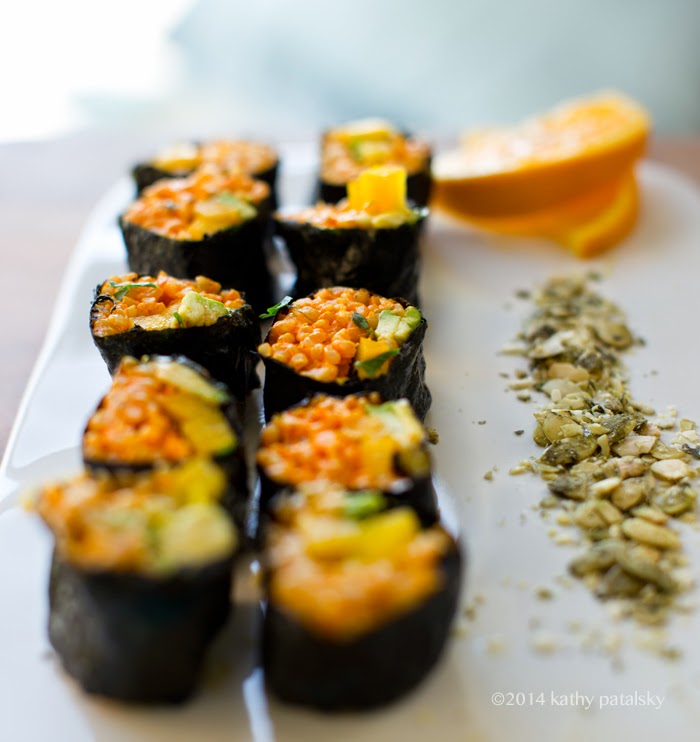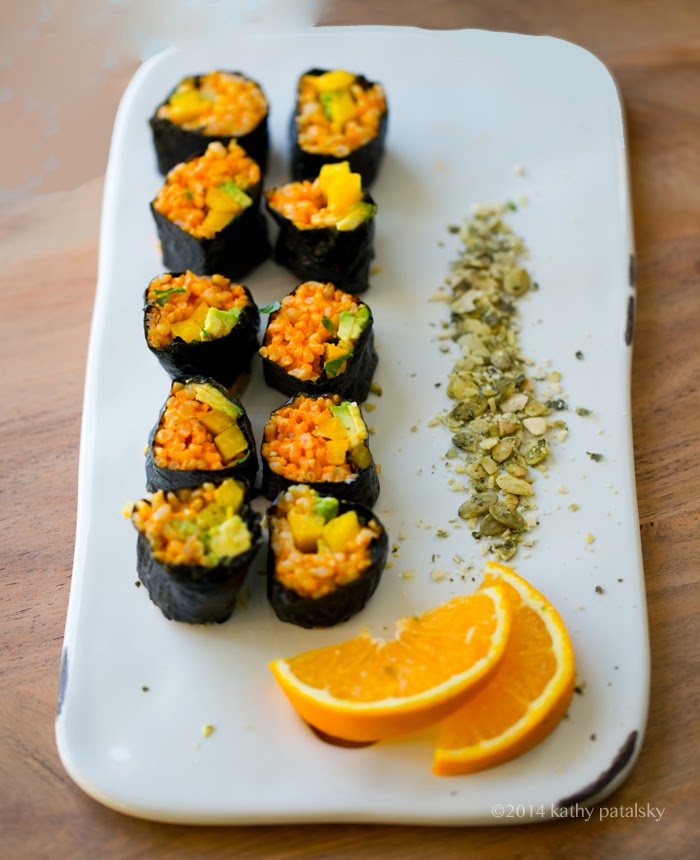 New. New. New. I am so excited that THIS finally happened. KathyPatalsky.com A place for all my stuff! I will post new projects, news and more on this site where you can stay "in the know" about what I'm up to! And the site is still evolving. I hope to put a spot for videos and a few more goodies in the future.
Today is a party. A sushi party. Sushi night at home, as I have discovered, is super fun! In our house we always get excited for homemade pizza night because adding the toppings and slathering on sauce is not just about the meal, but about the creative, hands-on process. Sushi-making is like that too! You select some fave ingredients and let your creativity lead the way. I mean have you checked out a real sushi menu lately? There are usually like a ba-zillion roll offerings, all with crazy/creative/fun names. That is because, clearly, the sushi chef had loads of fun creating unique rolls and names for them.
Well now its your turn! And the best part about these rolls is that they are plant-based, vegan, stuffed with healthy, happy ingredients.
Now really I could probably write an entire book on vegan sushi recipes. The combinations are endless. Hmm.. 365 Vegan Sushi Rolls? Ha. Anyways, I love creative-type cooking techniques and homemade sushi is just that!
So a few starter points:
* Do I need a special sushi-rolling bamboo mat? No. Though they probably help a bit with the shape of the roll (perfectly round vs. square-ish) and they are the traditional way of rolling, you do not need one. Your hands and fingers will do just fine.
* What type of seaweed is best for the rolls? You can find a variety of brands, but basic nori wraps are what you are looking for. I used Eden brand. Whole Foods has a nice handful of brands or you could buy them online.
* Special tools? Again, I do not see a bamboo mat as a "must have" tool. But if you have one, go for it. A sharp knife really helps with slicing the rolls. If your all purpose knife is not very sharp, try using a bread knife. It may help you have a bit more control when slicing so that the knife doesn't just smush all the ingredients out to one side, since the nori can be quite chewy and tough to slice at times. The Eden brand nori wraps have nice perforations to help with the slicing.
* Is this recipe traditional sushi-making? NO! And that is fine with me because my sushi tasted quite yummy. And it was so easy! After the rice was cooked I made these rolls in under ten minutes, including all the veggie prep.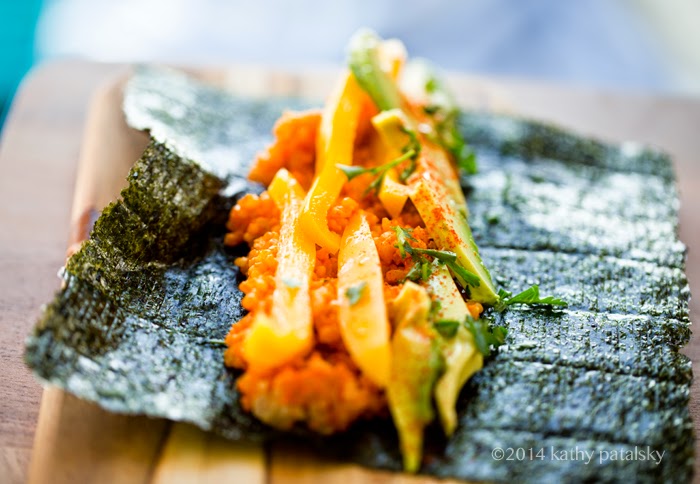 Vegan Sushi 101
What you need..
rice: short grain. (brown or white)
veggies: sliced long and thin is best! choose a variety and get creative!
other fillings/toppings: tofu, tempeh, sesame seeds, fruit, other seeds/nuts..
flavors: ginger, wasabi, tamari, citrus, spices, fresh herbs…
wrap: nori wraps.
Rice: The rice is an important part of sushi since it is the glue that really hugs all those veggies and filings together. Traditional sushi rice is made using white short-grained "sushi rice" and accented with rice vinegar, a hint of sweetener and salt. For my untraditional sushi rice, I would by default use brown rice and add a splash of seasoned rice vinegar, maybe a few drops of sesame oil too. But for this recipe I put my creative hat on and added some spices and citrus. Again, sushi is so much better when you get creative!
For "rice" try these: short grained brown rice, white sushi rice, quinoa, cauliflower rice, cracked farro.
Fillings: So, so, so many options here. Veggies, fruit, tempeh, tofu, smashed beans, lentils, sauces, nuts, seeds, herbs and on and on. Just like making a salad, you can create so many different variations.
Rolling: Once you have your rice and fillings you can start! Lay the nori roll on a flat, dry surface. Add a thin layer or rice over about two-thirds of the surface. Smooth it out. Then add the fillings on top. How much to add? After your first roll you will get a feel for the right amount to prevent overflow while still having a hearty roll. Simply use your fingers to roll the wrap tightly like a burrito. Let the roll sit for about two minutes before slicing. This gives the roll time to hydrate and soften a bit from the warm rice and veggies. Then slice into one inch thick rounds. Boom you are done!
Now for today's recipe rich in healthy fat avocado, crunchy vitamin-C rich bell peppers, healthy detoxifying nori and anti-inflammatory spice turmeric!..
Golden Avocado Sushi Roll
By Kathy PatalskyPublished 05/10/2014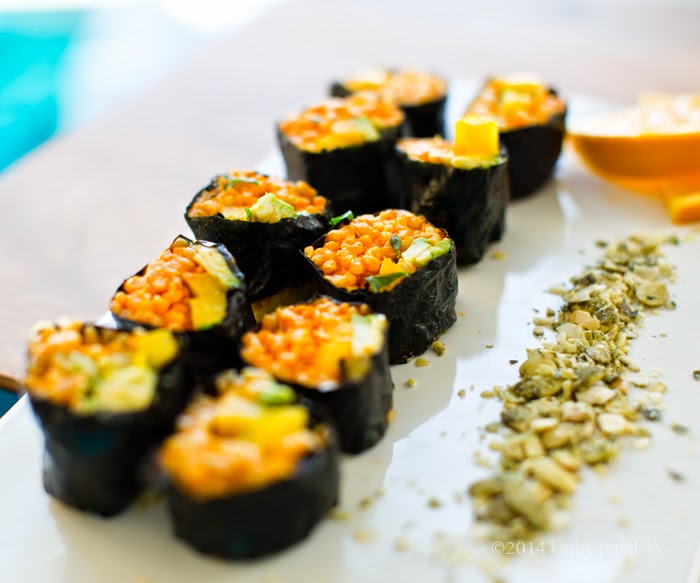 My special turmeric-infused brown rice (love the perky golden color!) leads the way, with accents of crisp yellow bell pepper and buttery avocado.
Ingredients
2 nori wraps
1 cup cooked brown rice, short grain
½ teaspoon tumeric
¼ teaspoon tamari
2 teaspoon maple syrup, grade B
½ avoado thinly sliced
8-10 strips bell pepper, thinly chopped
2 teaspoon fresh orange juice (sub seasoned rice vinegar)
pinch ginger, grated
pinch flat leaf parsley, finely chopped
pinch cayenne (optional)
2 teaspoon pumpkin seeds (optional)
Instructions
In a small bowl, combine the rice, turmeric, maple and tamari. Toss well until the rice is bright orange.
Lay a nori wrap flat and spread ½ cup of rice over about two-thirds of the surface, on one side. Add about a few avocado slices and 4-5 bell pepper slices. Drizzle one teaspoon of orange juice over top and add the optional ginger, parsley and cayenne.
Tightly roll the nori into a burrito shape with open ends. Let it sit for at least two minutes before slicing. Slice roll into one inch thick rounds and turn on their sides to arrange the rice facing up. Serve with tamari, wasabi and ginger if desired. Or just a few orange slices. Pumpkin seeds: you can sprinkle these over top the rolls, along the side or inside as desired.
Yield: 2 rollsCook time: 30 mins. Total time: 30 mins.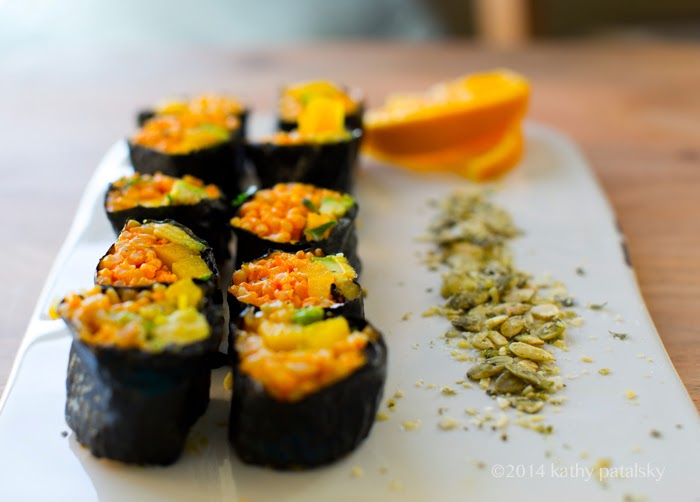 turmeric rice