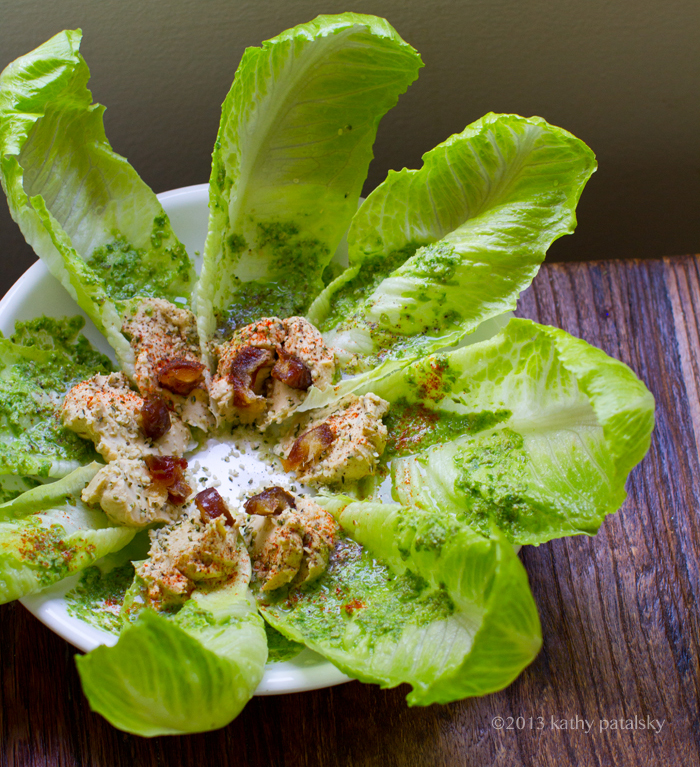 So I had this romaine. Romaine lettuce that I picked up at the organic Farmer's Market, the market held every Saturday in Santa Monica. Oh my this romaine. I spotted it perched on a table, piled on top of ten or fifteen other glossy green lovelies just like it. Gorgeous, fluffy, sprawling leaves of spring green so crisp and fresh that you could easily munch them down leaf by leaf. No dressing required. So for this recipe I didn't want to do to much to these leaves. I couldn't even bare to chop them up!
Green Princess (Or Prince) Plate. I topped each spear with fresh chive hummus. Then a bit of chopped Medjool date to sweeten each bite. Cayenne. Pepper. And I needed a homemade green dressing. And everyone does "green goddess" so I decided to do Green Princess Dressing since this plate is just so pretty. Lemon, pumpkin seeds, white miso paste and some raw hemp seeds. No oil added. Light and refreshing with spring lemon zing. I actually devoured this plate for breakfast it was so irresistible!…
It all starts with a fluffy head of organic lettuce..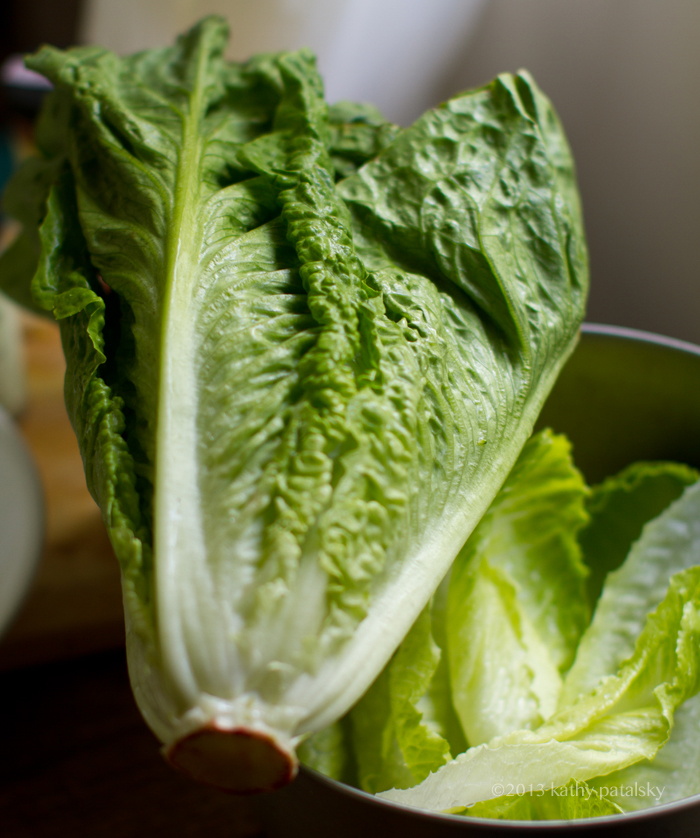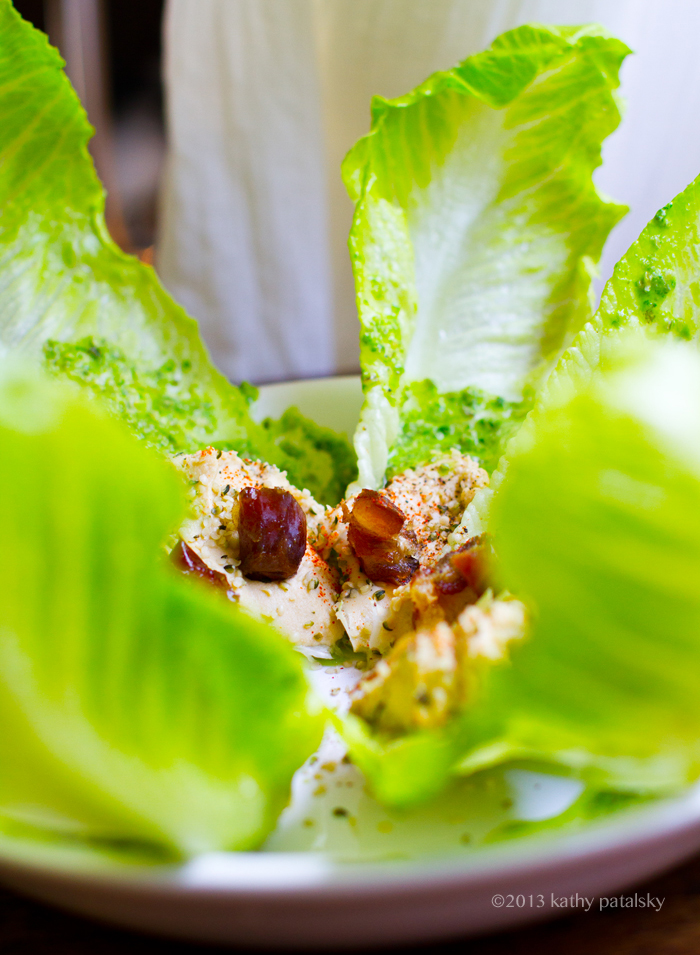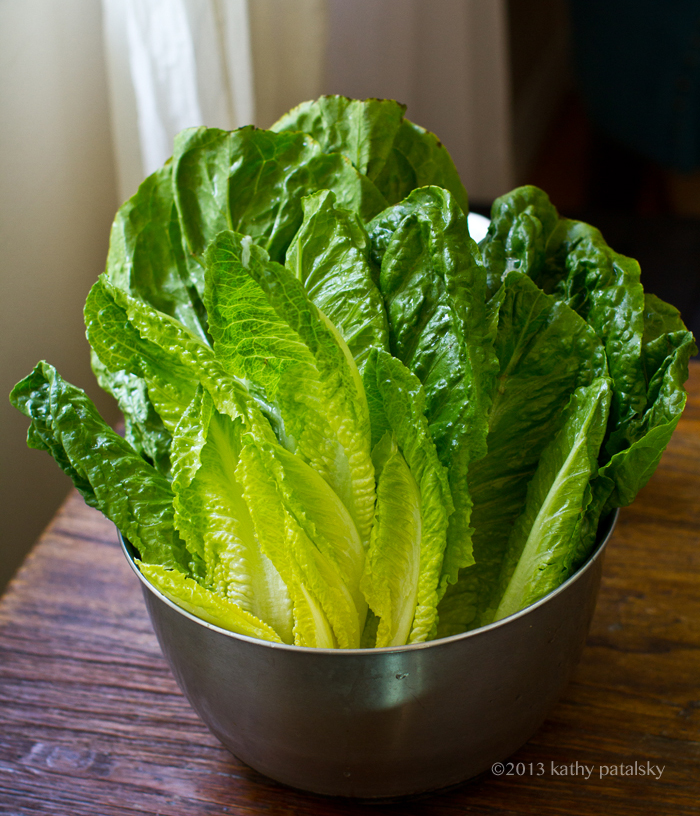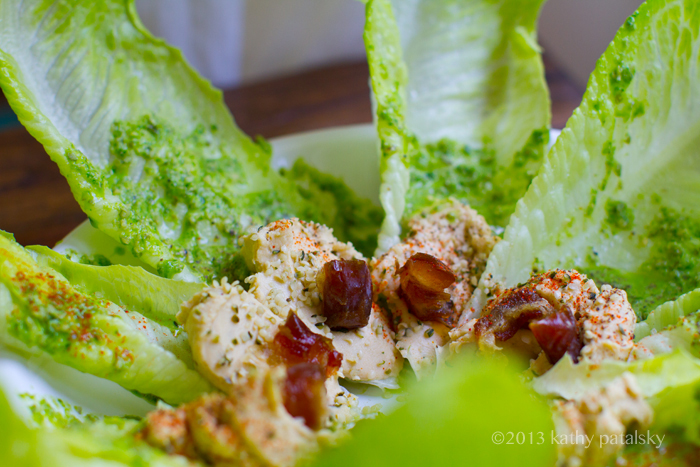 No Dates? You can use any sweet accent. Try organic raisins, chopped apricots or your favorite fresh fruit like blueberries, banana, apples or pears.
Princess Dressing – classic version: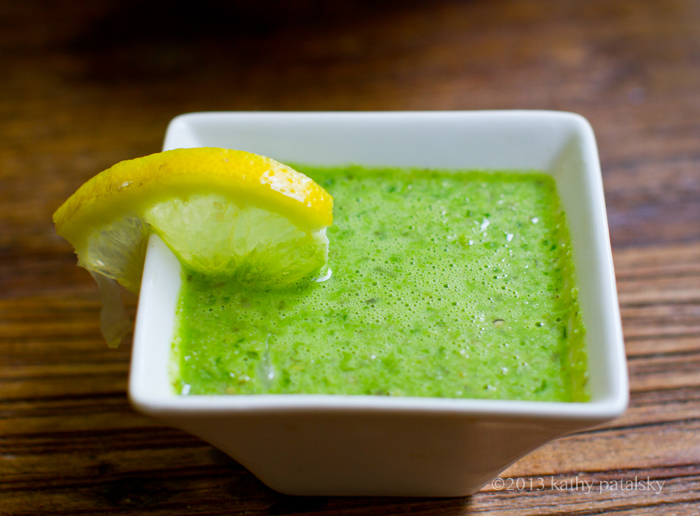 I loved this dressing SO much that I made a "creamy version" of it that night for dinner…
creamy version dressing includes avocado: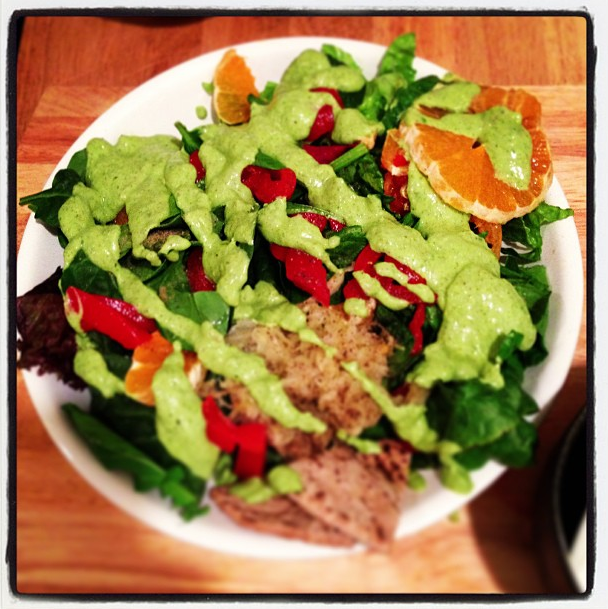 All hail the mighty romaine leaf. (Not just All Hail Kale!!) – a la Veggie Grill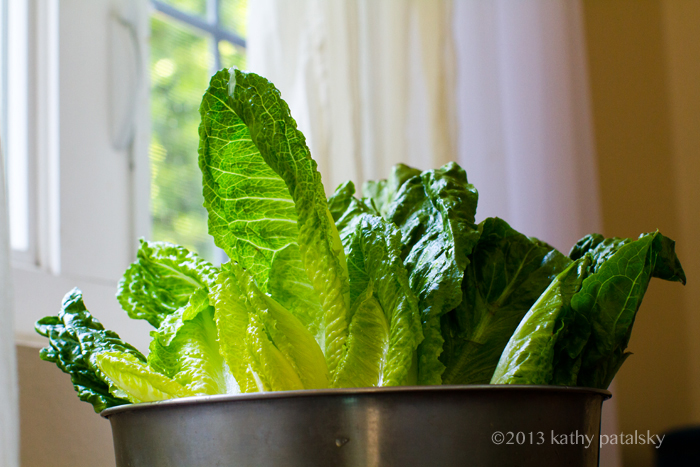 -> Romaine might be better for you than you think.
Compared to the dreaded "iceberg" lettuce..
* Romaine lettuce is rich in vitamins A, C, K and folate. It is a good source of iron, potassium and manganese.
* Iceberg lettuce has a nice dose of Vitamin K and Manganese … but that's about it.
More stats (per 100 grams)..
Romaine: 17 calories, 0g fat, 1g protein, 2g fiber
RDA's based on 2000 calorie diet.. 147% Vitamin A, 128% Vitamin K, 34% Folate, 40% Vitamin C, 5% Iron, 3% Calcium, 7% Potassium, 8% Manganese.

Iceberg: 14 calories, 0g fat, 1g protein, 1g fiber
RDA's based on 2000 calorie diet.. 10% Vitamin A, 30% Vitamin K, 7% Folate, 5% Vitamin C, 2% Iron, 2% Calcium, 4% Potassium, 6% Manganese.
nutrition data source: nutritiondata.self.com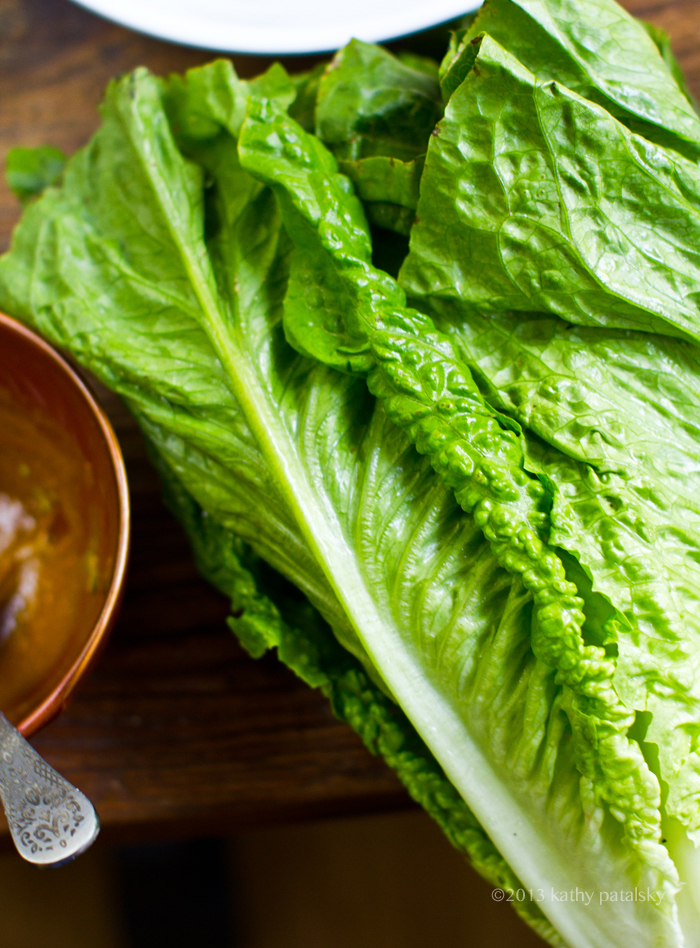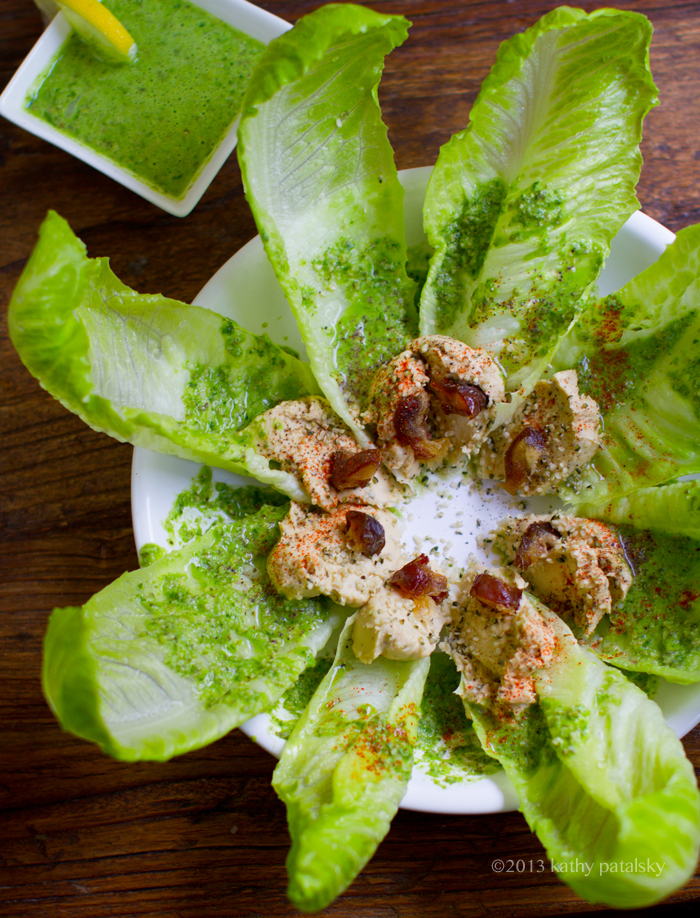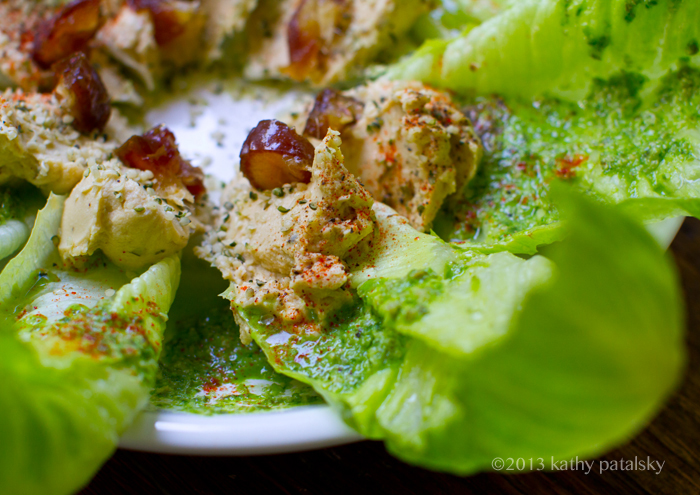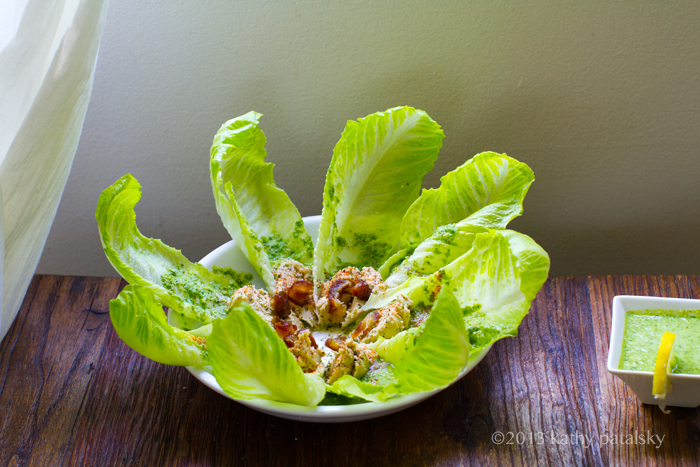 Creamy version dressing -> add 1 small avocado or ½ large avocado to blender!
Green Princess Plate with Dressing
By Kathy PatalskyPublished 04/23/2013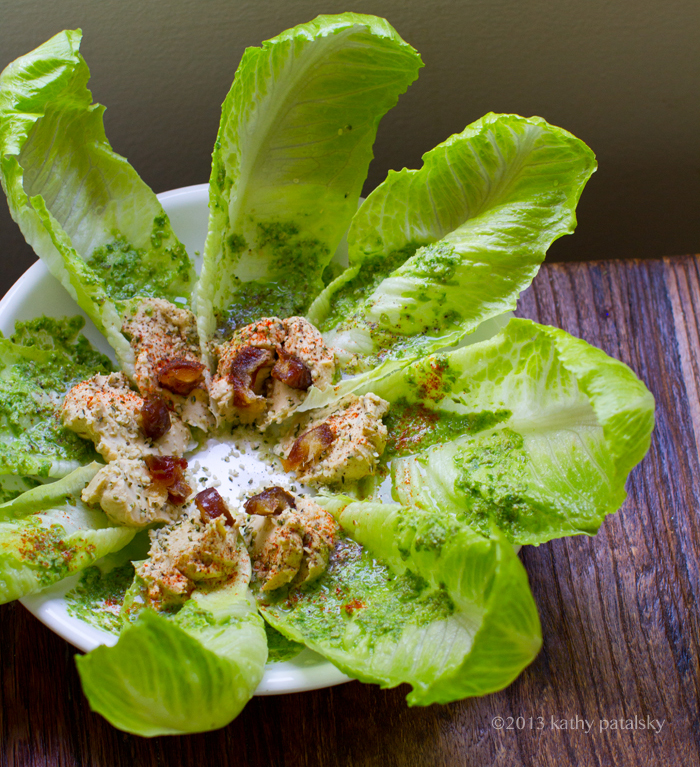 This spin on "green goddess" dressing includes creamy homemade hummus, sweet dates and loads of green goodness from fresh romaine lettuce spears and a dreamy green dressing.
Ingredients
10-12 spears of romaine lettuce, organic (the smaller the better for bite-sized pieces)
½ cup homemade hummus – here
1-2 Medjool dates, pitted and chopped
a few pinches of smoky paprika or cayenne powder
½ cup of green princess dressing (ingredients below)
Green Princess Dressing:
1 cup fresh basil leaves (big handful)
⅓ cup raw pumpkin seeds
1 tablespoon raw hemp seeds
2 teaspoon white miso paste
3 tablespoon fresh lemon juice
1 clove garlic
pinch of black pepper to taste
add water or more lemon juice as desired to thin out dressing
Instructions
Add all dressing ingredients to a blender or food processor. Blend on low until thin and textured. Slightly creamy, but more of a dressing texture than a 'pesto'.
If making your own hummus, it is best to have it premade and chilled in the fridge for a few hours so it dollops well on the spears.
Remove pit of date, chop into bits. Rinse romaine leaves in ice cold water to freshen.
Easy set-up. Add hummus to ends of leaves and place in serving dish. Add date bit, dash with pepper and cayenne. Fill serving plate in a flower-design with hummus-topped spears. Drizzle a generous amount of dressing over top and feel free to dip the spears in leftover dressing as you eat. Enjoy!
Yield: serves 1-2Prep Time: 00 hrs. 15 mins. Total time: 15 mins. Tags: salad,appetizer,green goddess dressing,salad dressing,green,romaine,dates,hummus,raw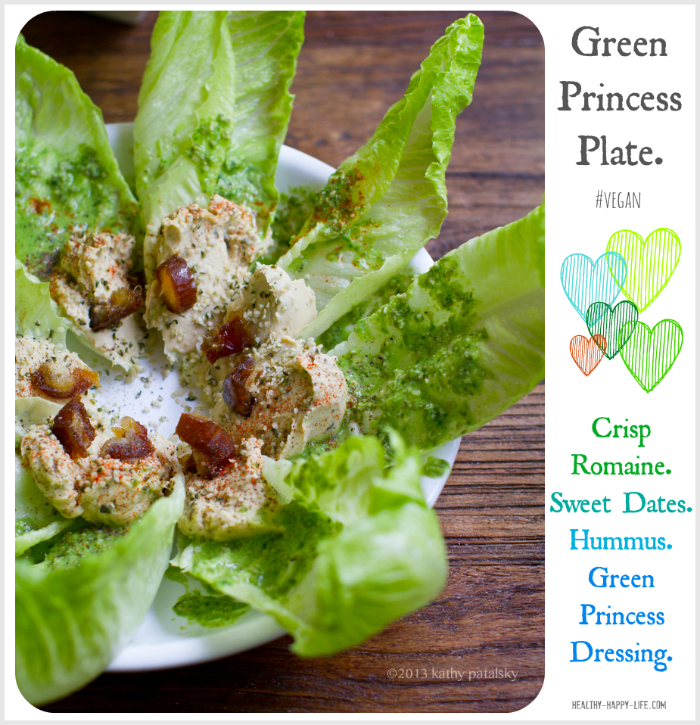 SNEAK PEEK! I paired this salad with an upcoming recipe… avocado bliss…