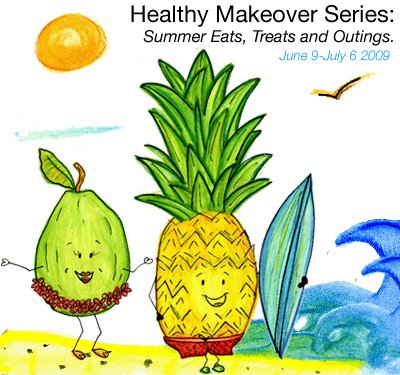 Campfire smores, picnic sandwiches, summer fruit cobblers, frosty milkshakes, beach-side barbecues, pink popsicles, lemonade frosties, ballpark nachos and sidewalk pretzels (with extra mustard), boardwalk french fries, thin crust pizza and even a sunny Sunday champagne brunch. Everyone's favorite season just wouldn't be the same without these tasty summer eats, treats and outings. But most of these traditional favorites will leave you feeling not-so-beach-ready. So I'm changing that with my healthy makeovers summer series! Get ready to indulge this summertime!
Healthy Summer Series. Over the next few weeks I'll be posting healthy vegan makeovers for all our favorite summertime eats. An abbreviated schedule is posted on the right side of this page. Continue reading for the detailed schedule so can get your tummy growling to tune in and taste summer! And vote for the readers choice post….
Healthy Makeover Series: Summer Eats, Treats and Outings
6/9/09 Introduction. Series Schedule Announcement
6/11/09 A Parade of Picnic Sandwiches.
Three vegan sandwiches perfect for your to-go picnic lunch. Farmhouse Jack, Chicken-less Salad and a surprise sandwich will grace this sunny post. All are healthy, happy and fabulous!
6/13/09 Summertime Sippers: Cashew Slushee, Frosted Lemonade, Sangria, PBB Milkshake.
Healthier versions of three classic summertime beverages. Included in this post: my unique cashew juice slushee, frosted lemonade, fruity sangria spritzer and a peanut butter milkshake to die for! All vegan and ice cold!
6/16/09 Boardwalk fries and boardwalk pizza.
Salty thick-cut french fries just like you remember them, only this time, a whole lot healthier! And you know that thin crust greasy cheesy boardwalk pizza you hate to love? Well now you can have it…without all the bad-for-you grease.
6/19/09 Beach side Barbecue: Campfire Smores and Burnt Bottom Soy Dogs.
Whip out the roasting stick or scavenge the beach for a sturdy branch because it's a firefly night at the beach for dogs and smores. All vegan. All black-charred.
6/22/09 Fresh Picked Desserts: Fruit Tart and Seasonal Special.
Who says the only good desserts are made with chocolate? Not me. These sweet treats will leave you with a warm fresh-fruit glow and are the perfect end to a summertime meal.
6/25/09 Ballpark to Sidewalk: Nachos and a Giant Pretzel.
Yup, even the greasy starchy pretzel and nachos can get a healthy vegan makeover. You don't want to miss this snackable post.
6/28/09 Sunny Sunday Brunch.
The name says it all! And it's going to be a healthy celebration without all the busted gut blues at the end.
7/4/09 4th of July Celebration: Red White and Blue Menu!
You'll have to tune in to see all the fabulous surprises I have in store for this summer fun holiday. Let me just say it's going to be healthy, vegan, fun creative and oh yeah, delicious. And my favorite firecracker red, white and blue Popsicle just might get a healthy vegan makeover with a red-white-blue twist to my morning smoothie…
7/6/09 'After-Party' Readers Choice! The Winner: BBQ Tofu and Tempeh!
See the poll below and see who the nominees were…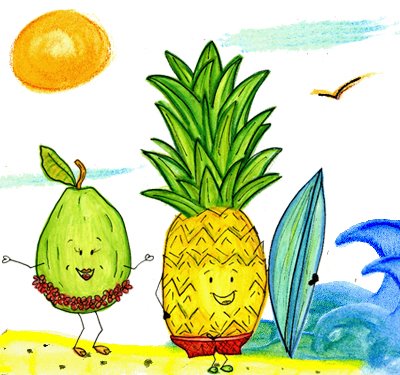 Are there any favorite summertime treats you have that you don't see on this list???
Let me know in the comments section.
Happy Summer!