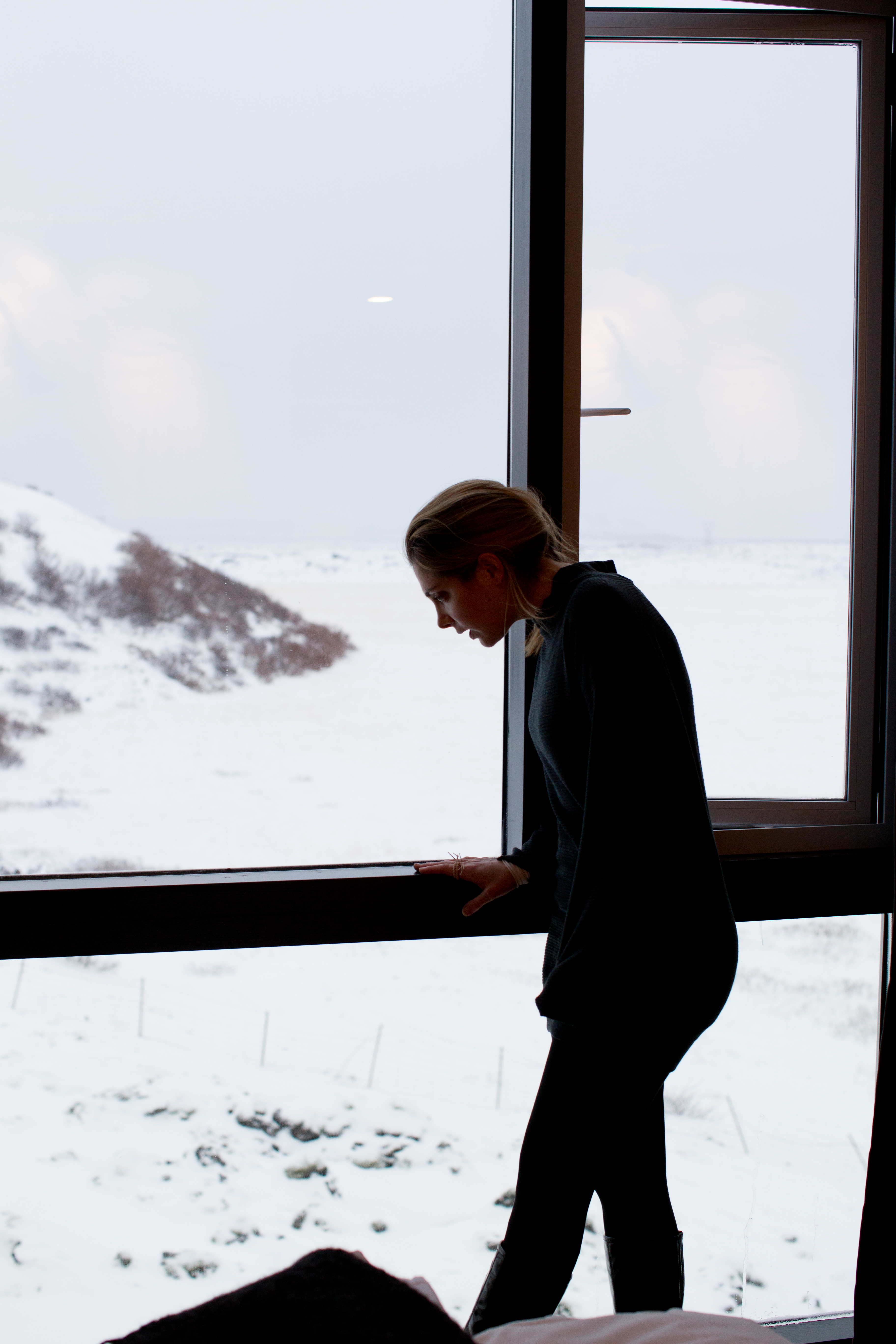 A few weeks ago, my husband and I took a trip to Iceland! "Iceland?" You ask. Yes!
We had been wanting to travel there for a few years and with some pretty amazing airfare rates, and tourism booming, aka loads of travel-inspo in Instagram, we decided to take the frosty winter plunge into the land of ice and fire and all things magical. We had visions of snow, northern lights, blue lagoons, wintery horses and Bjork dancing in our minds.
Iceland as a destination felt adventurous, yet welcoming. A bit of unknown yet small and accessible. Would we love it? Hate it? Be bored? Ha! Sometimes the funnest part of travel is not knowing exactly what to expect. So with that, let me take tell you why I can't wait to return to Iceland! 10 Things I Loved About Iceland..
Welcome to Iceland!
Says Mr beautiful Icelandic horse. I will name him Butterscotch because just look at him..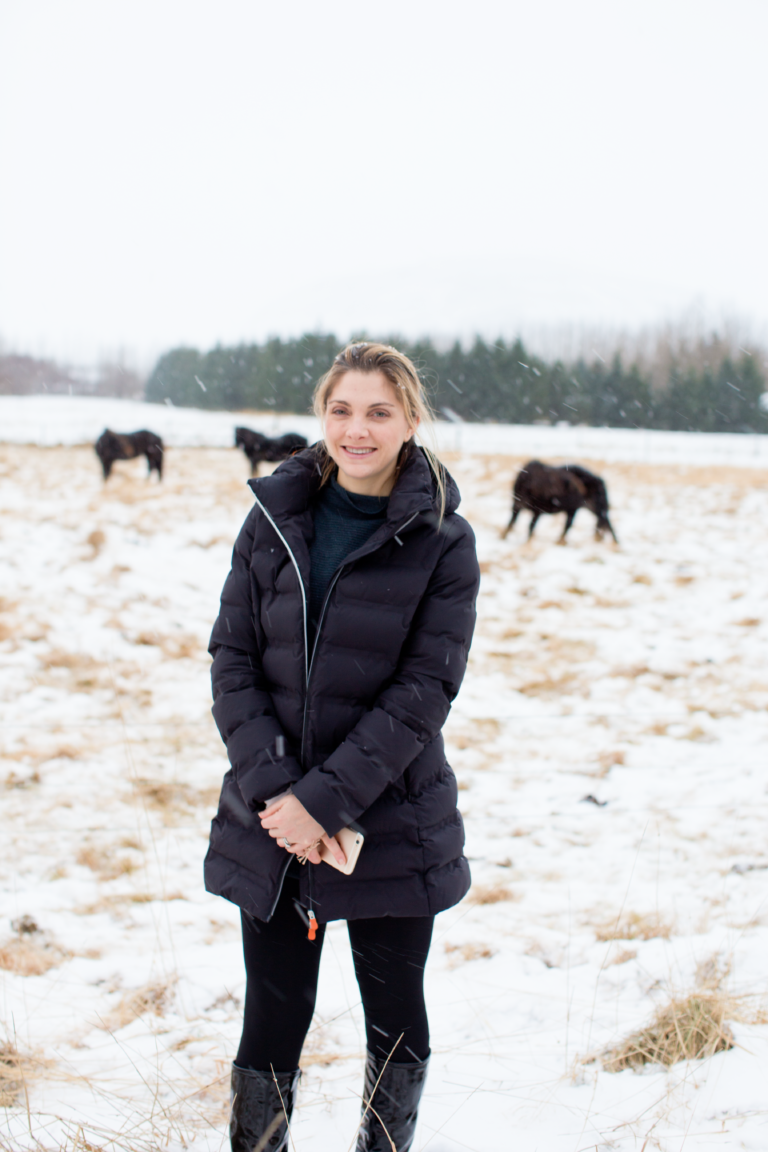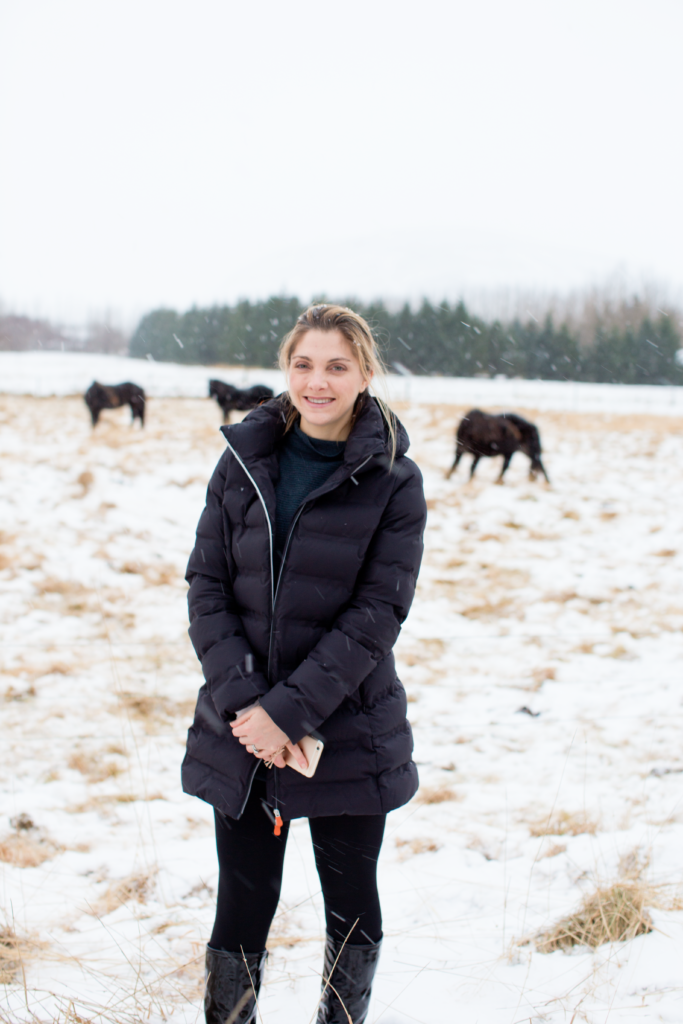 My favorite moments from the trip were hanging out with these cuties, the Icelandic horses … during a bit of snowfall!

View during our drive to the ION Hotel.. Lake Þingvellir.. (And please don't ask me to pronounce that..)

Cutest streets to stroll in Reykjavik.. (RAKE-ya-vik)

More Icelandic horses, yes I'm obsessed..

The Trip Begins. Our WOW Air flight took off from Stockholm, Sweden where we spent a few days exploring. Read about that leg of our trip here.
We landed in Iceland just as the sun was dipping down low on the horizon .. aka 4pm. I was beyond jet-lagged, even after a few days of travel, and completely passed out during the short flight. I awoke as the wheels of the airplane scraped abruptly across the runway. My head bobbed up and my eyes flashed open. In front of me, the WOW Air flight attendant was posturing herself for unloading. I swung my gaze over to the window and saw black rocky land with some army green colors and a bit of white. But really, all I noticed was that glistening, blinding sun all golden and sharp, sinking down into the horizon. We had just arrived, but in Iceland, the daylight was just ending.
We scurried ourselves through the terminal and found our pre-booked Greyline Shuttle that would take us directly to our hotel, the Hilton Canopy. When choosing our hotels in Iceland, I really had no idea which to choose. There are not many familiar brands and the reviews all sounded muddled together and similar. So I just took a guess. We were staying at two different hotels for one night, then one hotel for two nights. So, yes a quick but jam-packed first trip to Iceland.
We climbed onto the airport shuttle. The airport was a good 45-60 minutes away from our hotel. During the drive, I scanned the coastline, saw giant glaciers in the distance and watched as the sun dove deeper into the earth.
By the time we arrived to our hotel, the sky was a hazy blue and the sun was nowhere to be found. We rushed to settle in, change and grab a bite to eat at Joe and the Juice, just across the street. We were rushing because our Blue Lagoon shuttle would be picking us up any minute! But overall I was super happy with our first hotel. I loved this little neck of the woods in Reykjavik. The streets are small, cobblestone accents and a the beautiful ocean out your window. Loads of shops and dining all around. I would absolutely stay here again.
We rushed out to meet our shuttle. The air was super crisp and cold and I huddled up in my brand new Save the Duck winter puffer coat. I love that thing! It kept me warm without harming any cute ducks with the use of down feathers.
Our first big adventure in Iceland was the Blue Lagoon. I'll chat more about it below. But overall, the Blue Lagoon was fun. Especially with the "night crowd." In Iceland in general, there seemed to be a very high percentage of folks from the UK on a weekend or week holiday. At our night session of Blue Lagoon, bathers were drinking and laughing and the whole experience had a jovial tone. I was expecting it to be a bit more tranquil, but I loved it anyways. I kept laughing because the whole process of Blue Lagoon-ing reminded me of the movie Titanic. What, huh? Why? Go with me here. Hords of people are expelled from the dressing rooms, out into the freezing night air and because of that bitter cold, forced to plunge yourself into the waters. Everyone scattering and flapping towards the dark water, black sky and night stars above, basically no lighting on the waters, I could barely see where I was swimming at some points. This was my first time swimming in freezing weather under a black night sky, so that was literally my only reference point .. a movie.
Our first full day in Iceland was perfect. My favorite day. I awoke well-rested and happy. The breakfast at the Canopy Hilton was wonderful with loads of fresh fruit and juices and cereal, tea, non-dairy milk — and much more for anyone who isn't vegan. I felt very well fed there though.
We strolled through Reykjavik a few hours, it was cold but lovely as snow started to fall on our faces. Snow in Iceland! I was in heaven.
We walked up the steep streets to the iconic Hallgrímskirkja church. I purchased a ticket to ride the tiny elevator to the top and peered out for 360 degree views of the city. A must-do if you are not afraid of heights.
That afternoon we headed out by taxi to our next stop for two nights, the ION Hotel. The ride there was gorgeous. The snow was falling and we stopped at several spots to check out the Icelandic Horses. Magical fuzzy creatures that brave the cold all winter long.
Finally we arrived at the ION Hotel, out in the middle of what felt like nowhere. (More about it below) The ION was a bit disappointing due to the lack of vegan food and also lack of northern lights (but there is nothing the hotel can do about that.) The service was hit or miss. A few of the staff members were ah-mazing. And others, not so much. The hotel bills itself as being luxury, so I think the service could be more dependable.
On our last evening at ION, kinda hungry and realizing there would be no lights for us, I decided to live it up anyways and took a very long and playful dip in the Geothermic pool. The icy snow fell on my face as I swam and danced in the warm waters. All to myself!! A totally unexpected way to spend our days in Iceland, but so refreshing and soul energizing. Plus, the water in Iceland is just magical… everywhere you go!
I won't go into too much detail about our last night full day because we had a pretty bad experience with a tour we booked. Long story short, the all-terrain bus was insanely bumpy on the highway, the rain made it impossible to do anything on the tour, and my neck completely 'went out' while I was racing towards shelter/the designated lunch spot as it gushed rain and the bus was parked way across the parking lot. I was in tears the whole ride back to the city because my neck hurt so bad. BTW, this was a 9 hour tour. Yikes. The lesson: be very careful about the tours you book and if the weather looks awful when you are supposed to go see waterfalls and beaches — consider skipping it — because the tour might go no matter what and could just be awful. Like Jurassic Park without the dinosaurs.
Our last night, we stayed in the FossHotel. It felt enormous. It was a good hotel, but I prefer a more boutique style when staying in a place like Iceland. The breakfast buffet felt like a large dining hall rather than a cute hotel. But they did have loads of food options. The lobby was large and cozy and the view from our room was beautiful, so high up.
Other highlights from our trip included strolling around Reykjavik, visiting Glo and Joylato more than a few times! And just embracing the crisp cold, the amazing water. Next time I want to do more hot spring searching and bathing.
Our last morning, we shuttled back to the airport and readied ourselves for our 9 hour flight back to LAX, via WOW Air. Let me just say this, we booked VERY last minute, like a few days before our trip, and our WOW Air return flights were only $199 each. CRAZY! I can rarely fly to NYC for that price. More on WOW below too..
So with that quickie of our trip, here are some more specific fave moments: 10 Things I Loved About Iceland..
10 Things I Loved About Iceland
1. Blue Lagoon.
For years I have been gawking at photos online of Blue Lagoon, the icy blue waters circled by dark black rocks, a gentle steam rising from the waters as bathers soak in the peaceful scene.
"The Blue Lagoon was formed in 1976 during operation at the nearby geothermal power plant. In the years that followed, people began to bathe in the unique water and apply the silica mud to their skin. The unique properties of its waters provide not only an enchanting lagoon experience, but also the patented, active ingredients in Blue Lagoon skin care: silica, algae, and minerals."
Well it was definitely amazing, but also a bit less delicate and tranquil than I imagined. Probably because stupidly, we didn't book our ticket until a week before and all the morning slots were all sold out, so we had to go at 7pm, when it is dark and super freezing out.
The blue lagoon felt a bit like Disneyland in the way that it handles A LOT of people each day. But it was really fun and had great energy. I was laughing and giggling and a happy little lagoon floater the whole time. Since we went in the dark, I didn't get any good photos, but it was still an energizing experience. Some negative points for me, there were people drinking alcoholic beverages IN the lagoon, and spilling them into the water (served from the swim up bar) and people were crowding around the face mask section, so when I finally got over there the face mask tub was empty. I wish they handed out single serving masks instead of a self serve tub.
The freezing weather wasn't an issue at all! I loved the contrast of freezing cold and super warm water.
Overall I loved the lagoon!
Tip: Book your blue lagoon tickets EARLY. Snag those morning spots. Morning is probably a bit more peaceful and you can get better photos! Also, they are renovating so I can't wait to return and see how those renovations turn out!
More info: Blue Lagoon Iceland
The Blue Lagoon photo I really wanted…
photograph credit: BlueLagoon.com

The Blue Lagoon Photo I got. haha it was a bit different at night! But still awesome.
2. Natural Beauty All Around
Waterfalls, glaciers, beaches, rolling hills, lava rocks, geysers, mineral pools, fog, snow, sun, stars. Basically Iceland has it all in terms of natural beauty.
Seljalandsfoss waterfall, one of the two waterfalls we sort've saw. Sadly it was too rainy to get too close or to hike behind the waterfall, as you can do on sunny, dry days.
3. Reykjavik
I loved this little big town! It was fun to stroll the streets. There are loads of tourists and locals, cute shops and loads of dining. Bright colorful buildings, cobblestone streets, ocean views and crisp air. Dining was doable for vegans! Many menus had veggie options. And vegan options if you do a bit of digging or know where to go. (My two faves, Glo and Joylato are listed below.) Be sure to visit Hallgrímskirkja Church for a bird's eye view..
Looking up at the Hallgrímskirkja Church..

View from the top..

4. Northern Lights.
So we really wanted to see the northern lights, the magical aurora borealis phenomenon. All your northern lights questions can be answered on this website: Guide to Iceland Northern Lights.
We actually booked two nights at ION, a hotel that prides itself on being northern lights-friendly. More on that in #5, but sadly the weather was too cloudy.
We did the the lights our first night, in poor viewing conditions – near some parking lot lights. They were magnificent, yet, I will be honest a bit underwhelming. I was expecting insanely vivid lights like you see in photos, but for us, the green color was pretty muted. I guess I should have known that people love photoshop. And I am sure they are more spectacular if you can really get out in the middle of nowhere on a clear night…
Tip: Do not go to Iceland JUST to see the northern lights, because if you end up missing them due to weather changes, you will feel sad. Instead, enjoy Iceland all on its own and think of the lights as a possible perk! That being said, having a car or going on northern lights tours are a must since you cannot see them very well or most times at all with the glow of the city lights of Reykjavik. So drive a bit out of town to where it is dark to look for them.
My one northern lights photo… from my iPhone, very grainy, but still lovely in its own way..
5. ION Adventure Hotel.
Sadly, the weather was too cloudy for any northern lights during our stay. But we still had fun.
This hotel was gorgeous, design wise, yet lacking in a few ways. One thing, the vegan food options were dismal or very expensive. The problem is that you literally have to eat at the ONE restaurant in the hotel during your stay because the hotel is a good 60-90 minutes outside of Reykjavik, depending on how weather conditions are. You may feel a bit stranded, but that is also part of the fun, right? I actually loved the serene quietness of the snow and stillness of the white on white surroundings. The one small geothermic pool is lovely. And all the rooms are gorgeous and modern. I loved that room. Small but perfect. If only they had better food options!! Grr. The restaurant serves fine dining cuisine in the evenings – very modern and fancy in style.
fun fact: Bjork, yes the Bjork, was dining in the restaurant one night we were there! Crazy. I thought I was imagining it, but it really was her with some of her entourage. She looked sassy and amazing in a black and white striped blouse and two buns on top of her head. My 90's self was giddy.
The ION Hotel spa is just two treatment rooms. And you need to book in advance. I tried a facial and really enjoyed it. I love the products they used, from an Icelandic brand called Soley. I am almost out of the Birta moisturizer I bought and super sad because I can't find it for sale anywhere else. Love it!
Tip: Try to book on non cloudy days, if possible — easier said than done. And bring some snacks!! We brought a big takeout lunch from Glo for our first day, which was very smart. Be prepared to feel "away from it all" in the coziness of a very modern hotel.
More info: ION Hotel
Snowy scenes from around the ION Hotel..

The one item I really loved at the restaurant, vegan butternut squash and carrot soup with cauliflower cream..
6. Joylato.
My favorite spot in Reykjavik! This tiny little shop serves customized vegan coconut milk ice cream as well as many vegan hot beverages. That hot chocolate, o-m-g. The ice cream is sooooo good even when it is freezing out! The spicy hot chocolate made with almond milk was ah-mazing.
Tip: Try the coconut milk ice cream with the salted caramel flavor. Amazing!
More info: Joylato
Salted Caramel..
7. Icelandic Horses!
These creatures are gorgeous. They are not hard to find once you start driving outside of the city. their fluffy fur gets thicker and fluffier as winter sets in. They are beautiful creatures and I was so happy to find them with a little help from our taxi driver.
Tip: Go find these beauties and soak in their magical presence.
8. Glo.
We ate at Glo in Reykjavik three times because it was everything a vegan could want! They are vegan, but they also serve one chicken wrap. Kinda odd, but whatevs. They also have a raw entree option. The portions are large, seating cute and arty and casual, and food super healthy and flavorful. They have amazing juices too!
Tip: Dine at Glo at least once! come hungry, leave nourished and happy.
More info: Glo Restaurant
Our to-go meals we brought to ION..

9. Canopy Hotel Reykjavik – by Hilton
We only stayed one night at Canopy, but it was my favorite out of the three hotels we stayed at in Iceland. It is is walking distance to loads of dining and shopping options. And the hotel is beyond adorable. The breakfast was awesome too. And service was great. I had to be a bit pushy because the first room we were given was a little stuffy without many windows. I had a pretty bad asthma attack at our last hotel and so I requested a different room. They gave us a one bedroom room with loads of windows and fresh air. I was beyond grateful. they also changed out the feather bed and pillows to foam. The bar they have is open late and super trendy and cute. Everything in this hotel feels artsy and modern. I was impressed!
Tip: If you don't mind spending a bit more than the average hotel in Reykjavik, you will be treated to a cute and fun hotel experience. This hotel reminded me of NYC meets Iceland meets London. I loved it.
more info: Canopy Hotel
Room view from the Canopy Hotel in Reykyajik..

10. Icelandic Water.
Right out of the tap. I am OBSESSED. The water in Iceland is crazy mazing. Seriously, even after a few days my skin felt soft, hair shiny and I just felt good being lazy in a long shower. No offense Los Angeles tap water… but you kinda suck compared to Iceland. Icelanders are very proud of their water too! For very good reason.
Tip: Enjoy your long showers and basically every moment you get to enojy Icelandic water! Out of the tap or in a mineral spa!
Other things..
Air to Iceland
We booked a super cheap flight on WOW Air and were super happy with it! Seriously, I have seen some flights from LAX to Iceland for $99 each way! Crazy. Go for it.
Tip: Upgrade to a seat with extra leg room.
More info: WOW Air
To Rent a Car or Not?
This really depends on what your travel plans are and how adventurous you are with driving in icy or rainy conditions. For us, we knew we would be trekking out to a hotel in the middle of nowhere, so we decided to rely on knowledgable taxi cab drivers as well as tour bus shuttles to places like the blue lagoon and to and from the airport. It was a smart move for us. I cannot imagine driving ourselves along those blizzard-y rural roads! There are not street lights once you get out of the city. For getting around Reykjavik, you can pretty much walk to most places — just bring a really big, warm coat and hat and gloves help too.
Tip: For winter time especially, book all your shuttles in advance (from and to airport) and use cabs and shuttles if possible. If you really need to rent a car, ok, but just drive very carefully! In the summer months I would definitely rent a car to have more freedom to explore on your own schedule.
Tour Bus Sightseeing. We didn't have the best experience, so I am guessing some tours are awesome and other not so much. Choose your tours very carefully! They are LONG days so if you don't like sitting next to strangers or possibly having your tour altered a bit (or a lot as in our case) due to weather then maybe just try and rent a car and tour things yourself — or stick to more local areas on bad weather days.
Flight home..
Thanks for the adventures Iceland!..

View from our room at the ION Hotel, yup just a whole lot of snow and ice and white on white!