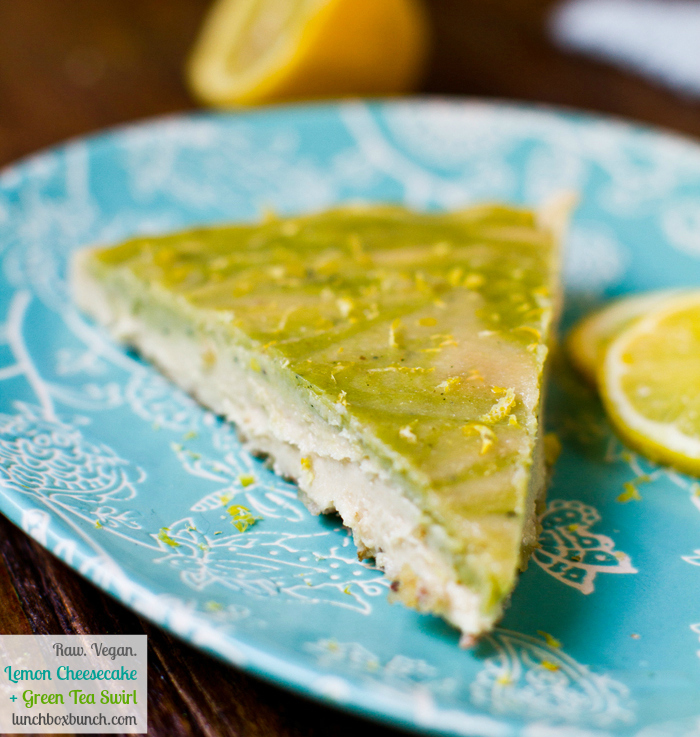 This zing-y Lemon Cashew Raw Cheesecake with a Matcha Green Tea Swirl and walnut crust is a delightful dessert recipe for spring. Each bite floods your taste buds with an energizing sunburst lemon flavor.
Taste: sweet creamy lemon zing! And after the bold and cleansing sweet lemon flavor lifts your taste buds into zing! mode, the silky creamy cashew texture, slight bitterness of matcha and rustic nutty crunch of buttery walnuts are welcome tones and flavors. Sassy meets earthy with a whole lot of zing.
This simple recipe can be made in minutes (with some easy prep), let it set in the fridge for at least an hour (overnight is best) and your sunny season raw vegan, no-bake dessert is served…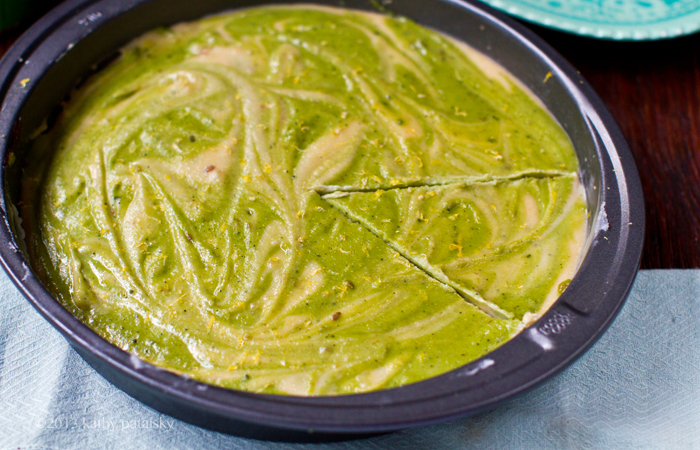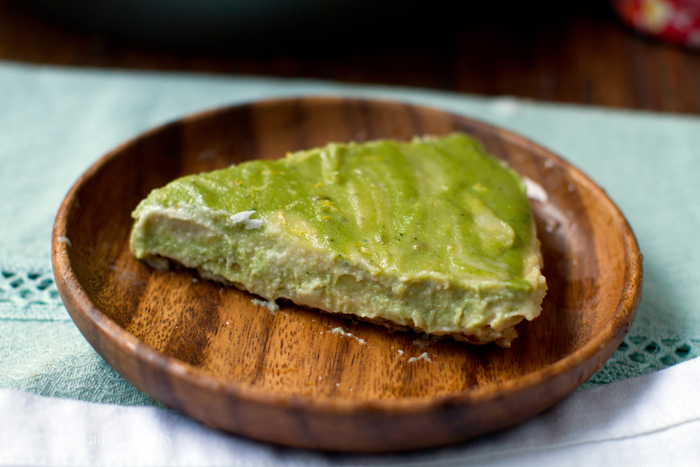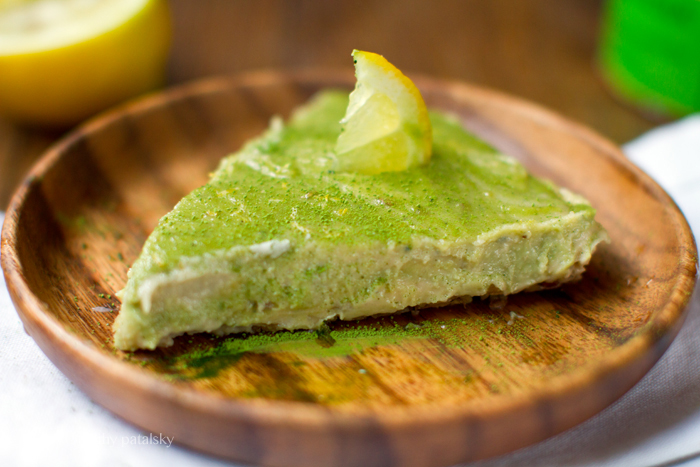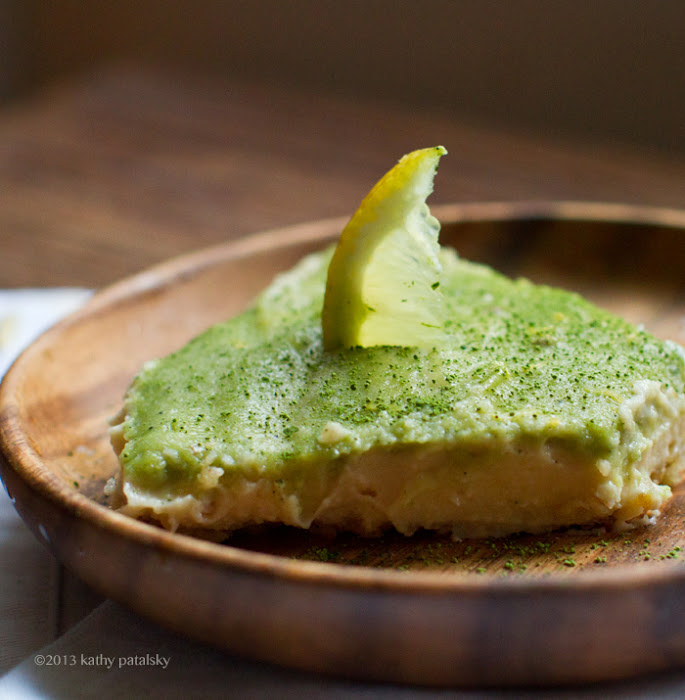 Cashews! The main ingredient in this (any many raw dessert recipes) is raw cashews. Normally I would tell you to soak your raw cashews in salted water for at least 4-6 hours before blending your cheesecake filling. But I took a chance with this recipe and tried a shortcut method. I soaked my raw cashews in salted HOT water for just about 30 minutes and to my pleasant surprise, the filling blended up super creamy and silky. I used a high speed blender. If you do not have a high speed blender or high powered food processor, I would still suggest keeping the 4-6 hour soaking rule for raw cashews. Using hot water will speed up the process.
This recipe is so easy and delicious! It makes one "cheesecake" in a 7-9″ serving dish. (I used 9″ pan, but would have like it a bit thicker to slice. An 8″ pan is suggested.) For the raw crust, I just used walnuts since I was out of dates. But if you want your crust to be a bit less crumbly, add in some chewy dates. Those will help to bind the nuts together a bit more.
Matcha green tea swirl is optional. You could also sub in a swirl that is green via pistachios or a hint of spinach. Learn more about match here. Make my match shake too!
This zesty lemon dessert is an ideal palate cleansing treat after a heavy meal. You really only need a tiny slice of this cheesecake since it is so rich and packed with zing-y lemon cashew flavor. I estimated around 300-350 calories per slice, 12 generous slice servings per cheesecake.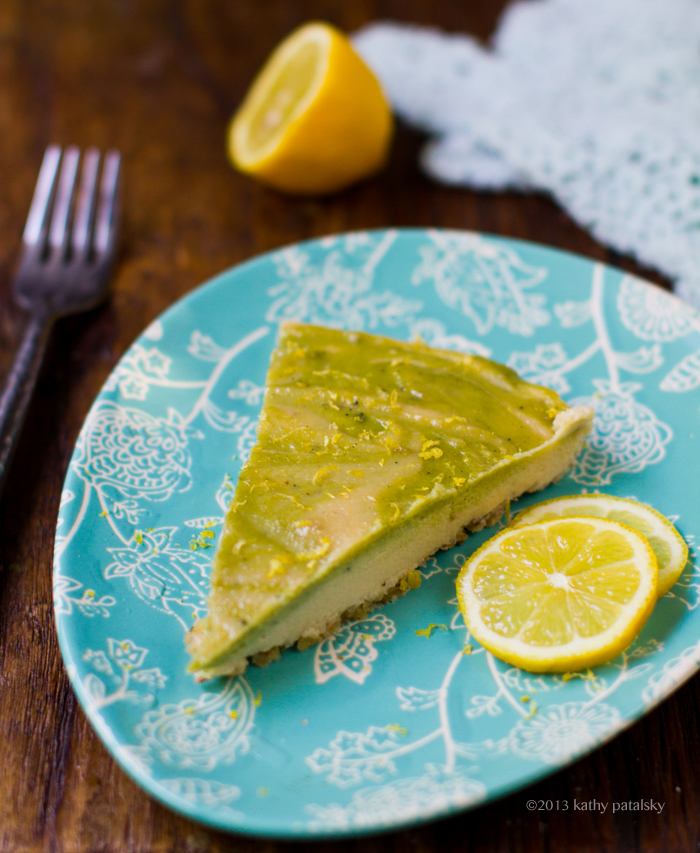 Matcha Swirled Lemon Cashew Cheesecake
vegan/raw, makes one 7-9″ "cheesecake"
3 cups cashews, raw (soak/drain before blending)
½ cup grade B maple syrup (to make truly "raw" substitute raw agave syrup in place of maple)
½ cup melted organic virgin coconut oil (refine or unrefined both work)
¾ teaspoon salt
⅔ cup freshly squeezed lemon juice**
pinch of zest (over top)
green swirl:
½ cup cashew filling blended with ½-1 teaspoon matcha powder
crust:
¾ cup raw walnuts
½ cup dates (optional)
1 teaspoon flax seeds (optional)
matcha sprinkle to serve (optional)

**when I first made this cheesecake I used ¾ cup lemon juice. While I actually love the bright lemon flavor, I think the average person may want it scaled back just a bit. So ⅔ cup is plenty. If you want a more subtle lemon flavor you can even scale down to ½ cup or even ⅓ cup and add a pinch of zest to the filling mixture (which provides a more subtle lemon essence) and replace the omitted lemon juice with water.
Directions:
1. Soak your raw cashews. For quick soak, add nuts to a bowl and fill with hot water until covered. Add a pinch of salt and allow to soak for at least 30 minutes. I like to swirl the cashews in the water every few minutes to speed up the loosening process. For long soak: soak in water for 4-6 hours. Quick soak should only be used if you have a high speed blender and use very hot water to soak.
2. While nuts soak, start squeezing your lemons. You can also process your raw walnuts until fine and chunky – for use in the crust. If using dates, process those with the nuts and optional flax seeds. Grease your serving pan with coconut oil and press the walnut mixture into the dish until a loose crust forms. Place this dish in the freezer.
3. Drain you cashews. Rinse. Add cashews to your blender or food processor. Warm/melt your coconut oil and add it to the warm drained nuts in the blender/fp. Start blending from low to high. Add in the maple syrup too. Keep blending until a chunky nut mixture forms. Blend son high until it begins to thin out a bit. Then slowly pour in the lemon juice and watch as the mixture suddenly becomes creamy and white. Keep blending until this mixture is silky smooth. This will take a few minutes and high blending speeds at some point. Use your Vitamix tamper if using a Vitamix.
4. Pull your dish from the freezer and pour our ¾ of the mixture into the dish. Smooth flat.
5. Blend ½ – ¾ teaspoon match green tea powder with the leftover mixture – until smooth and green. Pour this green mixture over top the white filling and swirl. Add lemon zest over top.
6. Chill in the fridge until firm enough to slice. Serve chilled. Eat within 2-3 days. Serve with a lemon wedge and some match green tea sprinkled over top.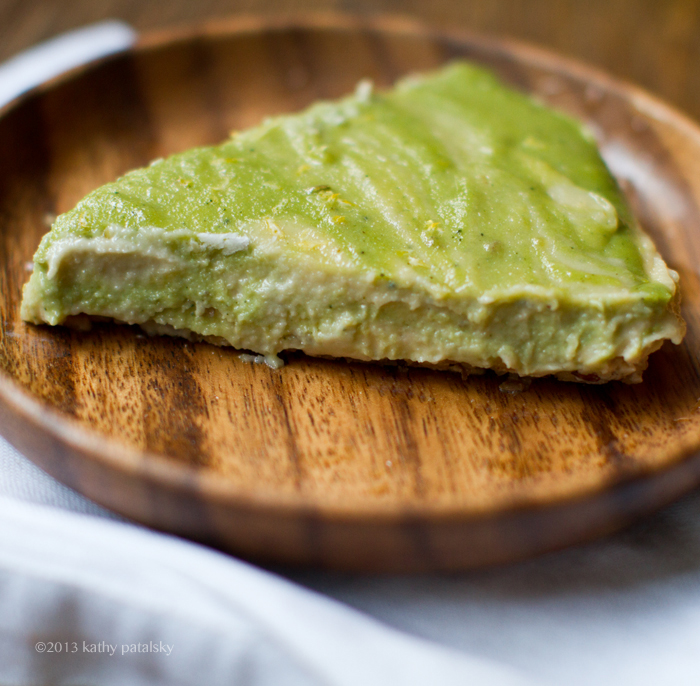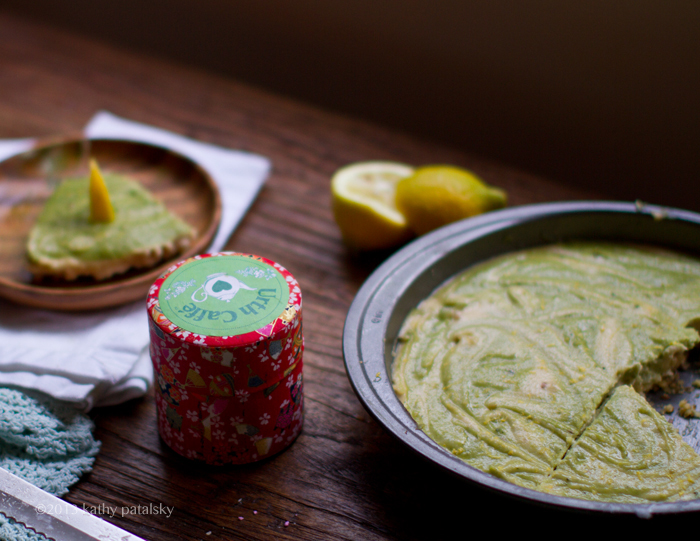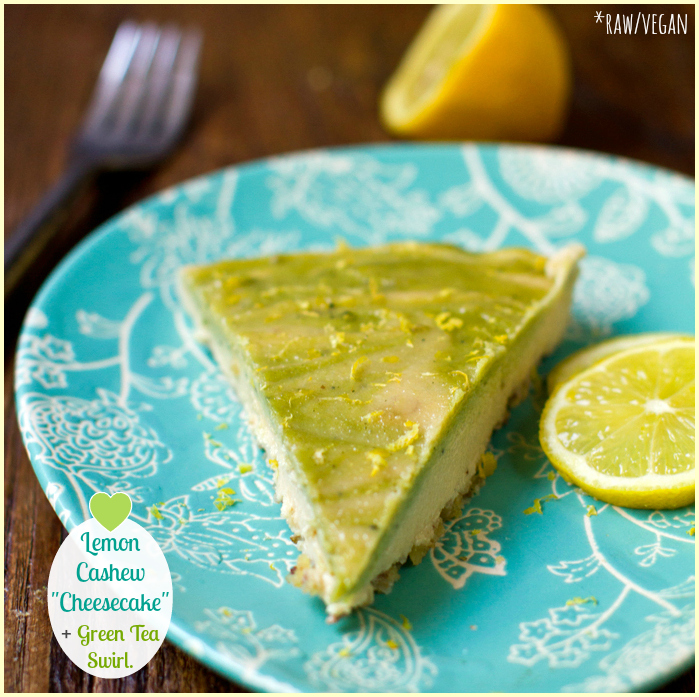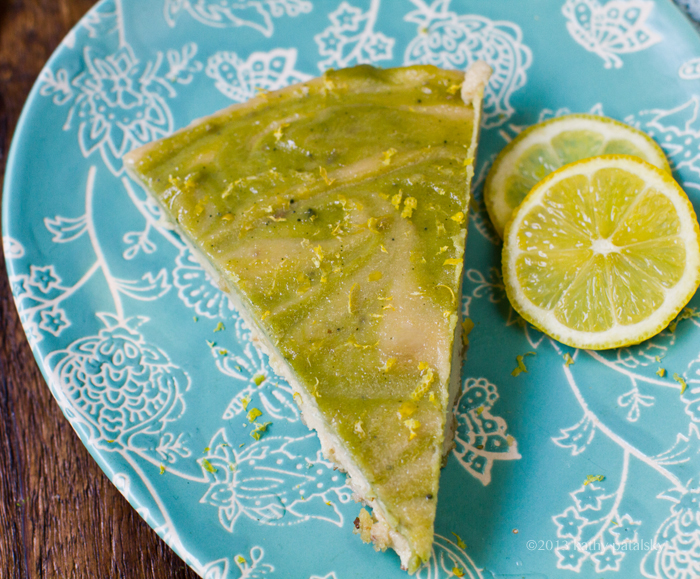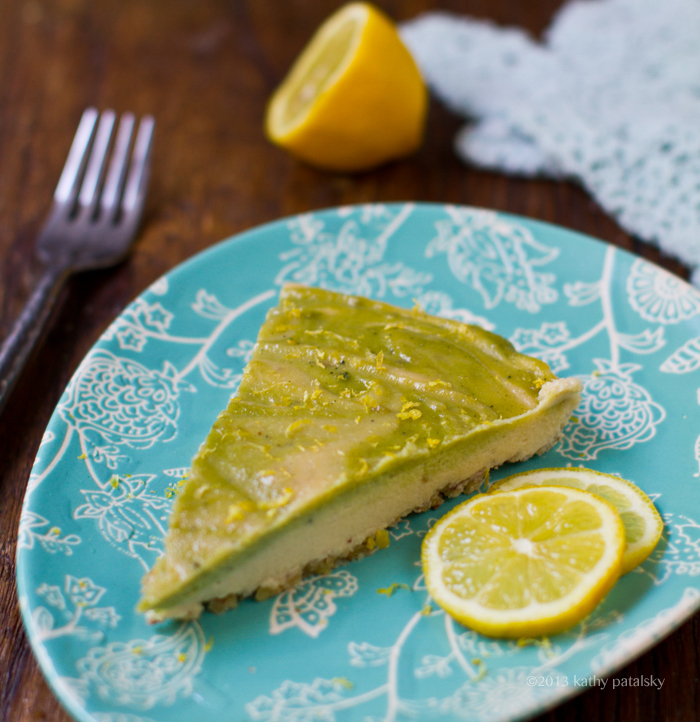 Have you entered my Spring GREEN-ing $75 Whole Foods gift card giveaway yet? Enter here!