Yesterday I whipped up these vegan, baked Lemon Poppyseed Donuts. They have a light vanilla frosting/glaze on top and taste like little pillows of sunshine. Heavenly treat for summertime baking! I added some fresh blueberries on top to intensify the summery feel…
Donut party!..

So fluffy and lovely!..

Easy vanilla + lemon frosting or glaze, depending on what you prefer..

So darn good. Perfect matcha, tea or coffee pairing..

Thank you so much for the love many of you sent me from my last post. I know it was raw and real and I was SO scared to publish that thing. But I had been writing drafts of it for months, so incredibly anxious to tell my story. Keeping things like this inside can eat away at you and make you feel ashamed and embarrassed and can eat away at your self esteem, self-worth and joy — even without you realizing it! So I am so grateful to have a platform to share my story and give other women the strength to maybe share their own in their own circle of people. Or at the very least, to not feel like fertility issues are something to be ashamed of.
We are all worthy of love and support and worthy to tell our stories no matter who we are or what story we have to tell. I pray that you never feel like you are not allowed to talk about your own life.
The truth is, despite all the love I received, sharing is still scary. Fear of judgement is part of speaking out and being real – being yourself. Some people may even try to make you feel bad about yourself . Your story. DON"T LET THEM. (I say that to you and to myself.) The only person who can make you feel bad about you, is you. Don't let them. Be true to yourself. Love yourself. Love every part of your story.
As one of my favorite TED Talks goes, by Adi JAffe, my friend Sophie's husband, F*ck Shame. Seriously. Thank you Adi, whenever I get scared, that phrase helps me.
So with that, I think it is time for donuts, yes??? YES!
Lemon-Poppyseed Donuts. These vegan donuts are so easy and delicious. You need a donut tin, but if you want to just make muffins with this recipe, you can do that too.
The buttercream vanilla-lemon zest frosting is the perfect topping and since the donuts are not that sweet, the frosting (or glaze) adds the perfect touch.
The rich vanilla combined with zing-y lemon is just so dreamy. I gobbled a few of these up while they were still warm and super fluffy. So good.
My favorite part of donut-baking is that they bake in half the time of muffins, so you can be eating them faster! Plus, this is a small yield recipe, so you won't feel like you have an entire donuts shop in your kitchen that you need to eat or give away!
Happy long 4th of July weekend everyone. Love you all!
Kitty cameo… you have to watch those kittens when I bake just about anything..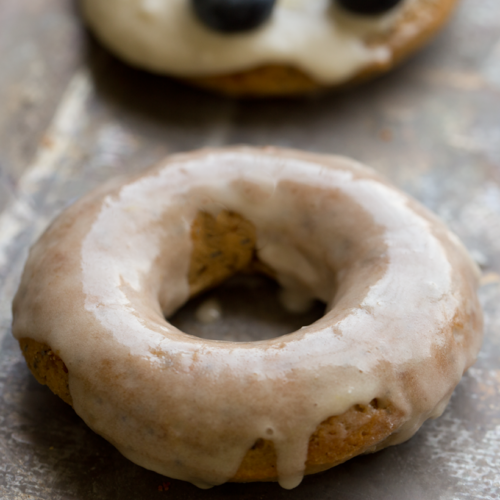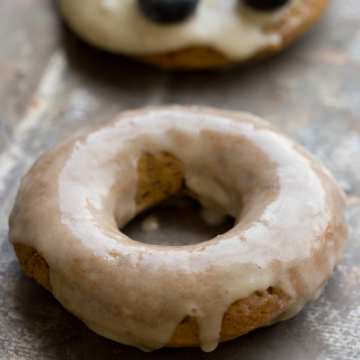 Lemon Poppyseed Donuts with Vanilla Frosting
These buttery, fluffy lemon poppyseed donuts are topped with a rich vanilla frosting that glazes right over top. Vegan.
Print
Pin
Ingredients
Dry:
1 cup white pastry flour

1 teaspoon baking powder

⅛ teaspoon salt

⅓ cup coconut sugar
Wet:
¼ cup vegan butter

⅓ cup fresh lemon juice

⅛ teaspoon vanilla extract

⅓ cup non-dairy milk, plain flavor

pinch of lemon zest
Vanilla Frosting:
½ cup vegan butter

1 tablespoon non-dairy milk

2 cups powdered sugar, organic

pinch of lemon zest

Fold in: 1-2 teaspoon poppyseeds 
Instructions
Preheat oven to 400 degrees. Grease a donut tin with coconut oil or vegan butter.

Add all the dry ingredients to a large mixing bowl. Stir well.

Add all the wet ingredients to a blender and blend until smooth. The mixture will be clumpy, from the chilled butter, but that is ok once the donuts bake!

Stir the wet mixture into the dry mixture. Fold until combined.

You can either spoon the batter into the donut tin or you can use a pastry bag and a round tip to create a cleaner donut swirl.

Bake donuts for 8-10 minutes at 400 degrees. Donuts should lightly brown on top and be fluffy and soft yet firm to touch.

While donuts are baking, whip up the frosting by combining all the ingredients in a large mixing bowl and whipping with a hand or stand mixer. Place frosting in the fridge until needed.

Repeat with any extra batter.

Cool donuts on a cooling rack. You can frost when the donuts are completely cooled if you want a thicker coating of frosting. If you want the frosting to melt a bit into a glaze, you can frost them while the donuts are still slightly warm. Serve right away or place the donuts in the fridge until ready to serve. serve chilled, room temperature or slightly warmed.