This vegan Lentil Bolognese Sauce, served over top spaghetti, or any favorite pasta, is a delicious go-to comfort food dinner. This is a rich, hearty tomato sauce, studded with tender lentils, garlic, onion and carrots. This version tosses in a few extra veggies too. Those (optional) bonus veggies add more texture, color and nutrition.
Lentil Bolognese is a great way to make your pasta into a one-bowl meal. We completely fell in love with this dish as we taste-tested it for dinner. I hope you can give it a try and start swooning over it too…
I am pretty obsessed with pasta lately. I mean, like more than I am usually obsessed wit it. Which is usually, a lot.
Maybe the exceptionally chilly Los Angeles air is spinning me into a comfort food kick. Who knows. I do have to say that buying the most amazing pasta from Eataly LA is really helping my obsession take flight. They have a few awesome brands that use farro and kamut variety grains. They have a pretty amazing wine section too, and what's better than red wine and a big bowl of steamy pasta on a sort've chilly winter night?
Protein + Veggies, Plz. When I serve my pasta bowls, in addition to the must-have pasta and sauce, I always like to throw in an extra boost of protein and veggies. Sometimes I use meatless "meatballs" and for the veggies, I love to make a side of steamed garlicky greens (chard, kale or spinach). IF I want a raw salad, I will do a simple EVOO + balsamic vinegar salad. I love butter lettuce or a slightly bitter spring mix.
And we looooooove the sprinkle of vegan Parm on top. You can make your own blending raw walnuts and nutritional yeast in a blender, until powdery. Or try the vegan Parms available in stores. (There are a few good brands!)
If you are just ogling food photos online and rarely ever make things .. I know you guys are out there. I challenge you to try your hand at pasta! It is seriously one of those dishes that you can whip up and really play with depending on whatever ingredients you have in the house. Having dried pasta, and few bottles of good marinara sauce on hand is easy enough for anyone. And maybe some nutritional yeast, red pepper flakes and vegan Parm to make things even better. You can even toss in some frozen meatless balls OR go all in and whip up today's recipe.
So there you have it. This recipe is my comfort food challenge to you…
Pop open a bottle of red wine (or maybe just some good sparkling water), drop some pasta, simmer this sauce and cozy up to a big ol' bowl of Italian love, via noodles and sauce. Enjoy guys!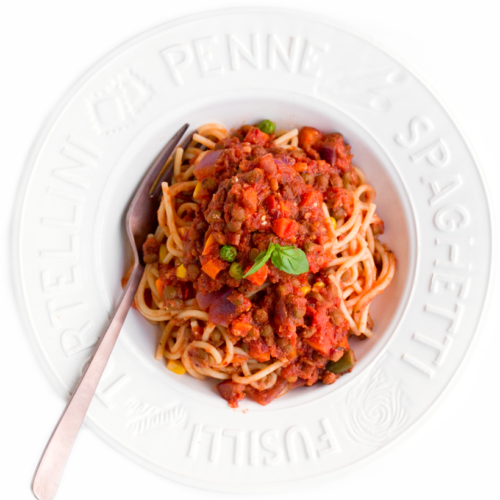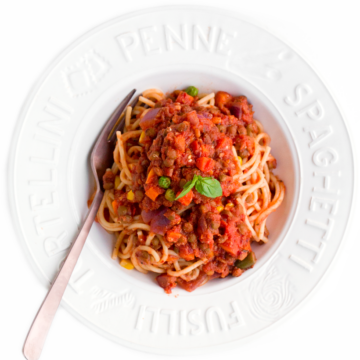 Lentil Bolognese
This thick and robust Lentil Bolognese Sauce is studded with carrots and onion, garlic and a dose of bonus rainbow veggies just for good measure! Vegan and easy to make.
Print
Pin
Ingredients
1

Tbsp

extra virgin olive oil

2-4

cloves garlic, chopped

1

small red onion, diced

1

large carrot, diced

1

Tbsp

dried Italian seasoning blend

1

Tbsp

cane sugar (optional)

1

28oz

can of crushed tomatoes with basil

½

cup

frozen veggies (mixed blend with carrots, peas, corn, green beans..)

½

tsp

sea salt (or to taste)

½

tsp

red pepper flakes (or to taste)

2-6

Tbsp

nutritional yeast

1

15oz

can of lentils, drained

Also: Pasta, any variety

Garnish: Fresh basil
Instructions
Warm an extra large, deep skillet (like a cast iron pan) over high heat. You can also fill a large soup pot with water and bring pasta water to a boil.

Add in the oil, garlic and onion. Stir for a minute until onions are tender. Add in the carrots, sugar and Italian seasoning blend and stir. Turn heat to medium and cook for one to two minutes to soften carrots a bit.

Add in the frozen veggies, crushed tomatoes, red pepper flakes, nutritional yeast and sea salt. Bring to a brisk simmer, while stirring. Add in the lentils and turn heat to low.

Simmer the sauce on low for 5-10 minutes. Just enough time to reduce and thicken the sauce, soften the carrots and warm everything together. Do a taste test and add in more spices, nooch and salt if desired.

At some point along the way, as your water boil, you can drop the pasta and boil according to package. Drain when done cooking.

When sauce is warm and thickened, toss with your sauce and serve warm. Fresh basil is a lovely garnish. Store leftovers, covered in the fridge for up to four days.
nutrition estimate | per serving
Calories:
100
kcal
|
Carbohydrates:
14
g
|
Protein:
4
g
|
Fat:
4
g
|
Saturated Fat:
1
g
|
Polyunsaturated Fat:
1
g
|
Monounsaturated Fat:
3
g
|
Sodium:
321
mg
|
Potassium:
257
mg
|
Fiber:
4
g
|
Sugar:
5
g
|
Vitamin A:
4146
IU
|
Vitamin C:
7
mg
|
Calcium:
43
mg
|
Iron:
1
mg