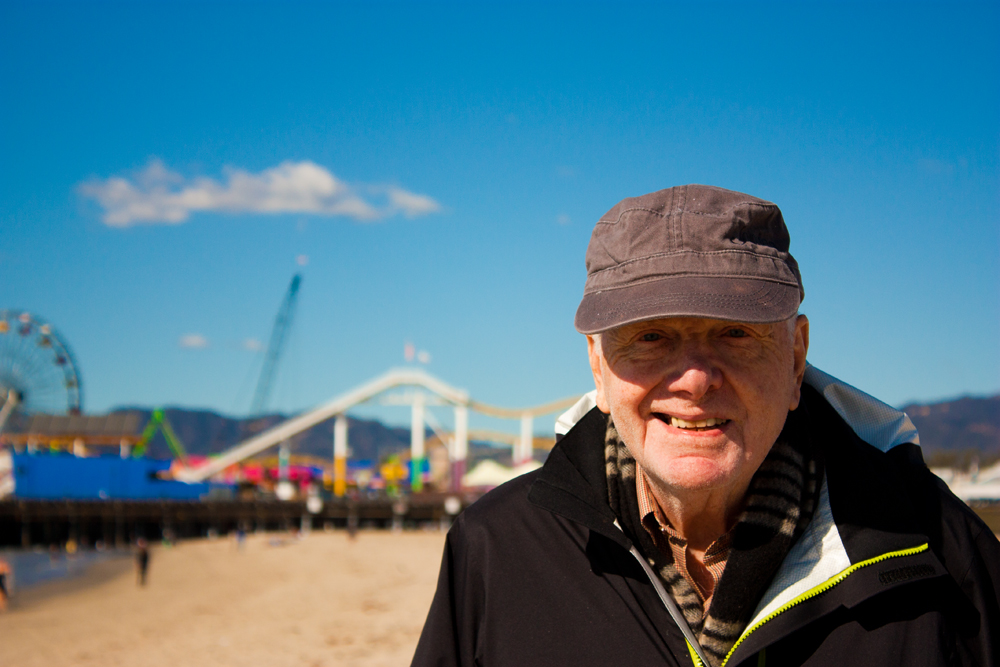 Today I share a few personal thoughts regarding my life this past month and what I have gone through losing my dad. I hope that me sharing, brings some comfort to those going through something similar. We are never alone. We are in this life together. Community meant a lot to my dad, he was always one of the friendliest guys in the room – big smile on his face – eager to make friends and start conversations. He had the best energy when he was around people. He loved people. And I feel like so much of what I do for a living comes from him. He would have been sharing my blog and books with alllllll his tennis buddies. And embarrassing me to no degree. Oh I miss him…
Losing your dad.
Those of you who follow me on social may have noticed a lack of posts the past few weeks. For good reason. You see, three days before Christmas, my father died. The funeral a few days later, was on what would have been my parents 45th wedding anniversary. It has been a very challenging and emotional few weeks for me and as I am slowly getting back to "real life."
My dad.
I can still see his bright, eager, turquoise eyes and easy, sincere, smile. He was curious, loved to befriend strangers and was always looking for the folks in the crowd who shared his friendly spirit. He loved people. He came from a big, loud, hugging italian family. Family reunions were part of the package. He danced when there was a live band. Smiled at waiters. Had photos of waterfalls, wild flowers and rocky mountains on his office wall. He was a veteran, serving in the Navy. He loved Hawaii and waterfalls, ski slopes and sunshine. And he didn't have a snobby, fake or uptight bone in his body.
Tennis. Seascape. Night matches. Crickets.
I can still hear the cracking echo of a fuzzy, neon green tennis ball hitting his racket. The squeaking of his tennis shoes on the court. I can see the foggy, flickering glow of evening tennis court lights, high above our heads. Crickets chirping, twinkly stars. Moonlight catching my eye as I twirled my racket between my palms, ready to pounce on the next ball coming my way. Crisp, cool ocean air filling my lungs. I can still hear him calling out to my sister and I, wiping his brow with his wrist sweatband, "One more game girls!" He had to be tired. He had already worked all day then played a 'real' match with his tennis buddies, all before his two brown-haired, pre-teen-ish daughters stumbled onto the court with giggly faces and high ponytails, excited for a few games with dad. He always played those bonus matches with us. I don't think he ever said, "No girls, I am too tired." He was always up for playing. And side note, he was no spring chicken. Not "old" by any means, but he was fifty when I was born. So looking back on his energy – at my age, ha – gives me such respect and perspective.
Tahoe. Snow. Skiing. Hot Cocoa Breaks.
I can still see him gliding down a fluffy fresh layer of powder snowfall at our favorite ski resort in Lake Tahoe, Heavenly. After a long ski run down the mountain we'd pull off our snow-dusted hats and thick fingered gloves, lay our gear on a rack and clomp across a crowded wooden deck, lined with picnic tables, to get in line for steamy hot cocoa served in small, white styrofoam cups. He hid candy bars in his pockets, for nibbling on the ski lift, he liked how they froze up. He was always joy-filled as we climbed the mountain together, him, my sister and I, cozy, side by side on the icy metal chair lift, enjoying the view of green alpine trees, dusted with sparkly snowflakes.
My dad died after a long struggle with Alzheimer's Disease. I am sorry I never shared that side of my life here, but I just did not feel it was my story to tell. But I do think it is terribly important that I speak out for my dad. And share a piece of his life. Sadly, those who pass from Alzheimer's or complications, usually never get to fully understand what is happening, or communicate effectively to loved ones in the end. So their passing can feel heartbreaking and unsettling for family and friends. But I know my dad would be happy that his healthy, happy, real self is what I will always remember, rather than those final years.
update: One frustrating thing about my dad's last years was that his autopsy discovered that he did not have Alzheimer's. His memory loss and fogginess was probably due to his stroke and age – stress on his heart and brain. Who really knows, but it saddens me that doctor's can misdiagnose and worry families. My dad wasn't 'all there' for those last few years, but tiny sprinkles of him showed up in big smiling moments – he'd show us something with twinkly eyes and laugh at his own joke. I miss that. So much.
Some facts about Alzheimer's – I'll leave these here, even though they didn't apply to my dad, apparently, but I do know many people suffer – my heart goes out to all of the families effected…
* An estimated 5.3 million Americans of all ages have Alzheimer's disease in 2015
* Every 67 seconds someone in the United States develops the disease.
* Alzheimer's Disease is the 6th leading cause of death in the United States.
* In 2015 Alzheimer's and other dementias cost the US $226 Billion.
* Alzheimer's is the only disease among the top 10 causes of death in America that cannot be prevented, cured or even slowed.
* more facts here ALZ.org
Grieving for a parent..
It's really hard. It shakes you up in a way you can't really fathom. You may take a few years to feel like yourself again, I know I sure did. But this: You are not alone. And we should never feel ashamed to share and support each other. I found it very lonely to go through this without really anyone my age to talk to about it. So I hope my words can reach someone.
And if you are a care taker for an aging or special needs person, you are indeed a hero. And I hope you can take care of yourself too. I know it is incredibly challenging. You probably do not hear "thank you" enough, so I will say it, times a million.
I will carry my dad with me, in every day. His outlook on life. His endlessly goofy, ageless side. His adventurous spirit. His warmth towards strangers. His genuine curiosity for people. His quiet side. His rambunctious side. And his ability to be joyful – to smile a big, goofy, real smile, even when his health was failing him.
Dad doing what he loved, playing tennis with his buddies, always.
Again, thank you for letting me share a few of these thoughts. And to all my friends and family who have been especially amazing for me through this, THANK YOU.