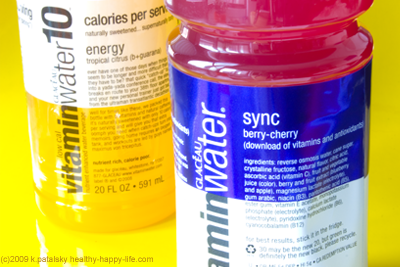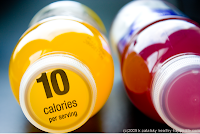 New products from Glaceau brand's Vitamin Water.

New Vitamin Water flavor is called SYNC. It boasts berry-cherry flavors and is packed with vitamins and antioxidants.
Also new are Vitamin Water Ten Calorie beverages. Flavor options include popular flavors XXX and Energy.

Click ahead to see the nutrition facts on these new Vitamin Water offerings…
TEN CALORIE VITAMIN WATER: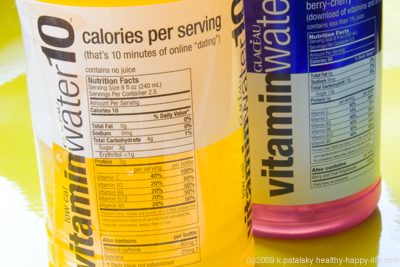 *only ten calories. Same flavor and vitamins. The main difference is the addition of stevia. An all-natural calorie free sweetener. There is still crystalline fructose in the ingredients list. So it's not 'sugar-free'.
NEW SYNC FLAVOR VITAMIN WATER: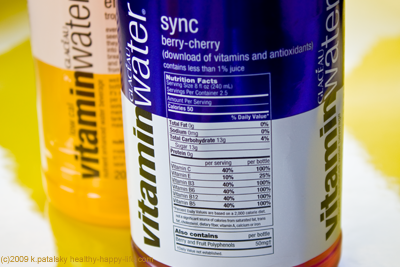 The sync flavor has 25% vitamin E, which is a nice vitamin addition. It also has an addition of berry and fruit polyphenols. Polyphenols found in fruits may slow the aging process and provide support to neutralize free radicals.
I always like to see new flavors from the beverage folks. But I am not a big fan of the flavor of stevia, and the trend of using it in beverages does not thrill me. I will stick to the 50 calorie per serving Vitamin Water. My favorite flavor is Revive. I stick in it the freezer for a half hour and it comes out like a yummy slushy. So refreshing on a hot day or after a workout.
…but no, it doesn't beat coconut water, my number one favorite beverage.