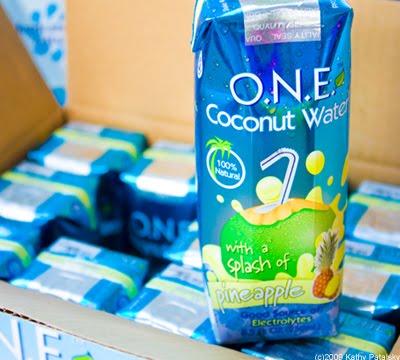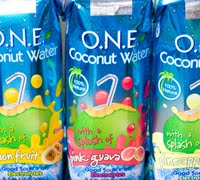 Thirsty? You will be…
The folks at O.N.E. Coconut Water have done it again! Brand new, coming to a store shelf near you: ONE Coconut Water with a Splash of Pineapple, Passion Fruit, Pink Guava or Mango. Four flavors to choose from. They've taken pure fresh young coconut water and added a splash of fruit juice. No artificial flavors here-the flavors are achieved by using fruit juice. So how did this new product do in my 4 flavor taste test? Well lets just say, my coconut water ice cubes, may never be the same again. Click ahead for my complete review. And find out my favorite flavor…
Coconut Water. Splashed! It's hard to imagine, but there are a few people out there who haven't caught on to the coconut water trend. Well they need to give coconut water a try, and there's no way they can resist these new fruity tropical flavors the ONE brand has created. Adults will swoon over this tuff, but just think how great hese new splashed flavors would be for kids. The package is a tad smaller in size and the flavor a bit sweeter than traditional coconut water. Stick these in your kids lunches instead of a juice box. After all, one tiny 8.5 ounce box has around 8% your RDA of potassium.
My Review: O.N.E. Coconut Water with a Splash of…
Flavors: Pink Guava, Pineapple, Passion fruit, Mango

Shelf Appeal: So darn cute! I am totally loving this new smaller sized package. So chic and totable! And unlike the traditional 11 ounce size Tetra Pak, I can easily drink the 8.5 ounce size at any sitting without feeling like it's a few sips too much. And the sleeker size fits easily in my palm for optimal chugging power. And I'm also loving the bright shiny fruit-colored packaging. Shiny blue, in the ONE tradition, but now with bright cheerful fruit colors on the front. And that Eco-friendly Tetra Pak always makes me smile.

Label Check: About 75-79 calories per 8.5 ounces. Still light. There's around 8-8.6% your RDA of potassium in each serving. My favorite part of this label-check is the fact that all the 'flavor' comes from real fruit juice. The pineapple flavor is splashed with pineapple juice and the mango flavor is splashed with mango puree. You get the idea. There is also an additional benefit of Vitamin C in each serving. The Pineapple flavor has 172% your RDA of vitamin C in each 8.5 ounce box. And as always, coconut water is fat free, cholesterol free and 100% natural. You certainly can't say that about some of those 'colored sugar water' beverages out there!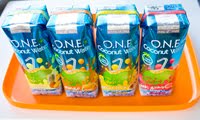 Taste Test: Lets talk taste. I've tried other flavored coconut water beverages. Let me get specific: VitaCoCo's flavors did not do it for me. And sometimes there would be an odd film of 'flavor' coating the VitaCoCo mouthpiece. However, ONE'S new flavored coconut water is delicious and totally cravable and tastes super pure! The best flavored coconut water beverage I have tasted. Breakdown of flavors: the pineapple is light, tropical and tart with a Pina Colada-esque taste. Happy Hour mixer approved! The Pink Guava flavor is exotic and reminds me of my Hawaii vacations where I'd pick fresh guavas off the trees and eat them. The mango flavor is surprisingly zesty and the Passion Fruit flavor is sweet-tart and playful. All of them are yummy and intense with fruit flavor. No shrinking violet flavors here. My favorite? The Pink Guava. One sip transports me to an island hideaway where I am laying on the beach, a soft tropical breeze hitting my face. So glad the Pink Guava flavor made the cut. Lychee or Papaya would've been yummy flavors too!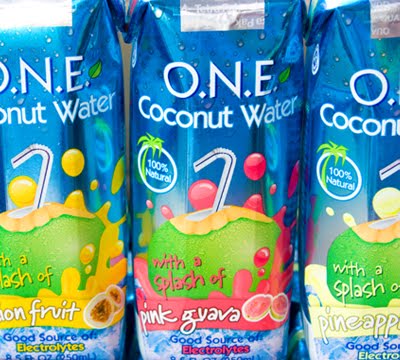 Price Check: retail price $1.29-$1.49. Nice right? Since the size is smaller, the price per box is less expensive. I love that!
Last Word: It's coconut water with a "splash" of fruit flavor attitude. Wow, I can't wait to taste my smoothie when it's made with "splashed" coconut water ice cubes…yum!
More at http://www.onenaturalexperience.com/

Where do I Buy Them? I have to say, I am finding it hard to find these new guys anywhere in stores-even here in NYC, land of beverages everywhere! But I did find one retailer selling them on Amazon. And look for these new flavors in your usual ONE retailer-coming soon I'm sure. Heck, ask the store manager and maybe he'll order them ASAP!