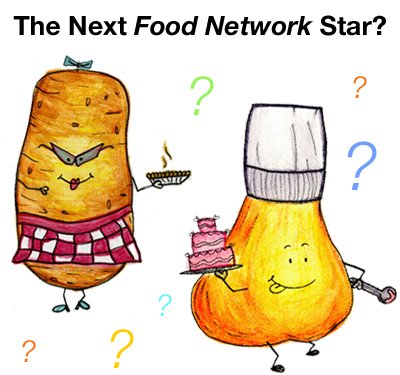 I used to hide my obsession with The Food Network. But not anymore. I love it. Giada, Throwdown with Bobby Flay, Iron Chef, Ina, Chopped and re-runs of Rachel Ray vacation shows. Sorry Bourdain, but it's good clean entertainment. So, did you watch the first episode of The Next Food Network Star? It was promoted like crazy, and for good reason. It's like Top Chef, American Idol and Survivor all rolled into one. The show is co-hosted by Bobby Flay, he's also a judge. Here are my first impressions of the contestants, and my week one rankings of who's on top…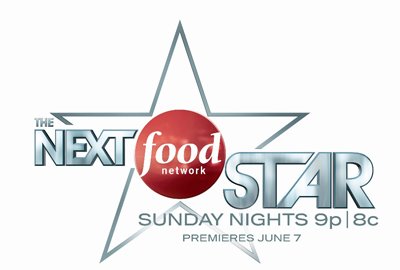 My The Next Food Network Star rankings this week (Week One):

1. Melissa (the blond Texas mom): Lots of energy. Sparkle. I'd want to be friends with her and swap stories. Very warm and that's important to me.

2. Debbie (the one with Ina's voice): Some bloggers thought she should go home for the angel food cake debacle, but I like her. Calm and warm with authentic spunk. I want to hear what she has to say.
3. Jeffrey (the Greek God looking, laid back one): Really like him, but I think he might be a bit too laid back for a broad audience. Almost too mature, young FN audience might not get him. But he certainly has charm and speaks well on camera-and chef skills to boot!
4. Eddie (the cocky California boy with spunk): Yeah he's cocky. Very commercial, watchable and charismatic, but so far passion and warmth is lacking. And we haven't seen his 'skills' surface yet.
5. Teddy (the one who beat Bobby Flay in a Mussels and Fries Throwdown): Not so comfy on camera-yet. But I love his 'generation foodie' pitch for why he should be the next star.
6. Jamika (the sweet and lovely quiet one): Sweet. Lovely. But boring? If she opens up more, she would benefit. Too quiet to tell just yet. Not overly abrasive like some of the contestants-and that's great.
7. Katie (the healthy RD with the 'valley girl' voice): I really really want to love the dietitian, but like one comment said, it looked like food a dietitian would serve.She seems to be lacking warmth and creativity. Two values very important to my view. Confused by her first impression confidence and then tears at the end of the show…
8. Michael (the wild one): Really like him. His energy and personality are huge! But probably too wild for FN TV, I predict. But I'd love to have a soy chai and chat NYC chef and foodie gossip with him…
9. Brett (the tall one that looks and acts like Kramer): Comes off an a slightly annoying Kramer meets teenager Bourdain. He's intriguing, but does his personality have authenticity? nope.

On Who Went Home: It was Jen, Housewife 2.0. Well anyone with that slogan deserves to go home. But maybe not Jen. She had genuine appeal, but her green beans were a bore. She lost me when she said she watched Access Hollywood every night. Jen would be an awesome girlfriend, but her star quality was too dim to send her into week two. When Morimoto said he could buy her green beans down the street at the corner store, I laughed out loud. Not to be too harsh, but it's so true.
What are your contestant predictions and reviews?? Leave them in the comments!
And be sure to check back each week when I'll update my rankings and let you know who I think should be winning. Hopefully, the judges will get it right!
Love the show, can't wait for next week…
Watch it: Sunday nights on The Food Network.