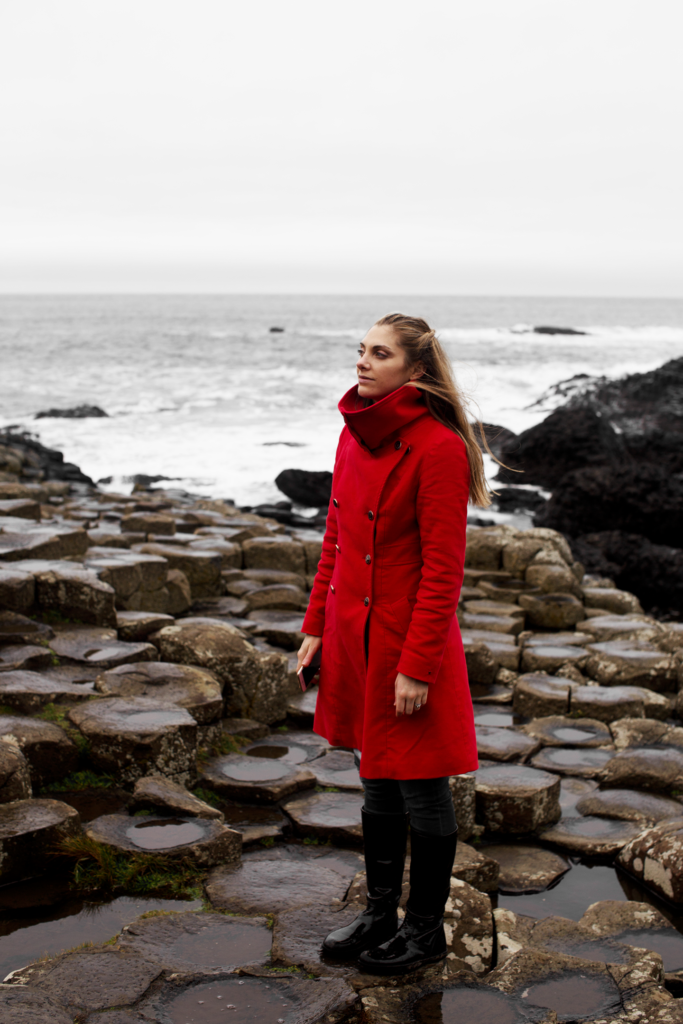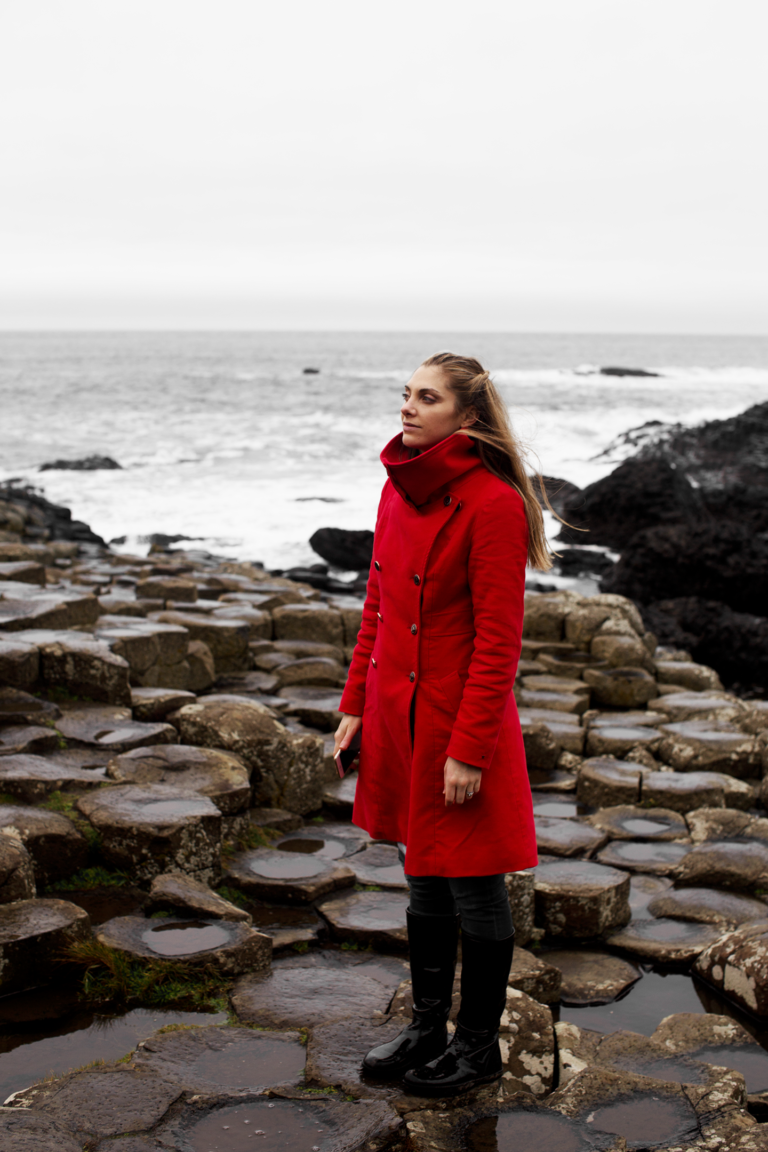 UK Adventures continue… First I shared my London leg of the trip. Now we hop on a super quick flight to Belfast, Northern Ireland for some seriously beautiful scenery, magical spots and to my surprise – some amazing vegan eats! And Game of Thrones fans, some special highlights just for you…
Hi Northern Ireland!
..You are dreamy. And magical. Home of cute sheep. Double rainbows. Green everything. Friendly folks. Brisk ocean air. John Snow. Queen of Dragons. Winterfell. Giant Causeways. And rolling hills.
OK yes, traveling here in late November was cold, wet and windy. But also very calming, uncrowded and breathtaking.
Plus, the fluffy wind and wet green grass felt kinda magical.

Knowing the history of violence and community struggle that has gone on over the years in Northern Ireland did make me a bit worried about the safety of traveling there. But the second we exited the airplane in Belfast and a giant rainbow was skimming the clouds in the distance, and the friendly and warm welcome our cab driver gave us, I just knew I was going to love this place, and my worries were silly. I was so right.
Our 3-Day Northern Ireland Itinerary:
Day One: Winterfell walking tour (self-guided)
Day two: All day Game of Thrones / And More group tour
Day Three: Titanic site visit and Paddy Campbell's "Murals Tour"
Northern Ireland / Belfast Trip
Where to Stay:
The Merchant Hotel – Beautiful hotel within walking distance to loads of dining and shopping options. Best staff too!
Eats:
Boojum – Obsessed with the fact that we found this place within walking distance of our hotel. Local kind of spot with yummy, vegan-friendly Mexican food.
Home – Sooooo good! They have a VEGAN menu guys! Super casual yet swanky spot. Feels kinda like home. Great bar, awesome service and delicious food. Loved my meal.
What to Do:
– Paddy's Black Cab Tours – Mural Tour (City Tour) – LOVE Paddy Campbell! He was the most kind, knowledgeable, passionate, friendly tour guide I have ever had. His mural tour was fantastic and really showed me the side of Northern Ireland that we have all heard about on the news, but never really get to see first hand. Plus he is just so darn likable! Such a nice guy with endless amounts of info on Northern Ireland. Take one of his tours, you will not regret it!
– BritMovieTours Game of Thrones Tour – This was a group tour so I wasn't really expecting much to be honest. But this tour was amazing! We took a "small" tour bus that let us go down some winding roads and cool spots. The tour guide we had, Sharleen, was AMAZING. She is a GOT fan herself and was even an extra on the show as a wildling, aka the "free folk." We visited the Giant's Causeway, rope bridge plus GOT spots like the shadow baby cave, King's Road trees, we drove by The Night's Watch wall – actively filming! And we also saw a few other cool GOT spots.
– Titanic Exhibit
– Winterfell – you don't really need a tour. Just have a private cab take you there or if you have rented a car, drive out yourself. It is easy to explore on foot.
Do Not Miss – Photography Spots too:
* Giant's Causeway
* Carrick-a-Rede Rope Bridge
* King's Road, aka Dark Hedges Trees (on sunnier days at sunset or sunrise probably the prettiest times!)
Also interesting:
* St Patrick's Church
* Inch Abby
* Anywhere with lush green hills + cute sheep 🙂 (basically everywhere)
My Photo Tour of Northern Ireland!..
First things first. Sheep. They are everywhere. I love them so.

Winterfell filming location. We toured this on foot — there was not a soul there, probably due to the season — so we had the entire kingdom to ourselves. Princess Kathy of Winterfell…
Winterfell barns and Castle Ward – felt like walking on set.
This website has lots of GOT touring spot details: "Castle Ward is the prime location for Winterfell and the lands surrounding Winterfell in the North. This is where King Robert Baratheon and his retinue arrive and are met by the Starks in Season 1. This is also the place where Bran and Osha's scenes in Season 1 take place. "
The only current residents of Winterfell..

From Winterfell, we walked and walked, not knowing what was at the end of this winding, tree-lined path..
Keep going. You NEVER know what is around the next turn in your path.
..gorgeous walk..

..and luckily we came upon Audley's Castle! Another GOT filming spot.
I think Rob's camp was there.. or something. It is hard to keep track of the actual episodes and seasons and filming sites, but it just feels so cool to be surrounded by what feels like a giant Game of Thrones set, aka Northern Ireland.. (Thus why the next day we took a guided tour…)
Audley's Castle and the sun making an appearance.
Eats break. Dinner at HOME restaurant was a highlight. Vegan sweet potato lentil dish with flat bread..
The next day we did the official GOT tour by Brit Movie Tours.
And of course we saw gorgeous non-GOT spots too..
Like the Carrick-a-Rede rope bridge..

I felt like a pirate crossing this whimsical, scruffy bridge.
I love that travel lights up a part of my brain that lays dormant in every day life.
(cell phone – moving vehicle – photo alert) Castle Black! The Wall! GOT set. Guards guarding the set, on the side of the road, so our tour bus just drove by as slowly as possible. #touristing
Ballintoy Harbour. GOT filming spot..

(this one even had a sign, lol)
It was cold and windy, but so brisk and refreshing..

Giant's Causeway! Such a cool spot..
"The Giant's Causeway is an area of about 40,000 interlocking basalt columns, the result of an ancient volcanic eruption – source"
Pure adventure. This place felt like a REAL mystical land. Why hasn't GOT filmed here yet???
We stopped at a tiny little restaurant called "The Nook" in the middle of our tour and YES vegan food was possible at this traditional pub. Giant salad and mashed peas with wheat bread. And hot tea. I'll take it!
The "King's Road" from GOT!..
I snagged a photo with Sharleen our tour guide. Loved her!..
This spot must be so beautiful on a sunny morning. We made it there around sunset, so not the best lighting, but still pretty mysterious and moody. Loved it. Just don't get hit by a car, standing in the middle of the road to take a photo! Oh tourists..
The sunset view from the King's road..

Oh and this. View from inside the GOT "shadow baby cave.."

Then the next day we went to the Titanic exhibit. It is located in the exact spot where the Titanic was built and was launched. Such an awesome experience..
Morse code distress signals and the Titanic menu..

The Titanic's route before heading out to sea..

Movies about the Titanic..


..I'll never let go Jack. I'll never let go. Ahhh.
The Titanic used to be right there!

Then last, but not least was our City Mural Tour (history!) with Paddy Campbell himself. LOVED him so much. (I think this was the only time the entire tour he wasn't smiling. FYI.)..
History lowdown: "The Troubles, as Northern Ireland's sectarian strife came to be known, erupted nearly 40 years ago, when Catholic Irish nationalists, favoring unification with the Irish Republic to the south, began a violent campaign against Britain and the Loyalist Protestant paramilitaries who supported continued British rule. Over some 30 years, more than 3,500 people were killed—soldiers, suspected informers, militia members and civilians caught in bombings and crossfire—and thousands more were injured, some maimed for life. Residents of Belfast and Derry were sealed off in a patchwork of segregated neighborhoods divided by barbed wire and patrolled by masked guerrillas." – Smithsonian
I even signed the famous wall that divides the neighborhoods in Northern Ireland — and still does.
Paddy made me take this shot. The mood was kinda somber, I mean it is a wall soaked in troublesome history and pain, but Paddy totally made me smile 🙂
These gates still close at night to create a border between the neighborhoods.
Wow we did A LOT in three days, yes? Totally amazing adventure. Whirlwind.
So. Bye Ireland! Til next time.
Belfast is open, and ready for you to visit!..
—
To close. A few thoughts on travel.
Modern day travel, for me, is about having my own personal little treasure map. All marked up with customized "X's" – thanks to inspiration from Instagram, TripAdvisor, blogs and more. Then sharing those treasures with others. The world quickly becomes very small. And filled with travel treasures.
So put one foot in front of the other and go. Down dusty roads, cobblestone streets, muddy paths and rain-slicked sidewalks. In travel and in life: Keep going. You NEVER know what is around the next turn in your path.
—
Bonus Tips:
* Though the weather is cold and wet, late fall is a great time to visit Northern Ireland because there are very few crowds at touristy spots. And hotel rates are lower.
* The taxi drivers are incredibly friendly and helpful. Instead of having a silent ride, embrace their friendliness and get some insider tips!
* Christmas season is a fun time to visit because all the holiday decorations are up and you can enjoy the Christmas Markets with lively energy, locals and fun booths, music and activities.
* If you are doing a Game of Throne tour, beware of the very high priced tours. They generally show the same hot spots as the more reasonably priced tours. At least that is what one very knowledgeable tour guide told us. And it seems pretty true. Our GOT tour was around $120 USD for two people and lasted 8 hours – and we visited basically everything I wanted to see.
Keep traveling!.. check out more of my European travel adventures: Italy and Switzerland