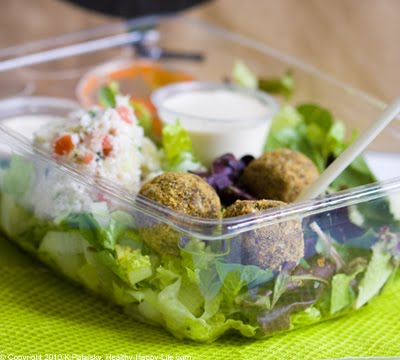 With so many options for vegan dining in NYC, the pleasure of ordering-in or dining out becomes a craving, a luxury and a very hard habit to break! How did I ever survive without the hundreds of vegan cafes, restaurants, to-go windows, and takeaway hot spots that I love so much?? And since I get the "what are your fave places to eat vegan in NYC" question quite often, I am doing this dining out series: NYC Vegan Eats, My Faves. And hey, even if you don't live in NYC, hopefully this series will inspire you to visit and go on your own vegan eating tour of NYC…
Photo: Takeaway falafel salad from One Lucky Duck, aka Pure Food and Wine. Full review and more yum pictures is my first stop in this series, 4/10, Raw NYC! See series schedule below…
Dining Out (and in) Series: NYC Vegan Eats, My Faves
4/10 Raw NYC: Pure Food and Wine, Innovation, Inspiration and Damn Good Raw Food.
4/12 Vegan-Friendly Coffee and Chai NYC
4/14 Vegan Pizza in NYC
4/16 "It's Just No Dirt Candy!" (Why my hubby chose a vegetarian restaurant for his bday dinner, even though he's not veg.
Guest Post by Mr. HHL (my husband) about dining veg when he's not.
4/18 Fine Dining Restaurants (that accommodate vegans happily and deliciously)
4/20 Vegan Desserts in NYC: Cupcakes, Ice Cream, Cookies and more!
4/23 Vegan Falafel Joints: Taim vs. Mamoun's vs. Ashkara
4/29 NYC Greenmarket Picks n Photos
5/1 Juices and Smoothie Spots NYC
⅚ The Big Top Twenty: My All-Time Favorite Vegan-Friendly Restaurants in NYC
Why this Series now? The past few months have been rough on my "dining out vegan" routine. After living in NYC for three years, enjoying vegan eats from all over Manhattan, my husband and I suddenly found ourselves back in our Washington DC loft for a few months. Now as much as I love DC and the perks of non-NYC life (like having a normal-sized closet that actually fit all my clothes and a kitchen that I could spin circles in) I have to admit the extreme lack of vegan dining was a shock to my pampered taste buds. I suddenly found myself cooking at home 6-7 nights a week, when in NYC we would usually go out or order delicious vegan takeout more than a few nights a week.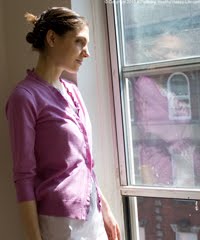 But I survived. And I loved the hardcore at-home cooking I did. And now I am back in NYC, in a new apartment and downtown neighborhood I love (despite the no AC glitch on the 93 degree day this week, gas leak that needs repairing and the broken fridge). Ha! Photo: Here's me Easter weekend getting used to our new view.
I'm so glad to be frequenting my fave vegan-friendly foodie cafes, coffee shops, restaurants and to-go joints again. And now to share my faves with you…
Big Note: These are my faves. NYC is a big place and I certainly can't include all the best places here. So if you have any personal faves – be sure to leave them in the comments of tweet me, and maybe I'll give them a special mention! @lunchboxbunch
Hope you'll tune in for this delicious series of vegan-friendly eats in NYC!