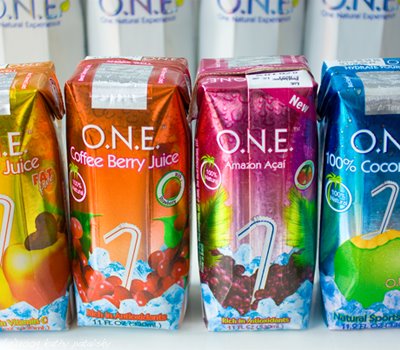 One Natural Experience brand, O.N.E. is one of my favorite go-to brands for delicious Tetra Pak coconut water. They are the brand with the shiny blue CW packaging. But they package a lot more that coconut water! They came out with three more exotic beverage options: Cashew Juice, Amazon Acai, Coffee Berry and the new O.N.E. Water (which I previously gave a rave review.). So all you Whole Foods/Exotic/Healthy Foodies out there, if you've seen these exotic offerings, you've probably wondered, what do those taste like??? Cashew Juice? Coffee Berry? My review and taste test ahead…
My Review: O.N.E. Beverages

Shelf Appeal: Shiny packaging. Beautiful branding. Fabulous labels. These products stand out on the shelf and have a cool appealing sensation.

Label Check:
All hydrating, all have health-benefits. Here is the label low-down:
Cashew Juice: It's health benefits include being high in Vitamins B1 B2 B3 and C and calcium. It is said to calm a upset stomach, sore throat, fortify the immune system and even protect the skin from acne and eczema. 140 calories per 11 ounces.
Amazon Acai: High in omega fatty acids, fiber and Vitamins B, E and C. 157 calories per 11 ounces.
Coconut Water: High in potassium and manganese. Low in calories, only 60 per 11 ounces. Hydrating and light.
Coffee Berry: Super high in Vitamin C. 950% RDA per 11 ounces. WOW! It is naturally caffinated-having about the same amount of caffeine as a cup of green tea.Also rich in phenolic acids. Only 107 calories per 11 ounces.
Taste Test:
Cashew Juice: Love this flavor. It tastes like a combination of mandarin juice, peach juice and apple juice all rolled into one. Tart with a dry bite to it. I tried this half frozen as a slushee and it was delicious and very refreshing.
Amazon Acai: If you've tried acai and love it you should give this acai drink a try. It has a slightly sweet, dry and almost smokier flavor than other acai blends I have tried. And the acerola juice gives it a nice tartness. Blended in a classic acai-soy smoothie it is divine.
Coconut Water: Not all coconut water is created equal! O.N.E is in the top two coconut water brands, in my opinion-and I've tried them ALL. O.N.E. Coconut Water has a very clean and refreshing taste. Pure, crisp and clean. I love coconut water and O.N.E. always impresses me. I end up chugging the entire container when I only intended to take a sip.
Coffee Berry: Unique flavor alert! It actually tastes like its name. It is a combo of tart sweet berries and mellow coffee essence. If you are a coffee lover, try this! That 950% RDA of Vitamin C will make your body very happy and you'll be getting that coffee-flavor kick as well. It's pretty tart, so I like it best served over ice. I can't believe all that juice flavor has only 107 calories.

Price: Varies. But Whole Foods stores in NYC sell it for $1.99. I've found a pack of 12 containers on amazon.com for around $21. Soda is about the same price as O.N.E. beverages, Hmm…not a tough decision how to spend your grocery money.
Last Word: I'm so impressed with O.N.E.'s ability to bring new, exotic and healthy beverages to consumers. I think I am only beginning to discover the taste combos I can get from these unique juice flavors. My smoothie recipes have a new line-up of liquid options! My cashew smoothie this afternoon was awesome!

Taste Tip: Serve it cold! I like to even stick them in the freezer for a bit to get an iced half-frozen flavor. So good!