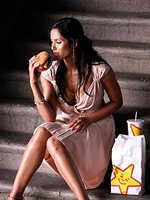 Padma Lakshmi, who was once a vegetarian, has crossed over to the dark side of foodie fame. People.com reports that she's decided to link arms with fast food chain Hardees.
Vegetarians, vegans and foodies with any palate at all – are weeping over this odd decision. Is Padma selling out, and in turn disappointing her foodie followers?
Sorry Padma, but what are you thinking? You know I love the way you slyly tell the Top Chef contestants to "Pack up their knives," when they are kicked to the kitchen curb. And the way you sweetly cringe at a yucky taste while you whisper, "I would've sent it back if you could."
I like your snooty, high standards palate personality on Top Chef. But Hardees? Really? Hardees is home to the 1420 calorie Monster Burger. Padma will be promoting the Hardees Western Bacon Cheeseburger. Caloriage still unlisted.
What will Tom say?! How will you be able to look Eric Ripert and Anthony Bourdain in the face? (OK, so maybe Papaya-King obsessed Bourdain won't mind.)
Have you looked closely at the nutrition facts of Hardees burgers? I have.
Click ahead to read the frightening nutrition facts for a Hardees burger…..
Nutrition Facts
Hardees ⅓ lb. Bacon Cheese Thickburger
Calories: 910
Fat: 64 grams
Saturated Fat: 24 grams
Cholesterol: 115 mg
Sodium: 1550 mg
Protein: 33 grams
Carbs: 50 grams
Now I know Padma likes to eat. But if she ate this burger for 'dinner' or 'lunch' everyday, plus other foods, she would soon be gaining weight. And losing health. This one burger would account for almost half a day's worth of calories. And since a woman who eats a 2,000 calorie diet should have no more than around 20 grams of saturated fat, this burger has already pushed her over the limit.
Padma, couldn't you promote Hardees salads? Oh wait, their website doesn't show any salads! Ugh. Well then maybe their BBQ Chicken sandwich which only has 1 gram of saturated fat and 342 calories! Not bad if you must eat at Hardees and you must eat meat….
…Of course I really would stick to banning Hardees altogether. There's really nothing healthy or happy about white flour, pre-cut produce, saturated fat, and frozen meat anyways.
PS. Padma, I hope you are not trying to be like Paris Hilton and exploit your sex-appeal with burger-eating. That is sooo three years ago.
Read Hardees nutrition facts here.