I love thick chewy peanut butter cookies. My Nutty Peanut Brown Butter Cookies (say that three times fast) have a brown crusty color, a hint of natural vanilla, raw natural sugar and of course a bold natural peanut flavor due to the heaping spoonfuls of organic crunchy peanut butter. Nothing overly processed, no artificial flavors or refined or bleached flour. Just 100% hearty peanut butter cookie goodness.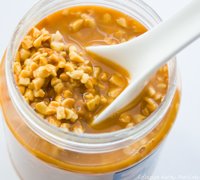 The Nose Knows Peanuts. Sniff your peanut butter. If it doesn't knock you over with the aroma of freshly toasted peanuts, start looking for another brand. Or better yet, find an in-store grinder and grind the peanuts yourself. Whole Foods Markets usually have a 'fresh peanut butter station'. Find out how these vegan cookies get so fluffy, chewy delicious by clicking ahead for my recipe…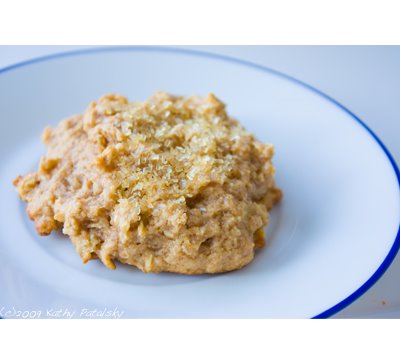 Simple Ingredients, Complex Peanutty Flavors. These Peanut Brown Butter Cookies include natural vanilla, raw brown sugar, heaping spoonfuls of organic crunchy peanut butter, maple syrup, cinnamon and even some toasted oats to add an extra hearty texture.
Perfect Peanut Butter Cookies. You may like your cookies crunchy, but I like mine chewy with big chunks of organic peanuts. So my trick for getting that cake-like fluffy texture is to use a few dashes of Vital Wheat Gluten. I also like to use whole wheat flour because it has a richer texture and adds a lot more protein and fiber to the cookies. Who says peanut butter cookies can't be healthy? Not me….
Here's the recipe…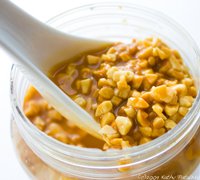 Nutty Peanut Brown Butter Cookies
vegan, makes about 15 cookies
2 cups whole wheat flour, high quality brand
1 cup organic evaporated cane juice sugar
1/4 cup sugar in the raw, thick cut brown sugar crystals
1/4 cup maple syrup
1/4 cup whole rolled oats
1 1/2 tsp baking powder
1 cup plain soy or hemp milk
6-7 heaping spoonfuls of organic crunchy peanut butter
1 Tbsp canola oil or softened vegan buttery spread
3 Tbsp vital wheat gluten, or another vegan egg replacer
1 Tbsp natural vanilla extract or 1 vanilla bean
1 tsp cinnamon
1/2 tsp nutmeg
optional: 1/4 cup raw coconut flakes, unsweetened
To make:
First, tend to the oats. Lightly toast them in a high heat skillet for a few seconds. You can even add in a sprinkle of sugar and salt to bring out the nutty oat flavor. When the oats start to darken and send an aroma into the air, they are ready. Set aside to cool.
In a large mixing bowl sift together the flour, vital wheat gluten, baking soda, salt, sugar, cinnamon, nutmeg and optional coconut flakes.
Slowly add in the liquids, at room temperature: milk, oil, vanilla extract and maple syrup.
Mix well by hand or using a mixer on low.
Then stir in the peanut butter and toasted oats.
If the dough seems a bit too dry you can add in more milk. If the dough isn't thick enough, add more flour.
On a baking sheet, place spoonfuls of the dough. Take your 1/4 cup of raw sugar and roll each formed cookie in it, or sprinkle a tsp of sugar on top of each cookie. I like to roll my cookies into balls and then roll them on all sides in the sugar.
Place the baking sheets in a 350 degree preheated oven. Bake for 18 minutes. Cookies will harden as they cool. Try not to disturb the cookies as they are baking-this may interrupt the rising process. We want fluffy chewy happily-risen cookies.
I actually like these cookies the best on the second day. I will even store them in the fridge or freezer and they get extra chewy from the cold air. But of course, right out of the oven these cookies are divine. Warm chewy peanut butter cookies with whole oats and whole wheat flour. Tis a happy and healthy treat to nibble.
Wait, So What's the Name About? So first off I love the name of these cookies: Peanut Butter Brown Cookies. The first dessert I ever learned to bake by myself was Apple Brown Betty. I always loved that dessert name. So awkwardly sticking the word 'brown' into these beautiful brown cookies seemed like a nice choice. I didn't call them Peanut Butter Brown Kathy Cookies though. I held back.