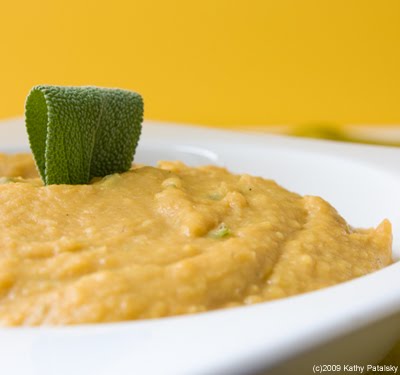 My recipe for Perfect Butternut Squash Dip is just about….perfect. Creamy butternut squash is accented by savory-sweet fall flavors like: garlic, sage, maple and orange peel. Plus it takes only minutes to make this party approved dip. It's served at room temperature, so it's hassle free for your at-home happy hour or holiday party. Super easy, super healthy and super duper dip-licious. Get my recipe…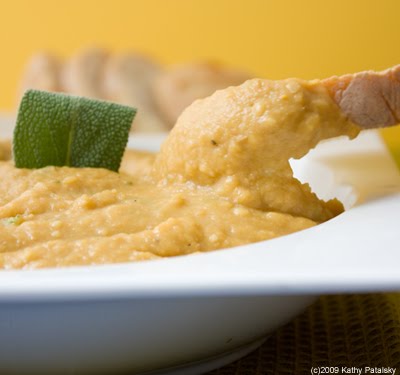 Healthy dip. Protein from the hummus, fiber from the squash and hummus and vitamins and minerals from the super food butternut squash. Vitamin A galore. Plus this creamy dip is hearty and filling. If you want to lighten up the calorie content, simply replace the soy creamer with soy milk or orange juice. You can even use less hummus or a bit less maple syrup for a mellower sweetness. Butternut squash is fat-free and contains 50 calories per half cup. This dip recipe is fantastic!

Perfect Butternut Squash Dip
vegan, makes 2 cups
recipe time: 10 minutes
1 15 oz. can organic butternut squash
4 heaping Tbsp roasted garlic hummus – recipe for hummus, add roasted garlic
3-4 Tbsp grade B maple syrup
1/2 tsp fresh orange zest (or orange peel spice)
2-3 Tbsp liquid: soy creamer, coconut milk or any non-dairy milk (plain flavor)
1/2 tsp sea salt (or to taste)
1/8 tsp fresh black pepper
3-4 fresh sage leaves, finely chopped
optional: dash of cayenne for a spicy accent, dash of cinnamon to turn up the 'warm' fall flavor
Directions:
1. Spoon butternut squash puree into a small-medium mixing bowl.
2. Add hummus, maple syrup, non-dairy liquid, orange peel/zest, salt and pepper.
3. Whip mix well until dip is smooth and well blended.
4. Fold in a pinch of sage leaves.
5. Microwave on high for 1 minute or until dip is warm. (Heating dip allows for the flavors to mesh together.)
6. Fold in the rest of your sage leaves and your salt to taste. If adding cayenne and/or cinnamon, fold in a dash now. Microwave for another 20 seconds, whip well again.
7. Spoon dip into a serving dish. Garnish with a fresh sage leaf.
8. Serve with crostini bread, crackers or veggie sticks. This dip is to be served luke warm to room temperature. So if it sits out for a while, that's OK. But if you'd prefer, you can serve it warm-hot.
Fresh Squash Note: If you'd like to use fresh butternut squash you certainly can! Simply cook and puree the squash and use in place of canned.