Gathering with friends or family this holiday season? Spruce up any appetizer party platter with this Vegan "Pub Cheese" Dip. It has a smoky, sharp cheddar flavor, but is light and lovely enough to dip generously. Spread on crackers, pretzels, bagel chips, carrot sticks, apple slices or celery. I am totally in love with the warming smoky flavor that has undertones of sweetness from the cashew base and a touch of maple syrup.
Party hosts: whip this up for your snack platter. Party guests: Bring this along with some dippables to help your gracious host out a bit. (And either way you get to dive into creamy Pub Cheese, soo, win win..)
H O L I D A Y. I hope your holiday movie watching, cookie baking, gift finding and cinnamon roll planning is going well! Now onto that party platter of yours…
When I make a party platter, I love to load it up with a bunch of store-bought fancy-ish vegan cheeses. Yes, I totally said store-bought. Why??? Well, because vegan cheese are just. so. darn. good. these days. I love surprising non-vegans with Miyoko's, Treeline, Kite Hill and more. And anything that is EASY when having a bunch of guests over gets a yes from me. See a bunch of my fave vegan cheeses here.
..Big but here! (Ha.) But, in addition to store-bought, of course I also like to add a few homemade vegan cheeses, dips, spreads and more. Because nothing beats homemade, right?
Then alongside those cornerstone dips + spreads, I add a bunch of crackers, veggie sticks, pretty whole mini satsumas for peeling, salty mixed nuts – love marcona almonds, dark chocolate squares, dried fruit and of course, alongside all that savory, a sweet platter of cookies too.
So today's recipe easily serves as one of those homemade additions. This one will be gone in a flash, so you might want to double or triple the recipe…
Swirled in the blender, until warmish…
Pub cheese. Creamy. With a smoky-savory bite and sweet undertones.

How Long Does This Recipe Take? For easiest cashew-blending, soaking them overnight in water is best. BUT, I will say that I made this recipe start to finish in about three hours. The actual recipe part (once you have some softened cashews) only takes 5-10 minutes to whip up. I soaked my cashews in HOT water for about two and a half hours. Then I just blended and it was ready to serve. If you want to bake your cheese (details below), you will need a few extra hours.
What is Pub Cheese?? When I think of a sharp cheddar "Pub Cheese" Dip, I think of the 80's and 90's when those food gifting towers were having their peak moment in the spotlight. You know, the ones with the cheeses and jams, sausage and maybe a few cookies or truffles, and some apples and maybe pears, dried fruit and random hard candies and then also maybe a tub of sharp cheddar cheese dip. So in theory, this recipe should probably be called "Sharp Cheddar Cheese" Dip or even "Beer Cheese" Dip, as I have seen some companies sell it as. But I kinda like the memory of calling it "Pub Cheese," wherever my memory actually originated from. And the word 'Pub' reminds me of beer and pretzels and English Pubs and family and loud happy bars and the holidays. (And I don't even drink beer…)
So anyways, Pub Cheese it is! You can call it whatever you'd like, but bottom line, it tastes so good! And is a great addition to a holiday appetizer or drink snack platter.
Beer, champagne, ginger ale, sparkling water, coconut water, kombucha, apple cider… This dip actually goes with every type of beverage, just to be clear.
How to Serve? I originally set out to make some baked cashew cheese like this. But when I got to the part in my recipe process when the dip was smooth and creamy, warm from my blender, I did a taste test and fell in love with this as an unbaked, silky yet thick and cheezy dip. So here are your options:
– Basic Dip. Serve warm, straight from a high-sped blender. The high speed will warm up the dip perfectly.
– Baked Cheese – Slice and Spread. For a drier, sliceable cheese, you can bake the dip in an oven-friendly container – about 1-2 hours at 200-250 degrees – then cool in your fridge overnight or serve right away.
— But no matter what, I really think this recipe tastes best warmed. When I tried the baked cheese straight from the fridge, I just though the cold dulled the sharp flavor a bit. Something about warming it up makes the flavors pop. So serve warm!
Cashew-based, bold flavor and oh so creamy..
Some other dip + spread recipe ideas for your party platter:
– Hummus
– Garlicky Spinach Artichoke Dip
– Sweet Curried Coconut Cashew Butter Dip with a hint of greens
– Orange-Spiced Pumpkin Hummus is fun
– Herbed Lentil Pâté
– Butternut Squash Cauliflower Swirl Dip, a fan fave!
Kinda awesome how healthy this "cheese" dip is..
And finally, are you subscribed to my newsletter? I hope so! I love to stay in touch with you guys via email. I know how hard it can be to find the sites you like to visit these days, and direct to your inbox is a great reminder to catch up on recipes. As you can see from the newsletter archive in this link, I do not over-send emails at all. So don't worry about being bombarded. Subscribe.
This past email, I sent holiday recipe updates and as usual, rambled a bit about something..
Nutritional yeast adds savory cheese flavor and a boost of nutrients like B vitamins.
Use a really "good" smoky paprika. I love this one I recently tried. Smoky Paprika by See Smell Taste.
Pin it for later!..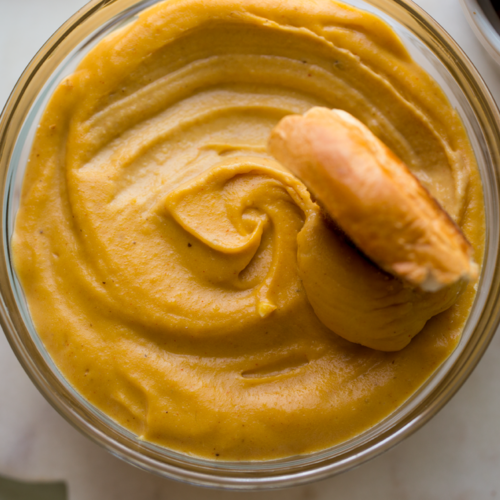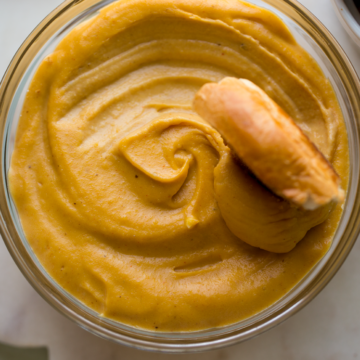 Vegan Pub Cheese Dip
This super flavorful, smoky vegan pub cheese, made using cashews. this bright and sassy dip or spread can be made in about ten minutes, after soaking your cashews. Serve right away or bake in the oven for a fluffier, drier texture. Or fully chill to firm up the raw texture.
Print
Pin
Ingredients
1 cup raw cashews, soak them for at least 2-3 hours in hot water – (Overnight soaking works very well too)

3 tablespoon nutritional yeast

½ teaspoon pink salt

1 garlic clove

¼ teaspoon smoky paprika

2 tablespoon fresh lemon juice

1 tablespoon + ½ teaspoon maple syrup

1 tablespoon extra virgin olive oil*

1-3 tablespoon water, as needed to blend**

* Sub the oil with water for a lighter dip. Tahini could also be tried. – ** Sub additional water with oil for a richer dip. 
Instructions
Add your cashews to a medium bowl and fill with hot water. Allow them to soak for at least three hours, overnight works best.

Drain the water from the cashews. Add the cashews, nutritional yeast, salt, garlic, paprika, lemon juice, maple syrup and oil to a food processor or high speed blender. Blend from low to high until smooth. Scrape down the sides, as needed, to blend. Also as needed, add in water. I usually add in about two tablespoons, but your machine will vary. Tip: Blend on the highest speed for a good minute or two to naturally warm up the dip for serving right away. In a Vitamix, you will start to hear that chugging sound a bit.

Scoop the dip into a serving dish. 1) Serve right away, slightly warmed. 2) Cover and fully chill in the fridge, warm up in the oven or microwave just before serving. 3) Use an oven-friendly serving dish and bake for two hours at 250 degrees. Serve warm and sliceable + firmer and spreadable.