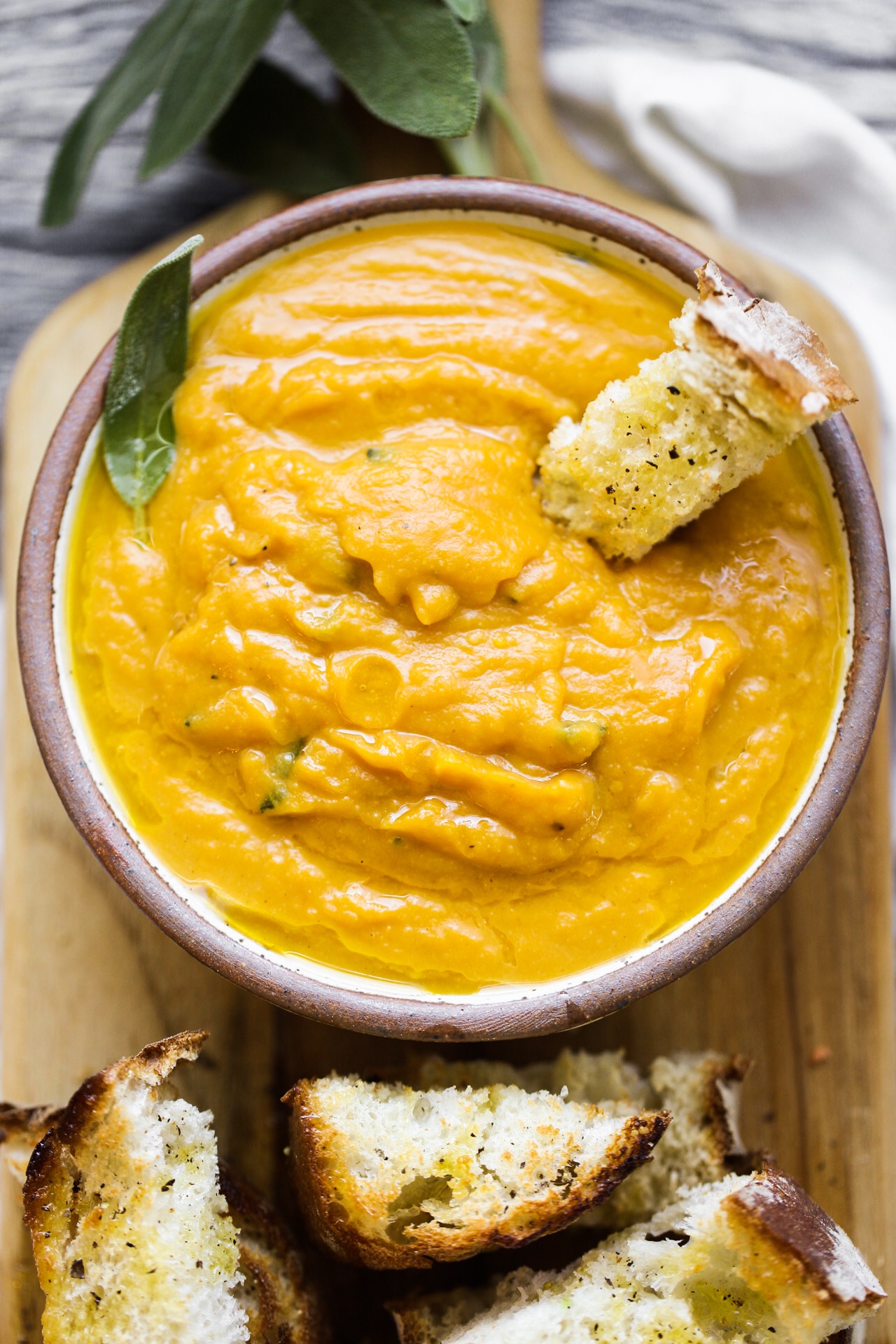 Today I'm going vintage. This recipe for my Sage-Citrus Butternut Squash Dip, formerly known as my "Perfect Butternut Squash Dip," first appeared here on my blog on October 15th, 2009. I remember whipping it up in the kitchen and being amazed at the light and lovely, party-perfect flavors in this simple and healthy dip.
This Sage-Citrus Butternut Squash Dip combines butternut squash, garlic hummus, crispy sage, a hint of citrus and sweetness from maple. This dip is best served warm and goes very well with toasty warmed chunks of crusty bread. Veggie sticks work too. This is the type of dip that you can stand around and devour – without feeling like you just ruined your appetite for the meal ahead – or party ahead!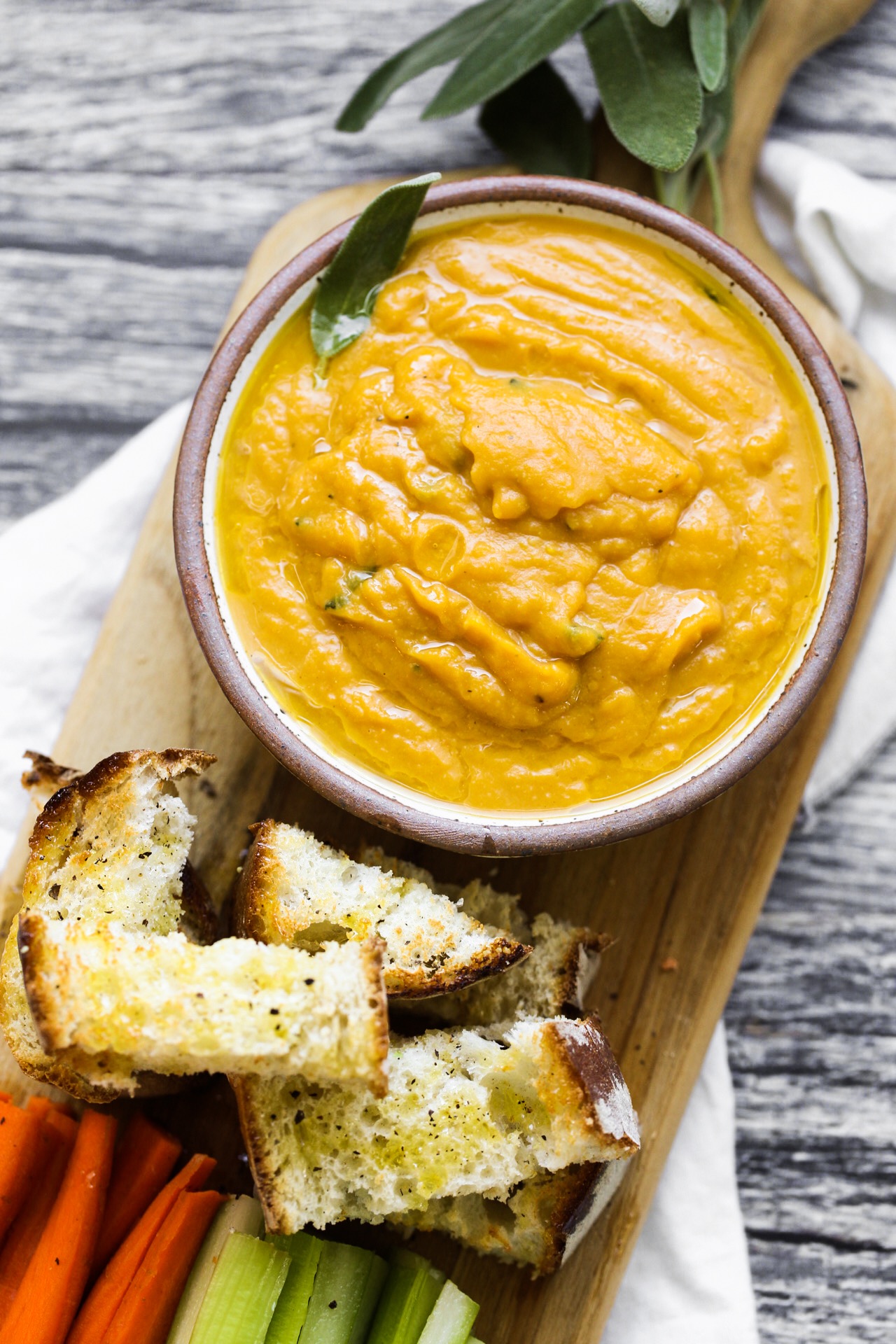 Sage-Citrus Butternut Squash Dip 2.0
Today I am re-posting this recipe because I not only re-shot the photos, I gave it a bit of a 2019 update. Instead of microwaving, I used the stovetop and my oven. Instead of using raw sage, I did a quick EVOO toasting to really bring out those herby flavors. And instead of non-dairy creamer (which I don't really use anymore in recipes) I simply used a bit more hummus and some added EVOO for richness. I loved the results and I hope you do too!
Thanksgiving Approved
I originally made this citrus sage butternut squash dip for Thanksgiving, but you could easily make it any time of year! It definitely has warm and cozy fall flavors going on. Here are a few more dip recipes to try:
Why the perfect?
When I first made this dip, I called it no perfect butternut squash dip. Ok, so it's been ten years, and I've tasted enough dips to know that there is no such thing as the perfect dip. But, I do think this dip is a huge crowd pleaser. The flavors are light, yet bold enough for one bite to bring a flavor-boom to your taste buds. The ingredients are healthy. And the overall flavors are festive and seasonal – perfect for the fall and winter holiday season – Thanksgiving and Christmas time approved!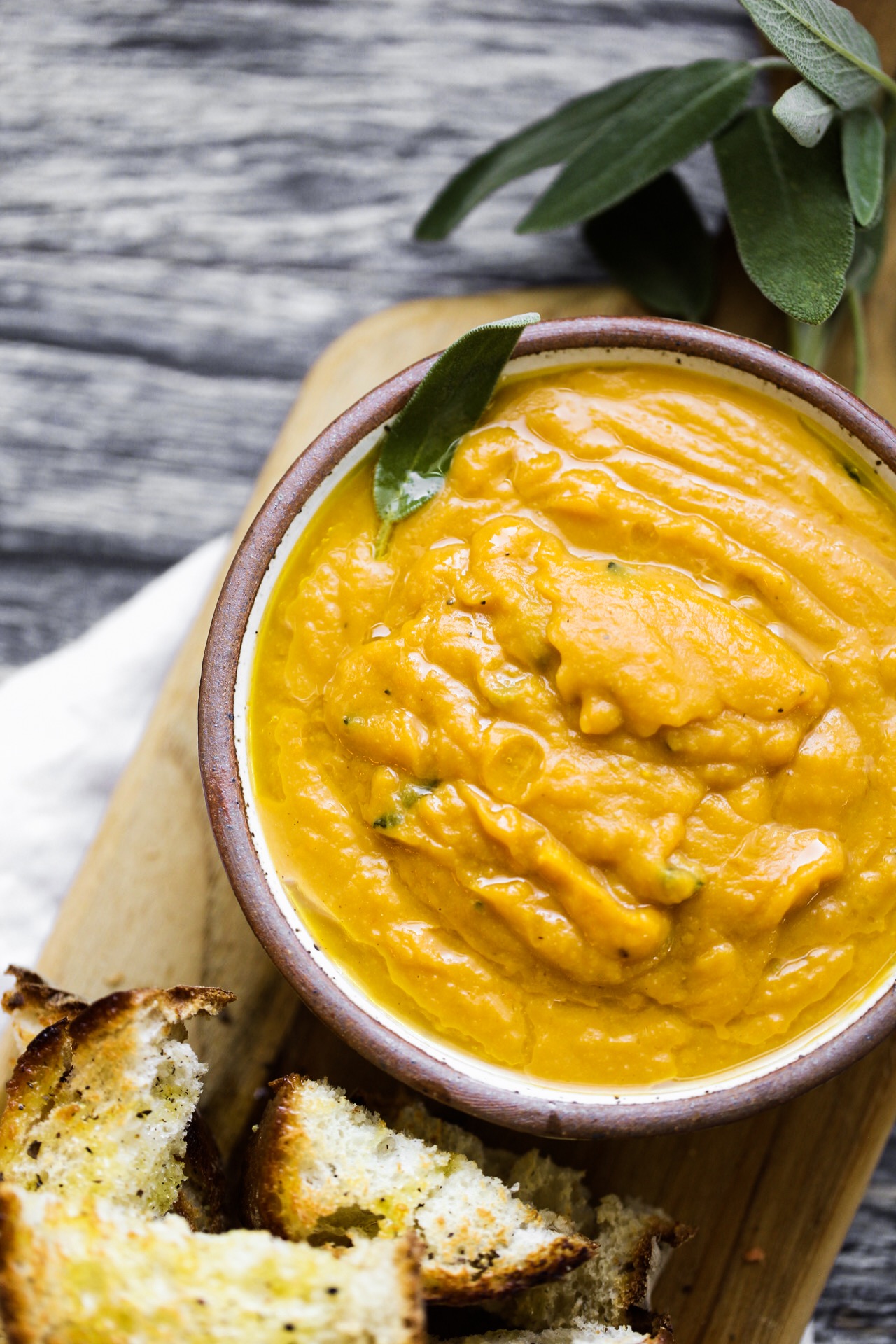 Roasting the Butternut Squash
One thing I did not do today – because I wanted to stay true to the supreme speediness and ease of the original recipe – is roast the squash myself and blend it into a puree. Instead, I used canned butternut squash puree, unsweetened. But if you want to add about twenty minutes to your recipe and add some serious flavor and texture richness, you can use a raw butternut squash. Here's how to do that…
How to make DIY butternut squash puree:
slice your butternut squash into small cubes and toss in some EVOO.
roast in an oven-safe dish for about twenty minutes at 450 degrees – or until tender.
blend the squash in a blender until smooth. Add a few spoonfuls of water or oil to blend if needed.
that's it! measure out about 1 ¼ cups of the blended butternut squash puree and make the recipe as shown below
Or you can follow this easy tutorial from a sweet pea chef: how to make butternut squash puree.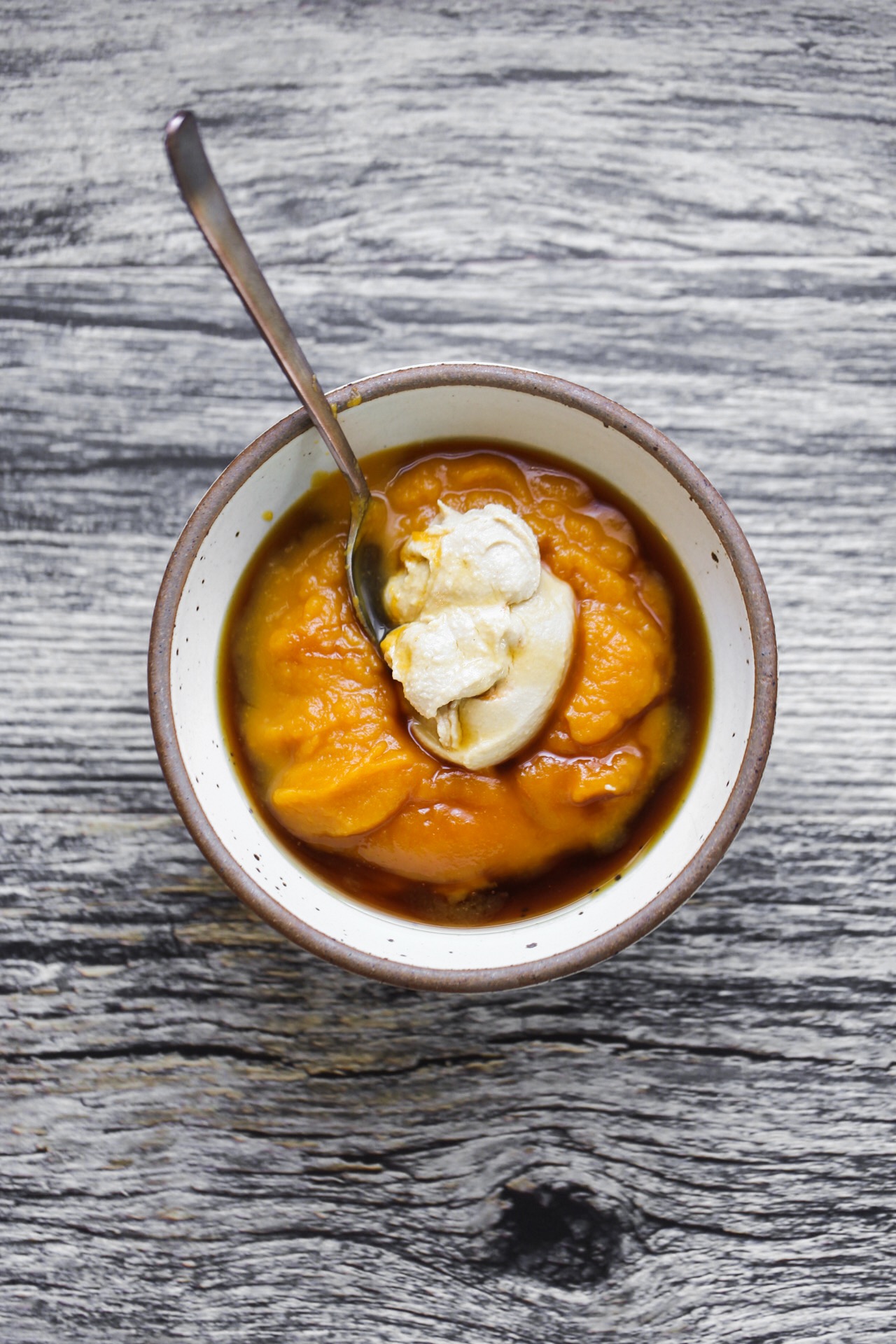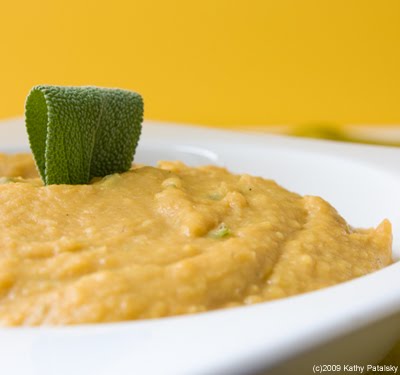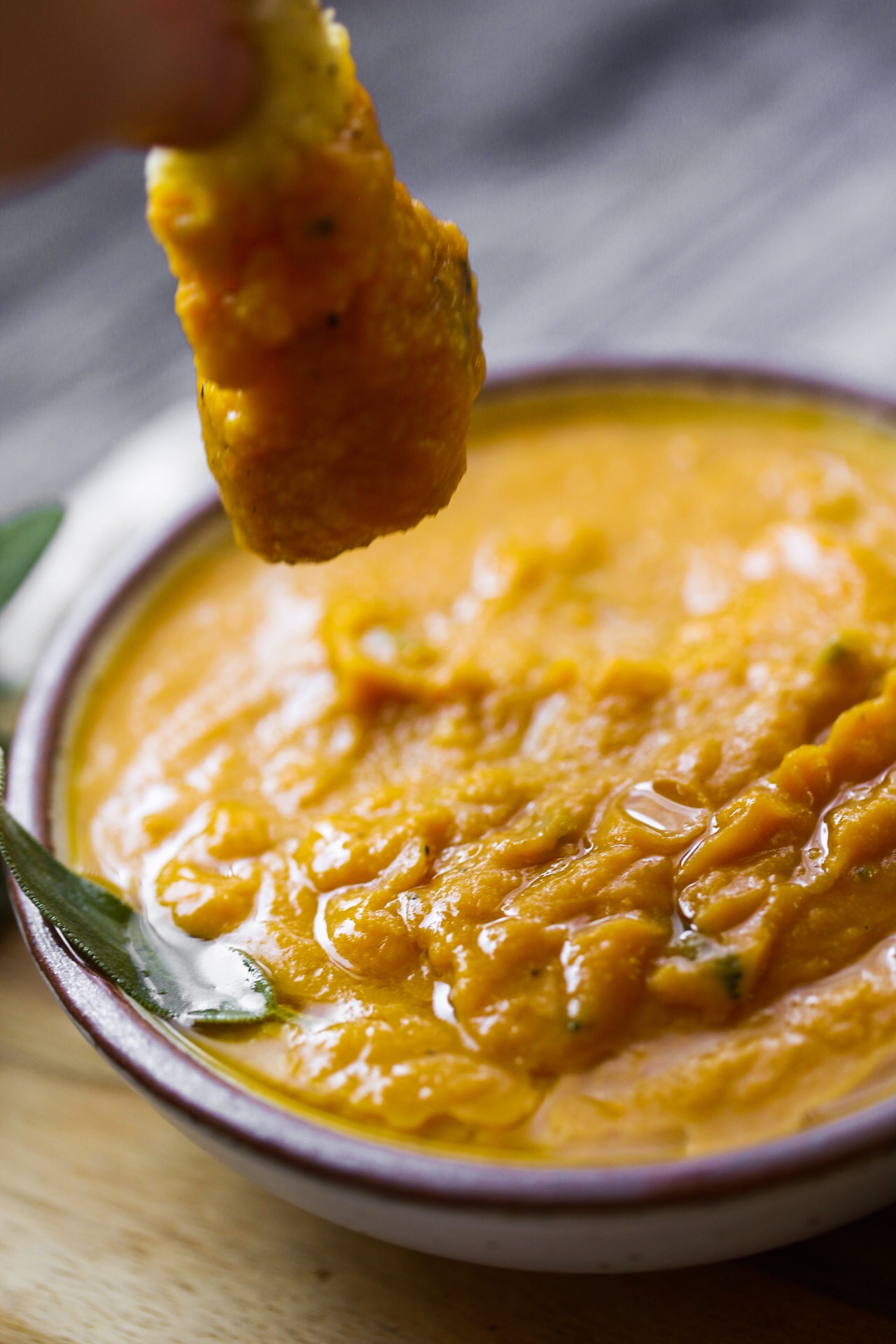 Healthy Dip.
Protein from the hummus, fiber from the squash and hummus and vitamins and minerals from the super food butternut squash. Vitamin A galore. Plus this creamy dip is hearty and filling. If you want to lighten up the calorie content, simply replace the soy creamer with soy milk or orange juice. You can even use less hummus or a bit less maple syrup for a mellower sweetness. Butternut squash is fat-free and contains 50 calories per half cup.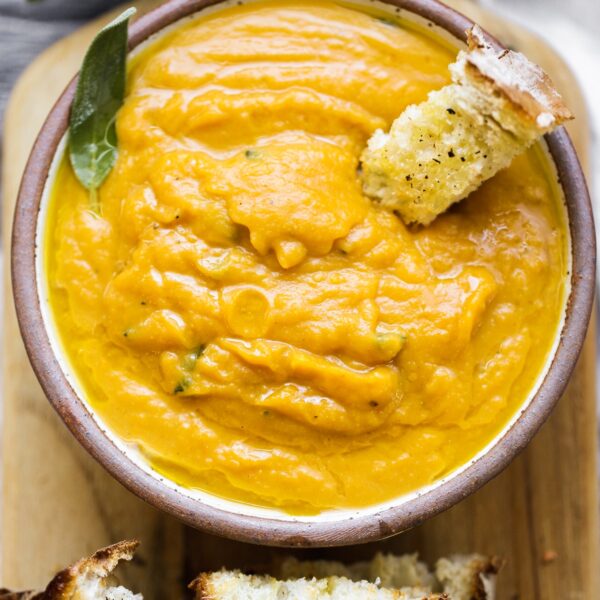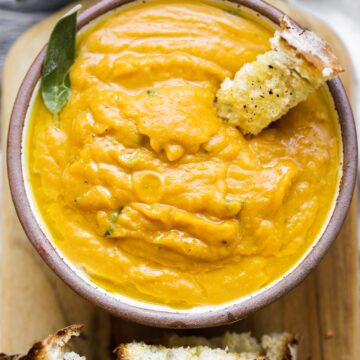 Sage-Citrus Butternut Squash Dip
This light and zesty butternut squash dip is festive with fall flavors like garlic, sage, citrus and pepper. Whip this party-approved dip up in just ten minutes!
Print
Pin
Ingredients
12

oz

butternut squash puree

,

unsweetened

¼

cup

garlic hummus

2-3

tablespoon

maple syrup

3

tablespoon

extra virgin olive oil

4

fresh sage leaves

,

finely chopped

½

teaspoon

salt

1

satsuma tangerine

,

medium

freshly-ground black pepper

,

to taste

1

clove

garlic

,

minced – optional

1

sage leaf

,

for garnish
Instructions
Add the butternut squash, maple syrup and hummus to a small bowl. Zest the entire tangerine over top, then slice it in half and squeeze the juice into the bowl. Add in the salt and black pepper. start with a pinch of pepper and add more later to taste. Stir this mixture well to smooth any lumps and combine everything. Set aside.

Over medium heat, warm a small soup pot. Add in two tablespoons of extra virgin olive oil, along with the chopped sage and optional minced garlic. Turn heat to high and cook just until the sage begins to darken in color and sizzle. Usually 1-2 minutes should do it.

Pour the squash mixture into the soup pot and stir it with the crispy sage oil. Turn the stove heat back up to medium and bring to a low simmer. Warm for 2-3 minutes to heat the dip.

From here, you can 1) pour the dip right into your serving dish and serve warm or 2) pour into an oven-safe serving dip and warm the dip in the oven at 400 degrees for 5-10 minutes.

when ready to serve, drizzle the other tablespoon of EVOO right over top the dip, and garnish with a leaf of sage. Serve with veggie sticks and chunks of toasted crusty bread, drizzled in oil.
Notes
Tweaks to try:
a few pinches of cinnamon
a few pinches of cayenne or spicy paprika
more hummus for an earthier, beany flavor
roasting squash and making a DIY puree
nutrition estimate | per serving
Calories:
76
kcal
|
Carbohydrates:
8
g
|
Protein:
1
g
|
Fat:
5
g
|
Saturated Fat:
1
g
|
Sodium:
141
mg
|
Potassium:
136
mg
|
Fiber:
1
g
|
Sugar:
4
g
|
Vitamin A:
3036
IU
|
Vitamin C:
8
mg
|
Calcium:
23
mg
|
Iron:
1
mg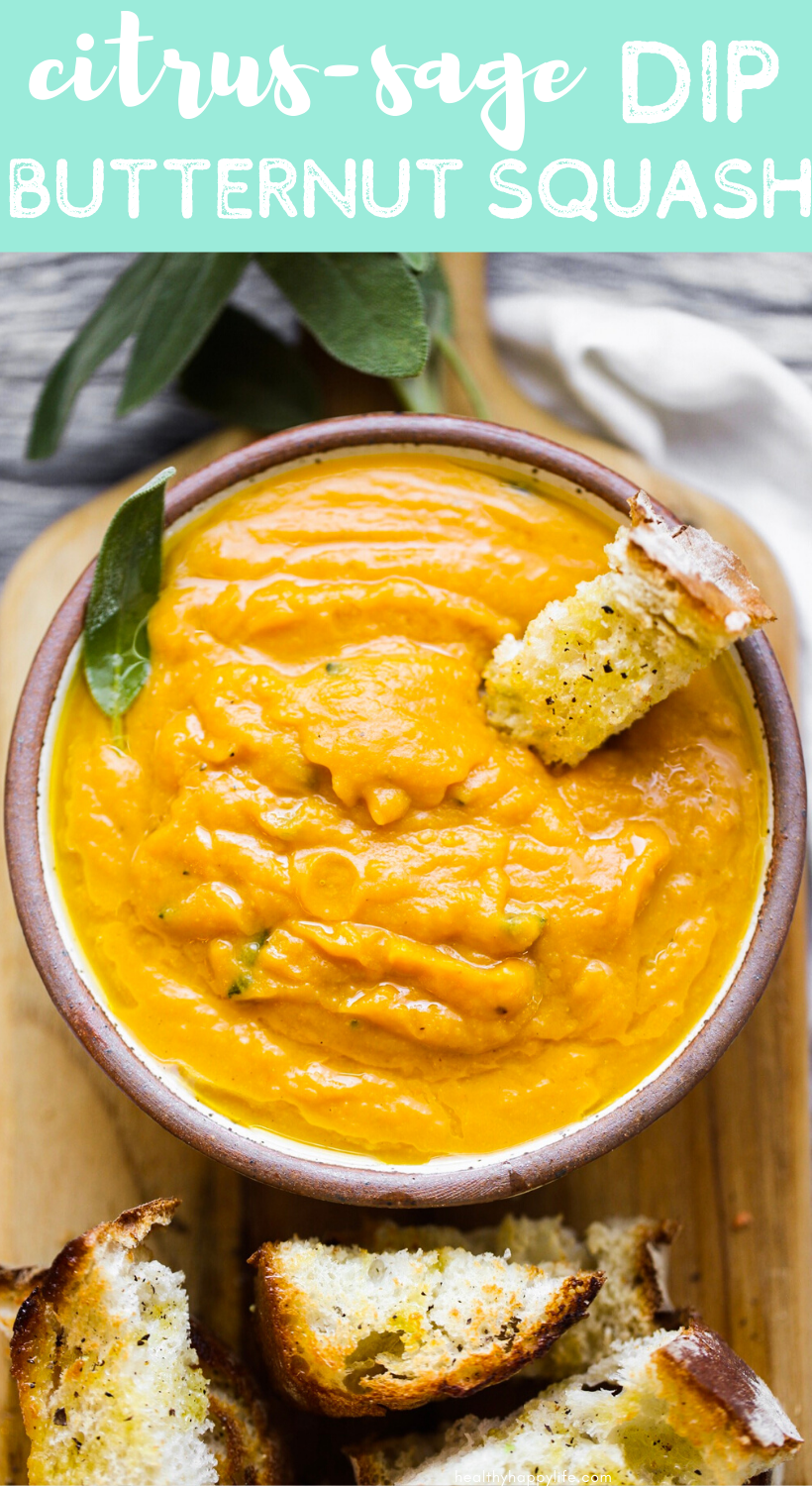 This recipe was originally published: October 15th, 2009