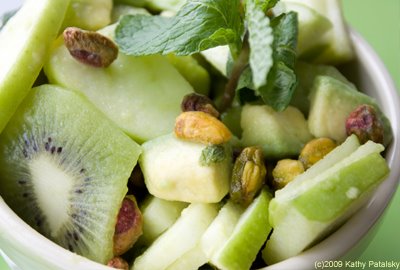 I was dreaming about making this Spring Green Fruit Salad all weekend. It's perfect for St. Patrick's Day.

I grabbed a few Granny Smith apples, avocados, fresh mint sprigs, limes, pistachio nuts and kiwis. I wasn't exactly sure what this green chopped concoction would taste like. But wow! Pinch me! This Spring Green savory-sweet fruit salad was off-the-charts delicious. I couldn't stop eating it. What a refreshing morning-detox-style breakfast for an "I'm sick of bagels from Starbucks" morning. The zesty kiwi and apple flavors pair perfectly with the savory pistachios and creamy avocado. (This can be made with or without nuts for the allergy prone.)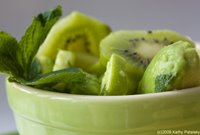 So Healthy! This salad contains fiber. Healthy oils from the avocados. A nice dose of Vitamin C from the kiwis. And protein, copper and B vitamins from the pistachios.
Blow away the brunch crowd. This is a must-try-it conversation-piece recipe. The all-green colors are perfect for a "green" themed party. Pink tulips would be a perfect table accent to this dish. Pretty, healthy and delicious.
Click ahead for my Spring Green Fruit Salad……

Spring Green Fruit Salad
serves 2-4
1 avocado, cubed
1 Granny Smith Apple, sliced into dime size triangles
1 lime, squeezed
2 kiwis, sliced into thin rounds
2 tablespoon raw or roasted/salted pistachios
*if using unsalted pistachios add a pinch of salt
2 fresh mint sprigs, remove and chop leaves (toss stems)
1 tablespoon honey or agave syrup
*mint for garnish
*Pistachio nuts are optional
Prepare:
Chop, squeeze and peel all ingredients.
Add to a large bowl.
Toss well with spoon.
Serve immediately or cover and chill until ready to serve.
Garnish with fresh mint leaves.
Spring Green Fruit Salad (without nuts):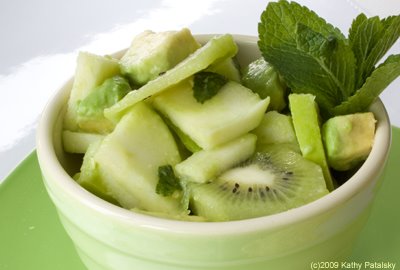 Spring Green Fruit Salad (with nuts):