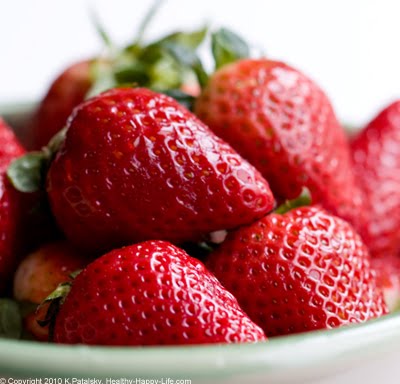 Tonight is the Oscar's and thoughts of black limos, gold statues, teary-eyed too-long speeches and slender starlets in swanky dresses swirl in my head. But the Oscar's wouldn't be complete without the red carpet. And red makes me think of all the delicious red foods I love to eat because they are both tasty and healthy: strawberries, tomatoes, cranberries, red bell peppers, raspberries, pomegranate, cherries, apples and more. Red foods are after all the first color step towards eating the rainbow. Why are red foods healthy? Buzzword: phytochemicals. So I've designed a complete menu from breakfast to dinner – with recipes starring red foods. My red carpet ready menu…
I must say, strawberries are one of my favorite red foods (fresh during strawberry season, or frozen in smoothies year round!)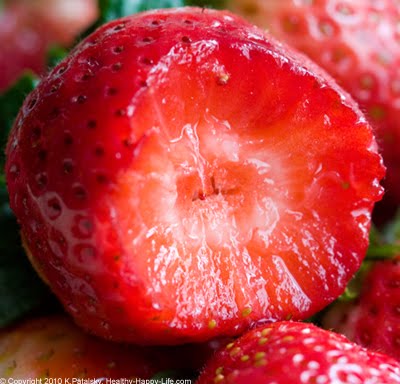 Let the red-foods menu begin….
Red Carpet Ready Menu
Breakfast:
Choices of:
Fresh strawberries, simple and sweet
Kiwi Cherry Almond Oatmeal
Totally Tropical 'Strawberry' Smoothie
Fresh Strawberry Papaya Coconut Smoothie
Red Goji Berry Chai Tea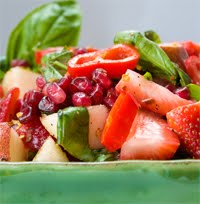 Lunch:
Choice of…
Super Rouge Red Salad
Side of California Tomato Mexican Rice
Red Roasted Pepper Bulls eye Wraps
TMT Pita: Tomato, Mache, Tempeh Facon
Fresh Crushed pomegranate Juice
Red Pepper in Bulls Eye Spiral Wraps: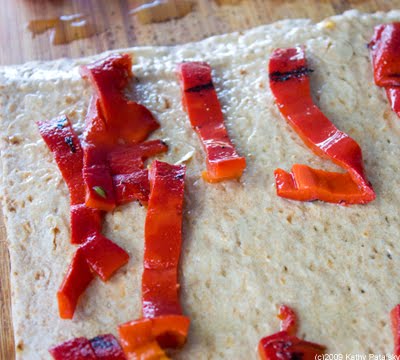 Starters:
Choice of…
Savory Roasted Red Pepper Soup
Red Radishes and Vegan "Butter" Crackers
Sweet Potato Stuffed Roasted Red Peppers
Easy Roasted Red Pepper Salsa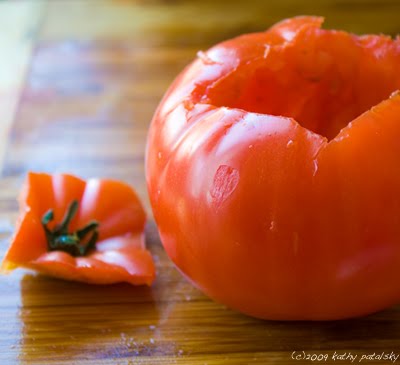 Dinner:
Choice of..
Tempeh Pesto Stuffed Tomatoes
Lasagna Rosso Classico
Spicy Vegan Sausage Tomato Pappardelle
"Cheesy" Red San Marzano Tomato Pasta Bread Bowl
Cocktails/Bevies:
Fruity Premium Red Sangria
Guava Kombucha
Sparkling water with frozen strawberries
Coconut Water with frozen raspberries and lemon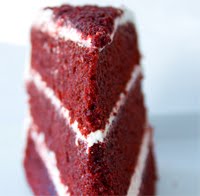 Dessert:
Choice of…
Red Velvet Cake (NYC only)
Pomegranate Raspberry Pudding Parfait
Strawberry Upside-Down Cake
Chai Berry Short Cup Dessert Smoothie
Happy Red Carpet Cooking and Eating!
A few links for you to peruse while you dine…
WebMD's Why to Eat Red Foods Article.
Track LIVE Oscar Tweets here all night long – on one screen.
PS: Go Food Inc. and The Cove!! Both nominees for best documentary feature.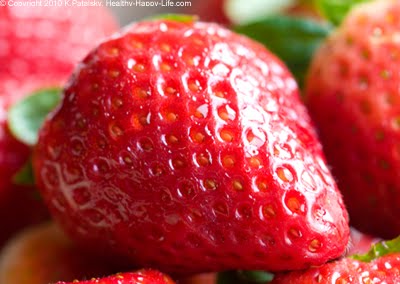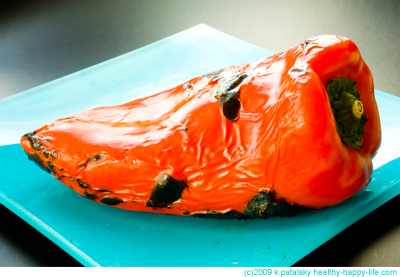 More super yummy strawberry pics below…