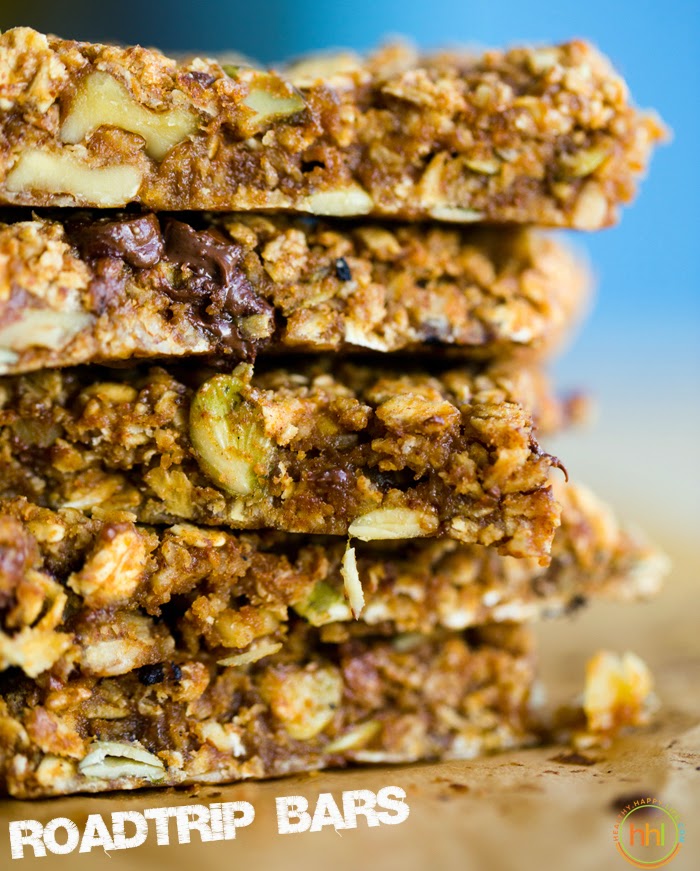 If you are headed "out" this holiday of anytime or year, these vegan, gluten-free, amazing Roadtrip Bars just may save the day or weekend. You can whip them up in about a half hour, I promise, I just did!..
Freshly sliced snack bars..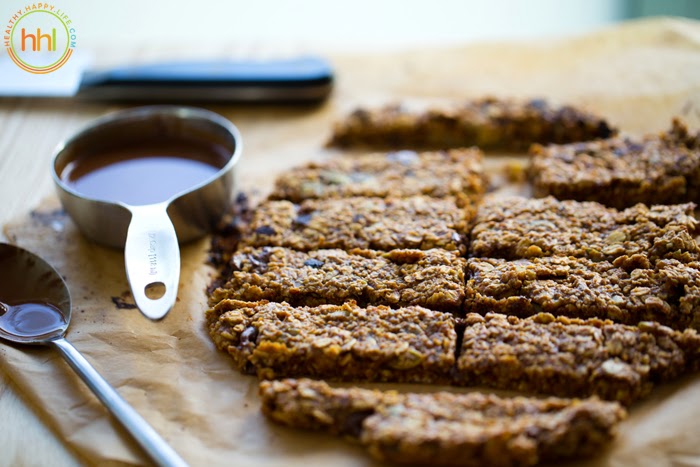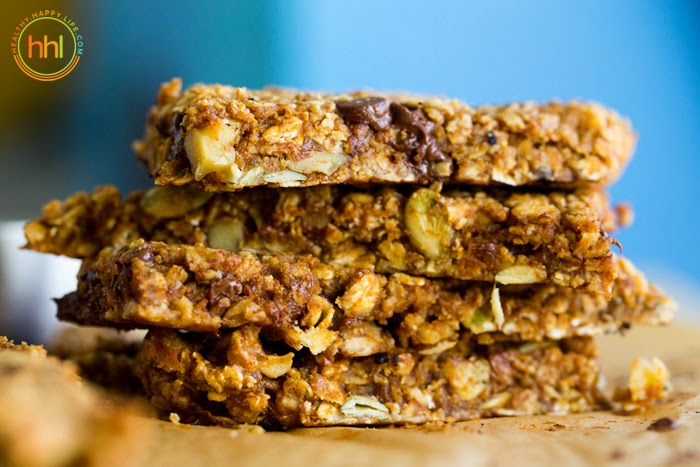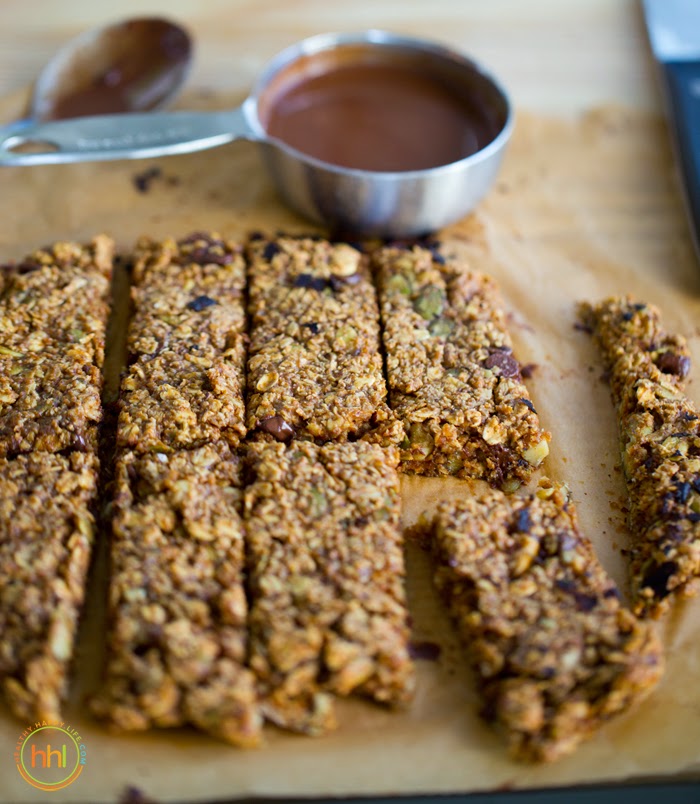 chocolate optional.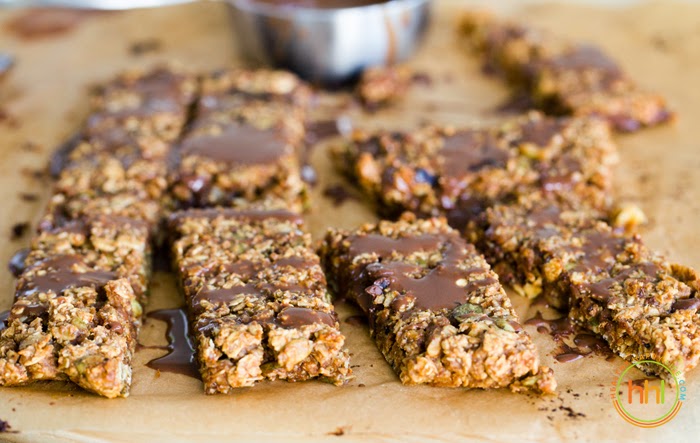 And a LITTLE chocolate in the bars. Just a touch of chips makes a difference!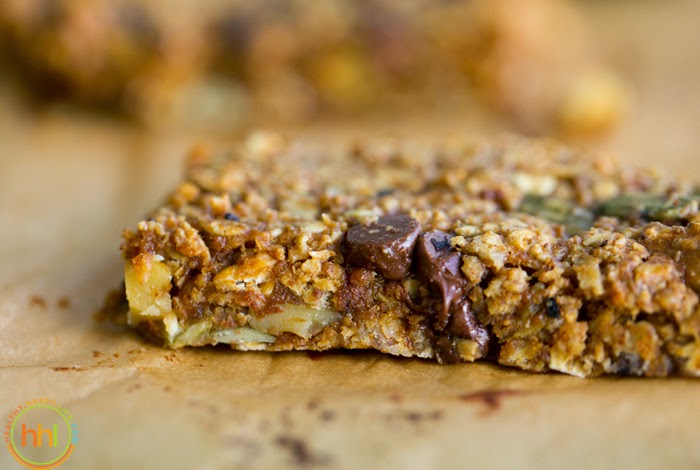 The flavors. Rolled oats, almond butter, dates, vanilla, cinnamon, citrus, pumpkin seeds, walnuts and yes, chocolate. And you can change out some of the nuts and seeds and even the nut butter for whatever you have on hand.
Crank that oven up to 400 degrees and whip these up!
Roadtrip Bars
By Kathy PatalskyPublished 12/24/2014

These nutty, amazing vegan homemade bars are perfect as a healthy snack, or a roadtrip nibble. Easy and delicious!
Ingredients
1 ½ cups rolled oats
⅓ cup almond butter, softened
⅓ cup maple syrup, grade B
⅛ teaspoon vanilla extract
¼ teaspoon cinnamon
⅛ teaspoon salt
¼ cup pumpkin seeds, raw/sprouted
¼ cup chopped walnuts
citrus date paste:
6 Medjool dates, pitted
½ cup fresh orange juice
pinch of orange zest
2-3 tablespoon vegan chocolate chips
optional: chocolate drizzle (1 part coconut oil to 1 part chocolate chips – melted)
Instructions
Turn oven to 400 degrees.
In a large mixing bowl, add all the ingredients and toss well until combined.
For the date paste, blend the dates and orange juice and zest in a Vitamix (I used my S30) – you could also use a food processor. Scrape out date paste and fold into the oat mixture.
Line a 8-9″ baking dish with parchment paper. Pour in the bar mixture and flatten with another sheet of parchment paper, pressing out the bars.
Bake at 400 degrees for 20-22 minutes. Cool completely before slicing and serving or drizzling with optional chocolate drizzle.
Store in the fridge. Best "taken on the road" when they are fully chilled so that they do not get mushy and pack a bit better. Wrap in plastic wrap if needed for better transport.
Yield: 10 barsPrep Time: 00 hrs. 08 mins. Cook time: 00 hrs. 20 mins. Total time: 28 mins. Tags: bars,snack,roadtrip,vegan,glutenfree,chocolate,oats,breakfast
Disclosure: I am a Vitamix affiliate and any links to their products are via my affiliate account.