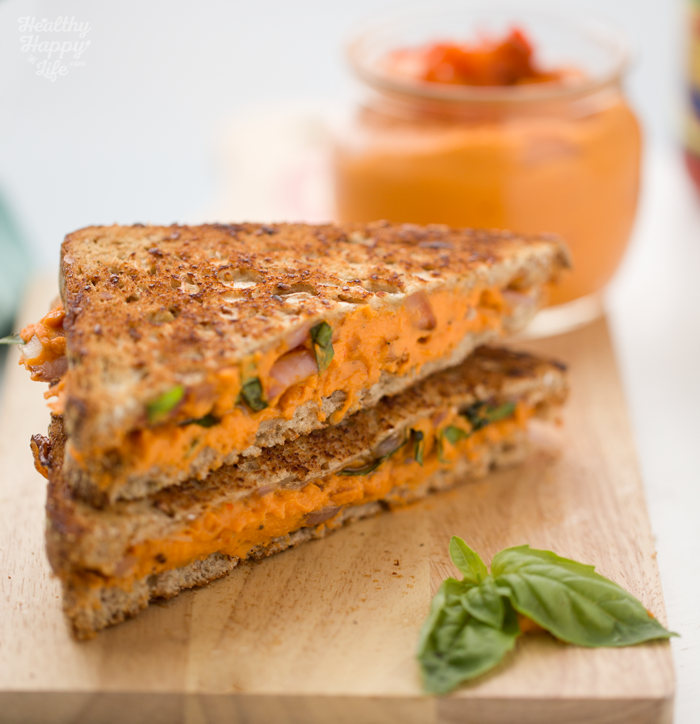 One of my favorite things about summertime: beach picnics! And that usually means waking early, preparing a big basket of sandwiches, snacks, fresh fruit, veggies and drinks – then heading out towards the sea to find a lovely spot in the sun. Sinking a beach umbrella into the lush white sand and listening to those beautifully loud California waves crash for hours on end as white and grey seagulls skim the sea mist waves and try to steal nibbles of our feast.
And today's recipe is a sandwich that is packed with savory, smoky, sweet flavors. Get my recipe for my Spicy Roasted Pepper Hummus + my Roasted Pepper Hummus Caramelized Onion Basil Skillet Sandwich.

But, a picnic is not a picnic without delicious things in your picnic basket..
Hi spicy, creamy, golden, amazing filling.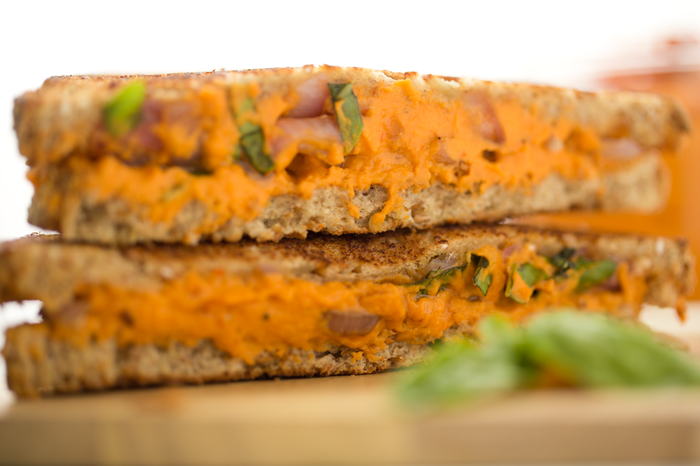 Well hello there stack of oh-my-goodness..

How good is this sandwich? So good that I prepped this photoshoot at around 9AM, thinking I would eat this sandwich for lunch, but after one bite "taste test" I had to eat the entire thing for breakfast. So many amazing flavors in one bite – yet the recipe is quite simple!
Sweet fresh basil. Caramelized red onions. Smoky homemade roasted pepper hummus.
But lets start from the beginning… Swirl of roasted pepper hummus in my Vitamix: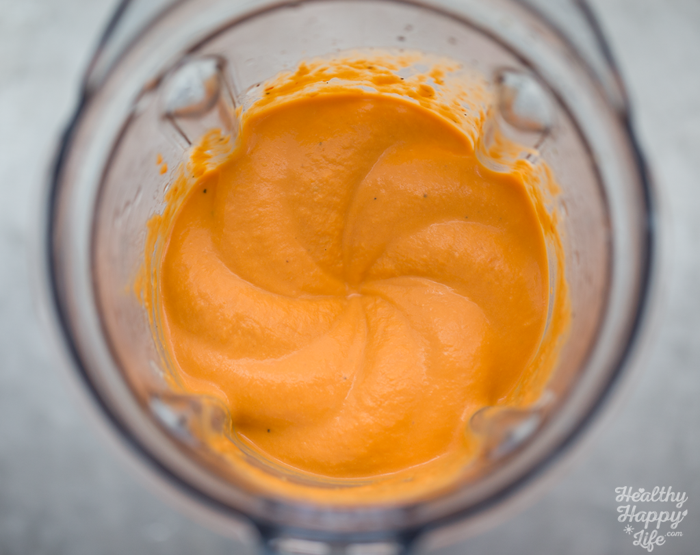 Hummus for snacking, spreading, toting along on your summer adventures..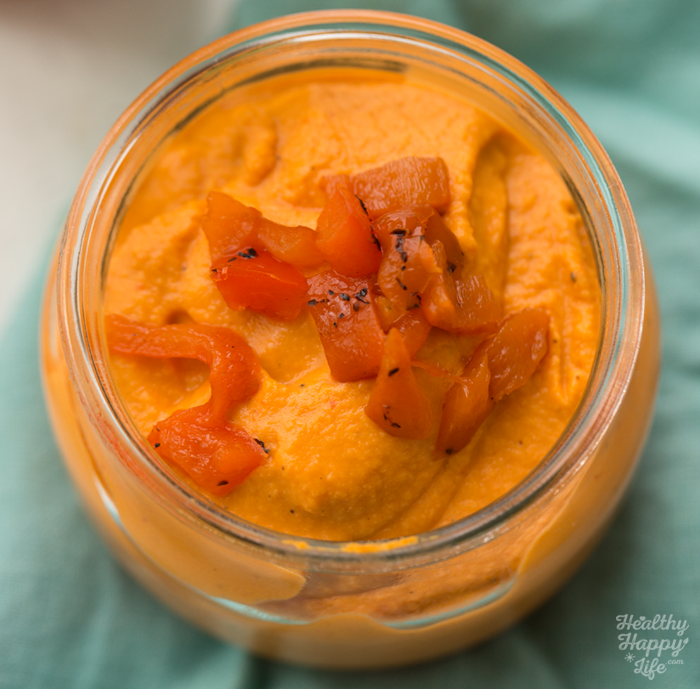 Add sizzling caramelized onions hot from the skillet to warm the sandwich from the inside out.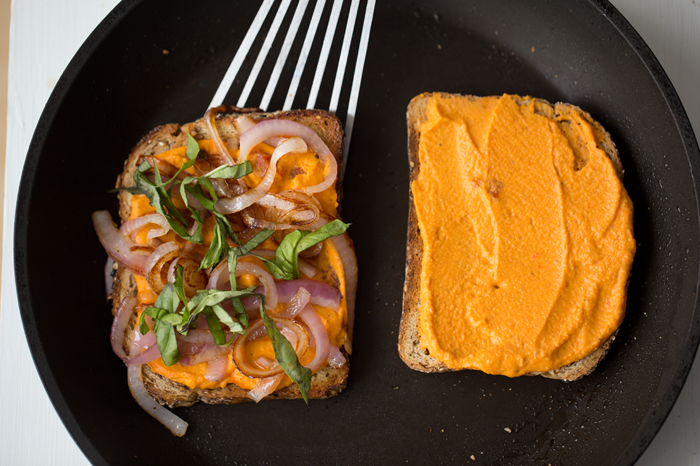 Spread the creamy, rich, you-made-this hummus…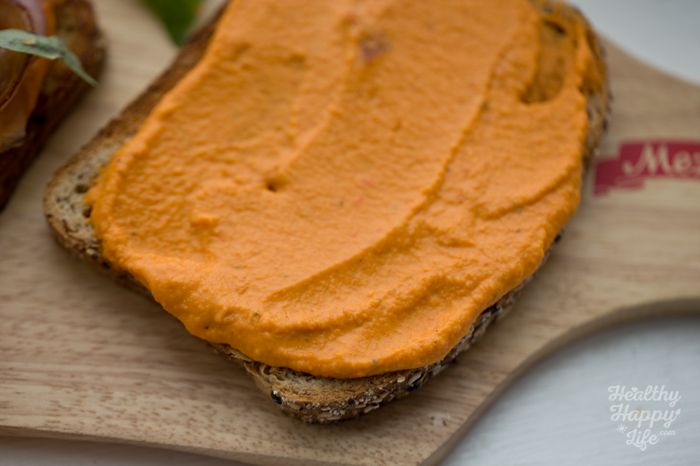 You can have this in your kitchen in a flash!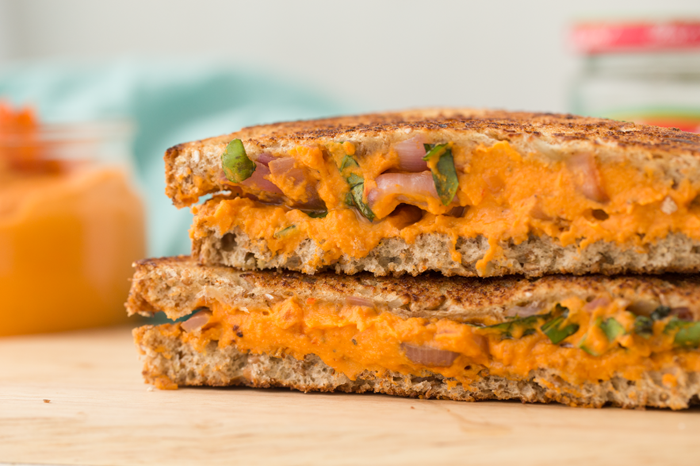 This is the real pot of gold at the end of the rainbow...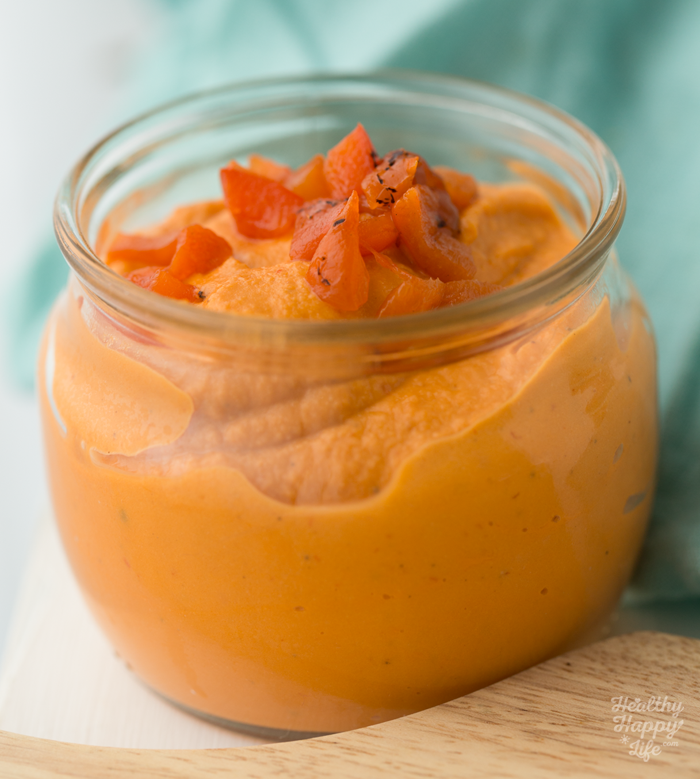 The hummus is truly the secret ingredient to this recipe. I combined super flavorful roasted red bell peppers with chickpeas, tahini, lemon juice, black pepper and a bit or sriracha. Those silky, blackened bell peppers add loads of flavor to the hummus. This hummus is AMAZING. Even if you do not make the entire sandwich, make the hummus for sure!
Healthy Snack. You can even pair the hummus with veggie sticks, or simply spread on toast for a healthy snack or light meal.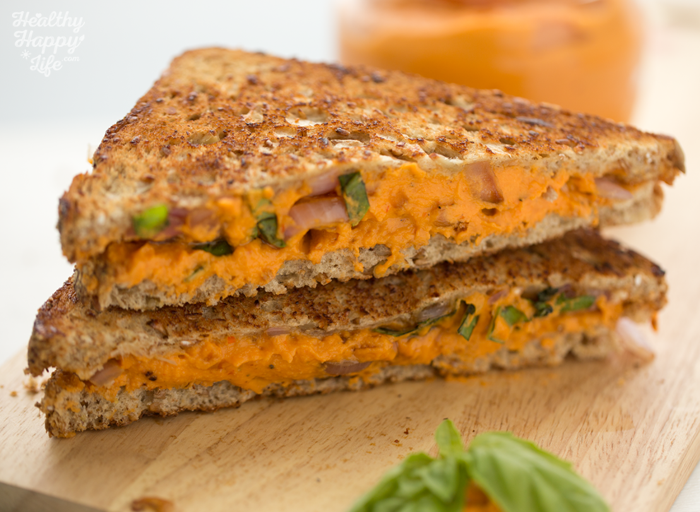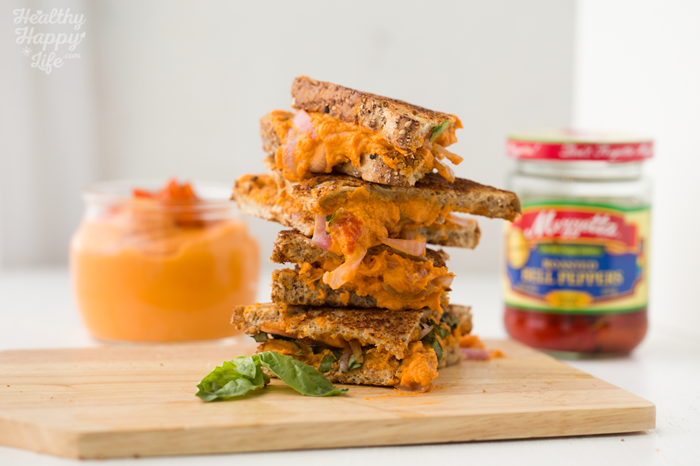 Red Pepper Hummus Caramelized Onion Basil Sandwich
By Kathy Patalsky
Published 06/11/2015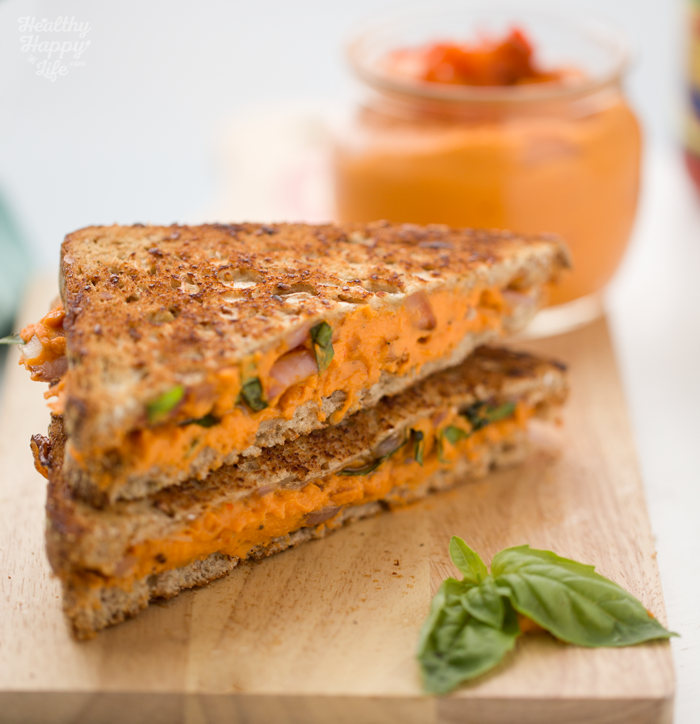 Smoky, amazing, flavorful, sweet roasted red peppers create the perfect spicy hummus for adding to this skillet sandwich.
Ingredients
Spicy Roasted Red Pepper Hummus: (you will have some leftover hummus)
3 large roasted red bell peppers – Mezzetta Roasted Bell Peppers used
1 ½ cups cooked chickpeas (1 can drained)
2 tablespoon tahini sauce
2-3 tablespoon sriracha (or sub with spicy salsa or hot sauce to taste)
2 small lemons, squeezed (seeds strained)
salt and pepper to taste
Sandwich Toppings:
1 teaspoon extra virgin olive oil (for skillet)
4-5 slices red onion
½ – 1 teaspoon maple or agave syrup
6 leaves fresh basil, thinly chopped
4 slices of bread, vegan
Instructions
First prepare your hummus by adding all the ingredients to a high speed blender. I used my Vitamix. Blend from low to high until smooth. If you have trouble blending, add a bit more lemon juice or a splash of water.
Pour hummus into a serving bowl, cover and place in the fridge to chill until ready to use.
For sandwiches: Warm up a skillet over high heat. Add the EVOO and when it is nice and hot, add the onions. Cook onions for 1-2 minutes, then add the maple or agave syrup to the onions. They should be blackened around the edges by now.
Scoot the onions over to one side of the pan and turn heat down to medium. (You can add a splash more oil if desired for the bread, but not necessary.) Add the bread to the hot skillet and allow the heat of the leftover onion juices and pan to toast and warm the bread. Quick Tip: For faster toasting, you can lightly toast the bread in a toaster before adding to the skillet.)
Spread a generous amount of hummus on each of the slices of bread. Then top two slices with onions, followed by the basil. Close sandwiches. Toast both sides of the sandwich in the pan until the desires toastiness has been achieved for the bread.
Slice and serve warm – or wrap up in parchment paper or foil for transporting to wherever your day may bring you.
Yield: 2 sandwiches Prep Time: 00 hrs. 07 mins. Cook time: 00 hrs. 05 mins. Total time: 12 mins. Tags: sandwich,hummus,roasted pepper hummus,mezzetta,bring the heat,spicy
Let's do THIS.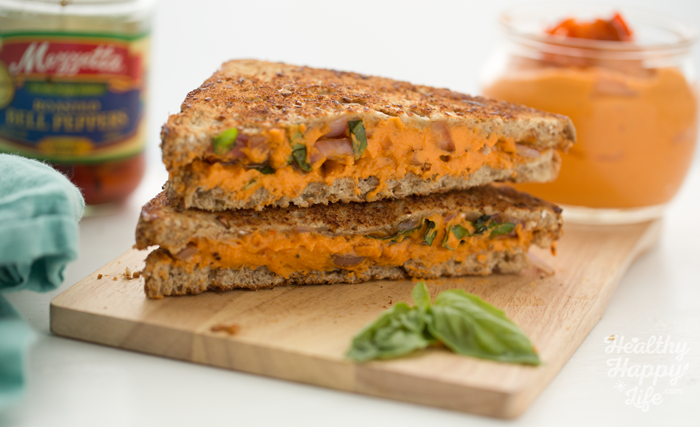 Disclosure: I am a Vitamix affiliate and any links to their products are via my affiliate account.