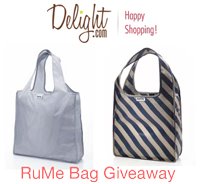 I've teamed up with fun and green-friendly website Delight.com to bring you a RuMe bag giveaway! Two lucky winners (USA residents only) will receive a free RuMe Bag. RuMe Bags are heavy duty, with an innovative box-shape design. Everyone uses reusable bags nowadays, why not have one that looks cool. To enter the giveaway, click ahead to complete a short blog quiz….
THIS GIVEAWAY HAS ENDED-Thanks to the participants!
About RuMe Bags: RuMe Bags are made from 180 denier polyester, with water-resistant coating. The innovative box stitch design offers a structured environment for loading goods, while maintaining a flexible space for over-sized, bulky items.
I'll pick two quiz entrants at random at the end of the day. You must complete all five quiz answers correctly to be eligible for the random drawing.
Here's the blog quiz:
1. The 'super food' brussel sprouts: How much Vitamin C is in one cup of brussel sprouts, lightly cooked?
2. What is one of the 'calming' ingredients in my Calm Tummy Smoothie Recipe?
3. One cup of what vegan food item contains 95% your RDA of iron.
Hint: Answer in a wellness tip to "fix your nutrient gaps".
4. Name one picnic sandwich included in my Healthy Makeover Summer Series: Parade of Picnic Sandwiches.

5. What is your favorite Lunchbox Bunch character?
Send your completed quiz answers to: [email protected]
Please use email subject: RuMe Giveaway.
*If you win, I'll request your mailing address to receive your RuMe.
For more fun and healthy products, check out Delight.com's Healthy Living section.
I love the onion goggles and the 'Cadillac' of Picnic Sets.
Very cool. Fun for Friday web shopping or browsing